Abstract
In an effort to better understand the learning potential of a tangible interface, we conducted a comparison study between a tangible and a traditional graphical user interface for teaching preschoolers (In Portugal, children enter preschool at the age of three and they attend it till entering school, normally at the age of six) about good oral hygiene. The study was carried with two groups of children aged 4 to 5 years. Questionnaires to parents, children's drawings, and interviews were used for data collection and analysis and revealed important indicators about children's change of attitude, involvement, and preferences for the interfaces. The questionnaires showed a remarkable change of attitude toward tooth brushing in the children that interacted with the tangible interface; particularly children's motivation increased significantly. Children's drawings were used to assess their degree of involvement with the interfaces. The drawings from the children that interacted with the tangible interface were very complete and detailed suggesting that the children felt actively involved with the experience. The results suggest that the tangible interface was capable of promoting a stronger and long-lasting involvement having a greater potential to engage children, therefore potentially promoting learning. Evaluation through drawing seems to be a promising method to work with preliterate children; however, it is advisable to use it together with other methods.
Access options
Buy single article
Instant access to the full article PDF.
US$ 39.95
Tax calculation will be finalised during checkout.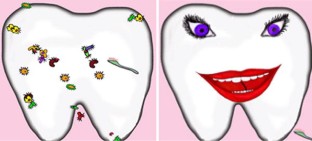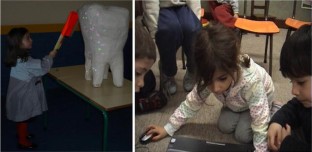 Notes
1.

Traditional graphical user interfaces is used to distinguish from other graphical interfaces that still rely on a display but incorporate novel interactions such as voice, gestures, and so on.

2.

These tables replace the tables presented in [7].
References
1.

Zuckerman O, Arida S, Resnick M (2005) Extending tangible interfaces for education: digital montessori—inspired manipulatives. In: Proceedings of CHI'05. ACM Press, New York, pp 859–868

2.

Marshall P (2007) Do tangible interfaces enhance learning? In: Proceedings of TEI'07. ACM Press, New York, pp 163–170

3.

Zaman B, Abeele V, Markopoulos P, Marshall P (2009) Tangibles for children, the challenges. In: Workshop abstract, CHI'09. ACM Press, New York

4.

Xu D, Mazzone E, MacFarlane S (2006) In search for evaluation methods for children's tangible technology. In: Proceedings of IDC'06. ACM Press, New York, pp 171–172

5.

Xu D, Read JC, Sheehan R (2008) In search of tangible magic. The 22nd BCS British- HCI. Liverpool, UK

6.

Xu D, Read JC, Sim G, McManus B (2009) Experience it, draw it, rate it: capture children's experiences with their drawings. In: Proceedings of IDC'09. ACM Press, New York, pp 266–270

7.

Sylla C, Branco P, Coutinho C, Coquet ME (2009). Storytelling though drawings: evaluating tangible interfaces for children. In: Proceedings of CHI'09. ACM Press, New York, pp 3461–3466

8.

Piaget J (1962) Play, dreams and imitation in childhood. Norton, New York

9.

Papert S (1980) Mindstorms: children, computers, and powerful ideas. Basic Books, New York

10.

Resnick M (2008) Sowing the seeds for a more creative society. Learn Lead Technol. December/January 2007–2008

11.

Brosterman N (1997) Inventing kindergarten. Harry N. Adams Inc, New York

12.

Montessori M (1912) The Montessori method: scientific pedagogy as applied to child education in the "children's houses". R. Bentley, Cambridge

13.

Resnick M, Martin F, Berg R, Borovoy R, Colella V, Kramer K, Silverman B (1998) Digital manipulatives: new toys to think with. In: Proceedings of CHI'98. ACM Press, New York, pp 281–287

14.

Hanna L, Risden K, Alexander KJ (1997) Guidelines for usability testing with children. Interactions 1997(5):9–14

15.

Fails JA, Druin A, Guha ML, Chipman G, Simms S, Churaman W (2005) Child's play: a comparison of desktop and physical interactive environments. In: Proceedings of IDC'05. ACM Press, New York, pp 48–55

16.

Donker A, Markopoulos P (2002) A comparison of think-aloud, questionnaires and interviews for testing usability with children. In: Faulkner X, Finlay J, Detienne F (eds) Proceedings of HCI'02. Springer, London, pp 305–316

17.

Donker A, Reitsma P (2004) Usability testing with young children. In: Proceedings of IDC'04. ACM Press, New York, pp 43–48

18.

Höysniemi J, Hamalainen P, Turkki L (2002) Using peer tutoring in evaluating usability of physically interactive computer game with children. In: Workshop proceedings of international workshop on interaction design and children. Eindhoven, The Netherlands, pp 144–152

19.

Read JC, MacFarlane SJ, Casey C (2002) Endurability, engagement and expectations: measuring children's fun. In: Proceedings of IDC'02. Shaker Publishing, Eindhoven, pp 189–198

20.

Markopoulos P, Bekker MM (2002) How to compare usability testing methods with children participants. In: Proceedings of IDC'02. ACM Press, New York, pp 153–158

21.

Airey S, Plowman L, Connolly D, Luckin R (2002) Rating children's enjoyment of toys, games and media. In: 3rd World congress of the international toy research association on toys, games and media, London

22.

Zaman B, Abeele V (2007) How to measure the likeability of tangible interaction with preschoolers. In: Proceedings of CHI'07, Infotec Nederland BV Woerden, Eindhoven, pp 57–59

23.

Lowenfeld V, Brittain W (1975) Creative and mental growth, 6th edn. Macmillan, New York

24.

Matthews J (2003) Drawing and painting: children and visual representation, 2nd edn. Paul Chapman, London

25.

Macmillan J, Schumacher S (1997) Research in education: a conceptual introduction. Longman, New York

26.

Gibbons JD (1993) Nonparametric statistics. Sage Publications, Newbury Park

27.

Coquet ME (2000) A Narrativa Gráfica uma Estratégia de Comunicação de Crianças e de Adultos. University of Minho, Braga

28.

Cohen J (1960) A coefficient of agreement for nominal scales. Edu Psychol Meas 2:37–46

29.

Krippendorff K (1980) Content analysis: an introduction to its methodology. V. 5. The Sage Series, SAGE Publications, Newbury Park

30.

Moore GW Developing and evaluating educational research. HarperCollins Publishers, NY

31.

Keats DM (2000) Cross-cultural studies in child development in Asian contexts. Cross Cult 34(4):339–350

32.

Ishii H, Ullmer B (1997) Tangible bits: towards seamless interfaces between people, bits and atoms. In: Proceedings of CHI'97. ACM Press, New York

33.

Ackermann E (2004) Constructing knowledge and transforming the world. A learning zone of one's own: sharing representations and flow in collaborative learning environments. In: Tokoro M, Steels L (eds) DC. IOS Press, Amsterdam, Berlin, Oxford, Tokyo, Washington, Part 1. Chap 2. pp 15–37
Acknowledgments
We would like to thank Colégio Teresiano and Colégio D. Diogo in Braga, the kindergarten teachers Andreia Oliveira e Rosália Henriques, the parents, and all the children for their willingness in helping us conducting this study. We thank the anonymous reviewers for their valuable input in helping us improving the original manuscript.
About this article
Cite this article
Sylla, C., Branco, P., Coutinho, C. et al. TUIs vs. GUIs: comparing the learning potential with preschoolers. Pers Ubiquit Comput 16, 421–432 (2012). https://doi.org/10.1007/s00779-011-0407-z
Received:

Accepted:

Published:

Issue Date:
Keywords
Tangible interfaces

Interaction design

Children and technology

Oral hygiene

Learning

Education