Abstract
The ambient intelligence paradigm involves one important challenge: to be adaptive to users and context through simple and natural interactions. To meet this goal, it is important to associate data with relevant everyday objects in the environment, including users themselves, and to enable interaction mechanisms between these objects. Following this premise, in this paper, we present a conceptual model to link contextual information with augmented elements acquired from user interactions in an implicit and transparent way. In this way, it is possible to personalize and enhance offered services in order to facilitate daily user activities. We call this contextual data "awareness marks", and these awareness marks make it possible to offer novel services adapted from past events that were captured as they happened. Moreover, we have developed and evaluated a set of prototypes using Near Field Communication technology, which follows the presented model.
Access options
Buy single article
Instant access to the full article PDF.
US$ 39.95
Tax calculation will be finalised during checkout.
Subscribe to journal
Immediate online access to all issues from 2019. Subscription will auto renew annually.
US$ 79
Tax calculation will be finalised during checkout.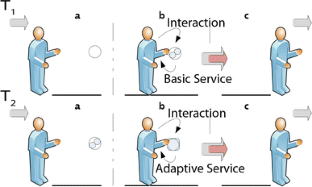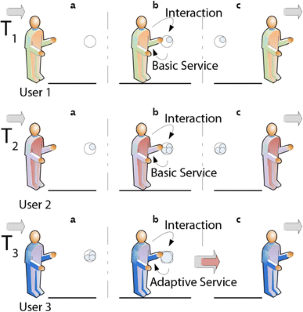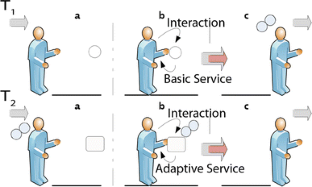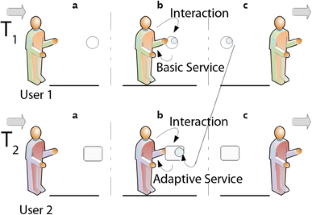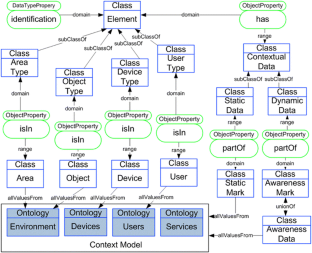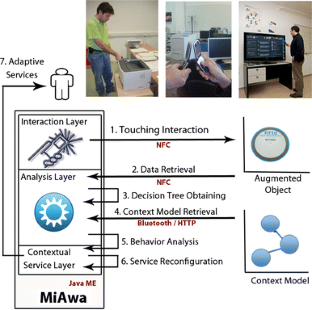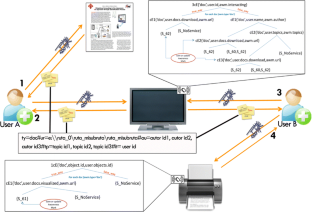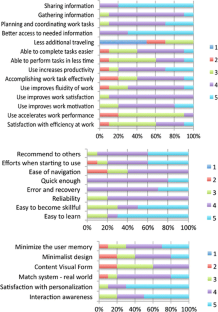 References
1.

Ferscha A, Hechinger M, Mayrhofer R, Dos Santos Rocha M, Franz M, Oberhauser R (2004) Digital aura. In: Advances in pervasive computing. Springer, Linz, Austria

2.

Schmidt A, Kranz M, Holleis P (2005) Interacting with the ubiquitous computing—towards embedding interaction. In: Smart objects & ambient intelligence. ACM, Grenoble, France

3.

Terrenghi L, Quigley A, Dix A (2009) A taxonomy for and analysis of multi-person-display ecosystems. Pers Ubiquit Comput 13(8):583–598. doi:10.1007/s00779-009-0244-5

4.

Loke SW (2006) Context-aware artifacts: two development approaches. IEEE Pervas Comput 5(2):48–53. doi:10.1109/MPRV.2006.27

5.

Taylor AS, Harper R, Swan L, Izadi S, Sellen A, Perry M (2009) Homes that make us smart. Pers Ubiquit Comput 11(5):383–393. doi:10.1007/s00779-006-0076-5

6.

Lopez-de-Ipiña D, Diaz-de-Sarralde I, García-Zubia J (2010) An ambient assisted living platform integrating RFID data-on-tag care annotations and twitter. J Univers Comput Sci 16(12):1521–1538. doi:10.3217/jucs-016-12

7.

Fuentes L, Gámez N, Sánchez P (2009) Managing variability of ambient intelligence middleware. J Ambient Comput Intell 1(1):64–74. doi:10.4018/jaci.2009010106

8.

García-Herranz M, Haya PA, Esquivel A, Montoro G, Alamán X (2008) Easing the smart home: semiautomatic adaptation in perceptive environments. J Univers Comput Sci 14(9):1529–1544. doi:10.3217/jucs-014-09

9.

Hervás R, Bravo J, Fontecha J (2010) A context model based on ontological languages, a proposal for information visualization. J Univers Comput Sci 16(12):1539–1555. doi:10.3217/jucs-016-12

10.

Hervás R, Bravo J (2011) Towards the ubiquitous visualization: adaptive user-interfaces based on the semantic Web. Interact Comput 23(1):40–56. doi:10.1016/j.intcom.2010.08.002

11.

Hervas R, Bravo J (2010) COIVA: Context-aware and Ontology-powered information visualization architecture. Software Pract Exper (In press) doi:10.1002/spe.1011

12.

Vuolle M, Tiainen M, Kallio T, Vainio T, Kulju M, Wigelius H (2008) Developing a questionnaire for measuring mobile business service experience. In: International conference on HCI with mobile devices and services. New York, NY, USA
Acknowledgments
This work has been financed by the TIN2009-14406-C05-03 and TIN2010-20510-C04-04 projects from the Ministerio de Ciencia e Innovaciόn (Spain) and by HITO-09-50 project from Junta de Comunidades de Castilla- La Mancha (Spain).
About this article
Cite this article
Hervás, R., Bravo, J. & Fontecha, J. Awareness marks: adaptive services through user interactions with augmented objects. Pers Ubiquit Comput 15, 409–418 (2011). https://doi.org/10.1007/s00779-010-0363-z
Received:

Accepted:

Published:

Issue Date:
Keywords
Context awareness

Ontology

Ambient intelligence

Human–computer interaction

Augmented objects