Abstract
The automatic identification capabilities of mobile devices enable the use of implicit interactions to connect the physical world with digital services. For example, users can be provided with information and services just by approaching to them or pointing to them with a mobile device. This kind of interactions can improve business processes by reducing the gap between physical and digital spaces. This work presents Parkour, a design method for workflows that make use of implicit interactions. Parkour allows designers to indicate how implicit interactions can be orchestrated to support a workflow. Furthermore, reconfiguration techniques have been applied to adapt at run-time the degree in which these interactions intrude the user's mind. Tool support has been developed to automate the validation of the workflow models and support the system reconfiguration. Finally, the proposal has been applied in the development of several workflows.
Access options
Buy single article
Instant access to the full article PDF.
US$ 39.95
Tax calculation will be finalised during checkout.
Subscribe to journal
Immediate online access to all issues from 2019. Subscription will auto renew annually.
US$ 79
Tax calculation will be finalised during checkout.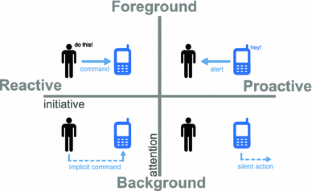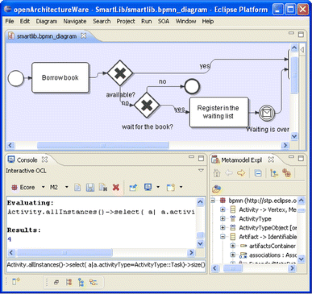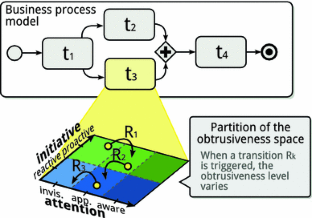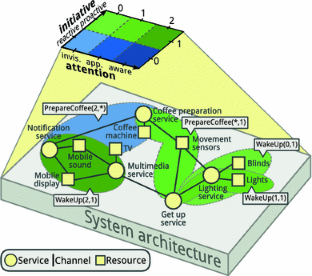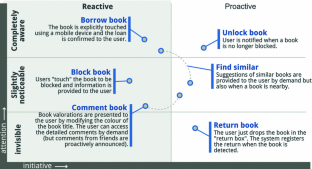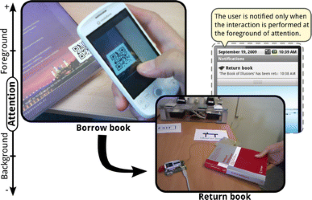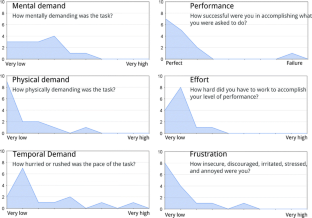 Notes
1.

With existing approaches, the obtrusiveness aspect can be hardcoded in the process definition by invoking services of this kind. However, this hinders the dynamic adaptation of this aspect since processes must be re-designed so that the obtrusiveness level can be changed.

2.

3.

Communication channels among components are also defined in the superimposition operator, but they are omitted in the example for clarity.

4.

5.

6.
References
1.

Cetina C, Giner P, Fons J, Pelechano V (2009) Autonomic computing through reuse of variability models at runtime: the case of smart homes. Computer 42(10):37–43

2.

Chakraborty D, Lei H (2004) Pervasive enablement of business processes. In: PerCom'04, IEEE Computer Society, Washington, p 87

3.

Chavira G, Bravo J, Nava-Díaz S, Rolón J (2010) Pictac: a model for perceiving touch interaction through tagging context. JUCS 16(12):1577–1591

4.

den Bergh JV, Coninx K (2005) Towards modeling context-sensitive interactive applications: the context-sensitive user interface profile (CUP). In: SoftVis'05. ACM Press, New York, pp 87–94

5.

Giner P, Cetina C, Fons J, Pelechano V (2010) Developing mobile workflow support in the internet of things. IEEE Pervasive Comput 9(2):18–26

6.

Horvitz E, Kadie C, Paek T, Hovel D (2003) Models of attention in computing and communication: from principles to applications. Commun ACM 46(3):52–59

7.

Ju W, Leifer L (2008) The design of implicit interactions: making interactive systems less obnoxious. Des Issues 24(3):72–84

8.

Rukzio E, Leichtenstern K, Callaghan V (2006) An experimental comparison of physical mobile interaction techniques: Touching, pointing and scanning. In: 8th International Conference on Ubiquitous. Computing, UbiComp 2006. Orange County, California

9.

Urbanski S, Huber E, Wieland M, Leymann F, Nicklas D (2009) Perflows for the computers of the 21st century. Percom'09 0:1–6

10.

Vastenburg MH, Keyson DV, de Ridder H (2008) Considerate home notification systems: a field study of acceptability of notifications in the home. Pers Ubiquitous Comput 12(8):555–566

11.

Vuolle M, Tiainen M, Kallio T, Vainio T, Kulju M, Wigelius H (2008) Developing a questionnaire for measuring mobile business service experience. In: MobileHCI'08. ACM, New York, pp 53–62

12.

Weiser M (1991) The computer for the 21st century. Sci Am 265(3):66–75
Additional information
This work has been developed with the support of MICINN under the project EVERYWARE (TIN2010-18011).
About this article
Cite this article
Giner, P., Cetina, C., Fons, J. et al. Implicit interaction design for pervasive workflows. Pers Ubiquit Comput 15, 399–408 (2011). https://doi.org/10.1007/s00779-010-0360-2
Received:

Accepted:

Published:

Issue Date:
Keywords
Internet of things

Mobile workflows

Implicit mobile interactions