Abstract
Background
This study aimed to translate and validate the STarT Back Screening Tool (SBST) in Iran.
Methods
This was a prospective clinical validation study. The translation and cross-cultural adaptation of the original questionnaire was performed, and a total of 269 patients with lumbar central canal stenosis were asked to respond to the questionnaire at their first visits. Patients also were asked to complete the Oswestry Disability Index (ODI). Reliability was assessed by internal consistency using the Cronbach's alpha coefficient. Validity was evaluated by performing convergent validity and responsiveness to change.
Results
Mean patient age was 58.6 [standard deviation (SD) = 10.9] years; 56.5 % were women. According to patients' imaging, they were diagnosed as grade 1 (n = 86), grade 2 (n = 107), and grade 3 (n = 76). In general, the SBST showed good psychometric properties. Cronbach's alpha coefficient for overall scale (Q1–Q9) and psychosocial subscale (Q5–Q9) was 0.82 and 0.79, respectively. The ODI correlated strongly with overall SBST scores, lending support to its good convergent validity (r = 0.81; P < 0.001). Responsiveness to change also indicated desirable results.
Conclusion
In general, the Iranian version of the SBST performed well, and findings suggest that it is a reliable and valid measure for screening low back pain in patients with lumbar central canal stenosis in primary care settings.
Access options
Buy single article
Instant access to the full article PDF.
USD 39.95
Price excludes VAT (USA)
Tax calculation will be finalised during checkout.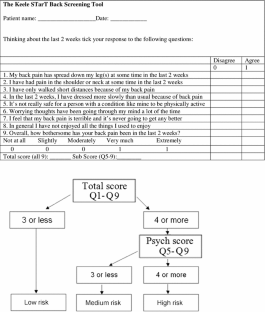 References
O'Leary CB, Cahill CR, Robinson AW, Barnes MJ, Hong J. A systematic review: the effects of podiatrical deviations on nonspecific chronic low back pain. J Back Musculoskelet Rehabil. 2013;26:117–23.

Gevirtz C. Update on treatment of lumbar spinal stenosis. Part 1: defining the problem, diagnosis, and appropriate imaging. Topics Pain Management. 2010;25:1–5.

Airaksinen O, Brox JI, Cedraschi C, Hildebrandt J, Klaber-Moffett J, Kovacs F, Mannion AF, Reis S, Staal JB, Ursin H, Zanoli G. Chapter 4. European guidelines for the management of chronic nonspecific low back pain. Eur Spine J. 2006;15(Suppl 2):S192–300.

Dunn KM, Lewis M, Mullis R, Hill J, Main CJ, Hay EM. STarT Back––development of a low back pain screening tool. Rheumatology. 2005;44:i85.

Hill JC, Dunn KM, Mullis R, Lewis M, Main CJ, Hay EM. Validation of a new low back pain sub-grouping tool for primary care (The STarT Back Tool). Rheumatology. 2006;45:i119.

Hill JC, Dunn KM, Lewis M, Mullis R, Main CJ, Foster NE, Hay EM. A primary care back pain screening tool: identifying patient subgroups for initial treatment. Arthr Care Res. 2008;59:632–41.

Gusi N, del Pozo-Cruz B, Olivares PR, Hernández-Mocholi M, Hill JC. The Spanish version of the "STarT Back Screening Tool" (SBST) in different subgroups. Aten Primaria. 2011;43:356–61.

Bruyère O, Demoulin M, Brereton C, Humblet F, Flynn D, Hill JC, Maquet D, Beveren JV, Reginster JY, Crielaard JM, Demoulin C. Translation validation of a new back pain screening questionnaire (the STarT Back Screening Tool) in French. Arch Public Heal. 2012;70:12.

Morsø L, Albert H, Kent P, Manniche C, Hill J. Translation and discriminative validation of the STarT Back Screening Tool into Danish. Eur Spine J. 2011;20:2166–73.

Keele university, STarT Back Screening Tool Website [http://www.keele.ac.uk/sbst/translatedversions/].

Keele university, STarT Back Screening Tool Website [http://www.keele.ac.uk/sbst/researcharticles/].

Beaton DE, Bombardier C, Guillemin F, Ferraz MB. Guidelines for the process of cross-cultural adaptation of self-report measures. Spine. 2000;25:3186–91.

WHO: Process of translation and adaptation of instruments. [http://www.who.int/substance_abuse/research_tools/translation/en/].

Bulliger M, Alonso J, Apolone G. Translating health status questionnaire and evaluating their quality: the IQOLA project approach. J Clin Epidemol. 1998;9:13–23.

Mousavi SJ, Parnianpour M, Mehdian H, Montazeri A, Mobini B. The Oswestry Disability Index, the Roland–Morris Disability questionnaire, and the Quebec back pain disability scale: translation and validation studies of the Iranian versions. Spine. 2006;31:454–9.

Nunnally JC, Bernstien IH. Psychometric theory. 3rd ed. New York: McGraw-Hill; 1994.

Kirkwood BR, Sterne JAC. Essential medical statistics. 2nd ed. Oxford: Blackwell Publishing Ltd.; 2004. p. 430–1.
Acknowledgments
The authors thank the staff of the Neurosurgery Unit at Imam-Hossain Hospital, Tehran, Iran.
Conflict of interest
The authors declare that they have no competing interests.
Electronic supplementary material
Below is the link to the electronic supplementary material.
About this article
Cite this article
Azimi, P., Shahzadi, S., Azhari, S. et al. A validation study of the Iranian version of STarT Back Screening Tool (SBST) in lumbar central canal stenosis patients. J Orthop Sci 19, 213–217 (2014). https://doi.org/10.1007/s00776-013-0506-y
Received:

Accepted:

Published:

Issue Date:

DOI: https://doi.org/10.1007/s00776-013-0506-y
Keywords
Oswestry Disability Index

Pain Catastrophizing Scale

Iranian Version

Persian Version

Good Convergent Validity