Abstract
The new ruthenium (III) complex has been synthesized and characterized by elemental analysis, FT-IR, UV–Vis, EI-Mass, EPR spectroscopy, and magnetic susceptibility measurement. Cytotoxic effects of organoruthenium (II/III) complexes 1a, 1b, and 2a, and their ligands (TSC1 and TSC2) in cultured human ovarian (A2780, SKOV-3, and OVCAR-3) and colon (DLD, CCD18Co, and Caco-2) cells have been investigated comparing reactivity of the Ru (II/III) complexes and their free TSC ligands. The complexes exhibit higher cytotoxicity in three cancer cell lines than in normal cells. The binding with CT-DNA and BSA of the all complexes were weak compared with their ligand in spite of the cellular uptake of these complexes into the cytoplasm and then nucleus while their cytotoxic effects were vice versa. All the results showed that Complex 1b has more efficient cytotoxicity on the colon cancer cells than ovarian cancer cells. However, Complex 2a is a better drug candidate especially for antitumor therapy of metastasized ovarian cancer.
This is a preview of subscription content, log in to check access.
Access options
Buy single article
Instant access to the full article PDF.
US$ 39.95
Price includes VAT for USA
Subscribe to journal
Immediate online access to all issues from 2019. Subscription will auto renew annually.
US$ 99
This is the net price. Taxes to be calculated in checkout.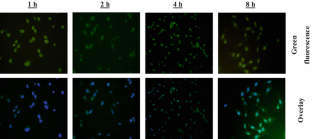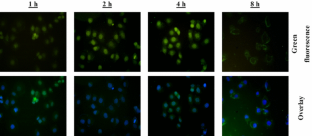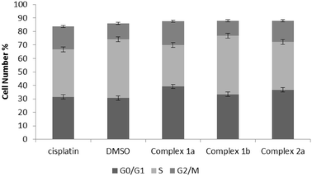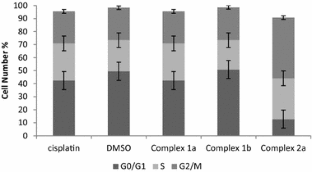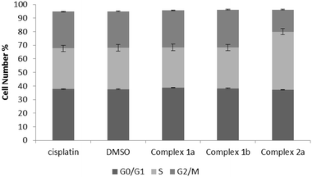 References
1.

Klayman DL, Scovill JP, Bartosevich JF, Bruce J (1983) J Med Chem 26:35–39

2.

Beraldo H, Gambino D (2004) MiniRev Med Chem 4:31–39

3.

Garcia-Tojal J, Garcia-Orad A, Serra JL, Pizarro JL, Lezamma L, Arriortua MI, Rojo T (1999) J Inorg Biochem 75:45–54

4.

Dobek AS, Klayman DL, Dickson ET, Scovill JP, Tramont EC (1980) Antimicrob Agents Chemother 18:27–36

5.

Ramachandran R, Rani M, Kabilan S (2009) Bioorg Med Chem Lett 19:2819–2823

6.

Kovala-Demertzi D, Miller JR, Kourkoumelis N, Hadjikakou SK, Demertzis MA (1999) Polyhedron 18:1005–1013

7.

Finch RA, Liu MC, Grill SP, Rose WC, Loomis R, Vasquez KM, Cheng YC, Sartorelli AC (2000) Biochem Pharmacol 59:983–991

8.

Sharma S, Athar F, Maurya MR, Azam A (2005) Eur J Med Chem 40:1414–1419

9.

Parrilha GL, Da Silva JG, Gouveia LF, Gasparoto AK, Dias RP, Rocha WR, Santos DA, Speziali NL, Beraldo H (2011) Eur J Med Chem 46:1473–1482

10.

Alomar K, Gaumet V, Allain M, Bouet G, Landreau A (2012) J Inorg Biochem 115:36–43

11.

Shipman C Jr, Smith SH, Drach JC, Klayman DL (1986) Antivir Res 6:197–222

12.

Usman A, Razak IA, Chantrapromma S, Fun H-K, Sreekanth A, Sivakumar S, Kurup MRP (2002) Acta Crystallogr C 58:M461–M463

13.

Du J, Zhang E, Zhao Y, Zheng W, Zhang Y, Lin Y, Wang Z, Luo Q, Wu K, Wang F (2015) Metallomics 7:1573–1583

14.

Markowska A, Kasprzak B, Jaszczynska-Nowinka K, Lubin J, Markowska J (2015) Contemp Oncol 19:271–275

15.

Meng X, Leyva ML, Jenny M, Gross I, Benosman S, Fricker B, Harlepp S, Hebraud P, Boos A, Wlosik P, Bischoff P, Sirlin C, Pfeffer M, Loeffler JP, Gaiddon C (2009) Cancer Res 69:5458–5466

16.

Muhammad N, Guo Z (2014) Curr Opin Chem Biol 19:144–153

17.

Oehninger L, Stefanopoulou M, Alborzinia H, Schur J, Ludewig S, Namikawa K, Munoz-Castro A, Koster RW, Baumann K, Wolfl S, Sheldrick WS, Ott I (2013) Dalton Trans 42:1657–1666

18.

Patil SA, Patil SA, Patil R, Keri RS, Budagumpi S, Balakrishna GR, Tacke M (2015) Future Med Chem 7:1305–1333

19.

Kelland L (2007) The resurgence of platinum-based cancer chemotherapy. Nat Rev Cancer 7:573–584

20.

Bruijnincx PC, Sadler PJ (2008) Curr Opin Chem Biol 12:197–206

21.

Kannarkat G, Lasher EE, Schiff D (2007) Curr Opin Neurol 20:719–725

22.

Saygideger B, Keles T, Serindag O (2014) Bioinorg Chem Appl 2014:717421

23.

Brescacin L, Masi A, Sava G, Bergamo A (2015) J Biol Inorg Chem 20:1163–1173

24.

Depenbrock H, Schmelcher S, Peter R, Keppler BK, Weirich G, Block T, Rastetter J, Hanauske AR (1997) Eur J Cancer 33:2404–2410

25.

Pampaloni G (2010) Coord Chem Rev 254:402–419

26.

Therrien B (2009) Coord Chem Rev 253:493–519

27.

Allardyce CS, Dorcier A, Scolaro C, Dyson PJ (2005) Appl Organomet Chem 19(1):1–10

28.

Yildirim H, Guler E, Yavuz M, Ozturk N, Yaman PK, Subasi E, Şahin E, Timur S (2014) Mater Sci Eng C 44:1–8

29.

Öztürk N, Yaman PK, Yavuz M, Öter Ö, Timur S, Subaşi E (2014) J Coord Chem 67(16):2688–2700

30.

Bennett MA, Huang TN, Matheson TW, Smith AK (1985) Inorg Synth 21:75–78

31.

Jensen SB, Rodger SJ, Spicer MD (1998) J Organomet Chem 556(1):151–158

32.

Mandal SK, Chakravarty AR (1992) Polyhedron 11:823–827

33.

Yaman PK, Şen B, Karagöz CS, Subaşı E (2017) J Organomet Chem 832:27–35

34.

Klayman DL, Lin AJ, Acton N, Scovill JP, Hoch JM, Milhous WK (1984) J Nat Prod 47:715–717

35.

Scovill JP (1991) Phosphorus Sulfur Silicon Relat Elem. 60:15–19

36.

Perrin DD, Armarego WLF, Perrin DR (1980) Purification of laboratory chemicals, 2nd edn. Pergamon, Oxford

37.

Sampath K, Sathiyaraj S, Raja G, Jayabalakrishnan C (2013) J Mol Struct 1046:82–91

38.

Winkhaus G, Singer H (1967) J Organomet Chem 7:487–491

39.

Manimaran A, Jayabalakrishnan C (2012) J Adv Res 3:233–236

40.

Natarajan K, Poddar RK, Agarwala U (1977) J Inorg Nucl Chem 39:431–435

41.

Auzias M, Therrien B, Süss-Fink G, Štěpnika P, Ang WH, Dyson PJ (2008) Inorg Chem 47:578–583

42.

Jayabalakrishnan C, Karvembu R, Natarajan K (2002) Transition Met Chem 27(7):790–794

43.

Singh S, Athar F, Maurya MR, Azam A (2006) Eur J Med Chem 41(5):592–598

44.

Karvembu R, Natarajan K (2002) Polyhedron 21(17):1721–1727

45.

Manivannan S, Prabhakaran R, Balasubramanian KP, Dhanabal V, Karvembu R, Chinnusamy V, Natarajan K (2007) Appl Organometal Chem 21:952–957

46.

Khan MMT, Srinivas D, Kureshy RI, Khan NH (1990) Inorg Chem 29:2320–2326

47.

Thangadurai TD, Natarajan K (2001) Transition Met Chem 26:717–722

48.

Ballhausen CJ (1962) Ligand field theory. MacGraw-Hill, New York

49.

Ramesh R, Maheswaran S (2003) J Inorg Biochem 96:457–462

50.

Lever ABP (1984) Inorganic electronic spectroscopy, 2nd edn. Elsevier, New York

51.

Pal S (2003) Eur J Inorg Chem 2003(23):4244–4252

52.

Mosmann T (1983) J Immunol Methods 65:55

53.

Esteghamat-Panah R, Hadadzadeh H, Farrokhpour H, Mortazavi M, Amirghofran Z (2017) Inorg Chim Acta 454:184–196

54.

Dong ZQ, Liu FM, Zeng YM (2011) J Chem Crystallogr 41(8):1158–1164

55.

Gonzaga D, da Silva FC, Ferreira VF, Wardell JL, Wardell SM (2016) J Chem Crystallogr 46(2):67–76

56.

Zhang QL, Liu JG, Chao H, Xue GQ, Ji LN (2001) J Inorg Biochem 83:49–55

57.

Gupta RK, Pandey R, Sharma G, Prasad R, Koch B, Srikrishna S, Li PZ, Xu Q, Pandey DS (2013) Inorg Chem 52:13984–13996

58.

Mancin F, Scrimin P, Tecilla P, Tonellato U (2005) Chem Commun 20:2540–2548

59.

Tjioe L, Meininger A, Joshi T, Spiccia L, Graham B (2011) Inorg Chem 50:4327–4339

60.

Shanmugapriya A, Kalaiarasi G, Kalaivani P, Dallemer F, Prabhakaran R (2016) Inorg Chim Acta 449:107–118

61.

Xiao L, Wang H, Zhang Q, Zhu Y, Luo J, Liang Y, Zhang S, Zhou H, Tian Y, Wu J (2015) Dyes Pigm 113:165–173

62.

Wolfe A, Shimer G Jr, Meehan T (1987) Biochemistry 26:6392–6396

63.

Gup R, Erer O, Dilek N (2017) J Mol Struct 1129:142–151

64.

Leung SK, Kwok KY, Zhang KY, Wing Lo KK (2010) Inorg Chem 49:4984–4995

65.

Muralisankar M, Sujith S, Bhuvanesh NSP, Sreekanth A (2016) Polyhedron 118:103–117

66.

Stern O, Volmer M (1919) Z Phys 20:183–188

67.

Kathiravan A, Chandramohan M, Renganathan R, Sekar S (2009) J Mol Struct 919:210–214

68.

Lakowicz JR (1991) Principles of fluorescence spectroscopy. Springer, New York

69.

Böhme U, Scheler U (2007) Chem Phys Lett 435:342–345

70.

Frasca D, Ciampa J, Emerson J, Umans RS, Clarke MJ (1996) Met Based Drugs 3:197–209

71.

Clarke MJ (2002) Coord Chem Rev 232:69–93

72.

Messori L, Vilchez FG, Vilaplana R, Piccioli F, Alessio E, Keppler B (2000) Met Based Drugs 7:335–342

73.

Messori L, Orioli P, Vullo D, Alessio E, Iengo E (2000) Eur J Biochem 267:1206–1213

74.

Groessl M, Reisner E, Hartinger CG, Eichinger R, Semenova O, Timerbaev AR, Jakupec MA, Arion VB, Keppler BK (2007) J Med Chem 50:2185–2193

75.

Yan YY, Su XD, Liang YJ, Zhang JY, Shi CJ, Lu Y, Gu LQ, Fu LW (2008) Mol Cancer Ther 7:1688–1697
Acknowledgements
This study was supported by project number 215Z663 TUBITAK (The Scientific and Technological Research Council of Turkey), sincerely. We gratefully thank the Graduate School of Natural and Applied Sciences, Dokuz Eylül University, İzmir Biomedicine and Genome Center, Dokuz Eylül University and EBILTEM, Ege University. We also thank to Technician Birgül Kehlibar who made MTT analysis.
Electronic supplementary material
Below is the link to the electronic supplementary material.
About this article
Cite this article
Tavsan, Z., Yaman, P.K., Subasi, E. et al. Screening organometallic thiophene containing thiosemicarbazone ruthenium (II/III) complexes as potential anti-tumour agents. J Biol Inorg Chem 23, 425–435 (2018). https://doi.org/10.1007/s00775-018-1549-5
Received:

Accepted:

Published:

Issue Date:
Keywords
Ruthenium (II/III) thiosemicarbazone

Synthesis

Cytotoxicity

Antitumor

Colon cancer