Abstract
This paper deals with the synthesis and characterization of iron-hexacyanocobaltate (FeHCC) and its antibacterial properties. The nanoparticles were prepared by a facile co-precipitation technique. Crystal structure, particle morphology, and elemental composition were determined using X-ray Powder Diffraction, X-ray fluorescence spectroscopy, Transmission Electron Microscopy (TEM), and Infrared Spectroscopy (IR). The antibacterial activity of the FeHCC nanoparticles was tested against Escherichia coli and Staphylococcus aureus as models for Gram-negative and Gram-positive bacteria, respectively, by bacterial counting method and microscopic visualization (TEM, FEG-SEM, and fluorescence microscopy). The results showed that the FeHCC nanoparticles bind to the bacterial cells, inhibit bacterial growth in a dose- and time-dependent manner, inducing a loss of the membrane potential, the production of reactive oxygen species and the release of macromolecules (nucleic acids and proteins) in the extracellular environment. To the best of our knowledge, this is the first study reporting the antimicrobial effects of metal-hexacyanometallates suggesting practical uses of these materials in different areas, such as self-cleaning surfaces or food packaging.
Access options
Buy single article
Instant access to the full article PDF.
USD 39.95
Price excludes VAT (USA)
Tax calculation will be finalised during checkout.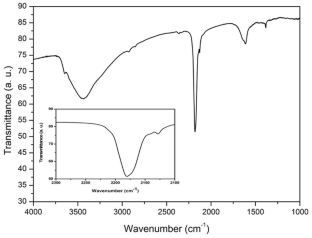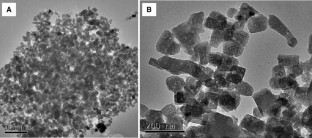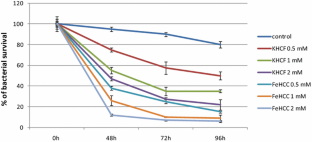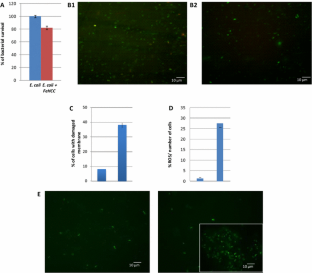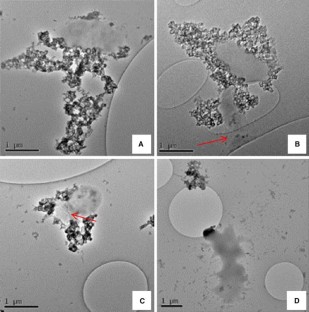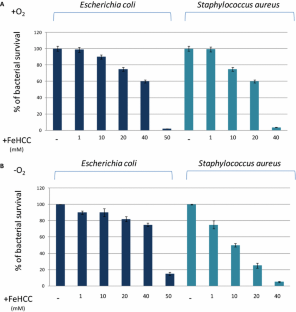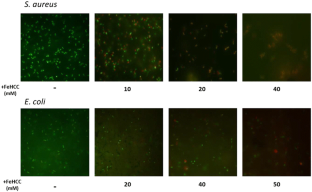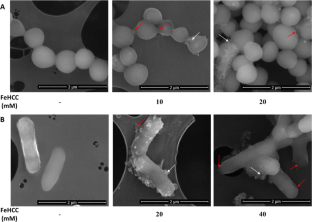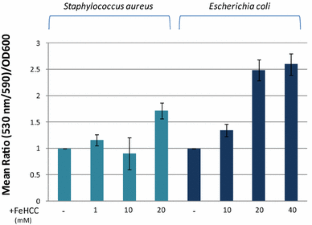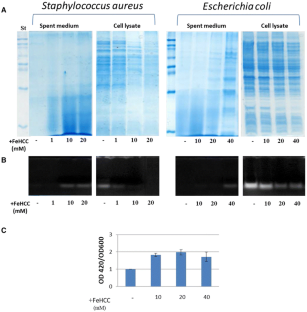 References
Zhao X, Zhao F, Wang J, Zhong N (2017) RSC Adv 7:36670–36683

D'Andrea A, Martinez YZ, Alduina R, Monteverde V, Molina CF, Vitale M (2012) Mem Inst Oswaldo Cruz 107:85–88

Vitale M, Scatassa ML, Cardamone C, Oliveri G, Piraino C, Alduina R, Napoli C (2015) Foodborne Pathog Dis 12:21–23

Randazzo L, Montana G, Alduina R, Quatrini P, Tsantini E, Salemi B (2015) J Cult Herit 16:838–847

Charnley M, Textor M, Acikgoz C (2011) React Funct Polym 71:329–334

Rubino S, Busà R, Attanzio A, Alduina R, Di Stefano V, Girasolo MA, Orecchio S, Tesoriere L (2017) Bioorg Med Chem 25:2378–2386

Cancemi P, Buttacavoli M, D'Anna F, Feo S, Fontana RM, Noto R, Sutera A, Vitale P, Gallo G (2017) New J Chem 41:3574–3585

Dresler C, Saladino ML, Demirbag C, Caponetti E, Chillura Martino DF, Alduina R (2017) Int Biodeterior Biodegradation 125:150–156

Luo PG, Stutzenberger FJ (2008) Adv Appl Microbiol 63:145–181

Sondi I, Salopek-Sondi B (2004) J Colloid Interf Sci 275:177–182

Li J, Tan L, Liu X, Cui Z, Yang X, Yeung KWK, Chu PK, Wu S (2017) ACS Nano 11:11250–11263

Jones N, Ray B, Koodali RT, Manna AC (2008) FEMS Microbiol Lett 279:71–76

Gadang VP, Hettiarachchy NS, Johnson MG, Owens C (2008) J Food Sci 73:389–394

Amna T, Hassan MS, Yousef A, Mishra A, Barakat NAM, Khil MS, Yong Kim H (2013) Food Bioprocess Technol 6:988–996

Ciabocco M, Berrettoni M, Zamponi S, Cox JA (2016) J Solid State Electrochem 20:1323–1329

Berrettoni M, Ciabocco M, Fantauzzi M, Giorgetti M, Rossi A, Caponetti E (2015) RSC Adv 5:35435–35447

Ciabocco M, Berrettoni M, Giorgetti M, Sougrati MT, Louvain N, Stievano L (2016) New J Chem 40:10406–10411

Bagramyan K, Galstyan A, Trchounian A (2000) Bioelectrochemistry 51:151–156

Rykov AI, Wang J, Zhang T, Nomura K (2013) Hyperfine Interact 218:53–58

Beheir SG, Benyamin K, Mekhail FM (1998) J Radioanal Nucl Chem 232:147–150

Widmann A, Kahlert H, Petrovic-Prelevic I, Wulff H, Yakhmi JV, Bagkar N, Scholz F (2002) Inorg Chem 41:5706–5715

Ciabocco M, Berrettoni M, Chillura Martino DF, Giorgetti M (2014) Solid State Ionics 259:53–58

Garjonyte R, Malinauskas A (1998) Sens Actuators B 46:236–241

Ciabocco M, Berrettoni M, Zamponi S, Cox JA, Marini S (2013) J Solid State Electrochem 17:2445–2452

Holland TJB, Redfern SAT (1997) Mineral Mag 61:65–77

Giardina A, Alduina R, Gottardi E, Di Caro V, Süssmuth RD, Puglia AM (2010) Microb Cell Fact 9:44–54

Vitale M, Gaglio S, Galluzzo P, Cascone G, Piraino C, Di Marco LoPresti V, Alduina R (2017) Foodborne Pathog Dis. https://doi.org/10.1089/fpd.2017.2338

Lo Grasso L, Maffioli S, Sosio M, Bibb M, Puglia AM, Alduina R (2015) J Bacteriol 197:2536–2544

Musso R, Di Cara G, Albanese NN, Marabeti MR, Cancemi P, Martini D, Orsini E, Giordano C, Pucci-Minafra I (2013) J Proteom 90:115–125

Cancemi P, Di Cara G, Albanese NN, Costantini F, Marabeti MR, Musso R, Riili I, Lupo C, Roz E, Pucci-Minafra I (2012) Proteom Clin Appl 6:364–373

Caracappa S, Pisciotta A, Persichetti MF, Caracappa G, Alduina R, Arculeo M (2016) Can J Zool 94:379–383

Nakamoto K (1986) Infrared and Raman spectra of inorganic and coordination compounds. John-Wiley and Sons, New York, p 484

Sharpe AG, Maitlis P, Stone FAG, West R (1976) The chemistry of cyano complexes of the transition metals. Academic Press, New York

Roque J, Reguera E, Balmaseda J, Rodríguez-Hernández J, Reguera L, del Castillo LF (2007) Microporous Mesoporous Mater 103:57–71

Buttacavoli M, Albanese NN, Di Cara G, Alduina R, Faleri C, Gallo M, Pizzolanti G, Gallo G, Feo S, Baldi F, Cancemi P (2017) Oncotarget 9:9685–9705

Lemire JA, Harrison JJ, Turner RJ (2013) Nat Rev 11:371–384

Lin S, Liu X, Tan L, Cui Z, Yang X, Yeung KWK, Pan H, Wu S (2017) ACS Appl Mater Interfaces 9:19248–19257

Xie X, Mao C, Liu X, Zhang Y, Cui Z, Yang X, Yeung KWK, Pan H, Chu PK, Wu S (2017) ACS Appl Mater Interfaces 9:26417–26428

Mao C, Xiang Y, Liu X, Cui Z, Yang X, Yeung KWK, Pan H, Wang X, Chu PK, Wu S (2017) ACS Nano 11:9010–9021

Xiang Y, Li J, Liu X, Cui Z, Yang X, Yeung KWK, Pan H, Wu S (2017) Mater Sci Eng C 79:629–637

Auffan M, Achouak W, Rose J, Roncato MA, Chanéac C, Waite DT, Masion A, Woicik JC, Wiesner MR, Bottero JY (2008) Environ Sci Technol 42:6730–6735

Kügler R, Bouloussa O, Rondelez F (2005) Microbiology 151:1341–1348
Acknowledgements
This work is part of the project "Development and Application of Innovative Materials and processes for the diagnosis and restoration of Cultural Heritage–DELIAS"–PON03PE_00214_2 (Programma Operativo Nazionale Ricerca e Competitività 2007–2013). TEM experimental data were provided by Polo Centro Grandi Apparecchiature—ATeN Center—Università di Palermo funded by P.O.R. Sicilia 2000–2006, Misura 3.15 Azione C Quota Regionale. FEG-SEM experimental data were provided by the ATeN-Center of University of Palermo, Laboratorio di preparazione di biomateriali.
Electronic supplementary material
Below is the link to the electronic supplementary material.
About this article
Cite this article
Ciabocco, M., Cancemi, P., Saladino, M.L. et al. Synthesis and antibacterial activity of iron-hexacyanocobaltate nanoparticles. J Biol Inorg Chem 23, 385–398 (2018). https://doi.org/10.1007/s00775-018-1544-x
Received:

Accepted:

Published:

Issue Date:

DOI: https://doi.org/10.1007/s00775-018-1544-x
Keywords
Metal-hexacyanoferrates

Iron-hexacyanocobaltate

Antibacterial activity

Escherichia coli
Staphylococcus aureus