Note from the SBIC President
Part of the following topical collections: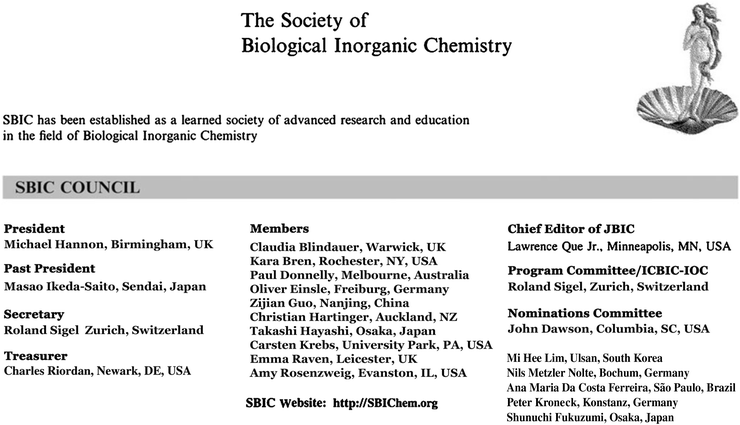 Dear Friends and Colleagues,
This issue is notable as a tribute to one of our Society's honorary members, Professor Helmut Sigel. Too often we only celebrate people's contributions after they have gone, and so it a real pleasure to see this special issue coming out now and to have a chance to recognise Helmut's contributions in the field over such a sustained period. Although he has been formally retired for some time now, Helmut remains a familiar face at all our major conferences, and the book series he and his family produce continues to go from strength to strength. He is a great source of wisdom and knowledge, not only scientifically where his understanding of metals interacting with nucleic acids remains unequalled, but also in the history of the emergence of bioinorganic chemistry, our conferences and the Society—events in which he himself played key roles. We are all grateful to him for his contributions to our community, and I am personally grateful for his advice and good humour. I am delighted both personally and as SBIC President to use this opportunity to thank him for all that he has done and for the many contributions that I know he will continue to make.
I had the great pleasure this November to attend the launch of a new society in our field—the Irish Biological Inorganic Chemistry Society (IBICS). This group is pulling together and networking bioinorganic chemists in all Ireland (North and South) and has a particular focus on engaging with biomedical researchers. The Society was launched in Maynooth at an inaugural symposium that they hope will be an annual event, featuring lectures from across Ireland together with guest speakers from Austria and England. The numbers attending and the quality of the presentations revealed that bioinorganic chemistry is flourishing in Ireland, and it is clear that there are exciting collaborations emerging in that community particularly around metals in medicine. We thank Celine Marmion, Diego Montagner, Michael Devereux, Orla Howe and Matthias Tacke for their efforts in establishing this new national society. They have been kind enough to keep SBIC informed of their plans and seek our advice as they set this new Society up, and SBIC will look forward to working with IBICS in the future to promote our field of our research.
As we draw to the end of one year and the start of another in the Western calendar, I'd like to close by wishing you all a 2018 filled with every health, happiness and many personal and scientific successes.
With my best wishes,
Mike Hannon