Abstract
Vanadium compounds were studied during recent years to be considered as a representative of a new class of nonplatinum metal antitumor agents in combination to its low toxicity. On the other hand, flavonoids are a wide family of polyphenolic compounds synthesized by plants that display many interesting biological effects. Since coordination of ligands to metals can improve the pharmacological properties, we report herein, for the first time, a exhaustive study of the mechanisms of action of two oxidovanadium(IV) complexes with the flavonoids: silibinin Na2[VO(silibinin)2]·6H2O (VOsil) and chrysin [VO(chrysin)2EtOH]2 (VOchrys) on human colon adenocarcinoma derived cell line HT-29. The complexes inhibited the cell viability of colon adenocarcinoma cells in a dose dependent manner with a greater potency than that the free ligands and free metal, demonstrating the benefit of complexation. The decrease of the ratio of the amount of reduced glutathione to the amount of oxidized glutathione were involved in the deleterious effects of both complexes. Besides, VOchrys caused cell cycle arrest in G2/M phase while VOsil activated caspase 3 and triggering the cells directly to apoptosis. Moreover, VOsil diminished the NF-kB activation via increasing the sensitivity of cells to apoptosis. On the other hand, VOsil inhibited the topoisomerase IB activity concluding that this is important target involved in the anticancer vanadium effects. As a whole, the results presented herein demonstrate that VOsil has a stronger deleterious action than VOchrys on HT-29 cells, whereby suggesting that Vosil is the potentially best candidate for future use in alternative anti-tumor treatments.
Graphical Abstract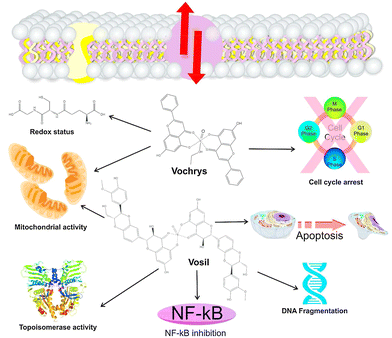 Access options
Buy single article
Instant access to the full article PDF.
US$ 39.95
Tax calculation will be finalised during checkout.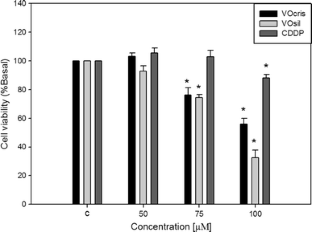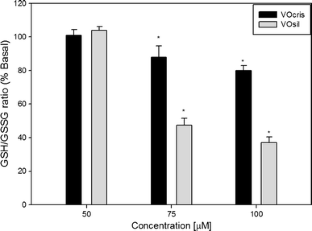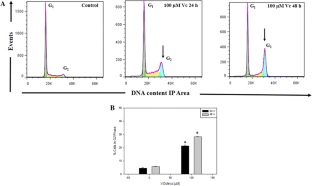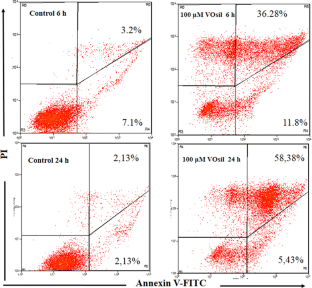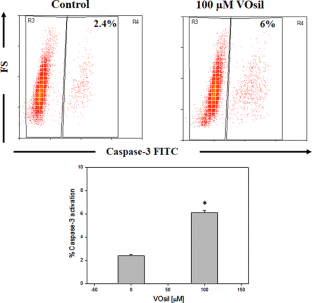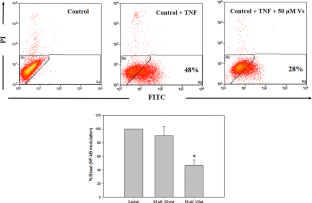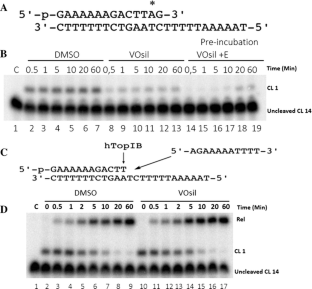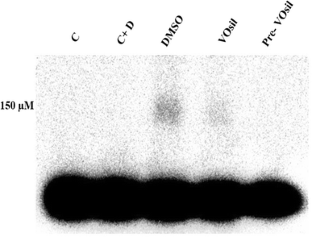 References
1.

Jemal A, Bray F, Center MM, Ferlay J, Ward E, Forman D (2011) CA Cancer J Clin 61:69–90

2.

Surh YJ (2003) Nat Rev Cancer 3:768–780

3.

Nielsen FH (1995) In: Sigel H, Sigel A (eds) Metal ions in biological systems, vanadium and its role in life. Dekker, New York, pp 543–574

4.

Srivastava K, Mehdi MZ (2004) Diabet Med 22:2–13

5.

Thompson KH, Lichter J, LeBel C, Scaife MC, McNeill JH, Orvig C (2009) J Inorg Biochem 103:554–558

6.

Shioda N, Han F, Fukunaga K (2009) Int Rev Neurobiol 85:375–387

7.

Evangelou AM (2002) Crit Rev Oncol Hematol 42:249–265

8.

Etcheverry SB, Williams PAM (2009) New developments in medicinal chemistry. In: Ortega MP, Gil IC (eds) Medicinal chemistry of copper and vanadium bioactive compounds. Nova, Hauppauge, pp 105–129

9.

Barrio DA, Etcheverry SB (2010) Curr Med Chem 17:3632–3642

10.

Köpf-Maier P (1987) Naturwissenschaften 74:374–382

11.

Naso LG, Ferrer EG, Butenko N, Cavaco I, Lezama L, Rojo T, Etcheverry SB, Williams PA (2011) J Biol Inorg Chem 16:653–668

12.

Naso LG, Ferrer EG, Lezama L, Rojo T, Etcheverry SB, Williams PA (2010) J Biol Inorg Chem 15:889–902

13.

Beecher GR (2003) J Nutr 133:3248S–3254S

14.

Han X, Shen T, Lou H (2007) Int J Mol Sci 8:950–988

15.

Gazák R, Walterova D, Kren V (2007) Curr Med Chem 14:315–338

16.

Singh RP, Agarwal R (2004) Curr Cancer Drug Targets 4:1–11

17.

Hogan FS, Krishnegowda NK, Mikhailova M, Kahlenberg MS (2007) J Surg Res 143:58–65

18.

Ge Y, Zhang Y, Chen Y, Li Q, Chen J, Dong Y, Shi W (2011) Int J Mol Sci 12:4861–4871

19.

Koc AN, Silici S, Ayangil D, Ferahbas A, Cankay S (2005) Mycoses 48:205–210

20.

Sak K (2014) Pharmacogn Rev 8:122–146

21.

Yu XM, Phan T, Patel PN, Jaskula-Sztul R, Chen H (2013) Cancer 119:774–781

22.

Li X, Wang JN, Huang JM, Xiong XK, Chen MF, Ong CN, Shen HM, Yang XF (2011) Toxicol In Vitro 25:630–635

23.

Uivarosi V, Barbuceanu SF, Aldea V, Arama CC, Badea M, Olar R, Marinescu D (2010) Molecules 15:1578–1589

24.

Thompson KH, Orvig C (2001) Coord Chem Rev 219:1033–1053

25.

Rehder D, Costa Pessoa J, Geraldes CF, Castro MM, Kabanos T, Kiss T, Meier B, Micera G, Pettersson L, Rangel M (2002) J Biol Inorg Chem 7:384–396

26.

Mukherjee R, Donnay EG, Radomski MA, Miller C, Redfern DA, Gericke A, Damron DS, Brasch NE (2008) Chem Commun (Camb) 32:3783–3785

27.

Leon IE, Di Virgilio AL, Porro V, Muglia CI, Naso LG, William PAM, Bollati Fogolin M, Etcheverry SB (2013) Dalton Trans 42:11868–11880

28.

Leon IE, Porro V, Di Virgilio AL, Naso LG, William PAM, Bollati Fogolin M, Etcheverry SB (2014) J Biol Inorg Chem 19:59–74

29.

Okajima T, Nakamura K, Zhang H, Ling N, Tanabe T, Yasuda T, Rosenfeld RG (1992) Endocrinology 130:2201–2212

30.

Cortizo AM, Etcheverry SB (1995) Mol Cell Biochem 145:97–102

31.

Mosmann TT (1983) J Immunol Methods 65:55–63

32.

Borenfreund E, Puerner JA (1984) J Tissue Cult Methods 9:7–9

33.

Hissin PJ, Hilf R (1976) Anal Biochem 74:214–226

34.

Gong J, Traganos F, Darzynkiewicz Z (1994) Anal Biochem 218:314–319

35.

Guimarães FS, Andrade LF, Martins ST, Abud AP, Sene RV, Wanderer C, Tiscornia I, Bollati-Fogolín M, Buchi DF, Trindade ES (2010) BMC Cancer 10:113

36.

Chillemi G, Fiorani P, Castelli S, Bruselles A, Benedetti P, Desideri A (2005) NucleicAcids Res 33:3339–3350

37.

Jones DP, Carlson JL, Mody VC, Cai JY, Lynn MJ, Sternberg P (2000) Free Radic Biol Med 28:625–635

38.

Sherr CJ (2000) Cancer Res 60:3695–3698

39.

Nagata S (2000) Exp Cell Res 256:12–18

40.

Hurley AA (2001) Curr Protoc Cytom 7.2.1–7.2.5

41.

Pozarowski P, Grabarek J, Darzynkiewicz Z (2003) Curr Protoc Cytom 25:7.19.1–7.19.33

42.

Nicholson DW, Ali A, Thornberry NA, Vaillancourt JP, Ding CK, Gallant M, Gareau Y, Griffin PR, Labelle M, Lazebnik YA (1995) Nature 376:37–43

43.

Sakahira H, Enari M, Nagata S (1998) Nature 391:96–99

44.

Porter AG, Janicke RU (1999) Cell Death Differ 6:99–104

45.

Sheikh MS, Huang Y (2003) Cell Cycle 2:550–552

46.

Escárcega RO, Fuentes-Alexandro S, García-Carrasco M, Gatica A, Zamora A (2007) Clin Oncol 19:154–161

47.

Sethi G, Sung B, Aggarwal BB (2008) Exp Biol Med 233:21–31

48.

Oeckinghaus A, Hayden MS, Ghosh S (2011) Nat Immunol 12:695–708

49.

Champoux JJ (2001) Annu NY Rev Biochem 70:369–413

50.

Wang JC (1996) Ann Rev Biochem 65:635–692

51.

Boege F, Straub T, Kehr A, Bosenberg C, Christiansen K, Anderson A, Jakob F, Kohrle J (1996) J Biol Chem 271:2262–2270

52.

Bridewell DJ, Finlay GJ, Baguley BC (1997) Oncol Res 9:535–542

53.

Korbecki J, Baranowska-Bosiacka I, Gutowska I, Chlubek D (2012) Acta Biochim Pol 59:195–200

54.

Djordjevic C, Wampler GL (1985) J Inorg Biochem 25:51–55

55.

Bishayee A, Waghray A, Patel MA, Chatterjee M (2010) Cancer Lett 294:1–12

56.

Trainer DL, Kline T, McCabe FL, Faucette LF, Field J, Chaikin M, Anzano M, Rieman D, Hoffstein S, Li DJ (1988) Int J Cancer 41:287–296

57.

Lewis NA, Liu F, Seymour L, Magnusen A, Erves TR, Arca JF, Beckford FA, Venkatraman R, González-Sarrías A, Fronczek FR, Vanderveer DG, Seeram NP, Liu A, Jarrett WL, Holder AA (2012) Eur J Inorg Chem 4:664–677

58.

Crans DC, Woll KA, Prusinskas K, Johnson MD, Norkus E (2013) Inorg Chem 52:12262–12275

59.

Sanna D, Ugone V, Lubinu G, Micera G, Garribba E (2014) J Inorg Biochem 140:173–184

60.

Crans DC, Khan AR, Mahroof-Tahir M, Mondal S, Miller SM, la Cour A, Anderson OP, Jakusch T, Kiss T (2001) J Chem Soc Dalton Trans 3337–3345

61.

Sanna D, Micera G, Garribba E (2010) Inorg Chem 49:174–187

62.

Willsky GR, Chi LH, Godzala M III, Kostyniak PJ, Smee JJ, Trujillo AM, Alfano JA, Ding W, Hu Z, Crans DC (2011) Coord Chem Rev 255:2258–2269

63.

Rivadeneira J, Di Virgilio AL, Barrio DA, Muglia CI, Bruzzone L, Etcheverry SB (2010) Med Chem 6:9–23

64.

Saxena AK, Srivastava P, Kale RK, Baquer NZ (1993) Biochem Pharmacol 45:539–542

65.

Sabbioni E, Pozzi G, Devos S, Pintar A, Casella L, Fischbach M (1993) Carcinogenesis 14:2565–2568

66.

Mukhtiar M, Khan MF, Jan SU, Khan H, Ullah N, Asim-ur-Rehman N (2012) Pak J Pharm Sci 25:549–553

67.

Silvestri F, Ribatti D, Nico B, Silvestri N, Romito A, Dammacco F (1995) Ann Ital Med Int 10:7–13

68.

Goncalves AP, Videira A, Soares P, Maximo V (2011) Life Sci 12:11–12

69.

Montiel-Davalos A, Gonzalez-Villava A, Rodriguez-Lara V, Montano LF, Fortoul TI, Lopez-Marure R (2012) J Appl Toxicol 32:26–33

70.

Zhao Y, Ye L, Liu H, Xia Q, Zhang Y, Yang X, Wang K (2010) J Inorg Biochem 104:371–378

71.

Hosseini MJ, Seyedrazi N, Shahraki J, Pourahmad J (2012) Adv Biosci Biotechnol 3:1096–1103

72.

Afeseh Ngwa H, Kanthasamy A, Anantharam V, Song C, Witte T, Houk R, Kanthasamy AG (2009) Toxicol Appl Pharmacol 240:273–285

73.

Wu Y, Ma Y, Xu Z, Wang D, Zhao B, Pan H, Wang J, Xu D, Zhao X, Pan S, Liu L, Dai W, Jiang H (2014) Cancer Lett 351:108–116

74.

Ray RS, Rana B, Swami B, Venu V, Chatterjee M (2006) Chem Biol Interact 163:239–247

75.

Fu Y, Wang Q, Yang XG, Yang XD, Wang K (2008) J Biol Inorg Chem 13:1001–1009

76.

Garg A, Aggarwal BB (2002) Leukemia 16:1053–1068

77.

Mantovani A, Marchesi F, Portal C, Allavena P, Sica A (2008) Adv Exp Med Biol 610:112–127

78.

Linnewiel-Hermoni K, Motro Y, Miller Y, Levy J, Sharoni Y (2014) Free Radic Biol Med 75:105–120

79.

Divya CS, Pillai MR (2006) Mol Carcinog 45:320–332

80.

Micheau O, Tschopp J (2003) Cell 114:181–190

81.

Mo XM, Chen ZF, Qi X, Li XT, Li J (2012) Bioinorg Chem Appl 75:63–74

82.

Katkar P, Coletta A, Castelli S, Sabino GL, Couto RA, Ferreira AM, Desideri A (2014) Metallomics 6:117–125

83.

Chew ST, Lo KM, Lee SK, Heng MP, Teoh WY, Sim KS, Tan KW (2014) Eur J Med Chem 76:397–407
Acknowledgments
This work was partly supported by UNLP (11X/690), CONICET (PIP 1125), and ANPCyT (PICT 2008-2218) from Argentina, project No 10121 Italian Association for Cancer Research (AIRC). S.B.E. is member of the Carrera del Investigador, CONICET, Argentina. I.E.L. has a fellowship from CONICET, Argentina, and a fellowship from AMSUD- PASTEUR, Institut Pasteur, Uruguay. J.F.C.V has a fellowship from CONICET, Argentina. I.T, V.P. and M.B.F. are members of the Sistema Nacional de Investigadores of the Agencia Nacional de Investigación e Innovación in Uruguay.
Electronic supplementary material
Below is the link to the electronic supplementary material.
About this article
Cite this article
León, I.E., Cadavid-Vargas, J.F., Tiscornia, I. et al. Oxidovanadium(IV) complexes with chrysin and silibinin: anticancer activity and mechanisms of action in a human colon adenocarcinoma model. J Biol Inorg Chem 20, 1175–1191 (2015). https://doi.org/10.1007/s00775-015-1298-7
Received:

Accepted:

Published:

Issue Date:
Keywords
Metal based drug

HT-29 human colon adenocarcinoma cells

Mechanisms of action

Flavonoids

Vanadium