Abstract
The recent emergence of multimodality imaging, particularly the combination of PET and MRI, has led to excitement over the prospect of improving detection of disease. Iron oxide nanoparticles have become a popular platform for the fabrication of PET/MRI probes owing to their advantages of high MRI detection sensitivity, biocompatibility, and biodegradability. In this article, we report the synthesis of dextran-coated iron oxide nanoparticles (DIO) labeled with the positron emitter 64Cu to generate a PET/MRI probe, and modified with maleic anhydride to increase the negative surface charge. The modified nanoparticulate PET/MRI probe (MDIO-64Cu-DOTA) bears repetitive anionic charges on the surface that facilitate recognition by scavenger receptor type A (SR-A), a ligand receptor found on activated macrophages but not on normal vessel walls. MDIO-64Cu-DOTA has an average iron oxide core size of 7–8 nm, an average hydrodynamic diameter of 62.7 nm, an r 1 relaxivity of 16.8 mM−1 s−1, and an r 2 relaxivity of 83.9 mM−1 s−1 (37 °C, 1.4 T). Cell studies confirmed that the probe was nontoxic and was specifically taken up by macrophages via SR-A. In comparison with the nonmodified analog, the accumulation of MDIO in macrophages was substantially improved. These characteristics demonstrate the promise of MDIO-64Cu-DOTA for identification of vulnerable atherosclerotic plaques via the targeting of macrophages.
Access options
Buy single article
Instant access to the full article PDF.
US$ 39.95
Tax calculation will be finalised during checkout.
Subscribe to journal
Immediate online access to all issues from 2019. Subscription will auto renew annually.
US$ 79
Tax calculation will be finalised during checkout.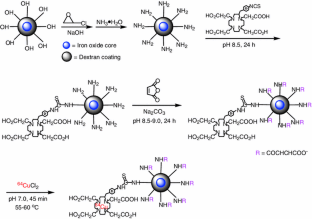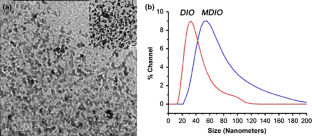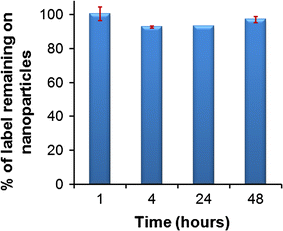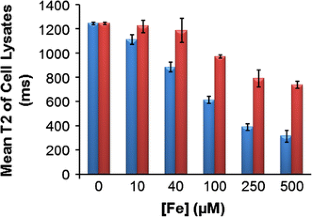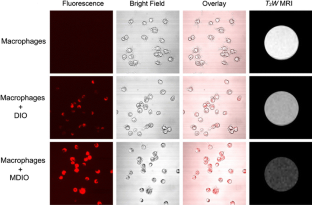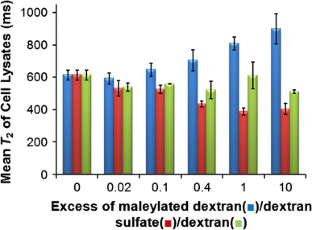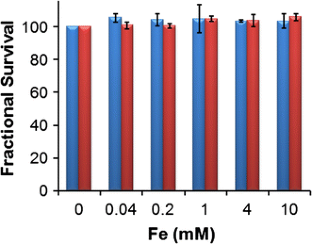 References
1.

Fuster V, Lois F, Franco M (2010) Nat Rev Cardiol 7:327–333

2.

Chen W, Cormode DP, Fayad ZA, Mulder WJM (2011) Wiley Interdiscip Rev Nanomed Nanobiotechnol 3:146–161

3.

Beyer T, Pichler B (2009) Eur J Nucl Med Mol Imaging 36:1–2

4.

Cherry SR, Louie AY, Jacobs RE (2008) Proc IEEE 96:416–438

5.

Marti-Bonmati L, Sopena R, Bartumeus P, Sopena P (2010) Contrast Media Mol Imaging 5:180–189

6.

Zaidi H, Del Guerra A (2011) Med Phys 38:5667–5689

7.

Sauter AW, Wehrl HF, Kolb A, Judenhofer MS, Pichler BJ (2010) Trends Mol Med 16:508–515

8.

Ng TSC, Procissi D, Wu Y, Jacobs RE (2010) Med Phys 37:1995–2003

9.

Louie A (2010) Chem Rev 110:3146–3195

10.

Tu CQ, Ma XC, House A, Kauzlarich SM, Louie AY (2011) ACS Med Chem Lett 2:285–288

11.

Tassa C, Shaw SY, Weissleder R (2011) Acc Chem Res 44:842–852

12.

Xie J, Chen K, Huang J, Lee S, Wang JH, Gao J, Li XG, Chen XY (2010) Biomaterials 31:3016–3022

13.

de Rosales RTM, Tavare R, Glaria A, Varma G, Protti A, Blower PJ (2011) Bioconjug Chem 22:455–465

14.

Yang XQ, Hong H, Grailer JJ, Rowland IJ, Javadi A, Hurley SA, Xiao YL, Yang YA, Zhang Y, Nickles R, Cai WB, Steeber DA, Gong SQ (2011) Biomaterials 32:4151–4160

15.

Liu Y, Welch MJ (2012) Bioconjug Chem 23:671–682

16.

Tang TY, Muller KH, Graves MJ, Li ZY, Walsh SR, Young V, Sadat U, Howarth SPS, Gillard JH (2009) Arterioscler Thromb Vasc Biol 29:1001–1008

17.

Woollard KJ, Geissmann F (2010) Nat Rev Cardiol 7:77–86

18.

Libby P, DiCarli M, Weissleder R (2010) J Nucl Med 51:33S–37S

19.

Moore KJ, Tabas I (2011) Cell 145:341–355

20.

Nahrendorf M, Zhang HW, Hembrador S, Panizzi P, Sosnovik DE, Aikawa E, Libby P, Swirski FK, Weissleder R (2008) Circulation 117:379–387

21.

Sadat U, Li ZY, Graves MJ, Tang TY, Gillard JH (2009) Nat Clin Pract Cardiovasc Med 6:200–209

22.

Goldstein JL, Ho YK, Basu SK, Brown MS (1979) Proc Natl Acad Sci USA 76:333–337

23.

Brown MS, Goldstein JL, Krieger M, Ho YK, Anderson RGW (1979) J Cell Biol 82:597–613

24.

Tu CQ, Ma XC, Pantazis P, Kauzlarich SM, Louie AY (2010) J Am Chem Soc 132:2016–2023

25.

Neyen C, Pluddemann A, Roversi P, Thomas B, Cai L, van der Westhuyzen DR, Sim RB, Gordon S (2009) Biochemistry 48:11858–11871

26.

Doi T, Higashino K, Kurihara Y, Wada Y, Miyazaki T, Nakamura H, Uesugi S, Imanishi T, Kawabe Y, Itakura H, Yazaki Y, Matsumoto A, Kodama T (1993) J Biol Chem 268:2126–2133

27.

Greaves DR, Gordon S (2009) J Lipid Res 50:S282–S286

28.

Liu Q, Hamblin MR (2005) Int J Immunopathol Pharmacol 18:391–402

29.

Jarrett BR, Gustafsson B, Kukis DL, Louie AY (2008) Bioconjug Chem 19:1496–1504

30.

Tu C, Ng TSC, Sohi HK, Palko HA, House A, Jacobs RE, Louie AY (2011) Biomaterials 32:7209–7216

31.

Jarrett BR, Correa C, Ma KL, Louie AY (2010) PLoS One 5:e13254

32.

Jarrett BR, Frendo M, Vogan J, Louie AY (2007) Nanotechnology 18:035603

33.

Wunderbaldinger P, Josephson L, Weissleder R (2002) Acad Radiol 9:S304–S306

34.

Gustafsson B, Youens S, Louie AY (2006) Bioconjug Chem 17:538–547

35.

Feeney RE, Yamasaki RB, Geoghegan KF (1982) Adv Chem Ser 198:3–55

36.

Anderegg G, Arnaud-Neu F, Delgado R, Felcman J, Popov K (2005) Pure Appl Chem 77:1445–1495

37.

Jones-Wilson TM, Deal KA, Anderson CJ, McCarthy DW, Kovacs Z, Motekaitis RJ, Sherry AD, Martell AE, Welch MJ (1998) Nucl Med Biol 25:523–530

38.

Hargreaves MK, Stevinson EA (1964) Spectrochim Acta 20:317–324

39.

Predoi D (2007) Dig J Nanomater Biostruct 2:169–173

40.

Tu CQ, Louie AY (2012) WIREs Nanomed Nanobiotechnol 4:448–457

41.

Obeidat WM, Schwabe K, Muller RH, Keck CM (2010) Eur J Pharm Biopharm 76:56–67

42.

Gossuin Y, Gillis P, Hocq A, Vuong QL, Roch A (2009) Wiley Interdiscip Rev Nanomed Nanobiotechnol 1:299–310

43.

Alford R, Simpson HM, Duberman J, Hill GC, Ogawa M, Regino C, Kobayashi H, Choyke PL (2009) Mol Imaging 8:341–354

44.

Longmire MR, Ogawa M, Hama Y, Kosaka N, Regino CAS, Choyke PL, Kobayashi H (2008) Bioconjug Chem 19:1735–1742

45.

Christie RJ, Tadiello CJ, Chamberlain LM, Grainger DW (2009) Bioconjug Chem 20:476–480

46.

O'Brien J, Wilson I, Orton T, Pognan F (2000) Eur J Biochem 267:5421–5426

47.

de Rosales RTM, Tavare R, Paul RL, Jauregui-Osoro M, Protti A, Glaria A, Varma G, Szanda I, Blower PJ (2011) Angew Chem Int Ed 50:5509–5513

48.

Barreto JA, Matterna M, Graham B, Stephan H, Spiccia L (2011) New J Chem 35:2705–2712

49.

Glaus C, Rossin R, Welch MJ, Bao G (2010) Bioconjug Chem 21:715–722

50.

Greaves DR, Gordon S (2005) J Lipid Res 46:11–20

51.

Platt N, Gordon S (2001) J Clin Invest 108:649–654

52.

Osborn EA, Jaffer FA (2008) Curr Opin Cardiol 23:620–628

53.

Shaw SY (2009) Nat Rev Cardiol 6:569–579

54.

Amirbekian V, Lipinski MJ, Briley-Saebo KC, Amirbekian S, Aguinaldo JGS, Weinreb DB, Vucic E, Frias JC, Hyafil F, Mani V, Fisher EA, Fayad ZA (2007) Proc Natl Acad Sci USA 104:961–966

55.

Hamzah J, Kotamraju VR, Seo JW, Agemy L, Fogal V, Mahakian LM, Peters D, Roth L, Gagnon MKJ, Ferrara KW, Ruoslahti E (2011) Proc Natl Acad Sci USA 108:7154–7159

56.

Uchida M, Kosuge H, Terashima M, Willits DA, Liepold LO, Young MJ, McConnell MV, Douglas T (2011) ACS Nano 5:2493–2502

57.

Choudhury RP, Fisher EA (2009) Arterioscler Thromb Vasc Biol 29:983–991

58.

Wang AZ, Gu F, Zhang LF, Chan JM, Radovic-Moreno A, Shaikh MR, Farokhzad OC (2008) Expert Opin Biol Ther 8:1063–1070

59.

Talekar M, Kendall J, Denny W, Garg S (2011) Anticancer Drugs 22:949–962

60.

Finn AV, Nakano M, Narula J, Kolodgie FD, Virmani R (2010) Arterioscler Thromb Vasc Biol 30:1282–1292
Acknowledgments
The authors wish to acknowledge the National Institutes of Health (EB008576-01 and EB000993), the Center for Molecular and Genomic Imaging at the University of California, Davis (U24 CA 110804), and the NMR award of the University of California, Davis for support of this work. We thank Jeongchan Park, Jai Woong Seo, and Ray Wong for help with TEM imaging, zeta potential measurements, and IR spectroscopy, respectively.
Additional information
Responsible Editor: Valerie C. Pierre.
About this article
Cite this article
Tu, C., Ng, T.S.C., Jacobs, R.E. et al. Multimodality PET/MRI agents targeted to activated macrophages. J Biol Inorg Chem 19, 247–258 (2014). https://doi.org/10.1007/s00775-013-1054-9
Received:

Accepted:

Published:

Issue Date:
Keywords
Iron

Nanoparticles

MRI contrast agents

Macrophages

Inflammation