Abstract
We prepared liposomes by hydrating 1,2-dioleoyl-sn-glycero-3-phosphocholine lipid with aqueous solutions of three "probe" molecules—cis-diamminedichloroplatinum(II) (cis-[PtII(NH3)2Cl2], cisplatin), guanosine 5′-monophosphate (5′-GMP), and 9-ethylguanine (9-EtG)—in phosphate-buffered saline as well as N-(2-hydroxyethyl)piperazine-N′-ethanesulfonic acid buffer. The positively charged hydrolysis product of cisplatin, [PtII(NH3)2Cl(H2O)]+, is in the inner core of the liposomes and negatively charged 5′-GMP embeds in the lipid bilayer of liposomes. In the presence of cisplatin, the size of the liposomes remains unchanged, and for 5′-GMP-embedded liposomes the size increases significantly compared with that of empty or control liposomes. In contrast, the neutral biomolecule 9-EtG was found to be dispersed in the exterior bulk water and the size of the liposomes remained the same as that of empty or control liposomes. When cisplatin-containing liposomes mix with 5′-GMP-embedded liposomes or liposomes with 9-EtG, the N7 nitrogen atom of 5′-GMP or 9-EtG binds the cisplatin, thus replacing the "leaving groups" and forming a bisadduct. After 48 h of mixing, the size of the liposomes changes for the mixture of 5′-GMP-embedded liposomes and cisplatin-containing liposomes. We used 1H and 31P NMR spectroscopic techniques to monitor incorporation or association of cisplatin and biomolecules with liposomes and their subsequent reactions with each other. The dynamic light scattering technique provided the size distribution of the liposomes in the presence and absence of probe molecules.
Graphical Abstract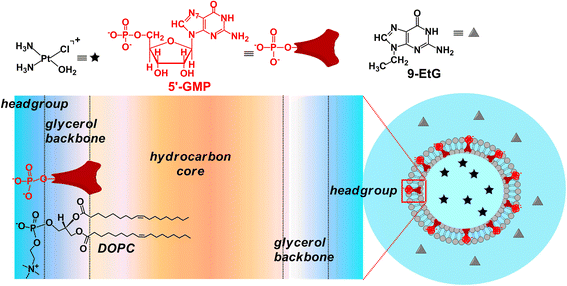 Access options
Buy single article
Instant access to the full article PDF.
USD 39.95
Price excludes VAT (USA)
Tax calculation will be finalised during checkout.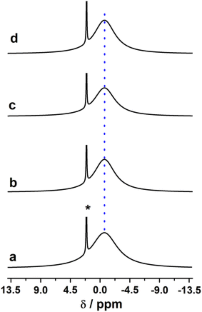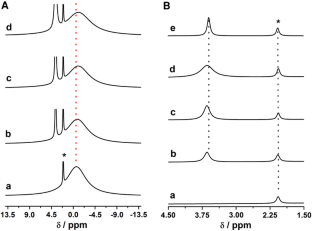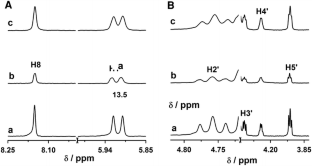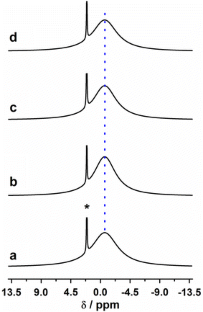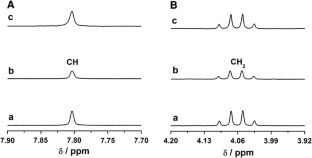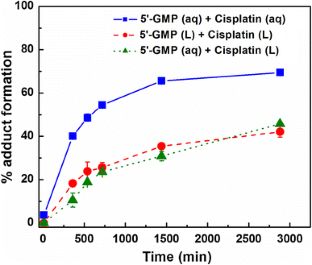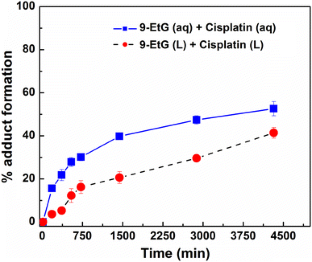 References
Jamieson ER, Lippard SJ (1999) Chem Rev 99:2467–2498

Reedijk J (1999) Chem Rev 99:2499–2510

Reedijk J (1996) Chem Commun 801–806

Ivanov AI, Christodoulou J, Parkinson JA, Barnham KJ, Tucker A, Woodrowi J, Sadler PJ (1998) J Biol Chem 273:14721–14730

Kartz F (1993) In: Keppler BK (ed) Metal complexes in cancer chemotherapy. VCH, Weinheim, pp 391–429

Barnham KJ, Djuran MI, Murdoch PS, Ranford JD, Sadler PJ (1996) Inorg Chem 35:1065–1072

Dolman RC, Deacon GB, Hambley TW (2002) J Inorg Biochem 88:260–267

Lempers ELM, Reedijk J (1991) Adv Inorg Chem 37:175–217

Borch RF, Pleasants ME (1979) Proc Natl Acad Sci USA 76:6611–6614

Gately DP, Howell SB (1993) Br J Cancer 67:1171–1176

Greene RF, Chatterji DC, Hiranaka PK, Gallelli JF (1979) Am J Hosp Pharm 36:38–43

Miller SE, House DA (1989) Inorg Chim Acta 166:189–197

Marcelis ATM, Van Kralingen CG, Reedijk J (1980) J Inorg Biochem 13:213–222

Davies MS, Berners-Price SJ, Hambley TW (2000) Inorg Chem 39:5603–5613

Gabizon A (2003) J Liposome Res 13:17–20

Torchilin VP (2005) Nat Rev Drug Discov 4:145–160

Boulikas T (2004) Oncol Rep 12:3–12

Boulikas T (2009) Expert Opin Invest Drugs 18:1197–1218

Mylonakis N, Athanasiou A, Ziras N, Angel J, Rapti A, Lampaki S, Politis N, Karanikas C, Kosmas C (2010) Lung Cancer 68:240–247

Jeong Y-I, Kim S-T, Jin S-G, Ryu H-H, Jin Y-H, Jung T-Y, Kim I-Y, Jung S (2008) J Pharm Sci 97:1268–1276

Nishiyama N, Kato Y, Sugiyama Y, Kataoka K (2001) Pharm Res 18:1035–1041

Burger KNJ, Staffhorst RWHM, De Vijlder HC, Velinova MJ, Bomans PH, Frederik PM, De Kruijff B (2002) Nat Med 8:81–84

Chupin V, de Kroon AI, de Kruijff B (2004) J Am Chem Soc 126:13816–13821

Liu Q, Qu Y, Van Antwerpen R, Farrell N (2006) Biochemistry 45:4248–4256

Ramachandran S, Quist AP, Kumar S, Lal R (2006) Langmuir 22:8156–8162

Schroeder A, Avnir Y, Weisman S, Najajreh Y, Gabizon A, Talmon Y, Kost J, Barenholz Y (2007) Langmuir 23:4019–4025

Aryal S, Hu CM, Zhang L (2010) ACS Nano 4:251–258

Dhar S, Daniel WL, Giljohann DA, Mirkin CA, Lippard SJ (2009) J Am Chem Soc 131:14652–14653

Bhirde AA, Patel V, Gavard J, Zhang G, Sousa AA, Masedunskas A, Leapman RD, Weigert R, Gutkind JS, Rusling JF (2009) ACS Nano 3:307–316

Ostojic GN, Ireland JR, Hersam MC (2008) Langmuir 24:9784–9789

Li SD, Howell SB (2010) Mol Pharm 7:280–290

Horning JL, Sahoo SK, Vijayaraghavalu S, Dimitrijevic S, Vasir JK, Jain TK, Panda AK, Labhasetwar V (2008) Mol Pharm 5:849–862

Rieter WJ, Pott KM, Taylor KM, Lin W (2008) J Am Chem Soc 130:11584–11585

Casolaro M, Cini R, Del Bello B, Ferrali M, Maellaro E (2009) Biomacromolecules 10:944–949

Goyal P, Goyal K, Vijaya Kumar SG, Singh A, Katare OP, Mishra DN (2005) Acta Pharm 55:1–25

Stathopoulos GP, Antoniou D, Dimitroulis J, Michalopoulou P, Bastas A, Marosis K, Stathopoulos J, Provata A, Yiamboudakis P, Veldekis D, Lolis N, Georgatou N, Toubis M, Pappas C, Tsoukalas G (2010) Ann Oncol 21:2227–2232

Feczko T (2009) Recent Pat Mater Sci 2:32–42

Hill JM, Speer RJ (1982) Anticancer Res 2:173–186

Rosenberg B (1977) Adv Exp Med Biol 91:129–150

Ishida T, Takanashi Y, Doi H, Yamamoto I, Kiwada H (2002) Int J Pharm 232:59–67

Fujimoto K, Toyoda T, Fukui Y (2007) Macromolecules 40:5122–5128

Jin Y, Gao X (2009) J Am Chem Soc 131:17774–17776

El Maghraby GMM, Williams AC, Barry BW (2005) Int J Pharm 292:179–185

Fichtner I, Reszka R, Arndt D, Zeisig R (2003) J Liposome Res 13:9–15

Velinova MJ, Staffhorst RW, Mulder WJ, Dries AS, Jansen BA, de Kruijff B, de Kroon AI (2004) Biochim Biophys Acta 1663:135–142

Du J, Lu W-L, Ying X, Liu Y, Du P, Tian W, Men Y, Guo J, Zhang Y, Li R-J, Zhou J, Lou J-N, Wang J-C, Zhang X, Zhang Q (2009) Mol Pharm 6:905–917

Olson JE, Alexander C, Feller DA, Clayman ML, Ramnath EM (1995) J Neurosci Res 40:333–342

Lumry R, Smith EL, Glantz RR (1951) J Am Chem Soc 73:4330–4340

Vermathen M, Vermathen P, Simonis U, Bigler P (2008) Langmuir 24:12521–12533

Swairjo MA, Roberts MF, Campos M-B, Dedman JR, Seaton BA (1994) Biochemistry 33:10944–10950

Crans DC, Rithner CD, Baruah B, Gourley BL, Levinger NE (2006) J Am Chem Soc 128:4437–4445

Vermathen M, Louie EA, Chodosh AB, Ried S, Simonis U (2000) Langmuir 16:210–221

Ventura CA, Giannone I, Paolino D, Pistarà V, Corsaro A, Puglisi G (2005) Eur J Med Chem 40:624–631

Huster D, Arnold K, Gawrisch K (1999) J Phys Chem B 103:243–251

Calzolai L, Gaggelli E, Maccotta A, Valensin G (1996) J Mag Reson Ser B 112:228–235

Betageri GV, Parsonsa DL (1992) Int J Pharm 81:235–241

Koudelka S, Turanek-Knotigova P, Masek J, Korvasova Z, Skrabalova M, Plockova J, Bartheldyova E, Turanek J (2010) J Pharm Sci 99:2309–2319

Ding B, Xia S, Hayat K, Zhang X (2009) J Agric Food Chem 57:2938–2944

Fan M, Xu S, Xia S, Zhang X (2007) J Agric Food Chem 55:3089–3095

Benech R-O, Kheadr EE, Lacroix C, Fliss I (2002) Appl Environ Microbiol 68:5607–5619

Were LM, Bruce BD, Davidson PM, Weiss J (2003) J Agric Food Chem 51:8073–8079

Brzozowska I, Figaszewski ZA (2003) Colloids Surf B 27:303–309

Makino K, Yamada T, Kimura M, Oka T, Ohshima H, Kondo T (1991) Biophys Chem 41:175–183

Appleton TG, Berry RD, Davis CA, Hall JR, Kimlin HA (1984) Inorg Chem 23:3514–3521

Dijt FJ, Canters GW, Den Hartog JHJ, Marcelis ATM, Reedijk J (1984) J Am Chem Soc 106:3644–3647

Frey U, Ranford JD, Sadler PJ (1993) Inorg Chem 32:1333–1340

Urata H, Akagi M (1989) Biochem Biophys Res Commun 161:819–824
Acknowledgments
This work was supported by funding from the start-up fund of Kennesaw State University (KSU), Chemistry and Biochemistry, the KSU Incentive fund (CETL), and the KSU CSM Mentor Protégé fund (BARUAH-05-FY2011-01) awarded to B.B. B.B. would like to thank Dr. Mark Mitchell, Department Chair, Dr. Laurence Peterson, former Dean, and Dr. Ronald Matson, current Dean of the College of Science and Mathematics for their enormous support. B.B. is thankful to Dr. Jason Locklin at the University of Georgia and Dr. David Gottfried at the Georgia Institute of Technology Nanotechnology Research Center for help with the DLS experiments. B.B. thanks Dr. Michael Miller at Auburn University for the TEM measurements, and would also like to thank Dr. Kevin Gwaltney for his assistance with the NMR measurements and Mr. Benjamin Huck for his constant support in setting up the laboratory. B.B. is also thankful to Dr. Sandra Bonetti from Colorado State University–Pueblo for careful proofreading of the manuscript.
Electronic supplementary material
Below is the link to the electronic supplementary material.
About this article
Cite this article
Baruah, B., Surin, A. Interaction of liposome-encapsulated cisplatin with biomolecules. J Biol Inorg Chem 17, 899–910 (2012). https://doi.org/10.1007/s00775-012-0907-y
Received:

Accepted:

Published:

Issue Date:

DOI: https://doi.org/10.1007/s00775-012-0907-y
Keywords