Abstract
Rieske proteins and Rieske ferredoxins are present in the three domains of life and are involved in a variety of cellular processes. Despite their functional diversity, these small Fe–S proteins contain a highly conserved all-β fold, which harbors a [2Fe–2S] Rieske center. We have identified a novel subtype of Rieske ferredoxins present in hyperthermophilic archaea, in which a two-cysteine conserved SKTPCX(2–3)C motif is found at the C-terminus. We establish that in the Acidianus ambivalens representative, Rieske ferredoxin 2 (RFd2), these cysteines form a novel disulfide bond within the Rieske fold, which can be selectively broken under mild reducing conditions insufficient to reduce the [2Fe–2S] cluster or affect the secondary structure of the protein, as shown by visible circular dichroism, absorption, and attenuated total reflection Fourier transform IR spectroscopies. RFd2 presents all the EPR, visible absorption, and visible circular dichroism spectroscopic features of the [2Fe–2S] Rieske center. The cluster has a redox potential of +48 mV (25 °C and pH 7) and a pK a of 10.1 ± 0.2. These shift to +77 mV and 8.9 ± 0.3, respectively, upon reduction of the disulfide. RFd2 has a melting temperature near the boiling point of water (T m = 99 °C, pH 7.0), but it becomes destabilized upon disulfide reduction (ΔT m = −9 °C, ΔC m = −0.7 M guanidinium hydrochloride). This example illustrates how the incorporation of an additional structural element such as a disulfide bond in a highly conserved fold such as that of the Rieske domain may fine-tune the protein for a particular function or for increased stability.
This is a preview of subscription content,
to check access.
Access this article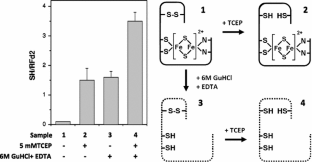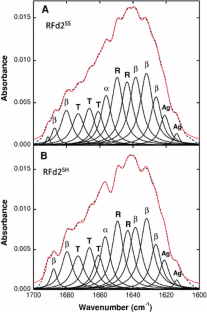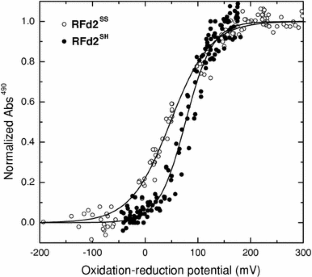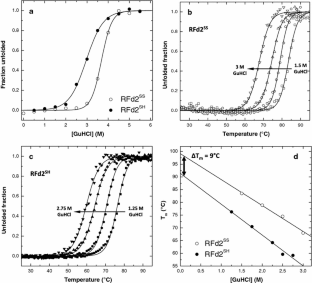 Similar content being viewed by others
Abbreviations
ANS:

8-Anilino-1-naphthalenesulfonic acid

ATR FT-IR:

Attenuated total reflection Fourier transform infrared

CD:

Circular dichroism

DTNB:

5,5′-Dithiobis(2-nitrobenzoic acid)

GuHCl:

Guanidinium hydrochloride

RFd2:

Rieske ferredoxin 2

SDS-PAGE:

Sodium dodecyl sulfate polyacrylamide gel electrophoresis

TCEP:

Tris(2-carboxyethyl)phosphine hydrochloride

TPTZ:

2,4,6-Tripyridyl-s-triazine

Tris–HCl:

Tris(hydroxymethyl)aminomethane hydrochloride
References
Meyer J (2008) J Biol Inorg Chem 13:157–170

Gao-Sheridan HS, Pershad HR, Armstrong FA, Burgess BK (1998) J Biol Chem 273:5514–5519

Gomes CM, Faria A, Carita JC, Mendes J, Regalla M, Chicau P, Huber H, Stetter KO, Teixeira M (1998) J Biol Inorg Chem 3:449–507

Fujii T, Hata Y, Wakagi T, Tanaka N, Oshima T (1996) Nat Struct Biol 3:834–837

Bönisch H, Schmidt CL, Schäfer G, Ladenstein R (2002) J Mol Biol 319:791–805

Meyer J, Clay MD, Johnson MK, Stubna A, Munck E, Higgins C, Wittung-Stafshede P (2002) Biochemistry 41:3096–3108

Kissinger CR, Adman ET, Sieker LC, Jensen LH, LeGall J (1989) FEBS Lett 244:447–450

Kojoh K, Matsuzawa H, Wakagi T (1999) Eur J Biochem 264:85–91

Rocha R, Leal SS, Teixeira VH, Regalla M, Huber H, Baptista AM, Soares CM, Gomes CM (2006) Biochemistry 45:10376–10384

Merbitz-Zahradnik T, Zwicker K, Nett JH, Link TA, Trumpower BL (2003) Biochemistry 42:13637–13645

Schmidt CL, Shaw L (2001) J Bioenerg Biomembr 33:9–26

Colbert CL, Couture MM, Eltis LD, Bolin JT (2000) Structure 8:1267–1278

Denke E, Merbitz-Zahradnik T, Hatzfeld OM, Snyder CH, Link TA, Trumpower BL (1998) J Biol Chem 273:9085–9093

Holton B, Wu X, Tsapin AI, Kramer DM, Malkin R, Kallas T (1996) Biochemistry 35:15485–15493

Schmidt CL (2004) J Bioenerg Biomembr 36:107–113

Kletzin A, Ferreira AS, Hechler T, Bandeiras TM, Teixeira M, Gomes CM (2005) FEBS Lett 579:1020–1026

Link TA (2001) In: Bode W, Cygler V, Messerschmidt A (eds) Handbook of metalloproteins. Wiley, Chichester

Iwasaki T, Imai T, Urushiyama A, Oshima T (1996) J Biol Chem 271:27659–27663

Larkin MA, Blackshields G, Brown NP, Chenna R, McGettigan PA, McWilliam H, Valentin F, Wallace IM, Wilm A, Lopez R, Thompson JD, Gibson TJ, Higgins DG (2007) Bioinformatics 23:2947–2948

Katoh K, Toh H (2008) Brief Bioinform 9:286–298

Nicholas KB, Nicholas HBJ, Deerfield DWI (1997) EMBnet.news 4:14

Parry-Smith DJ, Payne AW, Michie AD, Attwood TK (1998) Gene 221:GC57–63

Zillig W, Yeats S, Holz I, Bock A, Rettenberger M, Gropp F, Simon G (1986) Syst Appl Microbiol 8:197–203

Laemmli UK (1970) Nature 227:680–685

Bradford MM (1976) Anal Biochem 72:248–254

Pace CN, Shirley BA, Thomson JE (1990) In: Creighton T (ed) Protein structure—a practical approach. IRL Press, Oxford, pp 311–330

Barth A, Zscherp C (2002) Q Rev Biophys 35:369–430

Fischer DS, Price DC (1964) Clin Chem 10:21–31

Brown EN, Friemann R, Karlsson A, Parales JV, Couture MM, Eltis LD, Ramaswamy S (2008) J Biol Inorg Chem 13:1301–1313

Schmidt CL, Anemuller S, Schafer G (1996) FEBS Lett 388:43–46

Kimura S, Kikuchi A, Senda T, Shiro Y, Fukuda M (2005) Biochem J 388:869–878

Zu Y, Couture MM, Kolling DR, Crofts AR, Eltis LD, Fee JA, Hirst J (2003) Biochemistry 42:12400–12408

Wu S, Skolnick J, Zhang Y (2007) BMC Biol 5:17

Link TA (1994) Biochim Biophys Acta 1185:81–84

Bugg TD, Ramaswamy S (2008) Curr Opin Chem Biol 12:134–140

Finn RD, Tate J, Mistry J, Coggill PC, Sammut SJ, Hotz HR, Ceric G, Forslund K, Eddy SR, Sonnhammer EL, Bateman A (2008) Nucleic Acids Res 36:D281–D288

Beeby M, O'Connor BD, Ryttersgaard C, Boutz DR, Perry LJ, Yeates TO (2005) PLoS Biol 3:e309
Acknowledgments
This work was supported by grants PTDC/QUI/70101/2006, POCTI/QUI/45758, and POCI/BIO/58465 (to C.M.G.) from the Fundação para a Ciência e Tecnologia (FCT/MCTES), Portugal. H.M.B. (SFRH/BD/31126/2006), S.S.L. (SFRH/BD/18653/2004 and SFRH/BPD/47477/2008/), and V.P. (SFRH/BD/18746/2004) are recipients of fellowships from FCT/MCTES.
Electronic supplementary material
Below is the link to the electronic supplementary material.
About this article
Cite this article
Botelho, H.M., Leal, S.S., Veith, A. et al. Role of a novel disulfide bridge within the all-beta fold of soluble Rieske proteins. J Biol Inorg Chem 15, 271–281 (2010). https://doi.org/10.1007/s00775-009-0596-3
Received:

Accepted:

Published:

Issue Date:

DOI: https://doi.org/10.1007/s00775-009-0596-3
Keywords