Abstract
Continuous-wave and pulsed electron paramagnetic resonance have been applied to the study of the CuII site of the copper-resistance protein PcoC from Escherichia coli and certain variant forms. Electron spin echo envelope modulation (ESEEM) experiments confirm the presence of two histidine ligands, His1 and His92, at the CuII site of wild-type PcoC, consistent with the available X-ray crystallographic data for the homolog CopC (67% sequence identity) from Pseudomonas syringae pv. tomato. The variants H1F and H92F each lack one of the histidine residues close to the CuII site. The ESEEM data suggest that the surviving histidine residue remains as a ligand. The nA variant features an extra alanine residue at the N terminus, which demotes the His1 ligand to position 2. At least one of the two histidine residues is bound at the CuII site in this form. Simulation of the 14N superhyperfine structure in the continuous-wave spectra confirms the presence of at least three nitrogen-based ligands at the CuII sites of the wild-type, H92F and nA forms, while the H1F variant has two nitrogen ligands. The spectra of wild-type form can be fitted adequately with a 3N or a 4N model. The former is consistent with the crystal structure of the CopC homolog, where His1 acts as a bidentate ligand. The latter raises the possibility of an additional unidentified nitrogen ligand. The markedly different spectra of the H1F and nA forms compared with the wild-type and H92F proteins further highlight the integral role of the N-terminal histidine residue in the high-affinity CuII site of PcoC.
Access options
Buy single article
Instant access to the full article PDF.
US$ 39.95
Tax calculation will be finalised during checkout.
Subscribe to journal
Immediate online access to all issues from 2019. Subscription will auto renew annually.
US$ 79
Tax calculation will be finalised during checkout.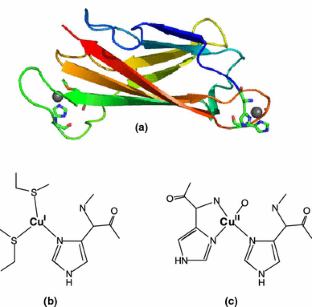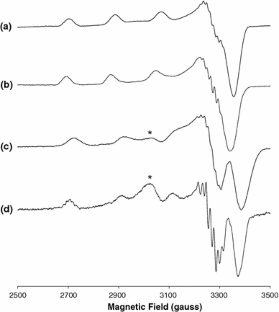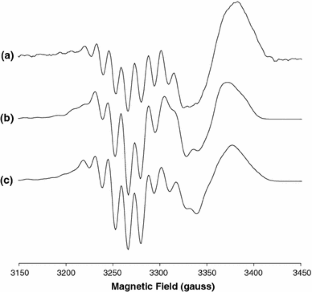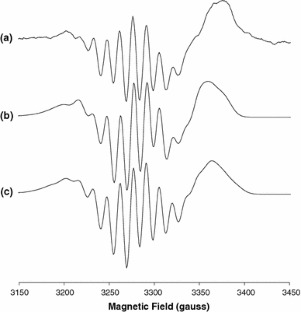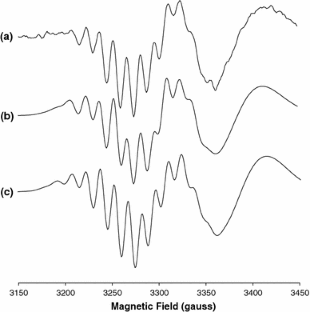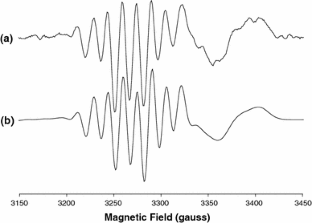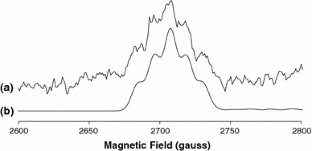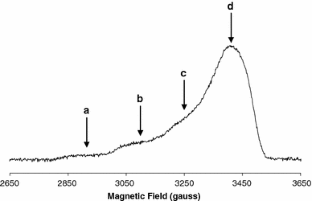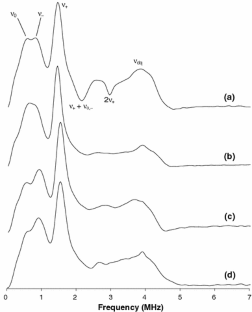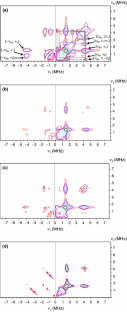 Abbreviations
CW:

Continuous wave

EPR:

Electron paramagnetic resonance

ESEEM:

Electron spin echo envelope modulation

HYSCORE:

Hyperfine sublevel correlation experiment
References
1.

Rensing C, Grass G (2003) FEMS Microbiol Rev 27:197–213

2.

Tetaz TJ, Luke RKJ (1983) J Bacteriol 154:1263–1268

3.

Rouch D, Camakaris J, Lee BT, Luke RK (1985) J Gen Microbiol 131:939–943

4.

Brown NL, Barrett SR, Camakaris J, Lee BT, Rouch DA (1995) Mol Microbiol 17:1153–1166

5.

Cooksey DA (1994) FEMS Microbiol Rev 14:381–386

6.

Lee SM, Grass G, Rensing C, Barrett SR, Yates CJD, Stoyanov JV, Brown NL (2002) Biochem Biophys Res Commun 295:616–620

7.

Puig S, Thiele DJ (2002) Curr Opin Chem Biol 6:171–180

8.

Huffman DL, Huyett J, Outten FW, Doan PE, Finney LA, Hoffman BM, O'Halloran TV (2002) Biochemistry 41:10046–10055

9.

Arnesano F, Banci L, Bertini I, Thompsett AR (2002) Structure 10:1337–1347

10.

Arnesano F, Banci L, Bertini I, Mangani S, Thompsett AR (2003) Proc Natl Acad Sci USA 100:3814–3819

11.

Koay M, Zhang L, Yang B, Maher MJ, Xiao Z, Wedd AG (2005) Inorg Chem 44:5203–5205

12.

Zhang L, Koay M, Maher MJ, Xiao Z, Wedd AG (2006) J Am Chem Soc 128:5834–5850

13.

Gaggelli E, Kozlowski H, Valensin D, Valensin G (2006) Chem Rev 106:1995–2044

14.

Sankararamakrishnan R, Verma S, Kumar S (2005) Proteins 58:211–221

15.

Harford C, Sarkar B (1997) Acc Chem Res 30:123–130

16.

Djoko KY, Xiao Z, Wedd AG (2008) Chembiochem (in press)

17.

Wernimont AK, Huffman DL, Finney LA, Demeler B, O'Halloran TV, Rosenzweig AC (2003) J Biol Inorg Chem 8:185–194

18.

Peariso K, Huffman DL, Penner-Hahn JE, O'Halloran TV (2003) J Am Chem Soc 125:342–343

19.

Djoko KY, Xiao Z, Huffman DL, Wedd AG (2007) Inorg Chem 46:4560–4568

20.

Hanson GR, Gates KE, Noble CJ, Griffin M, Mitchell A, Benson S (2004) J Inorg Biochem 98:903–916

21.

Peisach J, Blumberg WE (1974) Arch Biochem Biophys 165:691–698

22.

Deligiannakis Y, Louloudi M, Hadjiliadis N (2000) Coord Chem Rev 204:1–112

23.

McCracken J, Pember S, Benkovic SJ, Villafranca JJ, Miller RJ, Peisach J (1988) J Am Chem Soc 110:1069–1074

24.

Schweiger A, Jeschke G (2001) principles of pulse electron paramagnetic resonance. Oxford University Press, Oxford

25.

Mims WB, Peisach J (1978) J Chem Phys 69:4921–4930

26.

Jeschke G (1996) Ph.D thesis, Swiss Federal Institute of Technology, Sect 6.3.2

27.

Van Doorslaer S, Sierra GA, Schweiger A (1999) J Magn Reson 136:152–158

28.

Jin H, Thomann H, Coyle CL, Zumft WG (1989) J Am Chem Soc 111:4262–4269

29.

Slutter CE, Gromov I, Epel B, Pecht I, Richards JH, Goldfarb D (2001) J Am Chem Soc 123:5325–5336
Acknowledgments
We thank Australian Research Council for financial support via grant A29930204. S.C.D. and K.J.B. are funded in part by the National Health and Medical Research Council.
Electronic supplementary material
Below is the link to the electronic supplementary material.
About this article
Cite this article
Drew, S.C., Djoko, K.Y., Zhang, L. et al. Electron paramagnetic resonance characterization of the copper-resistance protein PcoC from Escherichia coli . J Biol Inorg Chem 13, 899–907 (2008). https://doi.org/10.1007/s00775-008-0377-4
Received:

Accepted:

Published:

Issue Date:
Keywords
Copper transport

Copper proteins

Electron paramagnetic resonance

Electron spin echo envelope modulation

Hyperfine sublevel correlation experiment