Abstract
Introduction
Duchenne muscular dystrophy is caused by the absence of dystrophin. This study aimed to investigate femoral morphological characteristics of lack of dystrophin in MDX mice, considering that this model, different from DMD patient, is not influenced by corticosteroids administration and limited ambulation.
Materials and methods
Proximal femur of male 16-week-old Control and MDX mice were submitted to histological, morphometric (volume density of articular cartilage, compact bone, trabecular bone and bone marrow; articular cartilage layers area; articular cartilage cell area), and immunohistochemistry analysis for RUNX-2, RANK-L, MMP-2, MMP-9, Caspase-3 and KI-67.
Results
MDX showed loss of linearity of articular cartilage with subchondral bone transition and elevation of this subchondral bone to the articular surface when compared with control. In addition, MDX presented morphological difference in the pantographic network of collagen fibers. Volume density of trabecular bone tissue was higher in the MDX than Control, but volume density of articular cartilage was lower in MDX (p < 0.05). The articular cartilage layers and chondrocytes area were significantly smaller in MDX than Control. These results associated to MMPs and osteogenic markers of proximal femur revealed an adaptation process as a consequence of lack of dystrophin.
Conclusions
The morphological changes observed in the bone tissue of the MDX may be not only secondary to muscle weakness or chronic use of corticosteroids but also our results indicate connections between decrease of cartilage thickness, collagen network alteration and consequent subchondral changes that may lead to articular cartilage degeneration and bone adaptation mechanism in MDX mice.
Access options
Buy single article
Instant access to the full article PDF.
USD 39.95
Price includes VAT (USA)
Tax calculation will be finalised during checkout.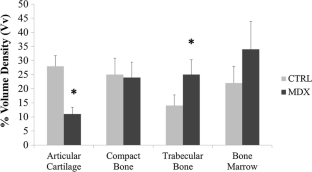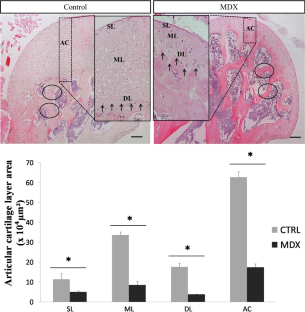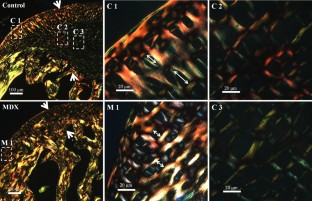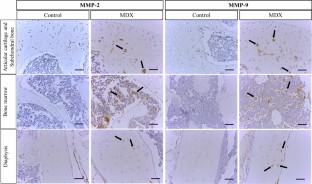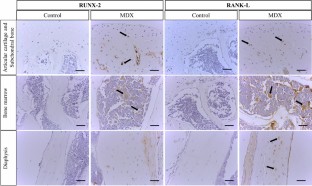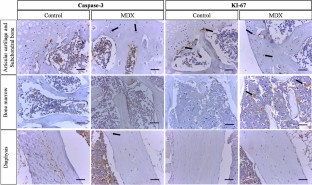 References
1.

Lovering RM, Porter NC, Bloch RJ (2005) The muscular dystrophies: from genes to therapies. Phys Ther 85:1372–1388

2.

Mendell JR, Rodino-Klapac LR, Sahenk Z, Roush K, Bird L, Lowes LP et al (2013) Eteplirsen for the treatment of Duchenne muscular dystrophy. Ann Neurol 74:637–647

3.

Nakagaki WR, Bertran CA, Matsumura CY, Santo-Neto H, Camilli JA (2011) Mechanical, biochemical and morphometric alterations in the femur of mdx mice. Bone 48:372–379

4.

Slemenda CW, Reister TK, Hui SL, Miller JZ, Christian JC, Johnston CC Jr (1994) Influences on skeletal mineralization in children and adolescents: evidence for varying effects of sexual maturation and physical activity. J Pediatr 125:201–207

5.

Crabtree NJ, Roper H, McMurchie H, Shaw NJ (2010) Regional changes in bone area and bone mineral content in boys with duchenne muscular dystrophy receiving corticosteroid therapy. J Pediatr 156:450–455

6.

McDonald DG, Kinali M, Gallagher AC, Mercuri E, Muntoni F, Roper H, Jardine P, Jones DH, Pike MG (2002) Fracture prevalence in Duchenne muscular dystrophy. Dev Med Child Neurol 44:695–698

7.

Söderpalm AC, Magnusson P, Ahlander AC, Karlsson J, Kroksmark AK, Tulinius M, Swolin-Eide D (2007) Low bone mineral density and decreased bone turnover in Duchenne muscular dystrophy. Neuromuscul Disord 17:919–928

8.

Janssen PM, Murray JD, Schill KE, Rastogi N, Schultz EJ, Tran T, Raman SV, Rafael-Fortney JA (2014) Prednisolone attenuates improvement of cardiac and skeletal contractile function and histopathology by lisinopril and spironolactone in the mdx mouse model of Duchenne muscular dystrophy. PLoS One 9:e88360

9.

King WM, Kissel JT, Visy D, Goel PK, Matkovic V (2014) Skeletal health in Duchenne dystrophy: bone-size and subcranial dual-energy X-ray absorptiometry analyses. Muscle Nerve 49:512–519

10.

Tian C, Wong BL, Hornung L, Khoury JC, Miller L, Bange J, Rybalsky I, Rutter MM (2016) Bone health measures in glucocorticoid-treated ambulatory boys with Duchenne muscular dystrophy. Neuromuscul Disord 26:760–767

11.

Buckner JL, Bowden SA, Mahan JD (2015) Optimizing bone health in Duchenne muscular dystrophy. Int J Endocrinol 2015:928385

12.

Martel-Pelletier J, Boileau C, Pelletier JP, Roughley PJ (2008) Cartilage in normal and osteoarthritis conditions. Best Pract Res Clin Rheumatol 22:351–384

13.

Akkiraju H, Nohe A (2015) Role of chondrocytes in cartilage formation, progression of osteoarthritis and cartilage regeneration. J Dev Biol 3:177–192

14.

Isaac C, Wright A, Usas A, Li H, Tang Y, Mu X, Greco N, Dong Q, Vo N, Kang J, Wang B, Huard J (2013) Dystrophin and utrophin "double knockout" dystrophic mice exhibit a spectrum of degenerative musculoskeletal abnormalities. J Orthop Res 31:343–349

15.

Larcher T, Lafoux A, Tesson L, Remy S, Thepenier V, François V, Le Guiner C, Goubin H, Dutilleul M, Guigand L, Toumaniantz G, De Cian A, Boix C, Renaud JB, Cherel Y, Giovannangeli C, Concordet JP, Anegon I, Huchet C (2014) Characterization of dystrophin deficient rats: a new model for Duchenne muscular dystrophy. PLoS One 9:e110371

16.

Vainzof M, Ayub-Guerrieri D, Onofre PC, Martins PC, Lopes VF, Zilberztajn D, Maia LS, Sell K, Yamamoto LU (2008) Animal models for genetic neuromuscular diseases. J Mol Neurosci 34:241–248

17.

Manning J, O'Malley D (2015) What has the mdx mouse model of Duchenne muscular dystrophy contributed to our understanding of this disease? J Muscle Res Cell Motil 36:155–167

18.

Pelosi L, Berardinelli MG, Forcina L, Spelta E, Rizzuto E, Nicoletti C, Camilli C, Testa E, Catizone A, De Benedetti F, Musarò A (2015) Increased levels of interleukin-6 exacerbate the dystrophic phenotype in mdx mice. Hum Mol Genet 1:6041–6053

19.

Abou-Khalil R, Yang F, Mortreux M, Lieu S, Yu YY, Wurmser M, Pereira C, Relaix F, Miclau T, Marcucio RS, Colnot C (2014) Delayed bone regeneration is linked to chronic inflammation in murine muscular dystrophy. J Bone Miner Res 29:304–315

20.

Junqueira LC, Bignolas G, Bretani RR (1979) Picrosirius staining plus polarization microscopy, a specific method for collagen detection in tissue sections. Histochemistry 11:447–455

21.

Mandarim-de-Lacerda CA (2003) Stereological tools in biomedical research. An Acad Bras Ciênc 75:469–486

22.

De Oliveira BC, de Oliveira F, Martini DT, Prisco CR, da Silva Riguetti MM, Liberti EA, de Campos BS (2010) The relative effects of severe burn injury and pre- and post-natal protein deprivation on mandibular condyle morphology. Histol Histopathol 25:45–54

23.

Novotny SA, Warren GL, Lin AS, Guldberg RE, Baltgalvis KA, Lowe DA (2011) Bone is functionally impaired in dystrophic mice but less so than skeletal muscle. Neuromuscul Disord 21:183–193

24.

Rufo A, Del Fattore A, Capulli M, Carvello F, De Pasquale L, Ferrari S, Pierroz D, Morandi L, De Simone M, Rucci N, Bertini E, Bianchi ML, De Benedetti F, Teti A (2011) Mechanisms inducing low bone density in Duchenne muscular dystrophy in mice and humans. J Bone Miner Res 26:1891–1903

25.

Yoon SH, Grynpas MD, Mitchell J (2019) Growth hormone increases bone toughness and decreases muscle inflammation in glucocorticoid-treated Mdx mice, model of Duchenne muscular dystrophy. J Bone Miner Res 34:1473–1486

26.

Maldonado M, Nam J (2013) The role of changes in extracellular matrix of cartilage in the presence of inflammation on the pathology of osteoarthritis. Biomed Res Int 2013:284873

27.

Becerra J, Andrades JA, Guerado E, Zamora-Navas P, López-Puertas JM, Reddi AH (2010) Articular cartilage: structure and regeneration. Tissue Eng Part B Rev 16:617–627

28.

Aho O-M, Finnilä M, Thevenot J, Saarakkala S, Lehenkari P (2017) Subchondral bone histology and grading in osteoarthritis. PLoS ONE 12:e0173726

29.

Lu CH, Yeh TS, Yeh CL, Fang YH, Sung LY, Lin SY, Yen TC, Chang YH, Hu YC (2014) Regenerating cartilages by engineered ASCs: prolonged TGF-β3/BMP-6 expression improved articular cartilage formation and restored zonal structure. Mol Ther 22:186–195

30.

Goldring MB, Marcu KB (2009) Cartilage homeostasis in health and rheumatic diseases. Arthritis Res Ther 11:224

31.

Houard X, Goldring MB, Berenbaum F (2013) Homeostatic mechanisms in articular cartilage and role of inflammation in osteoarthritis. Curr Rheumatol Rep 15:375

32.

Cruz-Guzmán Odel R, Rodríguez-Cruz M, Escobar Cedillo RE (2015) Systemic inflammation in Duchenne muscular dystrophy: association with muscle function and nutritional status. Biomed Res Int 2015:891972

33.

Kondo M, Yamaoka K, Tanaka Y (2014) Acquiring chondrocyte phenotype from human mesenchymal stem cells under inflammatory conditions. Int J Mol Sci 17:21270–21285

34.

Pearle AD, Warren RF, Rodeo SA (2005) Basic science of articular cartilage and osteoarthritis. Clin Sports Med 24:1–12

35.

Wei B, Gu Q, Li D, Yan J, Guo Y, Mao F, Xu Y, Zang F, Wang L (2014) Mild degenerative changes of hip cartilage in elderly patients: an available sample representative of early osteoarthritis. Int J Clin Exp Pathol 15:6493–6503

36.

Florencio-Silva R, Sasso GR, Sasso-Cerri E, Simões MJ, Cerri OS (2015) Biology of bone tissue: structure, function, and factors that influence bone cells. Biome Res Int 2015:421746

37.

Galliera E, Randelli P, Dogliotti G, Dozio E, Colombini A, Lombardi G, Cabitza P, Corsi MM (2010) Matrix metalloproteases MMP-2 and MMP-9: are they early biomarkers of bone remodelling and healing after arthroscopic acromioplasty? Injury 41:1204–1207

38.

Ben David D, Reznick AZ, Srouji S, Livne E (2008) Exposure to pro-inflammatory cytokines upregulates MMP-9 synthesis by mesenchymal stem cells-derived osteoprogenitors. Histochem Cell Biol 129:589–597

39.

Ruiz PLM, Handan BA, de Moura CFG, Assis LR, Fernandes KR, Renno ACM, Ribeiro DA (2018) Protective effect of grape or apple juices in bone tissue of rats exposed to cadmium: role of RUNX-2 and RANK/L expression. Environ Sci Pollut Res Int 25:15785–15792

40.

Ueta C, Iwamoto M, Kanatani N, Yoshida C, Liu Y, Enomoto-Iwamoto M, Ohmori T, Enomoto H, Nakata K, Takada K, Kurisu K, Komori T (2001) Skeletal malformations caused by overexpression of Cbfa1 or its dominant negative form in chondrocytes. J Cell Biol 2:87–100

41.

Baum R, Gravallese EM (2014) Impact of inflammation on the osteoblast in rheumatic diseases. Curr Osteoporos Rep 12:9–16

42.

Cardoso L, Herman BC, Verborgt O, Laudier D, Majeska RJ, Schaffler MB (2009) Osteocyte apoptosis controls activation of intracortical resorption in response to bone fatigue. J Bone Miner Res 24:597–605

43.

Kennedy OD, Laudier DM, Majeska RJ, Sun HB, Schaffler MB (2014) Osteocyte apoptosis is required for production of osteoclastogenic signals following bone fatigue in vivo. Bone 64:132–137
Acknowledgements
Authors would like to thank Fundação de Amparo à Pesquisa do Estado de São Paulo (FAPESP) for the scholarship (grant number 14/22211-6).
Ethics declarations
Conflict of interest
The authors of the manuscript have no conflict of interest to declare.
Additional information
Publisher's Note
Springer Nature remains neutral with regard to jurisdictional claims in published maps and institutional affiliations.
About this article
Cite this article
dos Santos, J.F., Lazzarin, M.C., Baptista, V.I.A. et al. Articular cartilage degeneration and bone adaptation due to lack of dystrophin in mice. J Bone Miner Metab (2021). https://doi.org/10.1007/s00774-021-01270-x
Received:

Accepted:

Published:
Keywords
MDX mice

Duchenne muscular dystrophy

Articular cartilage

Bone

Collagen