Abstract
Introduction
Osteoarthritis (OA) is a common joint disease characterized by articular cartilage degeneration. The prevalence of OA is higher among women than men, and this prevalence is closely related to menopause. The classic view assumes that the underlying mechanism of postmenopausal OA is attributed to declining estrogen levels. Although follicle-stimulating hormone (FSH) levels become elevated in parallel, the effects of FSH on OA have been poorly explored. The present study aimed to study the effect of FSH on cartilage metabolism.
Methods
Chondrocyte-like ATDC5 cells were treated with recombinant FSH protein. Then the cell viability was measured using cell counting kit-8 assay. Expressions of crucial factors involved in the extracellular matrix (ECM) metabolic and PKA-CREB-SOX9 pathway were analyzed by western blot, RT-qPCR, and immunofluorescence staining. Intracellular cAMP levels were assessed by ELISA assay. Experimental OA in mice was induced by destabilization of the medial meniscus (DMM) surgery. Adeno-associated virus expressing shRNA against FSHR (AAV-shFSHR) was intra-articular (IA) injected into the OA model animals to specifically knock down FHSR in cartilage. Histological staining and OARSI scores were used to assess the efficacy of AAV-shFSHR injections.
Results
We found that FSH down-regulated the expression of ECM-related proteins in chondrocyte-like ATDC5 cells. The underlying mechanism is probably associated with regulating PKA/CREB/SOX9 pathway. Besides, blocking FSH signaling via shRNA-mediated downregulation of FSHR in joint tissues effectively delayed the development of posttraumatic OA in mice.
Conclusions
Our results collectively indicated that FSH plays an essential role in the pathogenesis of OA and acts as a crucial mediator.
Access options
Buy single article
Instant access to the full article PDF.
USD 39.95
Price includes VAT (USA)
Tax calculation will be finalised during checkout.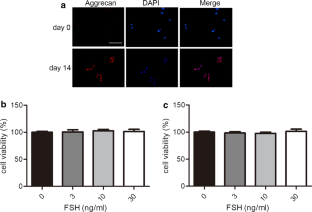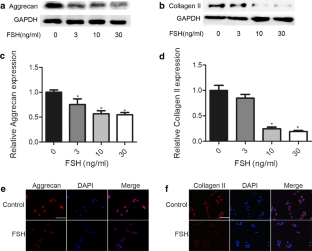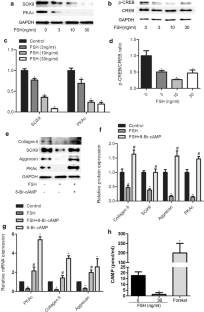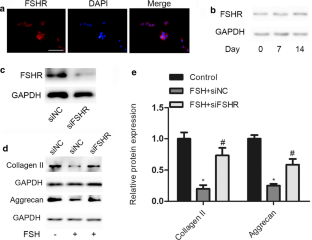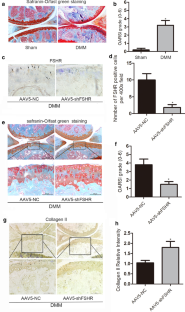 References
1.

Sun X, Zhen X, Hu X, Li Y, Gu S, Gu Y, Dong H (2019) Osteoarthritis in the middle-aged and elderly in China: prevalence and influencing factors (in eng). Int J Environ Res Public Health. https://doi.org/10.3390/ijerph16234701

2.

Goldring MB, Goldring SR (2007) Osteoarthritis. J Cell Physiol 213:626–634. https://doi.org/10.1002/jcp.21258

3.

Geyer M, Schönfeld C (2018) Novel insights into the pathogenesis of osteoarthritis. Curr Rheumatol Rev 14:98–107. https://doi.org/10.2174/1573397113666170807122312

4.

Glyn-Jones S, Palmer AJ, Agricola R, Price AJ, Vincent TL, Weinans H, Carr AJ (2015) Osteoarthritis. Lancet (London, England) 386:376–387. https://doi.org/10.1016/s0140-6736(14)60802-3

5.

Son YO, Park S, Kwak JS, Won Y, Choi WS, Rhee J, Chun CH, Ryu JH, Kim DK, Choi HS, Chun JS (2017) Estrogen-related receptor gamma causes osteoarthritis by upregulating extracellular matrix-degrading enzymes. Nat Commun 8:2133. https://doi.org/10.1038/s41467-017-01868-8

6.

Martin-Millan M, Castaneda S (2013) Estrogens, osteoarthritis and inflammation. Joint, bone, spine: revue du rhumatisme 80:368–373. https://doi.org/10.1016/j.jbspin.2012.11.008

7.

Prior JC (1998) Perimenopause: the complex endocrinology of the menopausal transition. Endocr Rev 19:397–428. https://doi.org/10.1210/edrv.19.4.0341

8.

Srikanth VK, Fryer JL, Zhai G, Winzenberg TM, Hosmer D, Jones G (2005) A meta-analysis of sex differences prevalence, incidence and severity of osteoarthritis. Osteoarthritis Cartilage 13:769–781. https://doi.org/10.1016/j.joca.2005.04.014

9.

Fenton A, Panay N (2016) Estrogen, menopause and joints. Climacteric: J Int Menop Soc 19:107–108. https://doi.org/10.3109/13697137.2016.1151151

10.

Rosner IA, Goldberg VM, Getzy L, Moskowitz RW (1979) Effects of estrogen on cartilage and experimentally induced osteoarthritis. Arthritis Rheum 22:52–58. https://doi.org/10.1002/art.1780220108

11.

Tsai CL, Liu TK (1993) Estradiol-induced knee osteoarthrosis in ovariectomized rabbits. Clin Orthop Relat Res 291:295–302

12.

Nordin BE, Polley KJ (1987) Metabolic consequences of the menopause A cross-sectional, longitudinal, and intervention study on 557 normal postmenopausal women (in eng). Calcif Tissue Int. 41 Suppl 1:S1-59

13.

Sowers MR, Zheng H, Jannausch ML, McConnell D, Nan B, Harlow S, Randolph JF Jr (2010) Amount of bone loss in relation to time around the final menstrual period and follicle-stimulating hormone staging of the transmenopause. J Clin Endocrinol Metab 95:2155–2162. https://doi.org/10.1210/jc.2009-0659

14.

Sun L, Peng Y, Sharrow AC, Iqbal J, Zhang Z et al (2006) FSH directly regulates bone mass. Cell 125:247–260. https://doi.org/10.1016/j.cell.2006.01.051

15.

Kong D, Guan Q, Li G, Xin W, Qi X, Guo Y, Zhao J, Xu J, Sun S, Gao L (2018) Expression of FSHR in chondrocytes and the effect of FSH on chondrocytes. Biochem Biophys Res Commun 495:587–593. https://doi.org/10.1016/j.bbrc.2017.11.053

16.

Miao G, Zang X, Hou H, Sun H, Wang L, Zhang T, Tan Y, Liu W, Ye P, Gao L, Zha Z (2019) Bax targeted by miR-29a regulates chondrocyte apoptosis in osteoarthritis. Biomed Res Int 2019:1434538. https://doi.org/10.1155/2019/1434538

17.

Tabe S, Hikiji H, Ariyoshi W, Hashidate-Yoshida T, Shindou H, Shimizu T, Okinaga T, Seta Y, Tominaga K, Nishihara T (2017) Lysophosphatidylcholine acyltransferase 4 is involved in chondrogenic differentiation of ATDC5 cells. Sci Rep 7:16701. https://doi.org/10.1038/s41598-017-16902-4

18.

Glasson SS, Blanchet TJ, Morris EA (2007) The surgical destabilization of the medial meniscus (DMM) model of osteoarthritis in the 129/SvEv mouse. Osteoarthritis Cartilage 15:1061–1069. https://doi.org/10.1016/j.joca.2007.03.006

19.

Glasson SS, Chambers MG, Van Den Berg WB, Little CB (2010) The OARSI histopathology initiative-recommendations for histological assessments of osteoarthritis in the mouse. Osteoarthr Cartil 18(Suppl 3):S17-23. https://doi.org/10.1016/j.joca.2010.05.025

20.

Chambers MG, Bayliss MT, Mason RM (1997) Chondrocyte cytokine and growth factor expression in murine osteoarthritis. Osteoarthr Cartil 5:301–308. https://doi.org/10.1016/s1063-4584(97)80034-9

21.

Wang M, Shen J, Jin H, Im HJ, Sandy J, Chen D (2011) Recent progress in understanding molecular mechanisms of cartilage degeneration during osteoarthritis. Ann N Y Acad Sci 1240:61–69. https://doi.org/10.1111/j.1749-6632.2011.06258.x

22.

Zhao L, Li G, Zhou GQ (2009) SOX9 directly binds CREB as a novel synergism with the PKA pathway in BMP-2-induced osteochondrogenic differentiation. J Bone Miner Res 24:826–836. https://doi.org/10.1359/jbmr.081236

23.

Huang W, Zhou X, Lefebvre V, de Crombrugghe B (2000) Phosphorylation of SOX9 by cyclic AMP-dependent protein kinase A enhances SOX9's ability to transactivate a Col2a1 chondrocyte-specific enhancer. Mol Cell Biol 20:4149–4158. https://doi.org/10.1128/mcb.20.11.4149-4158.2000

24.

Gao X, Zhang X, Cui L, Chen R, Zhang C, Xue J, Zhang L, He W, Li J, Wei S, Wei M, Cui H (2020) Ginsenoside Rb1 promotes motor functional recovery and axonal regeneration in post-stroke mice through cAMP/PKA/CREB signaling pathway. Brain Res Bull 154:51–60. https://doi.org/10.1016/j.brainresbull.2019.10.006

25.

Gonzalez GA, Montminy MR (1989) Cyclic AMP stimulates somatostatin gene transcription by phosphorylation of CREB at serine 133. Cell 59:675–680. https://doi.org/10.1016/0092-8674(89)90013-5

26.

Wang Y, Zhang M, Huan Z, Shao S, Zhang X, Kong D, Xu J (2020) FSH directly regulates chondrocyte dedifferentiation and cartilage development. J Endocrinol. https://doi.org/10.1530/joe-20-0390

27.

Smitz J, Wolfenson C, Chappel S, Ruman J (2016) Follicle-stimulating hormone: a review of form and function in the treatment of infertility. Reprod Sci (Thousand Oaks, Calif) 23:706–716. https://doi.org/10.1177/1933719115607992

28.

Ulloa-Aguirre A, Reiter E, Crepieux P (2018) FSH receptor signaling: complexity of interactions and signal diversity (in eng). Endocrinology 159:3020–3035. https://doi.org/10.1210/en.2018-00452

29.

Kumar TR (2018) Extragonadal actions of FSH: a critical need for novel genetic models (in eng). Endocrinology 159:2–8. https://doi.org/10.1210/en.2017-03118

30.

Guo Y, Zhao M, Bo T, Ma S, Yuan Z et al (2019) Blocking FSH inhibits hepatic cholesterol biosynthesis and reduces serum cholesterol (in eng). Cell Res 29:151–166. https://doi.org/10.1038/s41422-018-0123-6

31.

Liu P, Ji Y, Yuen T, Rendina-Ruedy E, DeMambro VE et al (2017) Blocking FSH induces thermogenic adipose tissue and reduces body fat (in eng). Nature 546:107–112. https://doi.org/10.1038/nature22342

32.

Watanabe H, de Caestecker MP, Yamada Y (2001) Transcriptional cross-talk between Smad, ERK1/2, and p38 mitogen-activated protein kinase pathways regulates transforming growth factor-beta-induced aggrecan gene expression in chondrogenic ATDC5 cells (in eng). J Biol Chem 276:14466–14473. https://doi.org/10.1074/jbc.M005724200

33.

Lee AS, Ellman MB, Yan D, Kroin JS, Cole BJ, van Wijnen AJ, Im HJ (2013) A current review of molecular mechanisms regarding osteoarthritis and pain (in eng). Gene 527:440–447. https://doi.org/10.1016/j.gene.2013.05.069

34.

Hashimoto M, Nakasa T, Hikata T, Asahara H (2008) Molecular network of cartilage homeostasis and osteoarthritis (in eng). Med Res Rev 28:464–481. https://doi.org/10.1002/med.20113

35.

Ohba S, He X, Hojo H, McMahon AP (2015) Distinct transcriptional programs underlie Sox9 regulation of the mammalian chondrocyte (in eng). Cell Rep 12:229–243. https://doi.org/10.1016/j.celrep.2015.06.013

36.

Wagner T, Wirth J, Meyer J, Zabel B, Held M, Zimmer J, Pasantes J, Bricarelli FD, Keutel J, Hustert E, Wolf U, Tommerup N, Schempp W, Scherer G (1994) Autosomal sex reversal and campomelic dysplasia are caused by mutations in and around the SRY-related gene SOX9 (in eng). Cell 79:1111–1120. https://doi.org/10.1016/0092-8674(94)90041-8

37.

Tsuda M, Takahashi S, Takahashi Y, Asahara H (2003) Transcriptional co-activators CREB-binding protein and p300 regulate chondrocyte-specific gene expression via association with Sox9 (in eng). J Biol Chem 278:27224–27229. https://doi.org/10.1074/jbc.M303471200

38.

Ng LJ, Wheatley S, Muscat GE, Conway-Campbell J, Bowles J, Wright E, Bell DM, Tam PP, Cheah KS, Koopman P (1997) SOX9 binds DNA, activates transcription, and coexpresses with type II collagen during chondrogenesis in the mouse (in eng). Dev Biol 183:108–121. https://doi.org/10.1006/dbio.1996.8487

39.

Sekiya I, Tsuji K, Koopman P, Watanabe H, Yamada Y, Shinomiya K, Nifuji A, Noda M (2000) SOX9 enhances aggrecan gene promoter/enhancer activity and is up-regulated by retinoic acid in a cartilage-derived cell line, TC6 (in eng). J Biol Chem 275:10738–10744. https://doi.org/10.1074/jbc.275.15.10738

40.

Malki S, Nef S, Notarnicola C, Thevenet L, Gasca S, Mejean C, Berta P, Poulat F, Boizet-Bonhoure B (2005) Prostaglandin D2 induces nuclear import of the sex-determining factor SOX9 via its cAMP-PKA phosphorylation (in eng). EMBO J 24:1798–1809. https://doi.org/10.1038/sj.emboj.7600660

41.

Shaywitz AJ, Greenberg ME (1999) CREB: a stimulus-induced transcription factor activated by a diverse array of extracellular signals (in eng). Annu Rev Biochem 68:821–861. https://doi.org/10.1146/annurev.biochem.68.1.821

42.

Apparailly F, Khoury M, Vervoordeldonk MJ, Adriaansen J, Gicquel E, Perez N, Riviere C, Louis-Plence P, Noel D, Danos O, Douar AM, Tak PP, Jorgensen C (2005) Adeno-associated virus pseudotype 5 vector improves gene transfer in arthritic joints (in eng). Hum Gene Ther 16:426–434. https://doi.org/10.1089/hum.2005.16.426

43.

Davidoff AM, Nathwani AC, Spurbeck WW, Ng CY, Zhou J, Vanin EF (2002) rAAV-mediated long-term liver-generated expression of an angiogenesis inhibitor can restrict renal tumor growth in mice (in eng). Can Res 62:3077–3083

44.

Payne KA, Lee HH, Haleem AM, Martins C, Yuan Z, Qiao C, Xiao X, Chu CR (2011) Single intra-articular injection of adeno-associated virus results in stable and controllable in vivo transgene expression in normal rat knees (in eng). Osteoarthritis Cartilage 19:1058–1065. https://doi.org/10.1016/j.joca.2011.04.009
Acknowledgments
This research was supported by the Key Research and Development Plan Project of Shandong Province (Grants no. 2016 GSF201025, 2016GGH3118), the National Natural Science Foundation of China (Grant no. 81370892), and the Shandong Taishan Scholars Specially invited Expert Plan.
Ethics declarations
Conflict of interest
The authors confirm that there are no conflicts of interest.
Ethical approval
All applicable international, national, and institutional guidelines for the care and use of animals were followed.
Additional information
Publisher's Note
Springer Nature remains neutral with regard to jurisdictional claims in published maps and institutional affiliations.
Supplementary Information
Below is the link to the electronic supplementary material.
About this article
Cite this article
Zhang, M., Wang, Y., Huan, Z. et al. FSH modulated cartilage ECM metabolism by targeting the PKA/CREB/SOX9 pathway. J Bone Miner Metab 39, 769–779 (2021). https://doi.org/10.1007/s00774-021-01232-3
Received:

Accepted:

Published:

Issue Date:
Keywords
Osteoarthritis

Follicle-stimulating hormone

Extracellular matrix

PKA