Abstract
Introduction
The purpose of this retrospective study was to clarify the incidence of non-traumatic vertebral fracture among outpatient women with osteoporosis and to determine whether the stand-up test predicted the occurrence of non-traumatic vertebral fracture.
Materials and methods
A total of 242 postmenopausal women over 60 years of age who received outpatient osteoporosis treatment at our hospital between November 2013 and July 2020 were longitudinally evaluated in this study. We obtained medical information and radiographic parameters, including sagittal vertical axis, thoracic kyphosis, pelvic incidence, lumbar lordosis, pelvic tilt, and sacral slope at baseline. Additionally, we measured physical parameters, including height, weight, body mass index, lumbar bone mineral density, visual analog scale score for pain, and the stand-up test.
Results
Vertebral fractures occurred in 20 of 242 participants (8.3%), and accounted for 48.8% the 41 total fractures in the study group. Among vertebral fractures, eight (40.0%) were traumatic, resulting from falls, and 12 (60.0%) were non-traumatic. Cox multivariate logistic regression analysis adjusted for age, body mass index, lumbar bone mineral density, and the time to non-traumatic vertebral fracture showed that the sagittal vertical axis (HR = 1.013, 95% CI 1.001–1.026), stand-up test score (HR = 3.977, 95% CI 1.156–13.683), and presence of difficulty with standing from a 20-cm-high seat using both legs (HR = 3.329, 95% CI 1.625–6.82) were independent risk factors for the occurrence of non-traumatic vertebral fracture.
Conclusion
The stand-up test may be useful as a simple screening tool for non-traumatic vertebral fracture in patients with osteoporosis.
Access options
Buy single article
Instant access to the full article PDF.
USD 39.95
Price includes VAT (USA)
Tax calculation will be finalised during checkout.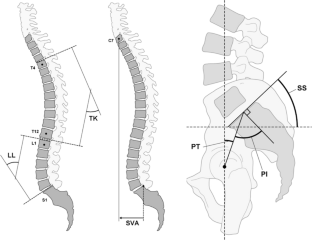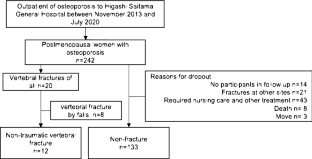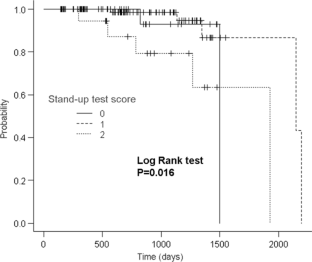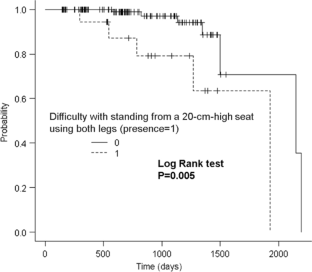 References
1.

Armas LAG, Recker RR (2012) Pathophysiology of osteoporosis. new mechanistic insights. Endocrinol Metab Clin North Am 41:475–486

2.

Odén A, McCloskey EV, Kanis JA, Harvey NC, Johansson H (2015) Burden of high fracture probability worldwide: secular increases 2010–2040. Osteoporos Int 26:2243–2248

3.

Iihara N, Ohara E, Bando Y, Yoshida T, Ohara M, Kirino Y (2019) Fragility fractures in older people in Japan based on the National Health Insurance Claims database. Biol Pharm Bull 42:778–785

4.

Johnell O, Kanis JA (2006) An estimate of the worldwide prevalence and disability associated with osteoporotic fractures. Osteoporos Int 17:1726–1733

5.

Yoshimura N, Kinoshita H, Oka H, Muraki S, Mabuchi A, Kawaguchi H, Nakamura K (2006) Cumulative incidence and changes in the prevalence of vertebral fractures in a rural Japanese community: a 10-year follow-up of the Miyama cohort. Arch Osteoporos 1:43–49

6.

Amin S, Achenbach SJ, Atkinson EJ, Khosla S, Melton LJ III (2014) Trends in fracture incidence: a population-based study over 20 years. J Bone Miner Res 29:581–589

7.

Horii C, Asai Y, Iidaka T, Muraki S, Oka H, Tsutsui S, Hashizume H, Yamada H, Yoshida M, Kawaguchi H, Nakamura K, Akune T, Tanaka S, Yoshimura N (2019) Di ff erences in prevalence and associated factors between mild and severe vertebral fractures in Japanese men and women: the third survey of the ROAD study. J Bone Miner Metab 37:844–853

8.

Jalava T, Sarna S, Pylkkänen L, Mawer B, Kanis JA, Selby P, Davies M, Adams J, Francis RM, Robinson J, McCloskey E (2003) Association between vertebral fracture and increased mortality in osteoporotic patients. J Bone Miner Res 18:1254–1260

9.

Kado DM, Duong T, Stone KL, Ensrud KE, Nevitt MC, Greendale GA, Cummings SR (2003) Incident vertebral fractures and mortality in older women: a prospective study. Osteoporos Int 14:589–594

10.

Ikeda Y, Sudo A, Yamada T, Uchida A (2010) Mortality after vertebral fractures in a Japanese population. J Orthop Surg (Hong Kong) 18:148–152. https://doi.org/10.1177/230949901001800204

11.

Klotzbuecher CM, Ross PD, Landsman PB, Abbott TA 3rd, Berger M (2000) Patients with prior fractures have an increased risk of future fractures: a summary of the literature and statistical synthesis*. J Bone Miner Res 15:721–739

12.

Melton LJ, Atkinson EJ, Cooper C, O'Fallon WM, Riggs BL (1999) Vertebral fractures predict subsequent fractures. Osteoporos Int 10:214–221

13.

Hagino H, Sawaguchi T, Endo N, Ito Y, Nakano T, Watanabe Y (2012) The risk of a second hip fracture in patients after their first hip fracture. Calcif Tissue Int 90:14–21

14.

Cooper C, O'Neill T, Silman A (1993) The epidemiology of vertebral fractures. Bone 14:89–97

15.

Leucht P, Fischer K, Muhr G, Mueller EJ (2009) Epidemiology of traumatic spine fractures. Injury 40:166–172

16.

Sinaki M (2012) Exercise for patients with osteoporosis: management of vertebral compression fractures and trunk strengthening for fall prevention. PM R 4:882–888

17.

Tsuda T (2017) Epidemiology of fragility fractures and fall prevention in the elderly. Curr Orthop Pract 28:580–585

18.

Pongchaiyakul C, Charoensri S, Leerapun T, Wongsiri S, Songpatanasilp T, Taechakraichana N (2020) Prevalence of asymptomatic radiographic vertebral fracture in postmenopausal Thai women. Arch Osteoporos 15:4–9

19.

Pongchaiyakul C, Nguyen ND, Jones G, Center JR, Eisman JA, Nguyen TV (2005) Asymptomatic vertebral deformity as a major risk factor for subsequent fractures and mortality: a long-term prospective study. J Bone Miner Res 20:1349–1355

20.

Yamamoto E, Paul Crawford R, Chan DD, Keaveny TM (2006) Development of residual strains in human vertebral trabecular bone after prolonged static and cyclic loading at low load levels. J Biomech 39:1812–1818

21.

Johansson L, Sundh D, Nilsson M, Mellström D, Lorentzon M (2018) Vertebral fractures and their association with health-related quality of life, back pain and physical function in older women. Osteoporos Int 29:89–99

22.

Takeda O, Kumagai G, Wada K, Kudo H, Asari T, Ota S, Chiba D, Nakaji S, Ishibashi Y (2019) Predicting radiological vertebral fractures with a combined physical function and body composition scoring system. J Bone Miner Metab 37:935–942

23.

Dai J, Yu X, Huang S, Fan L, Zhu G, Sun H, Tang X (2015) Relationship between sagittal spinal alignment and the incidence of vertebral fracture in menopausal women with osteoporosis: a multicenter longitudinal follow-up study. Eur Spine J 24:737–743

24.

Baek SW, Kim C, Chang H (2015) The relationship between the spinopelvic balance and the incidence of adjacent vertebral fractures following percutaneous vertebroplasty. Osteoporos Int 26:1507–1513

25.

Sinaki M, Itoi E, Wahner HW, Wollan P, Gelzcer R, Mullan BP, Collins DA, Hodgson SF (2002) Stronger back muscles reduce the incidence of vertebral fractures: a prospective 10 year follow-up of postmenopausal women. Bone 30:836–841

26.

Imagama S, Ito Z, Wakao N, Seki T, Hirano K, Muramoto A, Sakai Y, Matsuyama Y, Hamajima N, Ishiguro N, Hasegawa Y (2013) Influence of spinal sagittal alignment, body balance, muscle strength, and physical ability on falling of middle-aged and elderly males. Eur Spine J 22:1346–1353

27.

Nakamura K, Ogata T (2016) Locomotive syndrome: definition and management. Clin Rev Bone Miner Metab 14:56–67

28.

Morozumi M, Ando K, Kobayashi K, Seki T, Ishizuka S, Machino M, Tanaka S, Ito S, Kanbara S, Inoue T, Ishiguro N, Hasegawa Y, Imagama S (2020) Relationship between lumbopelvic discordance and locomotive syndrome in a middle-aged community-living population: the Yakumo study. J Orthop Sci 25:693–699

29.

Machino M, Ando K, Kobayashi K, Nakashima H, Kanbara S, Ito S, Inoue T, Yamaguchi H, Koshimizu H, Seki T, Ishizuka S, Takegami Y, Ishiguro N, Hasegawa Y, Imagama S (2020) Influence of global spine sagittal balance and spinal degenerative changes on locomotive syndrome risk in a middle-age and elderly community-living population. Biomed Res Int 2020:1–7

30.

Yoshimura N, Muraki S, Oka H, Tanaka S, Ogata T, Kawaguchi H, Akune T, Nakamura K (2015) Association between new indices in the locomotive syndrome risk test and decline in mobility: third survey of the ROAD study. J Orthop Sci 20:896–905

31.

Ohba T, Oba H, Koyama K, Oda K, Tanaka N, Fujita K, Haro H (2020) Locomotive syndrome: Prevalence, surgical outcomes, and physical performance of patients treated to correct adult spinal deformity. J Orthop Sci S0949-2658:30244–X

32.

Srbinoska H, Dreischarf M, Consmüller T, Bergmann G, Rohlmann A (2013) Correlation between back shape and spinal loads. J Biomech 46:1972–1975

33.

Ogata T, Muranaga S, Ishibashi H, Ohe T, Izumida R, Yoshimura N, Iwaya T, Nakamura K (2015) Development of a screening program to assess motor function in the adult population: a cross-sectional observational study. J Orthop Sci 20:888–895

34.

Yoshioka S, Nagano A, Hay DC, Fukashiro S (2014) Peak hip and knee joint moments during a sit-to-stand movement are invariant to the change of seat height within the range of low to normal seat height. Biomed Eng Online 13:1–13

35.

Arai T, Fujita H, Maruya K, Morita Y, Asahi R, Ishibashi H (2019) The one-leg portion of the Stand–Up Test predicts fall risk in aged individuals: a prospective cohort study. J Orthop Sci 4:688–692

36.

Nevitt MC, Cummings SR, Kidd S, Black D (1989) Risk factors for recurrent nonsyncopal falls. JAMA 261:2663–2668

37.

Vis M, Haavardsholm EA, Bøyesen P, Haugeberg G, Uhlig T, Hoff M, Woolf A, Dijkmans B, Lems W, Kvien TK (2011) High incidence of vertebral and non-vertebral fractures in the OSTRA cohort study: a 5-year follow-up study in postmenopausal women with rheumatoid arthritis. Osteoporos Int 22:2413–2419

38.

Inose H, Kato T, Ichimura S, Nakamura H, Hoshino M et al (2021) Risk factors for subsequent vertebral fracture after acute osteoporotic vertebral fractures. Eur Spine J (in press)

39.

Bongers KTJ, Schoon Y, Graauwmans MJ, Schers HJ, Melis RJ, Olde MGM (2015) The predictive value of gait speed and maximum step length for falling in community-dwelling older persons. Age Ageing 44:294–299

40.

Smorgick Y, Geftler A, Goldstein S, Mirovsky Y, Blecher R, Anekstein Y (2020) Response to: determination of any correlation between sagittal spinopelvic configuration and progressive collapse of acute osteoporotic compression spine fractures: a retrospective radiological analysis. Asian Spine J 14:770–771

41.

Schwab FJ, Blondel B, Bess S, Hostin R, Shaffrey CI, Smith JS, Boachie-Adjei O, Burton DC, Akbarnia BA, Mundis GM, Ames CP, Kebaish K, Hart RA, Farcy JP, Lafage V, International Spine Study Group (ISSG) (2013) Radiographical spinopelvic parameters and disability in the setting of adult spinal deformity: a prospective multicenter analysis. Spine (Phila Pa 1976) 38:803–812

42.

Miyakoshi N, Kudo D, Hongo M, Kasukawa Y, Ishikawa Y, Shimada Y (2017) Comparison of spinal alignment, muscular strength, and quality of life between women with postmenopausal osteoporosis and healthy volunteers. Osteoporos Int 28:3153–3160

43.

NIH consensus statement (2001) Osteoporosis prevention, diagnosis, and therapy. JAMA 285:785–795

44.

Kuroda T, Uenishi K, Ohta H, Shiraki M (2019) Multiple vitamin deficiencies additively increase the risk of incident fractures in Japanese postmenopausal women. Osteoporos Int 30:593–599

45.

Cummings SR, Martin JS, McClung MR, Siris ES, Eastell R, Reid IR, Delmas P, Zoog HB, Austin M, Wang A, Kutilek S, Adami S, Zanchetta J, Libanati C, Siddhanti S, Christiansen C (2009) Denosumab for prevention of fractures in postmenopausal women with osteoporosis. Obstet Gynecol Surv 64:805–807

46.

Davis KG, Marras WS (2000) The effects of motion on trunk biomechanics. Clin Biomech 15:703–717

47.

Ignasiak D, Rüeger A, Sperr R, Ferguson SJ (2018) Thoracolumbar spine loading associated with kinematics of the young and the elderly during activities of daily living. J Biomech 70:175–184

48.

Dehail P, Bestaven E, Muller F, Mallet A, Robert B, Bourdel-Marchasson I, Petit J (2007) Kinematic and electromyographic analysis of rising from a chair during a "Sit-to-Walk" task in elderly subjects: role of strength. Clin Biomech 22:1096–1103

49.

Yurube T, Ito M, Takeoka T, Watanabe N, Inaoka H, Kakutani K, Kuroda R, Nishida K (2019) Possible improvement of the sagittal spinopelvic alignment and balance through "locomotion training" exercises in patients with "locomotive syndrome": a literature review. Adv Orthop 2019:1–7

50.

Kaneko A, Naito K, Nagura N, Obata H, Goto K, Sugiyama Y, Koike M, Nojiri H, Iwase Y, Kaneko K (2020) Characteristics of sagittal spine alignment in female patients with distal radius fractures due to fall. Heliyon 6:e04756
Acknowledgements
The authors would like to thank the participants in the present study and the doctors and physiotherapists at the hospital for their help in data acquisition.
Funding
This work was supported by JSPS KAKENHI Grant Number JP20K19221 and the platform for longitudinal research, Higashi Saitama General Hospital.
Ethics declarations
Conflict of interest
All authors have no conflicts of interest.
Additional information
Publisher's Note
Springer Nature remains neutral with regard to jurisdictional claims in published maps and institutional affiliations.
About this article
Cite this article
Asahi, R., Nakamura, Y., Kanai, M. et al. Stand-up test predicts occurrence of non-traumatic vertebral fracture in outpatient women with osteoporosis. J Bone Miner Metab 39, 883–892 (2021). https://doi.org/10.1007/s00774-021-01229-y
Received:

Accepted:

Published:

Issue Date:
Keywords
Stand-up test

Non-traumatic vertebral fracture

Occurrence

Osteoporosis