Abstract
Introduction
The association between hemoglobin (Hb) level including anemia and fracture has not been studied thoroughly.
Materials and methods
197, 187 adults ≥ 50 years from the National Health Insurance Service of Korea were studied. Hb was determined during health screening examinations in 2004 or 2005. From 1 January 2006, participants were followed up for fracture until 31 December 2013. Hb levels (g/dL) were categorized into five groups, with normal hemoglobin levels subdivided into three groups (low normal, normal, and high normal Hb): < 13, ≥ 13 to < 14, ≥ 14 to < 16, ≥ 16 to < 17, 17 for men and < 12, ≥ 12 to < 13, ≥ 13 to < 14, ≥ 14 to < 16, ≥ 16 for women. Anemia was defined as Hb < 13 g/dL and < 12 g/dL for men and women, respectively. Cox proportional hazards regression was used to determine the adjusted hazard ratios (aHRs) and 95% confidence intervals (CIs) for fracture according to Hb.
Results
Compared to individuals with normal Hb, those with anemia and low normal Hb were associated with significantly increased risk of fracture. In women, those with anemia had a higher risk for any (aHR 1.11, 95% CI 1.05–1.17), hip (aHR 1.27, 95% CI 1.01–1.59), and radius fracture (aHR 1.15, 95% CI 1.05–1.25). In men, those with anemia had a higher risk for any (aHR 1.37, 95% CI 1.23–1.51), vertebral (aHR 1.33, 95% CI 1.15–1.53), and hip fracture (aHR 1.64, 95% CI 1.30–2.08). This risk-enhancing association was preserved among various subgroups.
Conclusion
Among adults ≥ 50 years, anemia and low normal Hb are risk factors for fracture.
Access options
Buy single article
Instant access to the full article PDF.
USD 39.95
Price includes VAT (USA)
Tax calculation will be finalised during checkout.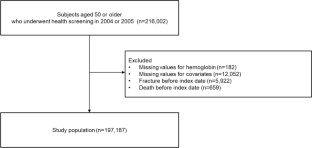 References
1.

WHO Study Group (1994) Assessment of fracture risk and its application to screening for postmenopausal osteoporosis. Report of a WHO Study Group. World Health Organ Tech Rep Ser 843:1–129

2.

Organization, W.H., WHO scientific group on the assessment of osteoporosis at primary health care level. Summary meeting report. Geneva: World Health Organization, 2004: 1–3.

3.

Kim HY et al (2017) Healthcare Costs of Osteoporotic Fracture in Korea: Information from the National Health Insurance Claims Database, 2008–2011. J Bone Metab 24:125–133

4.

Lee, G., et al., Association of Hemoglobin Concentration and Its Change With Cardiovascular and All-Cause Mortality. J Am Heart Assoc, 2018. 7.

5.

Lim WH et al (2020) Impact of hemoglobin levels and their dynamic changes on the risk of atrial fibrillation: a nationwide population-based study. Sci Rep 10:6762

6.

Valderrabano RJ et al (2017) Bone density loss is associated with blood cell counts. J Bone Miner Res 32:212–220

7.

Valderrabano RJ et al (2017) Older men with anemia have increased fracture risk independent of bone mineral density. J Clin Endocrinol Metab 102:2199–2206

8.

Chuang MH et al (2019) Low hemoglobin is associated with low bone mineral density and high risk of bone fracture in male adults: a retrospective medical record review study. Am J Mens Health 13:1557988319850378

9.

Chen Z et al (2010) The relationship between incidence of fractures and anemia in older multiethnic women. J Am Geriatr Soc 58:2337–2344

10.

Oh YH, Moon JH, Cho B (2017) Association between hemoglobin level and bone mineral density in Korean adults. J Bone Metab 24:161–173

11.

Valderrabano RJ et al (2019) Association of bone mineral density with hemoglobin and change in hemoglobin among older men and women: the cardiovascular health study. Bone 120:321–326

12.

Park C et al (2011) The incidence and residual lifetime risk of osteoporosis-related fractures in Korea. J Bone Miner Metab 29:744–751

13.

Sung JH et al (2020) Association of air pollution with osteoporotic fracture risk among women over 50 years of age. J Bone Miner Metab 38:839–847

14.

Osteoporosis: assessing the risk of fragility fracture. 2017 Feb: London: National Institute for Health and Care Excellence (UK).

15.

Brogren E, Petranek M, Atroshi I (2007) Incidence and characteristics of distal radius fractures in a southern Swedish region. BMC Musculoskelet Disord 8:48

16.

Riggs BL, Melton LJ 3rd (1986) Involutional osteoporosis. N Engl J Med 314:1676–1686

17.

van der Voort DJ, Geusens PP, Dinant GJ (2001) Risk factors for osteoporosis related to their outcome: fractures. Osteoporos Int 12:630–638

18.

Jang HD et al (2017) Relationship between bone mineral density and alcohol intake: A nationwide health survey analysis of postmenopausal women. PLoS ONE 12:e0180132

19.

Jensen J, Christiansen C, Rodbro P (1985) Cigarette smoking, serum estrogens, and bone loss during hormone-replacement therapy early after menopause. N Engl J Med 313:973–975

20.

Jick H, Porter J (1977) Relation between smoking and age of natural menopause. Report from the Boston Collaborative Drug Surveillance Program, Boston University Medical Center. Lancet 1:1354–1355

21.

Haentjens P et al (2010) Meta-analysis: excess mortality after hip fracture among older women and men. Ann Intern Med 152:380–390

22.

Cesari M et al (2005) Bone density and hemoglobin levels in older persons: results from the InCHIANTI study. Osteoporos Int 16:691–699

23.

Laudisio A et al (2009) Haemoglobin levels are associated with bone mineral density in the elderly: a population-based study. Clin Rheumatol 28:145–151

24.

Korkmaz U et al (2012) Anemia as a risk factor for low bone mineral density in postmenopausal Turkish women. Eur J Intern Med 23:154–158

25.

Pan ML et al (2017) Iron deficiency anemia as a risk factor for osteoporosis in Taiwan: a nationwide population-based study. Nutrients 9:616

26.

Merriman NA et al (2010) Hip fracture risk in patients with a diagnosis of pernicious anemia. Gastroenterology 138:1330–1337

27.

Gibon E et al (2017) Inflammation, ageing, and bone regeneration. J Orthop Transl 10:28–35

28.

Czerny B et al (2010) The association of IL-1beta, IL-2, and IL-6 gene polymorphisms with bone mineral density and osteoporosis in postmenopausal women. Eur J Obstet Gynecol Reprod Biol 149:82–85

29.

Wang C, Ge J, Ni S (2015) Effect of interleukin-6 polymorphism on fracture risk. Int J Clin Exp Med 8:9599–9602

30.

Vallurupalli M et al (2020) Effects of interleukin-1beta inhibition on incident anemia: exploratory analyses from a randomized trial. Ann Intern Med 172:523–532

31.

den Elzen WP et al (2009) Effect of anemia and comorbidity on functional status and mortality in old age: results from the Leiden 85-plus Study. CMAJ 181:151–157
Acknowledgements
This study used the NHIS database (NHIS-2017-1-143).
Ethics declarations
Conflict of Interest
All other authors have no conflicts of interest.
Additional information
Publisher's Note
Springer Nature remains neutral with regard to jurisdictional claims in published maps and institutional affiliations.
Supplementary Information
Below is the link to the electronic supplementary material.
About this article
Cite this article
Kim, J.S., Choi, S., Lee, G. et al. Association of hemoglobin level with fracture: a nationwide cohort study. J Bone Miner Metab 39, 833–842 (2021). https://doi.org/10.1007/s00774-021-01222-5
Received:

Accepted:

Published:

Issue Date:
Keywords
Anemia

Hemoglobin level

Osteoporosis

Fracture