Abstract
Warfarin, a vitamin K antagonist, is the most common anticoagulant used to prevent thromboembolisms associated with atrial fibrillation or following valvular surgery. Although several studies have revealed that long-term warfarin use accelerates aortic valve calcification and the development of aortic stenosis (AS), the detailed mechanism for this phenomenon remains unclear. Therefore, our aim was twofold: to establish the conditions for warfarin-induced calcification of human aortic valve interstitial cells (HAVICs) using high-inorganic phosphate (Pi) conditions and to investigate the underlying mechanism. We prepared and cultured HAVICs from aortic valves affected by calcific aortic valve stenosis (AS group) and aortic valves affected by aortic regurgitation but without any signs of calcification (non-AS group). Under Pi concentrations of 3.2 mM, warfarin significantly increased the calcification and alkaline phosphatase (ALP) activity of AS but not non-AS group HAVICs. Furthermore, gene expression of bone morphogenetic protein 2 (BMP2), a calcigenic marker, was significantly increased following 7 days of warfarin treatment. Warfarin-induced calcification of AS group HAVICs at 3.2 mM Pi was significantly inhibited by dorsomorphin, a Smad inhibitor, and the pregnane X receptor (PXR) inhibitors, ketoconazole and coumestrol, but was unaffected by SN-50, an NF-κB inhibitor. Warfarin was also able to increase BMP2 gene expression at a physiological Pi concentration (1.0 mM). Furthermore, excess BMP2 (30 ng/mL) facilitated warfarin-induced ALP upregulation and HAVIC calcification, an effect which was significantly reduced in the presence of coumestrol. Together, our results suggest that warfarin accelerates calcification of HAVICs from AS patients via the PXR–BMP2–ALP pathway.
This is a preview of subscription content, log in to check access.
Access options
Buy single article
Instant access to the full article PDF.
US$ 39.95
Price includes VAT for USA
Subscribe to journal
Immediate online access to all issues from 2019. Subscription will auto renew annually.
US$ 99
This is the net price. Taxes to be calculated in checkout.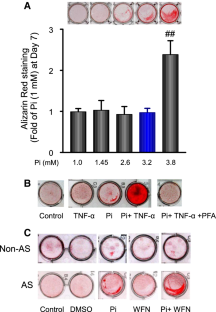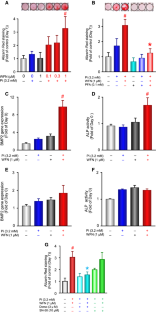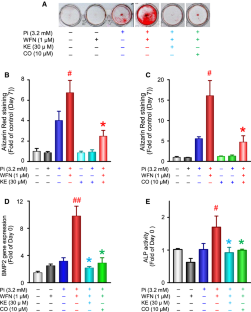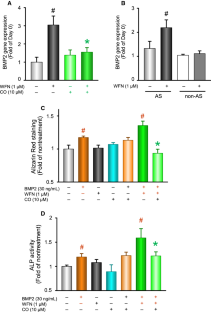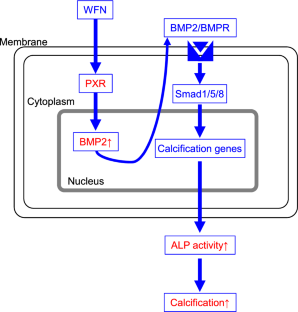 References
1.

Olivetti G, Quaini F, Sala R, Lagrasta C, Corradi D, Bonacina E, Gambert SR, Cigola E, Anversa P (1996) Acute myocardial infarction in humans is associated with activation of programmed myocyte cell death in the surviving portion of the heart. J Mol Cell Cardiol 28:2005–2016

2.

Roberts WC, Ko JM (2005) Frequency by decades of unicuspid, bicuspid, and tricuspid aortic valves in adults having isolated aortic valve replacement for aortic stenosis, with or without associated aortic regurgitation. Circulation 111:920–925

3.

Nkomo VT, Gardin JM, Skelton TN, Gottdiener JS, Scott CG, Enriquez-Sarano M (2006) Burden of valvular heart diseases: a population-based study. Lancet 368:1005–1011

4.

Carabello BA (2002) Clinical practice. Aortic stenosis. N Engl J Med 346:677–682

5.

Mohler ER III (2004) Mechanisms of aortic valve calcification. Am J Cardiol 94:1396–1402

6.

Iunga B, Baron G, Butchart BG, Delahaye F, Gohlke-Ba¨rwolf C, Levang OW, Tornos P, Vanoverschelde JL, Vermeer F, Boersma E, Ravaud P, Vahanian A (2003) A prospective survey of patients with valvular heart disease in Europe: the Euro Heart Survey on Valvular Heart Disease. Euro Heart J 24:1231–1243

7.

Patrick PH (2012) TAVR and SAVR: current treatment of aortic stenosis. Cardiology 6:125–139

8.

van Geldorp MW, van Gameren M, Kappetein AP, Arabkhani B, de Groot-de Laat LE, Takkenberg JJ, Bogers AJ (2009) Therapeutic decisions for patients with symptomatic severe aortic stenosis: room for improvement? Eur J Cardiothorac Surg 35:953–957

9.

Rajamannan NM, Subramaniam M, Rickard D, Stock SR, Donovan J, Springett M, Orszulak T, Fullerton DA, Tajik AJ, Bonow RO, Spelsberg T (2003) Human aortic valve calcification is associated with an osteoblast phenotype. Circulation 107:2181–2184

10.

Clark-Greuel JN, Connolly JM, Sorichillo E, Narula NR, Rapoport HS, Mohler ER III, Gorman JH III, Gorman RC, Levy RJ (2007) Transforming growth factor-β1 mechanisms in aortic valve calcification: increased alkaline phosphatase and related events. Ann Thorac Surg 83:946–953

11.

Ageno W, Gallus AS, Wittkowsky A, Crowther M, Hylek EM, Palareti G (2012) Oral anticoagulant therapy: antithrombotic Therapy and Prevention of Thrombosis, 9th ed: American College of Chest Physicians Evidence-Based Clinical Practice Guidelines. Chest 141:e44S–e88S

12.

Douketis JD, Berger PB, Dunn AS, Jaffer AK, Spyropoulos AC, Becker RC, Ansell J (2008) The perioperative management of antithrombotic therapy: American College of Chest Physicians Evidence-Based Clinical Practice Guidelines (8th Edition). Chest 133:299S–339S

13.

Shearer MJ, Newman P (2008) Metabolism and cell biology of vitamin K. Thromb Haemost 100:530–547

14.

Han KH, O'Neill WC (2016) Increased peripheral arterial calcification in patients receiving warfarin. J Am Heart Assoc 5:e002665

15.

Kruger T, Oelenberg S, Kaesler N, Schurgers LJ, van de Sandt AM, Boor P, Schlieper G, Brandenburg VM, Fekete BC, Veulemans V, Ketteler M, Vermeer C, Jahnen-Dechent W, Floege J, Westenfeld R (2013) Warfarin induces cardiovascular damage in mice. Arterioscler Thromb Vasc Biol 33:2618–2624

16.

Namba S, Yamaoka-Tojo M, Hashikata T, Ikeda Y, Kitasato L, Hashimoto T, Shimohama T, Tojo T, Takahira N, Masuda T, Ako J (2015) Long-term warfarin therapy and biomarkers for osteoporosis and atherosclerosis. BBA Clinical 4:76–80

17.

Cranenburg EC, Schurgers LJ, Vermeer C (2007) Vitamin K: the coagulation vitamin that became omnipotent. Thromb Haemost 98:120–125

18.

Yao Y, Bennett BJ, Wang X, Rosenfeld ME, Giachelli C, Lusis AJ, Bostrom KI (2010) Inhibition of bone morphogenetic proteins protects against atherosclerosis and vascular calcification. Circ Res 107:485–494

19.

Yu Z, Seya K, Daitoku K, Motomura S, Fukuda I, Furukawa K-I (2011) Tumor necrosis factor-α accelerates the calcification of human aortic valve interstitial cells obtained from patients with calcific aortic valve stenosis via the BMP2-Dlx5 pathway. J Pharmacol Exp Ther 337:16–23

20.

Li H, Redinbo MR, Venkatesh M, Ekins S, Chaudhry A, Bloch N, Negassa A, Mukherjee P, Kalpana G, Mani S (2013) Novel yeast-based strategy unveils antagonist binding regions on the nuclear xenobiotic receptor PXR. J Biol Chem 288:13655–13668

21.

Ichikawa T, Horie-Inoue K, Ikeda K, Blumberg B, Inoue S (2006) Steroid and xenobiotic receptor SXR mediates vitamin K2-activated transcription of extracellular matrix-related genes and collagen accumulation in osteoblastic cells. J Biol Chem 281:16927–16934

22.

Tabb MM, Sun A, Zhou C, Grün F, Errandi J, Romero K, Pham H, Inoue S, Mallick S, Lin M, Forman BM, Blumberg B (2003) Vitamin K2 regulation of bone homeostasis is mediated by the steroid and xenobiotic receptor SXR. J Biol Chem 278:43919–43927

23.

Rulcova A, Prokopova I, Krausova L, Bitman M, Vrzal R, Dvorak Z, Blahos J, Pavek P (2010) Stereoselective interactions of warfarin enantiomers with the pregnane X nuclear receptor in gene regulation of major drug-metabolizing cytochrome P450 enzymes. J Thromb Haemost 8:2708–2717

24.

Seya K, Furukawa K-I, Chiyoya M, Yu Z, Kikuchi H, Daitoku K, Motomura S, Murakami M, Oshima Y, Fukuda I (2016) 1-Methyl-2-undecyl-4(1H)-quinolone, a derivative of quinolone alkaloid evocarpine, attenuates high phosphate-induced calcification of human aortic valve interstitial cells by inhibiting phosphate cotransporter PiT-1. J Pharmacol Sci 131:51–57

25.

Gonzalez M, Martínez R, Amador C, Michea L (2009) Regulation of the sodium-phosphate cotransporter Pit-1 and its role in vascular calcification. Curr Vascu Pharmacol 7:506–512

26.

Nomura A, Seya K, Yu Z, Daitoku K, Motomura S, Murakami M, Fukuda I, Furukawa K-I (2013) CD34-negative mesenchymal stem-like cells may act as the cellular origin of human aortic valve calcification. Biochem Biophys Res Commun 440:780–785

27.

Stanford CM, Jacobson PA, Eanes ED, Lembke LA, Midura RJ (1995) Rapidly forming apatitic mineral in an osteoblastic cell line (UMR 106-01 BSP). J Biol Chem 270:9420–9428

28.

Livak KJ, Schmittgen TD (2001) Analysis of relative gene expression data using realtime quantitative PCR and the 2(-Delta Delta C(T)) method. Methods 25:402–408

29.

Huang H, Wang H, Sinz M, Zoeckler M, Staudinger J, Redinbo MR, Teotico DG, Locker J, Kalpana GV, Mani S (2007) Inhibition of drug metabolism by blocking the activation of nuclear receptors by ketoconazole. Oncogene 26:258–268

30.

Wang H, Li H, Moore LB, Johnson MD, Maglich JM, Goodwin B, Ittoop OR, Wisely B, Creech K, Parks DJ, Collins JL, Willson TM, Kalpana GV, Venkatesh M, Xie W, Cho SY, Roboz J, Redinbo M, Moore JT, Mani S (2008) The phytoestrogen coumestrol is a naturally occurring antagonist of the human pregnane X receptor. Mol Endocrinol 22:838–857

31.

Lerner RG, Aronow WS, Sekhri A, Palaniswamy C, Ahn C, Singh T, Sandhu R, McClung JA (2009) Warfarin use and the risk of valvular calcification. J Thromb Haemost 7:2023–2027

32.

Poterucha TJ, Goldhaber SZ (2016) Warfarin and vascular calcification. Am J Med 129:635.e1–635.e4

33.

Evangelista EA, Kaspera R, Mokadam NA, Jones JP III, Totah RA (2013) Activity, inhibition, and induction of cytochrome P450 2J2 in adult human primary cardiomyocytes. Drug Metab Dispos 41:2087–2094

34.

Jiang XY, Tao HR, Qiu CT, Ma XL, Li S, Guo X, Lv AL, Li H (2016) Vitamin K2 regression aortic calcification induced by warfarinvia Gas6/Axl survival pathway in rats. Eur J Pharmacol 786:10–18

35.

Caluwé R, Pyfferoen L, Boeck KD, De Vriese AS (2016) The effects of vitamin K supplementation and vitamin K antagonists on progression of vascular calcification: ongoing randomized controlled trials. Clin Kidney J 9:273–279

36.

Dweck MR, Boon NA, Newby DE (2012) Calcific aortic stenosis. A disease of the valve and the myocardium. J Am Coll Cardiol 60:1854–1863

37.

Son B-K, Kozaki K, Iijima K, Eto M, Kojima T, Ota H, Senda Y, Maemura K, Nakano T, Akishita M, Ouchi Y (2006) Statins protect human aortic smooth muscle cells from inorganic phosphate-induced calcification by restoring Gas6-Axl survival pathway. Circ Res 98:1024–1031

38.

Ridker PM (2009) The JUPITER trial results, controversies, and implications for prevention. Circ Cardiovasc Qual Outcomes 2:279–285

39.

Lorgeril M, Salen P, Abramson J, Dodin S, Hamazaki T, Kostucki W, Okuyama H, Pavy B, Rabaeus M (2010) Cholesterol lowering, cardiovascular diseases, and the rosuvastatin-JUPITER controversy. Arch Intern Med 170:1032–1036
Acknowledgements
We are grateful to Prof. Yasuyuki Ishibashi of Hirosaki University, for his consistent help, support, and encouragement. We thank Emma Andrew, PhD, from Edanz Group (www.edanzediting.com/ac) for editing a draft of this manuscript.
Funding
This work was supported by grants from JSPS KAKENHI (Grant numbers 24590310, 16K10619, 16K10449, and 17K10916); grants-in-aid of The Cardiovascular Research Fund, Tokyo, Japan; and the Hirosaki University Educational Improvement and Promotional Aid, Hirosaki, Japan.
Ethics declarations
Conflict of interest
The authors declare no competing financial interests.
Additional information
Publisher's Note
Springer Nature remains neutral with regard to jurisdictional claims in published maps and institutional affiliations.
Electronic supplementary material
Below is the link to the electronic supplementary material.
HAVICs were cultured in α-MEM containing 10% fetal bovine serum (FBS). After reaching 90% confluency (Day 0), HAVICs were further cultured in α-MEM in the absence or presence of inorganic phosphate (Pi) concentrations (3.2 mM) for seven days (Day 7). A: PXR gene expression in AS group HAVICs were measured on day 7. All ratios were calculated versus the control group on day 0. Relative gene expression levels were determined by normalizing measured values to those obtained for the housekeeping gene, glyceraldehyde 3-phosphate dehydrogenase (G3PDH). White bar: untreated cells; blue bar: cells treated with high (3.2mM) Pi (+); black bar: cells treated with 1 µM WFN (+); red bars: cells treated with 1 µM WFN (+) and high (3.2mM) Pi (+). Bars represent the mean ± SEM (n = 3). B: PXR mRNA expression was compared between AS and non-AS group HAVICs cultured for three days at physiological Pi concentrations (1.0 mM) in the absence or presence of warfarin. All ratios were calculated versus the control group on day 0. Relative gene expression levels were determined by normalizing measured values to those obtained for the housekeeping gene, glyceraldehyde 3-phosphate dehydrogenase (G3PDH). White bar: untreated cells, black bar: cells treated with 1 µM warfarin (WFN, (+)) only. Bars represent the mean ± SEM (n = 3). C: CYP3A4 gene expression in AS group HAVICs were measured on day 7. All ratios were calculated versus the control group on day 0. Relative gene expression levels were determined by normalizing measured values to those obtained for the housekeeping gene, glyceraldehyde 3-phosphate dehydrogenase (G3PDH). White bar: untreated cells; blue bar: cells treated with high (3.2mM) Pi (+); black bar: cells treated with 1 µM WFN (+); red bars: cells treated with 1 µM WFN (+) and high (3.2mM) Pi (+). Bars represent the mean ± SEM (n = 3). D: CYP3A4 mRNA expression was compared between AS and non-AS group HAVICs cultured for three days at physiological Pi concentrations (1.0 mM) in the absence or presence of warfarin. All ratios were calculated versus the control group on day 0. Relative gene expression levels were determined by normalizing measured values to those obtained for the housekeeping gene, glyceraldehyde 3-phosphate dehydrogenase (G3PDH). White bar: untreated cells, black bar: cells treated with 1 µM warfarin (WFN, (+)) only. Bars represent the mean ± SEM (n = 3). A significant difference (P < 0.05) when compared with untreated control AS cells is indicated with '#'
HAVICs were cultured in α-MEM containing 10% fetal bovine serum (FBS). After reaching 90% confluency (Day 0), HAVICs were further cultured in medium containing inorganic phosphate (Pi) concentrations (3.2 mM) for seven days. A: Typical images of Alizarin Red S staining of HAVICs obtained from AS patients in the presence or absence of 3 µM SR-12813 in high Pi medium. B: BMP2 gene expression in AS group HAVICs were measured on day 7. All ratios were calculated versus the control group on day 0. Relative gene expression levels were determined by normalizing measured values to those obtained for the housekeeping gene, glyceraldehyde 3-phosphate dehydrogenase (G3PDH). White bar: untreated cells; blue bar: cells treated with high (3.2mM) Pi (+); black bar: cells treated with 3 µM SR-12813 (+); red bars: cells treated with 3 µM SR-12813 (+) and high (3.2mM) Pi (+). Bars represent the mean ± SEM (n = 3). A significant difference (P < 0.05) when compared with untreated control AS group cells, AS group cells treated with high Pi (3.2 mM) only, and AS group cells treated with SR-12813 (3 µM) only on day 7 is denoted by '#'. C: CYP3A4 gene expression in AS group HAVICs were measured on day 7. All ratios were calculated versus the control group on day 0. Relative gene expression levels were determined by normalizing measured values to those obtained for the housekeeping gene, glyceraldehyde 3-phosphate dehydrogenase (G3PDH). White bar: untreated cells; blue bar: cells treated with high (3.2mM) Pi (+); black bar: cells treated with 3 µM SR-12813 (+); red bars: cells treated with 3 µM SR-12813 (+) and high (3.2mM) Pi (+). Bars represent the mean ± SEM (n = 3)
About this article
Cite this article
Yu, Z., Seya, K., Chiyoya, M. et al. Warfarin calcifies human aortic valve interstitial cells at high-phosphate conditions via pregnane X receptor. J Bone Miner Metab 37, 944–956 (2019). https://doi.org/10.1007/s00774-019-01001-3
Received:

Accepted:

Published:

Issue Date:
Keywords
Aortic valve stenosis

Pregnane X receptor

Calcification

Warfarin

Bone morphogenetic protein 2