Abstract
Osteoporotic patients have a high risk of dental and orthopedic implant failure. Lithium chloride (LiCl) has been reported to enhance bone formation. However, the role of LiCl in the success rate of dental and orthopedic implants in osteoporotic conditions is still unknown. We investigated whether LiCl enhances implant osseointegration, implant fixation, and bone formation in osteoporotic conditions. Sprague–Dawley female rats (n = 18) were ovariectomized (OVX) to induce osteoporosis, and another nine rats underwent sham surgery. Three months after surgery, titanium implants were implanted in the tibia of the OVX and sham group rats. After implantation, the OVX rats were gavaged with 150 mg/kg/2 days of LiCl (OVX + LiCl group) or saline (OVX group), and sham group rats were gavaged with saline for 3 months. Implant osseointegration and bone formation were analyzed using histology, biomechanical testing, and micro computed tomography (micro-CT). More bone loss was observed in the OVX group compared to the control, and LiCl treatment enhanced bone formation and implant fixation in osteoporotic rats. In the OVX group, bone−implant contact (BIC) was decreased by 81.2 % compared to the sham group. Interestingly, the OVX + LiCl group showed 4.4-fold higher BIC compared to the OVX group. Micro-CT data of tibia from the OVX + LiCl group showed higher bone volume, trabecular thickness, trabecular number, and osseointegration compared to the OVX group. Maximum push-out force and implant−bone interface shear strength were 2.9-fold stronger in the OVX + LiCl group compared to the OVX group. In conclusion, LiCl enhanced implant osseointegration, implant fixation, and bone formation in osteoporotic conditions, suggesting LiCl as a promising therapeutic agent to prevent implant failure and bone loss in osteoporotic conditions.
Access options
Buy single article
Instant access to the full article PDF.
USD 39.95
Price excludes VAT (USA)
Tax calculation will be finalised during checkout.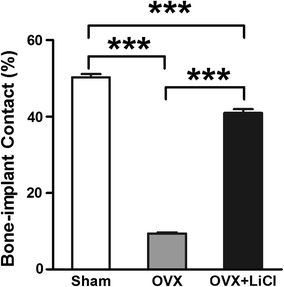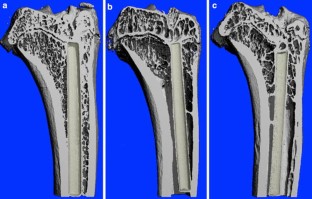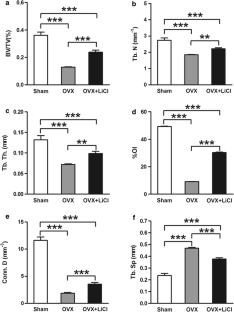 References
Adell R, Eriksson B, Lekholm U, Branemark PI, Jemt T (1990) A long-term follow-up study of osseointegrated implants in the treatment of totally edentulous jaws. Int J Oral Maxillofac Implants 5:347–358

Bozic KJ, Kurtz SM, Lau E, Ong K, Vail TP, Berry DJ (2009) The epidemiology of revision total hip arthroplasty in the US. J Bone Joint Surg Am 91:128–133

Butz F, Aita H, Wang CJ, Ogawa T (2006) Harder and stiffer bone osseointegrated to roughened titanium. J Dent Res 85:560–565

Renouard F, Rangert B (2008) General risk factors, risk factors in implant dentistry: simplified clinical analysis for predictable treatment (second edition). Quintessence International, Paris, pp 1–18

Javed F, Ahmed HB, Crespi R, Romanos GE (2013) Role of primary stability for successful osseointegration of dental implants: factors of influence and evaluation. Interv Med Appl Sci 5:162–167

Okamura A, Ayukawa Y, Iyama S, Koyano K (2004) Effect of the difference of bone turnover on peri-titanium implant osteogenesis in ovariectomized rats. J Biomed Mater Res A 70:497–505

Deng F, Zhang H, Zhang H, Shao H, He Q, Zhang P (2010) A comparison of clinical outcomes for implants placed in fresh extraction sockets versus healed sites in periodontally compromised patients: a 1-year follow-up report. Int J Oral Maxillofac Implants 25:1036–1040

Chen H, Liu N, Xu X, Qu X, Lu E (2013) Smoking, radiotherapy, diabetes and osteoporosis as risk factors for dental implant failure: a meta-analysis. PLoS One 8:e71955

Virdi AS, Irish J, Sena K, Liu M, Ke HZ, McNulty MA, Sumner DR (2015) Sclerostin antibody treatment improves implant fixation in a model of severe osteoporosis. J Bone Joint Surg Am 97:133–140

van Steenberghe D, Jacobs R, Desnyder M, Maffei G, Quirynen M (2002) The relative impact of local and endogenous patient-related factors on implant failure up to the abutment stage. Clin Oral Implants Res 13:617–622

Bass S, Triplett R (1991) A report of 303 cases. Clin Oral Implants Res 2:193–198

Jaffin R, Berman C (1991) The excessive loss of Brånemark fixtures in type IV bone: a 5-year analysis. J Periodontol 62:2–4

Duarte PM, César Neto JB, Gonçalves PF, Sallum EA, Nocitij F (2003) Estrogen deficiency affects bone healing around titanium implants: a histometric study in rats. Implant Dent 12:340–346

Lippuner K (1993) Consensus development conference: diagnosis, prophylaxis, and treatment of osteoporosis. Am J Med 94:646–660

Giannoudis P, Tzioupis C, Almalki T, Buckley R (2007) Fracture healing in osteoporotic fractures: is it really different? A basic science perspective. Injury 38:S90–S99

Hunziker EB, Enggist L, Küffer A, Buser D, Liu Y (2012) Osseointegration: the slow delivery of BMP-2 enhances osteoinductivity. Bone 51:98–106

Ma Y, Zhang Z, Liu Y, Li H, Wang N, Liu W, Li W, Jin L, Wang J, Chen S (2015) Nanotubes functionalized with BMP2 knuckle peptide improve the osseointegration of titanium implants in rabbits. J Biomed Nanotechnol 11:236–244

Vohra F, Al-Rifaiy MQ, Almas K, Javed F (2014) Efficacy of systemic bisphosphonate delivery on osseointegration of implants under osteoporotic conditions: lessons from animal studies. Arch Oral Biol 59:912–920

Li Y, Li X, Song G, Chen K, Yin G, Hu J (2012) Effects of strontium ranelate on osseointegration of titanium implant in osteoporotic rats. Clin Oral Implants Res 23:1038–1044

Bi Y, Gao Y, Ehirchiou D, Cao C, Kikuiri T, Le A, Shi S, Zhang L (2010) Bisphosphonates cause osteonecrosis of the jaw like disease in mice. Am J Pathol 177:280–290

Malhi GS, Tanious M, Das P, Berk M (2012) The science and practice of lithium therapy. Aust N Z J Psychiatry 46:192–211

O'Brien WT, Harper AD, Jové F, Woodgett JR, Maretto S, Piccolo S, Klein PS (2004) Glycogen synthase kinase-3beta haplo insufficiency mimics the behavioral and molecular effects of lithium. J Neurosci 24:6791–6798

Schou M (2001) Lithium treatment at 52. J Affect Disord 67:21–32

Galli C, Piemontese M, Lumetti S, Manfredi E, Macaluso GM, Passeri G (2013) GSK3b-inhibitor lithium chloride enhances activation of Wnt canonical signaling and osteoblast differentiation on hydrophilic titanium surfaces. Clin Oral Implants Res 24:921–927

Clément-Lacroix P, Ai M, Morvan F, Roman-Roman S, Vayssière B, Belleville C, Estrera K, Warman ML, Baron R, Rawadi G (2005) Lrp5-independent activation of Wnt signaling by lithium chloride increases bone formation and bone mass in mice. Proc Natl Acad Sci USA 102:17406–17411

Tang L, Chen Y, Pei F, Zhang H (2015) Lithium chloride modulates adipogenesis and osteogenesis of human bone marrow-derived mesenchymal stem cells. Cell Physiol Biochem 37:143–152

Arioka M, Takahashi-Yanaga F, Sasaki M, Yoshihara T, Morimoto S, Hirata M, Mori Y, Sasaguri T (2014) Acceleration of bone regeneration by local application of lithium: Wnt signal-mediated osteoblastogenesis and Wnt signal-independent suppression of osteoclastogenesis. Biochem Pharmacol 90:397–405

Wang X, Zhu S, Jiang X, Li Y, Song D, Hu J (2015) Systemic administration of lithium improves distracted bone regeneration in rats. Calcif Tissue Int 96:534–540

Wang Y, Gao S, Jiang H, Lin P, Bao X, Zhang Z, Hu M (2014) Lithium chloride attenuates root resorption during orthodontic tooth movement in rats. Exp Ther Med 7:468–472

Vestergaard P, Rejnmark L, Mosekilde L (2005) Reduced relative risk of fractures among users of lithium. Calcif Tissue Int 77:1–8

Zamani A, Omrani GR, Nasab MM (2009) Lithium's effect on bone mineral density. Bone 44:331–334

Wilting I, de Vries F, Thio BM, Cooper C, Heerdink ER, Leufkens HG, Nolen WA, Egberts AC, van Staa TP (2007) Lithium use and the risk of fractures. Bone 40:1252–1258

Chen BL, Li YQ, Xie DH, Yang X (2012) Low-magnitude high-frequency loading via whole body vibration enhances bone–implant osseointegration in ovariectomized rats. J Orthop Res 30:733–739

Gao Y, Luo E, Hu J, Xue J, Zhu S, Li J (2009) Effect of combined local treatment with zoledronic acid and basic fibroblast growth factor on implant fixation in ovariectomized rats. Bone 44:225–232

Chen B, Li Y, Yang X, Xu H, Xie D (2013) Zoledronic acid enhances bone-implant osseointegration more than alendronate and strontium ranelate in ovariectomized rats. Osteoporos Int 24:2115–2121

Minashima T, Zhang Y, Lee Y, Kirsch T (2014) Lithium protects against cartilage degradation in osteoarthritis. Arthritis Rheumatol 66:1228–1236

Bernick J, Wang Y, Sigal IA, Alman BA, Whyne CM, Nam D (2014) Parameters for lithium treatment are critical in its enhancement of fracture-healing in rodents. J Bone Joint Surg Am 96:1990–1998

Li L, Wang R, Li B, Liang W, Pan H, Cui X, Tang J, Li B (2016) Lithium doped calcium phosphate cement maintains physical mechanical properties and promotes osteoblast proliferation and differentiation. J Biomed Mater Res B Appl Biomater. doi:10.1002/jbm.b.33625

Rachner TD, Khosla S, Hofbauer LC (2011) Osteoporosis: now and the future. Lancet 377:1276–1287

Sambrook P, Cooper C (2006) Osteoporosis. Lancet 367:2010–2018

Zebaze RM, Ghasem-Zadeh A, Bohte A, Iuliano-Burns S, Mirams M, Price RI, Mackie EJ, Seeman E (2010) Intracortical remodelling and porosity in the distal radius and post-mortem femurs of women: a cross-sectional study. Lancet 375:1729–1736

Lehmann SW, Lee J (2013) Lithium-associated hypercalcemia and hyperparathyroidism in the elderly: what do we know? J Affect Disord 146:151–157

Le Roy V, Delmas Y, Verdoux H (2009) Chronic renal complications induced by lithium. Encephale 35:605–610

Bilanakis N, Gibiriti M (2004) Lithium intoxication, hypercalcemia and "accidentally" induced food and water aversion: a case report. Prog Neuropsychopharmacol Biol Psychiatry 28:201–203
Acknowledgments
The authors would like to acknowledge the support provided by the Nature Science Foundation of Zhejiang Province (No. LY1 3H140005), and Grants from the Health and Family Planning Commission of Zhejiang Province, China (No. 2013KYA124), the Scientific Research Fund of Zhejiang Provincial Education Department (No. Y201326860) and the Wenzhou Science and Technology Bureau (Nos. Y20110108 and 20130033).
Ethics declarations
Conflict of interest
The authors declare no conflicts of interest.
Additional information
Y. Jin and L. Xu contributed equally to this work.
About this article
Cite this article
Jin, Y., Xu, L., Hu, X. et al. Lithium chloride enhances bone regeneration and implant osseointegration in osteoporotic conditions . J Bone Miner Metab 35, 497–503 (2017). https://doi.org/10.1007/s00774-016-0783-6
Received:

Accepted:

Published:

Issue Date:

DOI: https://doi.org/10.1007/s00774-016-0783-6
Keywords