Abstract
The bone protective effects of the hydrogen molecule (H2) have been demonstrated in several osteoporosis models while the underlying molecular mechanism has remained unclear. Osteoclast differentiation is an important factor related to the pathogenesis of bone-loss related diseases. In this work, we evaluated the effects of incubation with H2 on receptor activator of NFκB ligand (RANKL)-induced osteoclast differentiation. We found that treatment with H2 prevented RANKL-induced osteoclast differentiation in RAW264.7 cells and BMMs. Treatment with H2 inhibits the ability to form resorption pits of BMMs stimulated by RANKL. Treatment with H2 reduced mRNA levels of osteoclast-specific markers including tartrate resistant acid phosphatase, calcitonin receptor, cathepsin K, metalloproteinase-9, carbonic anhydrase typeII, and vacuolar-type H+-ATPase. Treatment with H2 decreased intracellular reactive oxygen species (ROS) formation, suppressed NADPH oxidase activity, down-regulated Rac1 activity and Nox1 expression, reduced mitochondrial ROS formation, and enhanced nuclear factor E2-related factor 2 nuclear translocation and heme oxygenase-1 activity. In addition, treatment with H2 suppressed RANKL-induced expression of nuclear factor of activated T cells c1 and c-Fos. Furthermore, treatment with H2 suppressed NF-κB activation and reduced phosphorylation of p38, extracellular signal-regulated kinase, c-Jun-N-terminal kinase, and protein kinases B (AKT) stimulated with RANKL. In conclusion, hydrogen molecules prevented RANKL-induced osteoclast differentiation associated with inhibition of reactive oxygen species formation and inactivation of NF-κB, mitogen-activated protein kinase and AKT pathways.
Access options
Buy single article
Instant access to the full article PDF.
US$ 39.95
Tax calculation will be finalised during checkout.
Subscribe to journal
Immediate online access to all issues from 2019. Subscription will auto renew annually.
US$ 79
Tax calculation will be finalised during checkout.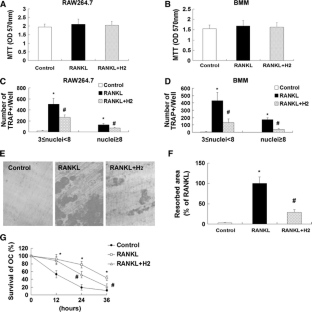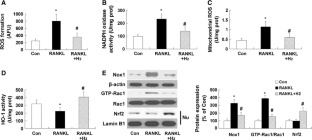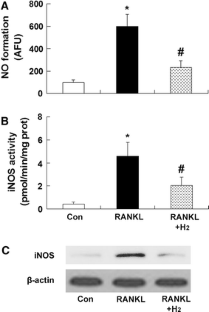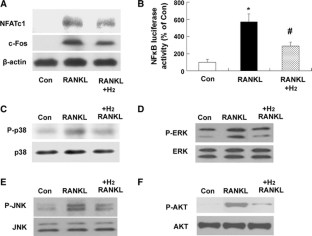 References
1.

Ohsawa I, Ishikawa M, Takahashi K, Watanabe M, Nishimaki K, Yamagata K, Katsura K, Katayama Y, Asoh S, Ohta S (2007) Hydrogen acts as a therapeutic antioxidant by selectively reducing cytotoxic oxygen radicals. Nat Med 13:688–694

2.

Guo JD, Li L, Shi YM, Wang HD, Hou SX (2013) Hydrogen water consumption prevents osteopenia in ovariectomized rats. Br J Pharmacol 168:1412–1420

3.

Sun Y, Shuang F, Chen DM, Zhou RB (2013) Treatment of hydrogen molecule abates oxidative stress and alleviates bone loss induced by modeled microgravity in rats. Osteoporos Int 24:969–978

4.

Kasuyama K, Tomofuji T, Ekuni D, Tamaki N, Azuma T, Irie K, Endo Y, Morita M (2011) Hydrogen-rich water attenuates experimental periodontitis in a rat model. J Clin Periodontol 38:1085–1090

5.

Ishibashi T, Sato B, Rikitake M, Seo T, Kurokawa R, Hara Y, Naritomi Y, Hara H, Nagao T (2012) Consumption of water containing a high concentration of molecular hydrogen reduces oxidative stress and disease activity in patients with rheumatoid arthritis: an open-label pilot study. Med Gas Res 2:27

6.

Boyle WJ, Simonet WS, Lacey DL (2003) Osteoclast differentiation and activation. Nature 423:337–342

7.

Suda T, Takahashi N, Udagawa N, Jimi E, Gillespie MT, Martin TJ (1999) Modulation of osteoclast differentiation and function by the new members of the tumor necrosis factor receptor and ligand families. Endocr Rev 20:345–357

8.

Lee SE, Chung WJ, Kwak HB, Chung CH, Kwack KB, Lee ZH, Kim HH (2001) Tumor necrosis factor-α supports the survival of osteoclasts through the activation of Akt and ERK. J Biol Chem 276:49343–49349

9.

Lee ZH, Kim HH (2003) Signal transduction by receptor activator of nuclear factor κ B in osteoclasts. Biochem Biophys Res Comm 305:211–214

10.

Kwak HB, Sun HM, Ha H, Lee JH, Kim HN, Lee ZH (2008) AG490, a Jak2-specific inhibitor, induces osteoclast survival by activating the Akt and ERK signaling pathways. Mol Cells 26:436–442

11.

Lee NK, Choi YG, Baik JY, Han SY, Jeong DW, Bae YS, Kim N, Lee SY (2005) A crucial role for reactive oxygen species in RANKL-induced osteoclast differentiation. Blood 106:852–859

12.

Kim HJ, Chang EJ, Kim HM, Lee SB, Kim HD, Su Kim G, Kim HH (2006) Antioxidant alpha-lipoic acid inhibits osteoclast differentiation by reducing nuclear factor-kappaB DNA binding and prevents in vivo bone resorption induced by receptor activator of nuclear factor-kappaB ligand and tumor necrosis factor-alpha. Free Radic Biol Med 40:1483–1493

13.

Hu JP, Nishishita K, Sakai E, Yoshida H, Kato Y, Tsukuba T, Okamoto K (2008) Berberine inhibits RANKL-induced osteoclast formation and survival through suppressing the NF-kappaB and Akt pathways. Eur J Pharmacol 580:70–79

14.

Kojima H, Urano Y, Kikuchi K, Higuchi T, Hirata Y, Nagano T (1999) Fluorescent indicators for imaging nitric oxide production. Angew Chem Int Ed 38:3209–3212

15.

Rao PV, Maddala R, John F, Zigler JS Jr (2004) Expression of nonphagocytic NADPH oxidase system in the ocular lens. Mol Vis 10:112–121

16.

Choi BM, Pae HO, Chung HT (2003) Nitric oxide priming protects nitric oxide-mediated apoptosis via heme-oxygenase-1 induction. Free Radic Biol Med 34:1136–1145

17.

Takayanagi H, Kim S, Koga T, Nishina H, Isshiki M, Yoshida H, Saiura A, Isobe M, Yokochi T, Inoue J, Wagner EF, Mak TW, Kodama T, Taniguchi T (2002) Induction and activation of the transcription factor NFATc1 (NFAT2) integrate RANKL signaling in terminal differentiation of osteoclasts. Dev Cell 3:889–901

18.

Grigoriadis AE, Wang ZQ, Cecchini MG, Hofstetter W, Felix R, Fleisch HA, Wagner EF (1994) c-Fos: a key regulator of osteoclast-macrophage lineage determination and bone remodeling. Science 266:443–448

19.

Kim MS, Yang YM, Son A, Tian YS, Lee SI, Kang SW, Muallem S, Shin DM (2010) RANKL-mediated reactive oxygen species pathway that induces long lasting Ca2+ oscillations essential for osteoclastogenesis. J Biol Chem 285:6913–6921

20.

Garrett IR, Boyce BF, Oreffo RO, Bonewald L, Poser J, Mundy GR (1990) Oxygen-derived free radicals stimulate osteoclastic bone resorption in rodent bone in vitro and in vivo. J Clin Invest 85:632–639

21.

Sasaki H, Yamamoto H, Tominaga K, Masuda K, Kawai T, Teshima-Kondo S, Matsuno K, Yabe-Nishimura C, Rokutan K (2009) Receptor activator of nuclear factor-kappaB ligand-induced mouse osteoclast differentiation is associated with switching between NADPH oxidase homologues. Free Radic Biol Med 47:189–199

22.

Sasaki H, Yamamoto H, Tominaga K, Masuda K, Kawai T, Teshima-Kondo S, Rokutan K (2009) NADPH oxidase-derived reactive oxygen species are essential for differentiation of a mouse macrophage cell line (RAW264.7) into osteoclasts. J Med Invest 56:33–41

23.

Srinivasan S, Koenigstein A, Joseph J, Sun L, Kalyanaraman B, Zaidi M, Avadhani NG (2010) Role of mitochondrial reactive oxygen species in osteoclast differentiation. Ann N Y Acad Sci 1192:245–252

24.

Hybertson BM, Gao B, Bose SK, McCord JM (2011) Oxidative stress in health and disease: the therapeutic potential of Nrf2 activation. Mol Aspects Med 32:234–246

25.

Rana T, Schultz MA, Freeman ML, Biswas S (2012) Loss of Nrf2 accelerates ionizing radiation-induced bone loss by upregulating RANKL. Free Radic Biol Med 53:2298–2307

26.

Sakai E, Shimada-Sugawara M, Nishishita K, Fukuma Y, Naito M, Okamoto K, Nakayama K, Tsukuba T (2012) Suppression of RANKL-dependent heme oxygenase-1 is required for high mobility group box 1 release and osteoclastogenesis. J Cell Biochem 113:486–498

27.

Zheng H, Yu X, Collin-Osdoby P, Osdoby P (2006) RANKL stimulates inducible nitric-oxide synthase expression and nitric oxide production in developing osteoclasts. An autocrine negative feedback mechanism triggered by RANKL-induced interferon-beta via NF-kappaB that restrains osteoclastogenesis and bone resorption. J Biol Chem 281:15809–15820

28.

Chae HJ, Park RK, Kang JS, Shin HS, Kim SC, Chung HT, Son DW, Ko KI, Kim JB, Park YC, Kim HR (1998) Effect of stem cell factor, interleukin-6, nitric oxide and transforming growth factor-beta on the osteoclast differentiation induced by 1 alpha,25-(OH)2D3 in primary murine bone marrow cultures. Pharmacol Toxicol 82:223–229

29.

Brandi ML, Hukkanen M, Umeda T, Moradi-Bidhendi N, Bianchi S, Gross SS, Polak JM, MacIntyre I (1995) Bidirectional regulation of osteoclast function by nitric oxide synthase isoforms. Proc Natl Acad Sci USA 92:2954–2958

30.

Herrera BS, Martins-Porto R, Maia-Dantas A, Campi P, Spolidorio LC, Costa SK, Van Dyke TE, Gyurko R, Muscara MN (2011) iNOS-derived nitric oxide stimulates osteoclast activity and alveolar bone loss in ligature-induced periodontitis in rats. J Periodontol 82:1608–1615

31.

Leitão RF, Ribeiro RA, Chaves HV, Rocha FA, Lima V, Brito GA (2005) Nitric oxide synthase inhibition prevents alveolar bone resorption in experimental periodontitis in rats. J Periodontol 76:956–963

32.

Otero JE, Chen T, Zhang K, Abu-Amer Y (2012) Constitutively active canonical NF-κB pathway induces severe bone loss in mice. PLoS ONE 7:e38694

33.

Abu-Amer Y, Darwech I, Otero J (2008) Role of the NF-kappaB axis in immune modulation of osteoclasts and bone loss. Autoimmunity 41:204–211

34.

Xing L, Bushnell TP, Carlson L, Tai Z, Tondravi M, Siebenlist U, Young F, Boyce BF (2002) NF-kappaB p50 and p52 expression is not required for RANK-expressing osteoclast progenitor formation but is essential for RANK- and cytokine-mediated osteoclastogenesis. J Bone Miner Res 17:1200–1210

35.

Nakamura H, Hirata A, Tsuji T, Yamamoto T (2003) Role of osteoclast extracellular signal-regulated kinase (ERK) in cell survival and maintenance of cell polarity. J Bone Miner Res 18:1198–1205

36.

Moon JB, Kim JH, Kim K, Youn BU, Ko A, Lee SY, Kim N (2012) Akt induces osteoclast differentiation through regulating the GSK3β/NFATc1 signaling cascade. J Immunol 188:163–169

37.

Itoh T, Fujita Y, Ito M, Masuda A, Ohno K, Ichihara M, Kojima T, Nozawa Y, Ito M (2009) Molecular hydrogen suppresses FcepsilonRI-mediated signal transduction and prevents degranulation of mast cells. Biochem Biophys Res Commun 389:651–656

38.

Cardinal JS, Zhan J, Wang Y, Sugimoto R, Tsung A, McCurry KR, Billiar TR, Nakao A (2010) Oral hydrogen water prevents chronic allograft nephropathy in rats. Kidney Int 77:101–109

39.

Itoh T, Hamada N, Terazawa R, Ito M, Ohno K, Ichihara M, Nozawa Y, Ito M (2011) Molecular hydrogen inhibits lipopolysaccharide/interferon γ-induced nitric oxide production through modulation of signal transduction in macrophages. Biochem Biophys Res Commun 411:143–149
Conflict of interest
The authors have stated that they have no conflict of interest.
About this article
Cite this article
Li, DZ., Zhang, QX., Dong, XX. et al. Treatment with hydrogen molecules prevents RANKL-induced osteoclast differentiation associated with inhibition of ROS formation and inactivation of MAPK, AKT and NF-kappa B pathways in murine RAW264.7 cells. J Bone Miner Metab 32, 494–504 (2014). https://doi.org/10.1007/s00774-013-0530-1
Received:

Accepted:

Published:

Issue Date:
Keywords
Hydrogen molecule

Osteoclast differentiation

Receptor activator of NFκB ligand

Reactive oxygen species

Cell signaling