Abstract
This study aimed to evaluate the 24-week effects of a high-intensity aquatic exercise program on bone remodeling markers and bone mass of postmenopausal women. In this randomized, controlled trial we studied 108 women (58.8 ± 6.4 years), randomized into Aquatic Exercise Group (AEG), n = 64, performing 24 weeks of aquatic exercises, and Control Group (CG), n = 44, sedentary. They had their fasting morning blood sample collected for the measures of intact parathyroid hormone (iPTH), procollagen type 1 amino-terminal propeptide (P1NP) and carboxy-terminal cross-linking telopeptide of type I collagen (CTx). Bone mass was measured by dual-energy X-ray absorptiometry before and after the intervention. Participants of both groups received a daily supplementation of 500 mg of elementary calcium and 1,000 IU of vitamin D (cholecalciferol). Results showed an augment in bone formation marker (P1NP) only in the AEG (15.8 %; p = 0.001), and although both groups experienced significant enhancements in bone resorption marker (CTx), this increase was less considerable in the AEG (15 % in the AEG and 29 % in the CG). IPTH was increased by 19 % in the CG (p = 0.003) at the end. The femoral trochanter BMD presented a 1.2 % reduction in the CG (p = 0.009), whereas in the AEG no change was observed (p = 0.069). The proposed aquatic exercise program was efficient in attenuating bone resorption raise and enhancing bone formation, which prevented the participants in the AEG from reducing the femoral trochanter BMD, as happened in the CG.
Access options
Buy single article
Instant access to the full article PDF.
USD 39.95
Price excludes VAT (USA)
Tax calculation will be finalised during checkout.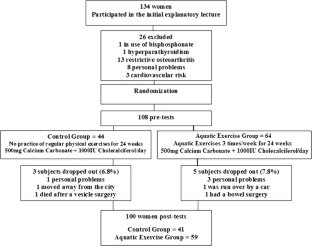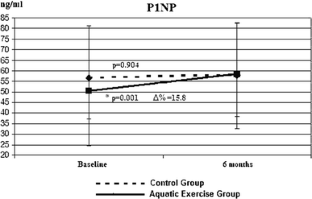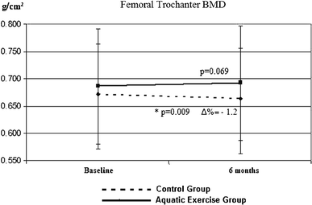 References
Clarke BL, Khosla S (2010) Female reproductive system and bone. Arch Biochem Biophys 503:118–128

Bessette L, Ste-Marie LG, Jean S, Davison KS, Beaulieu M, Baranci M, Bessant J, Brown JP (2008) The care gap in diagnosis and treatment of women with a fragility fracture. Osteoporos Int 19:79–86

Melendez-Ortega A (2007) Osteoporosis, falls and exercise. Eur Rev Aging Phys Activity 4:61–70

Yamazaki S, Ichimura S, Iwamoto J, Takeda T, Toyama Y (2004) Effect of walking exercise on bone metabolism in postmenopausal women with osteopenia/osteoporosis. J Bone Miner Metab 22:500–508

Chien MY, Wu YT, Hsu AT, Yang RS, Lai JS (2000) Efficacy of a 24-week aerobic exercise program for osteopenic postmenopausal women. Calcif Tissue Int 67:443–448

Bemben DA, Bemben MG (2011) Dose-response effect of 40 weeks of resistance training on bone mineral density in older adults. Osteoporos Int 22:179–186

Vainionpää A, Korpelainen R, Leppäluoto J, Jämsä T (2005) Effects of high-impact exercise on bone mineral density: a randomized controlled trial in premenopausal women. Osteoporos Int 16:191–198

Hinton PS, Rector RS, Thomas RT (2006) Weight-bearing, aerobic exercise increases markers of bone formation during short-term weight loss in overweight and obese men and women. Metabolism 55:1616–1618

Evans EM, Racette SB, Van Pelt RE, Peterson LR, Villareal DT (2007) Effects of soy protein isolate and moderate exercise on bone turnover and bone mineral density in postmenopausal women. Menopause 14:481–488

Moreira LDF, Teixeira RN, Teixeira LR (2005) O que motiva idosos de classe média à prática de uma atividade física? Coleção Pesquisa em Educação Física 4:199–202

Becker BE (2000) Princípios Físicos da Água. In: Ruoti RG, Morris DM, Cole AJ (eds) Reabilitação Aquática. Manole, São Paulo, pp 17–27

Pardini R, Matsudo SMM, Matsudo VKR, Araujo T, Andrade E, Braggion G (1997) Validation of the international physical actyvity questionnaire (IPAQ): Pilot study in Brazilian young adults. Med Sci Sports Exerc 29:s5–s9

Buzzard M (1998) 24-hours dietary recall and food record methods. In: Willett WC (ed) Nutritional epidemiology. Oxford University Press, Oxford, pp 50–73

Borg GAV (1982) Psychophysical bases of perceived exertion. Med Sci Sports Exerc 14:377–381

World Health Organization (1994) Assessment of fracture risk and its application to screening for postmenopausal osteoporosis. In Technical report series 843.WHO, Geneva

Morales-Torres J, Gutierrez-Urena S, Osteoporosis Committee of Pan-American League of Associations of Rheumatology (PANLAR) (2004) The burden of osteoporosis in Latin America. Osteoporos Int 15:625–632

Fink E, Cormier C, Steinmetz P, Kindermans C, Le Bouc Y, Souberbielle JC (2000) Differences in the capacity of several biochemical bone markers to assess high boneturnover. Osteoporos Int 11:295–303

Pasco JA, Henry MJ, Kotowicz MA, Sanders KM, Seeman E, Pasco JR, Schneider HG, Nicholson GC (2004) Seasonal periodicity of serum vitamin D and parathyroid hormone, bone resorption, and fractures: the Geelong Osteoporosis Study. J Bone Miner Res 19:752–758

Ishikawa T, Sakuraba K (2009) Biochemical markers of bone turnover. New aspect. Bone metabolism movement in various sports and physical activities. Clin Calcium 19:1125–1131

Klentrou P, Slack J, Roy B, Ladouceur M (2007) Effects of exercise training with weighted vests on bone turnover and isokinetic strength in postmenopausal women. Aging Phys Act 15:287–299

Vincent KR, Braith RW (2002) Resistance exercise and bone turnover in elderly men and women. Med Sci Sports Exerc 34:17–23

Marques EA, Wanderley F, Machado L, Sousa F, Viana JL, Moreira-Gonçalves D, Moreira P, Mota J, Carvalho J (2011) Effects of resistance and aerobic exercise on physical function, bone mineral density, OPG and RANKL in older women. Exp Gerontol 46:524–532

Martyn-St JM, Carroll S (2009) A meta-analysis of impact exercise on postmenopausal bone loss: the case for mixed loading exercise programs. Br J Sports Med 43:898–908

George AK, Kristi SK, Wendy MK (2012) Effects of ground and joint reaction force exercise on lumbar spine and femoral neck bone mineral density in postmenopausal women: a meta-analysis of randomized controlled trials. BMC Musculoskelet Disord. 13:177

Goldstein J, Simkin E (1994) The influence of weight-bearing water exercise on bone density of postmenopausal women. Mov J Phys Educ Sport Sci 2:4–7

Tsukahara I (1994) The influence of water exercise on bone density in postmenopausal women. J Nutr Sci Vitaminol 40:37–47

Bravo G, Gauthier P, Roy PM, Payette H, Gaulin P (1997) A weight-bearing, water- based exercise program for osteopenic women: its impact on bone, functional fitness, and well-being. Arch Phys Med Rehab 78:1375–1380

Littrell TR, Snow CM (2004) Bone density and physical function. In Postmenopausal women after a 12-month water exercise intervention. Med Sci Sports Exerc 36:S289–S290

Harush M, Rotstein A (2005) The effect of a water exercise program on bone density among postmenopausal women. Israel, University of Haifa, School Education, Department of Education, thesis

Ay A, Yurtkuran M (2003) Evaluation of hormonal response and ultrasonic changes in the heel bone by aquatic exercise in sedentary postmenopausal women. Am J Phys Med Rehabil 82:942–949

Menkes A, Mazel S, Redmond RA, Koffler K, Libanati CR, Gundberg CM, Zizic TM, Hagberg JM, Pratley RE, Hurley BF (1993) Strength training increases regional bone mineral density and bone remodeling in middle-aged and older men. J Appl Physiol 74:2478–2484

Andreoli A, Monteleone M, Van Loan M, Promenzio L, Tarantino U, De Lorenzo A (2001) Effects of different sports on bone density and muscle mass in highly trained athletes. Med Sci Sports Exerc 33:507–511

Bocalini DS, Serra AJ, dos Santos L, Murad N, Levy RF (2009) Strength training preserves the bone mineral density of postmenopausal women without hormone replacement therapy. J Aging Health 21:519–527

Engelke K, Kemmler W, Lauber D, Beeskow C, Pintag R, Kalender WA (2006) Exercise maintains bone density at spine and hip EFOPS: a 3-year longitudinal study in early postmenopausal women. Osteoporos Int 17:133–142

von Stengel S, Kemmler W, Kalender WA, Engelke K, Lauber D (2007) Differential effects of strength versus power training on bone mineral density in postmenopausal women: a 2-year longitudinal study. Br J Sports Med 41:649–655

Guadalupe-Grau A, Fuentes T, Guerra B, Calbet JA (2009) Exercise and bone mass in adults. Sports Med 39:439–468

Khan K, McKay H, Kannus P, Bailey D, Wark J, Bennell K (2001) Physical activity and bone health. Human Kinetics, Champaign

Robling AG, Castillo AB, Turner CH (2006) Biomechanical and molecular regulation of bone remodeling. Annu Rev Biomed Eng 8:455–498
Acknowledgments
This study was supported by FAPESP (Fundação de Amparo à Pesquisa do Estado de São Paulo), grant No. 08/50179-9.
Conflict of interest
All authors have no conflict of interest.
About this article
Cite this article
Moreira, L.D.F., Fronza, F.C.A.O., dos Santos, R.N. et al. The benefits of a high-intensity aquatic exercise program (HydrOS) for bone metabolism and bone mass of postmenopausal women. J Bone Miner Metab 32, 411–419 (2014). https://doi.org/10.1007/s00774-013-0509-y
Received:

Accepted:

Published:

Issue Date:

DOI: https://doi.org/10.1007/s00774-013-0509-y
Keywords
Osteoporosis

Bone remodeling markers

Bone mass

Aquatic exercise

Postmenopause