Abstract
In order to investigate the effect of manganese (Mn) deficiency on bone metabolism in chicks, ninety 1-day-old male Arbor Acre chicks were randomly divided into 3 groups and each group were given a diet having a different concentration of Mn (60 mg kg−1, control group; 40 mg kg−1, Mn-deficient group I; 8.7 mg kg−1, Mn-deficient group II). The serum was collected at 42 days old. Tests were performed to evaluate the changes in the levels of PTH, CT, ALP, TrACP, HOP TNF-alpha, OC, Mn and Ca in the serum of the chicks and the results showed that the levels of CT, ALP, TrACP, HOP, and Mn decreased markedly (P < 0.05), while PTH, Ca, and TNF-alpha increased markedly (P < 0.05) due to manganese deficiency in the diet, which indicates that Mn deficiency results in disorder of bone regulatory hormones and enzymes of bone metabolism in the serum.
Access options
Buy single article
Instant access to the full article PDF.
US$ 39.95
Tax calculation will be finalised during checkout.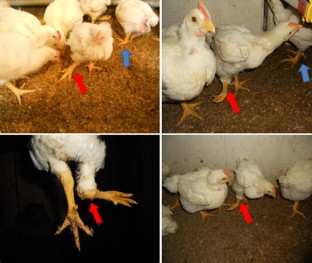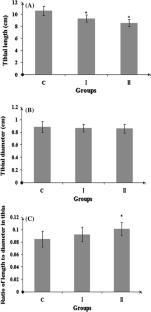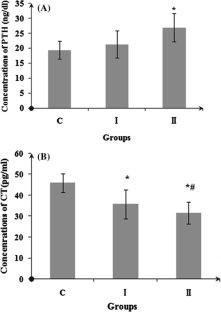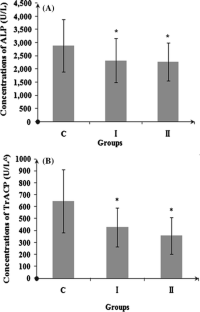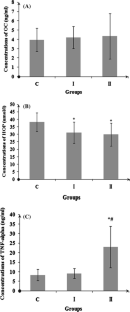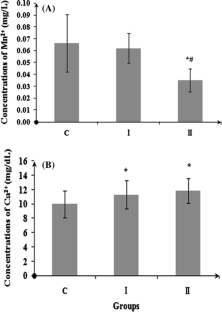 References
1.

Tuschl K, Clayton PT, Gospe SM Jr, Gulab S, Ibrahim S, Singhi P, Aulakh R, Ribeiro RT, Barsottini OG, Zaki MS, Del Rosario ML, Dyack S, Price V, Rideout A, Gordon K, Wevers RA, Chong WK, Mills PB (2012) Syndrome of hepatic cirrhosis, dystonia, polycythemia, and hypermanganesemia caused by mutations in SLC30A10, a manganese transporter in man. Am J Hum Genet 90:457–466

2.

Quadri M, Federico A, Zhao T, Breedveld GJ, Battisti C, Delnooz C, Severijnen LA, Di Toro Mammarella L, Mignarri A, Monti L, Sanna A, Lu P, Punzo F, Cossu G, Willemsen R, Rasi F, Oostra BA, van de Warrenburg BP, Bonifati V (2012) Mutations in SLC30A10 cause parkinsonism and dystonia with hypermanganesemia, polycythemia, and chronic liver disease. Am J Hum Genet 90:467–477

3.

Roth JA (2006) Homeostatic and toxic mechanisms regulating manganese uptake, retention, and elimination. Biol Res 39:45–57

4.

Leach RM Jr (1968) Effect of manganese upon the epiphyseal growth plate in the young chick. Poult Sci 47:828–830

5.

Leach RM Jr, Muenster AM (1962) Studies on the role of manganese in bone formation I. Effect upon the mucopolysaccharide content of chick bone. J Nutr 78:51–56

6.

Asling CW, Hurley LS (1963) The influence of trace elements on the skeleton. Clin Orthop Relat Res 27:213–264

7.

Webster SV, Farquharson C, Jefferies D, Kwan AP (2003) Expression of type X collagen, Indian hedgehog and parathyroid hormone related-protein in normal and tibial dyschondroplastic chick growth plates. Avian Pathol 32:69–80

8.

Strause L, Saltman P, Glowacki J (1987) The effect of deficiencies of manganese and copper on osteoinduction and on resorption of bone particles in rats. Calcif Tissue Int 41:145–150

9.

Lau KH, Onishi T, Wergedal JE, Singer FR, Baylink DJ (1987) Characterization and assay of tartrate-resistant acid phosphatase activity in serum: potential use to assess bone resorption. Clin Chem 33:458–462

10.

Bergman I, Loxley R (1963) Two improved and simplified methods for the spectrophotometric determination of hydroxyproline. Anal Chem 35:1961–1965

11.

Bergman I, Loxley R (1969) Lung tissue hydrolysates: studies of the optimum conditions for the spectrophotometric determination of hydroxyproline. Analyst 94:575–584

12.

Bergman I, Loxley R (1970) The determination of hydroxyproline in urine hydrolysates. Clin Chim Acta 27:347–349

13.

Himeno S, Yanagiya T, Fujishiro H (2009) The role of zinc transporters in cadmium and manganese transport in mammalian cells. Biochimie 91:1218–1222

14.

Gálvez-Peralta M, He L, Jorge-Nebert LF, Wang B, Miller ML, Eppert BL, Afton S, Nebert DW (2012) ZIP8 zinc transporter: indispensable role for both multiple-organ organogenesis and hematopoiesis in utero. PLoS ONE 7:e36055

15.

Hojyo S, Fukada T, Shimoda S, Ohashi W, Bin BH, Koseki H, Hirano T (2011) The zinc transporter SLC39A14/ZIP14 controls G-protein coupled receptor-mediated signaling required for systemic growth. PLoS ONE 6:e18059

16.

Wolbach SB, Hegsted DM (1953) Perosis; epiphyseal cartilage in choline and manganese deficiencies in the chick. AMA Arch Pathol 56:437–453

17.

Leach RM Jr (1968) Effect of manganese upon the epiphyseal growth plate in the young chick. Poult Sci 47:828–830

18.

Leach RM Jr, Muenster AM, Wien EM (1969) Studies on the role of manganese in bone formation. II. Effect upon chondroitin sulfate synthesis in chick epiphyseal cartilage. Arch Biochem Biophys 133:22–28

19.

Hulan HW, De Groote G, Fontaine G, De Munter G, McRae KB, Proudfoot FG (1985) The effect of different totals and ratios of dietary calcium and phosphorus on the performance and incidence of leg abnormalities of male and female broiler chickens. Poult Sci 64:1157–1169

20.

Strause LG, Hegenauer J, Saltman P, Cone R, Resnick D (1986) Effects of long-term dietary manganese and copper deficiency on rat skeleton. J Nutr 116:135–141

21.

Parker HE, Andrews FN, Carrick CW, Creek RD, Hauge SM (1955) Effect of manganese on bone formation studied with radioactive isotopes. Poult Sci 34:1154–1158

22.

Di Nino DL, Long F, Linsenmayer TF (2001) Regulation of endochondral cartilage growth in the developing avian limb: cooperative involvement of perichondrium and periosteum. Dev Biol 240:433–442

23.

Long F, Linsenmayer TF (1998) Regulation of growth region cartilage proliferation and differentiation by perichondrium. Development 125:1067–1073

24.

Burch WM (1984) Calcitonin stimulates growth and maturation of embryonic chick pelvic cartilage in vitro. Endocrinology 114:1196–1202

25.

Pacifici R (1996) Estrogen, cytokines, and pathogenesis of postmenopausal osteoporosis. J Bone Miner Res 11:1043–1051

26.

Shikhman AR, Kuhn K, Alaaeddine N, Lotz M (2001) N-acetylglucosamine prevents IL-1 beta-mediated activation of human chondrocytes. J Immunol 166:5155–5160

27.

Badger AM, Cook MN, Swift BA, Newman-Tarr TM, Gowen M, Lark M (1999) Inhibition of interleukin-1-induced proteoglycan degradation and nitric oxide production in bovine articular cartilage/chondrocyte cultures by the natural product, hymenialdisine. J Pharmacol Exp Ther 290:587–593

28.

Saklatvala J (1986) Tumour necrosis factor alpha stimulates resorption and inhibits synthesis of proteoglycan in cartilage. Nature 322:547–549

29.

Bertolini DR, Nedwin GE, Bringman TS, Smith DD, Mundy GR (1986) Stimulation of bone resorption and inhibition of bone formation in vitro by human tumour necrosis factors. Nature 319:516–518

30.

Laan RF, van Riel PL, van de Putte LB (1992) Bone mass in patients with rheumatoid arthritis. Ann Rheum Dis 51:826–832

31.

Gravallese EM, Manning C, Tsay A, Naito A, Pan C, Amento E, Goldring SR (2000) Synovial tissue in rheumatoid arthritis is a source of osteoclast differentiation factor. Arthritis Rheum 43:250–258

32.

Pisetsky DS (2000) Tumor necrosis factor blockers in rheumatoid arthritis. N Engl J Med 342:810–811

33.

Radin EL, Burr DB, Caterson B, Fyhrie D, Brown TD, Boyd RD (1991) Mechanical determinants of osteoarthrosis. Semin Arthritis Rheum 21:12–21

34.

Plebani M, Bernardi D, Zaninotto M, De Paoli M, Secchiero S, Sciacovelli L (1996) New and traditional serum markers of bone metabolism in the detection of skeletal metastases. Clin Biochem 29:67–72

35.

Eriksen EF, Brixen K, Charles P (1995) New markers of bone metabolism: clinical use in mineral bone disease. Eur J Endocrinol 132:251–263

36.

Withold W, Friedrich W, Degenhardt S (1997) Serum bone alkaline phosphatase is superior to plasma levels of bone matrix proteins for assessment of bone metabolism in patients receiving renal transplants. Clin Chim Acta 261:105–115

37.

Minkin C (1982) Bone acid phosphatase: tartrate-resistant acid phosphatase as a marker of osteoclast function. Calcif Tissue Int 34:285–290

38.

Susi FR, Goldhaber P, Jennings JM (1966) Histochemical and biochemical study of acid phosphatase in resorbing bone in culture. Am J Physiol 211:959–962

39.

Qin L, Raggatt LJ, Partridge NC (2004) Parathyroid hormone: a double-edged sword for bone metabolism. Trends Endocrinol Metab 15:61–65
Additional information
W. Zhaojun and W. Lin contributed equally to this work.
About this article
Cite this article
Zhaojun, W., Lin, W., Zhenyong, W. et al. Effects of manganese deficiency on serum hormones and biochemical markers of bone metabolism in chicks. J Bone Miner Metab 31, 285–292 (2013). https://doi.org/10.1007/s00774-012-0417-6
Received:

Accepted:

Published:

Issue Date:
Keywords
Manganese deficiency

Chicks

Bone metabolism

Serum markers

Bone regulatory hormones