Abstract
Vitamin D insufficiency is prevalent in osteopenic and osteoporotic postmenopausal women. The persistent increase in circulating parathyroid hormone (PTH) caused by vitamin D insufficiency reduces bone density response to antiresorptive agents in these postmenopausal women. It is not well known whether administration of raloxifene might increase serum PTH secondary to the suppression of serum calcium in postmenopausal women with osteopenia or osteoporosis. We tried to assess whether raloxifene might affect serum PTH and whether the addition of alfacalcidol to raloxifene therapy could have favorable effects on bone mineral density (BMD) and bone turnover as compared to raloxifene-alone therapy in postmenopausal Japanese women with osteoporosis or osteopenia (≤2.0 SD based on young Japanese women). A total of 169 subjects were randomly assigned to groups receiving 60 mg raloxifene (R), or 1 μg alfacalcidol (D), or a combination of both (R + D) for 2 years. Serum levels of 25-hydroxyvitamin D [25(OH)D] were measured at randomization. The modified 'intention to treat' method was used. We compared the groups using a Tukey–Kramer test for changes in L- and TH-BMD and calcium metabolism when significant differences were found using one-way ANOVA. The parameters in each group during the experimental period were analyzed by means of paired t tests. Baseline 25(OH)D and i-PTH were 23.7 ng/ml and 38.4 pg/ml, respectively. At 6 months, i-PTH demonstrated a significant increase (+21.0%) in the R-group whereas significant decreases in i-PTH were observed in the D-group and combination-group (−15.9 and −8.9%, respectively). There were significant increases in L-BMD in the R + D-group (+4.1% at 1 year and +4.7% at 2 years, P < 0.0001) and in the R-group (+2.9% at 1 year and +2.8% at 2 years, P < 0.001), but the difference between the groups did not reach a significant level. Vitamin D status at randomization did not affect the subsequent BMD response in coadministration of alfacalcidol with raloxifene. Supplementation with alfacalcidol to raloxifene therapy demonstrates a greater bone-sparing effect by suppressing the secondary increment of serum PTH than when raloxifene is used alone.
This is a preview of subscription content,
to check access.
Access this article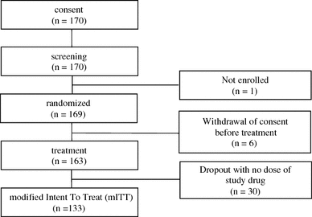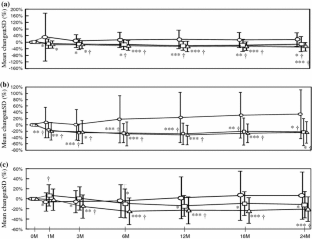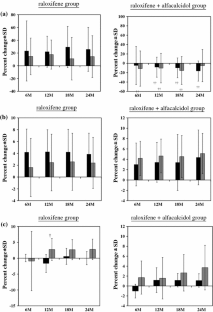 Similar content being viewed by others
References
Hagenau T, Vest R, Gissel TN et al (2009) Global vitamin D levels in relation to age, gender, skin pigmentation and latitude: an ecologic meta-analysis. Osteoporos Int 20:133–140

Dawson-Hughes BN, Heaney RP, Holick MF et al (2005) Estimates of optimal vitamin D status. Osteoporos Int 16:713–716

Steingrimsdottir L, Gunnarsson O, Indridason O et al (2005) Relationship between serum parathyroid hormone levels, vitamin D sufficiency and calcium intake. JAMA 294:2336–2341

The RECORD trial group (2005) Oral vitamin D3 and calcium for secondary prevention of low-trauma fractures in elderly people (Randomised Evaluation of Calcium or vitamin D, RECORD): a randomized placebo-controlled trial. Lancet 365:1621–1628

Jackson RD, LaCroix AZ, Gass M et al (2006) Calcium plus vitamin D and the risk of fracture. N Engl J Med 354:669–683

Adams JS, Hewison M (2010) Update in vitamin D. J Clin Endocrinol Metab 95:471–478

Gallagher JC, Sai A (2010) Vitamin D insufficiency, deficiency, and bone health. J Clin Endcrinol Metab 95:2630–2633

Heaney RP, Davies KM, Chen TC et al (2003) Human serum 25-hydroxycholecalciferol response to extended oral dosing with cholecalciferol. Am J Clin Nutr 77:204–210

Hollis BW, Wagner CL (2004) Assessment of dietary vitamin D requirements during pregnancy and lactation. Am J Clin Nutr 79:717–726

Vieth R, Chan PC, MacFarlane GD (2001) Efficacy and safety of vitamin D intake exceeding the lowest observed adverse effect level. Am J Clin Nutr 73:288–298

Hoeck HC, Li B, Qvist P (2009) Changes in 25-hydroxyvitamin D3 to oral treatment with vitamin D3 in postmenopausal females with osteoporosis. Osteoporos Int 20:1329–1335

Reginster JY (2005) The high prevalence of inadequate serum vitamin D levels and implications for bone health. Curr Med Res Opin 21:579–585

Lips P (2001) Vitamin D deficiency and secondary hyperparathyroidism in the elderly: consequences for bone loss and fractures and therapeutic implications. Endocr Rev 22:477–501

Sakuma M, Endo N, Oinuma T et al (2006) Vitamin D and intact PTH status in patients with hip fracture. Osteoporos Int 17:1608–1614

Sakuma M, Endo N, Oinuma T (2007) Serum 25-OHD insufficiency as a risk factor for hip fracture. J Bone Miner Metab 25:147–150

Gorai I, Chaki O, Taguchi Y et al (1999) Early postmenopausal bone loss is prevented by estrogen and partially by 1-alpha-OH-vitamin D3: therapeutic effects of estrogen and/or 1-alpha-OH-vitamin D3. Calcif Tissue Int 65:16–22

Orimo H, Shiraki M, Hayashi Y et al (1994) Effects of 1 alpha-hydroxyvitamin D3 on lumbar bone mineral density and vertebral fractures in patients with postmenopausal osteoporosis. Calcif Tissue Int 54:370–376

Ringe JD, Farahmand P, Schacht E, Rozehnal A (2007) A superiority of a combined treatment of alendronate and alfacalcidol compared to the combination of alendronate and plain vitamin D or alfacalcidol alone in established postmenopausal or male osteoporosis (AAC-Trial). Rheumatol Int 27:425–434

Adami S, Giannini S, Bianchi G et al (2009) Vitamin D status and response to treatment in post-menopausal osteoporosis. Osteoporos Int 20:239–244

Barone A, Pioli G, Girasole G et al (2007) Secondary hyperparathyroidism due to hypovitaminosis D affects bone mineral density response to alendronate in elderly women with osteoporosis: a randomized controlled trail. J Am Geriatr Soc 55:752–757

Geller JL, Hu B, Reed S et al (2008) Increase in bone mass after correction of vitamin D insufficiency in bisphosphonate-treated patients. Endocr Pract 14:293–297

Orimo H, Hayashi Y, Fukunaga M et al (2001) Diagnostic criteria for primary osteoporosis: year (2000) revision. J Bone Miner Metab 19:331–337

Slemenda CW, Longcope CL, Peacock M et al (1996) Sex steroids, bone mass, and bone loss. A prospective study of pre-, peri- and postmenopausal women. J Clin Invest 97:14–21

Gorai I, Chaki O, Nakayama M et al (1995) Urinary biochemical markers for bone resorption during the menstrual cycle. Calcif Tissue Int 57:100–104

Blackburn GF, Shah HP, Kenten JH et al (1991) Electrochemiluminescence detection for development of immunoassays and DNA probe assays for clinical diagnosis. Clin Chem 37:1534–1539

Garnero P, Borel O, Delmas PD (2001) Evaluation of a fully automated serum assay for C-terminal cross-linking telopeptide of type I collagen in osteoporosis. Clin Chem 47:694–702

Hollis BW, Kamerud JQ, Selvaag SR et al. (1993) Determination of vitamin D status by radioimmunoassay with an 125I-labeled tracer. Clin Chem 39:529–533

Fillee C et al (2008) Validation of the Beckman Coulter Unicel® DxI 800 for intra-operative and routine intact parathyroid hormone assay: A073. Clin Chem Lab Med 46:A168

Abraha I, Montedori A (2010) Modified intention to treat reporting in randomized controlled trials: systemic review. BMJ 340:c2697

Heaney RP (2004) Functional indices of vitamin D status and ramifications of vitamin D deficiency. Am J Clin Nutr 80 (suppl):1706S–1709S

Gorai I, Tanaka Y, Hattori S, Iwaoki Y (2010) Assessment of adherence to treatment of postmenopausal osteoporosis with raloxifene and/or alfacalcidol in postmenopausal Japanese women. J Bone Miner Metab 28:176–184

Thomas MK, Lloyd-Jones DM, Thadhani RI et al (1998) Hypovitaminosis D in medical inpatients. N Engl J Med 338:777–783

Chapuy MC, Preziosi P, Maamer M et al (1997) Prevalence of vitamin D insufficiency in an adult normal population. Osteoporos Int 7:439–444

Kinyamu HK, Gallagher JC, Rafferty KA et al (1998) Dietary calcium and vitamin D intake in elderly women: effect on serum parathyroid hormone and vitamin D metabolites. Am J Clin Nutr 67:342–348

Lips P, Duong TU, Oleksir A (2001) A global study of vitamin D status and parathyroid function in postmenopausal women with osteoporosis: baseline data from the multiple outcome of raloxifene evaluation clinical trail. J Clin Endocrinol Metab 86:1212–1221

Oleksik A, Doung T, Popp-Snijders C et al (2001) Effects of the selective oestrogen receptor modulator-raloxifene-on calcium and PTH secretory dynamics in women with osteoporosis. Clin Endocrinol 54:575–582

Rubin MR, Lee KH, McMahon DJ, Silverbery S (2003) Raloxifene lowers serum calcium and markers of bone turnover in postmenopausal women with primary hyperparathyroidism. J Clin Endocrinol Metab 88:1174–1178

Carrillo-Lopez N, Roman-Garcia P, Rodriguez-Rebolar A et al (2009) Indirect regulation of PTH by estrogen may require FGF23. J Am Soc Nephrol 20:2009–2017

Heaney RP, Draper MW (1997) Raloxifene and estrogen: comparative bone-remodeling kinetics. J Clin Endocrinol Metab 82:3425–3429

Brown EM, Pollak M, Seidman CE et al. (1995) Calcium-ion-sensing cell-surface receptors. N Engl J Med 333:234–240

Garnero P, Munoz F, Somay-Rendu E, Delmas PD (2007) Associations of vitamin D status with bone mineral density, bone turnover, bone loss and fracture risk in healthy postmenopausal women. The OFELY study. Bone (NY) 40:716–722

Antoniucci DM, Vittinghoff E, Blackwell T, Black DM, Sellmeyer DE (2005) Vitamin D insufficiency does not affect bone mineral density response to raloxifene. J Clin Endocrinol Metab 90:4566–4572

Papadimitropoulos E, Wells G, Shea B et al (2002) Meta-analyses of therapies for postmenopausal osteoporosis. VIII: Meta-analysis of the efficacy of vitamin D treatment in preventing osteoporosis in postmenopausal women. Endocr Rev 23:560–569

Need AG, Nordin BEC (2008) Misconceptions: Vitamin D insufficiency causes malabsorption of calcium. Bone (NY) 42:1021–1024

Biswas P, Zanello LP (2009) 1α,25(OH)3 vitamin D induction of ATP secretion in osteoblasts. J Bone Miner Res 24:1450–1460

Watts NB, Lewiecki EM, Bonnick SL et al (2009) Clinical value of monitoring BMD in patients treated with bisphosphonates for osteoporosis. J Bone Miner Res 24:1643–1646

Antoniucci DM, Vittinghoff E, Palermo L, Black DM, Sellmeyer DE (2009) Vitamin D insufficiency does not affect response of bone mineral density to alendronate. Osteoporos Int 20:1259–1266

Majima T, Komatsu Y, Shimatsu A et al (2008) Efficacy of combined treatment with raloxifene and alfacalcidol on bone density and biochemical markers of bone turnover in postmenopausal osteoporosis. Endocr J 55:127–134
Conflict of interest
I.G. has received honoraria for lectures from Chugai Pharmaceutical Co., Ltd, Tokyo, Japan.
About this article
Cite this article
Gorai, I., Hattori, S., Tanaka, Y. et al. Alfacalcidol-supplemented raloxifene therapy has greater bone-sparing effect than raloxifene-alone therapy in postmenopausal Japanese women with osteoporosis or osteopenia. J Bone Miner Metab 30, 349–358 (2012). https://doi.org/10.1007/s00774-011-0325-1
Received:

Accepted:

Published:

Issue Date:

DOI: https://doi.org/10.1007/s00774-011-0325-1
Keywords