Abstract
The integration of wave energy converters and a floating wind turbine has the potential to reduce the cost of energy, since they can share the mooring system and the infrastructure of the power grid. In this study, oscillating-water-column-type wave energy converters mounted on a semisubmersible-type floating wind turbine are presented. Water tank tests are carried out to illustrate that the wave energy converters can not only capture the wave energy but also help in reducing the motion of the floating platform when active control is applied. This study provides a new perspective on hybrid renewable energy application to widen renewable energy penetration by enhancing system reliability.
Access options
Buy single article
Instant access to the full article PDF.
USD 39.95
Price excludes VAT (USA)
Tax calculation will be finalised during checkout.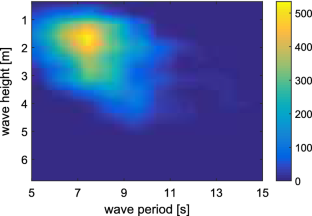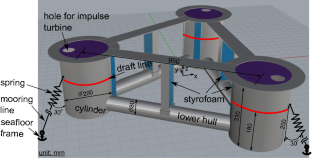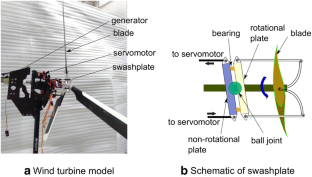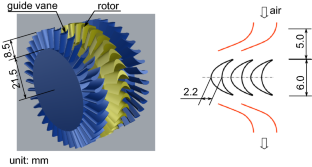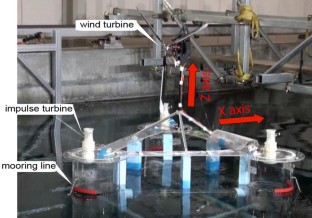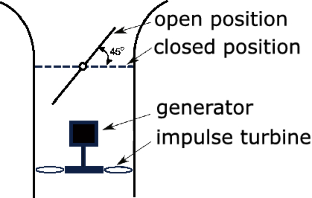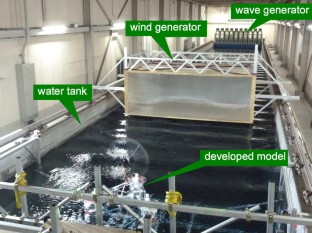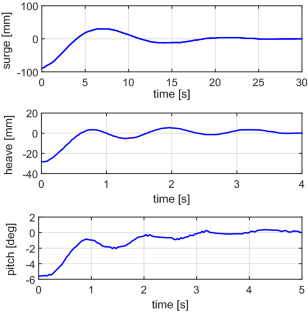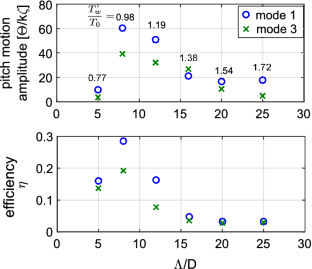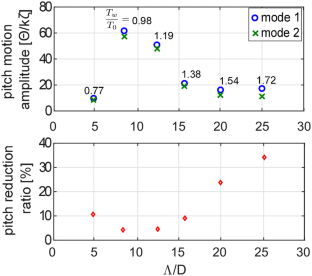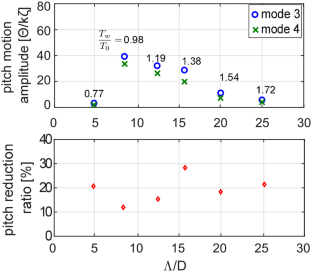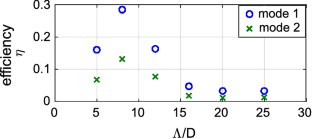 References
Ishihara T, Phuc P, Sukegawa H, Shimada K, Ohyama T (2007) A study on the dynamic response of a semi-submersible floating offshore wind turbine system part 1: a water tank test. In: Proceedings of the 12th international conference on wind engineering: ICWE 12, Cairns, pp 2511–2518

Henderson AR, Patel MH (2003) On the modelling of a floating offshore wind turbine. Wind Energy 6(1):53–86

Faltinsen O (1993) Sea loads on ships and offshore structures. Cambridge University Press, Cambridge

Suzuki H, Sato A (2007) Load on turbine blade induced by motion of floating platform and design requirement for the platform. In: Proceedings of the 26th international conference on offshore mechanics and Arctic engineering, San Diego, pp 519–525

Huijs F, Mikx J, Savenije F, de Ridder E-J (2013) Integrated design of floater, mooring and control system for a semi-submersible floating wind turbine. In: European Wind Energy Association (EWEA) Offshore, Frankfurt

Aubault A, Cermelli C, Roddier D (2006) Structural design of a semi-submersible platform with water-entrapment plates based on a time-domain hydrodynamic algorithm coupled with finite-elements. In: Proceedings of 16th international offshore and polar engineering conference, San Francisco, California, pp 187–194

Zhu H, Ou J, Zhai G (2012) Conceptual design of a deep draft semi-submersible platform with a movable heave-plate. J Ocean Univ China 11(1):7–12

Roddier D, Cermelli C (2013) Column-stabilized offshore platform with water-entrapment plates and asymmetric mooring system for support of offshore wind turbines. U.S. Patent, US008471396B2. Principle Power Inc

Falnes J (2007) A review of wave-energy extraction. Mar Struct 20(4):185–201

Pecher A, Kofoed JP (2017) Handbook of ocean wave energy. Springer, Berlin

Falcão AF, Henriques JC (2016) Oscillating-water-column wave energy converters and air turbines: a review. Renew Energy 85:1391–1424

Ghasemi A, Anbarsooz M, Malvandi A, Ghasemi A, Hedayati F (2017) A nonlinear computational modeling of wave energy converters: a tethered point absorber and a bottom-hinged flap device. Renew Energy 103:774–785

Kofoed JP, Frigaard P, Friis-Madsen E, Sørensen HC (2006) Prototype testing of the wave energy converter wave dragon. Renew Energy 31(2):181–189

Borg M, Collu M, Brennan FP (2013) Use of a wave energy converter as a motion suppression device for floating wind turbines. Energy Procedia 35:223–233

Chandrasekaran S, Raphel D, Shree S (2014) Deep ocean wave energy systems: experimental investigations. J Nav Archit Mar Eng 11(2):139–146

Perez C, Greaves D, Iglesias G (2015) A review of combined wave and offshore wind energy. Renew Sustain Energy Rev 42:141–153

Li L, Gao Y, Yuan Z, Day S, Hu Z (2018) Dynamic response and power production of a floating integrated wind, wave and tidal energy system. Renew Energy 116:412–422

Perez C, Iglesias G (2012) Integration of wave energy converters and offshore windmills. In: Proceedings of the 4th international conference on ocean energy (ICOE), Dublin

Zhu H, Hu C, Liu Y (2016) Optimum design of a passive suspension system of a semisubmersible for pitching reduction. J Dyn Syst Meas Control 138(12):121003

Zhu H, Hu C (2016) A study on control of wave energy converter for motion suppression of semisubmersible. In: The 10th IFAC conference on control application in marine systems (CAMS2016), Trondheim, pp 380–385

Fukushima Offshore Wind Consortium. http://www.fukushima-forward.jp/english/deta/index.html. Accessed 26 June 2019

Yasuzawa Y, Okumura Y et al (2010) Experimental study of dynamic response and energy absorption of fixed circular cylindrical owc columns in regular waves. In: The 9th ISOPE Pacific/Asia offshore mechanics symposium, 14–17 November 2010, Busan, Korea. International Society of Offshore and Polar Engineers

Williams R (1997) Automotive active suspensions part 2: practical considerations. Proc Inst Mech Eng Part D J Automob Eng 211(6):427–444
Acknowledgements
This research was partially supported by JSPS KAKENHI Grant number 17K14616.
About this article
Cite this article
Zhu, H., Hu, C., Sueyoshi, M. et al. Integration of a semisubmersible floating wind turbine and wave energy converters: an experimental study on motion reduction. J Mar Sci Technol 25, 667–674 (2020). https://doi.org/10.1007/s00773-019-00671-y
Received:

Accepted:

Published:

Issue Date:

DOI: https://doi.org/10.1007/s00773-019-00671-y
Keywords
Wave energy converter

Floating offshore wind turbine

Motion reduction

Water tank test