Abstract
A novel disturbance observer-based backstepping controller (DOBBC) is developed and applied to the path-following system of a container ship. Our control objective is to enable the ships to follow a desired path despite the presence of environmental disturbances caused by current, wind, and wave actions. It is particularly challenging to achieve such an objective due to the underactuation and nonlinearity of container ships. To simplify controller design, a tracking error model is developed based on Serret–Frenet frame transformation. The proposed path-following control system is constructed on the model. In DOBBC, the disturbance observer estimates both constant and time-variant environmental disturbances. The backstepping controller compensates the nonlinearity and underactuation of the container ship. A feedback-dominance technique is utilized to design the controller parameters. The stability and robustness of the control system are successfully justified through Lyapunov approach. Simulation results demonstrate that the DOBBC effectively drives the ship to follow a desired trajectory in spite of the existence of time-varying environmental disturbances.
Access options
Buy single article
Instant access to the full article PDF.
USD 39.95
Price includes VAT (USA)
Tax calculation will be finalised during checkout.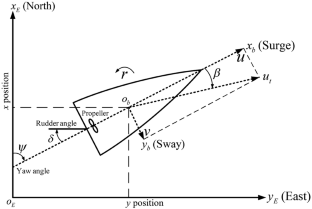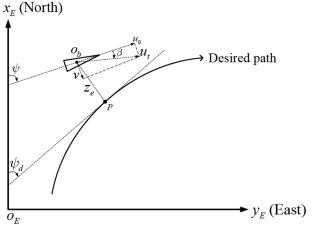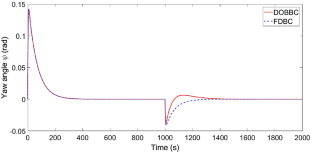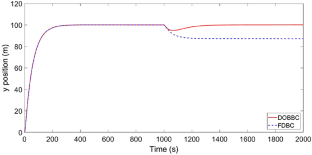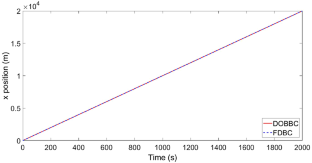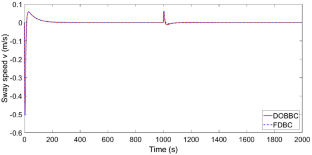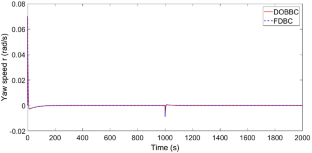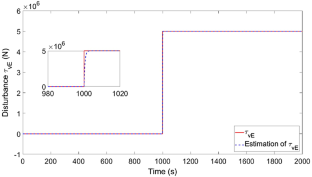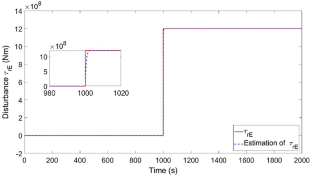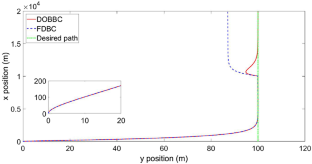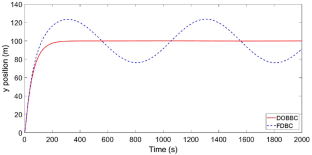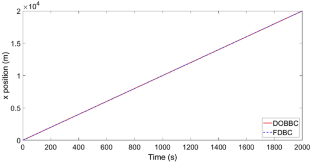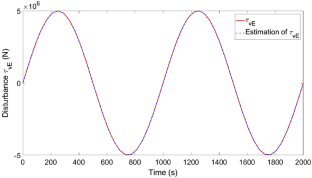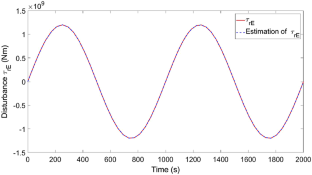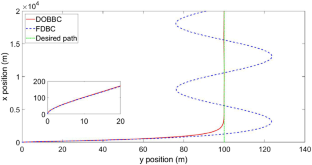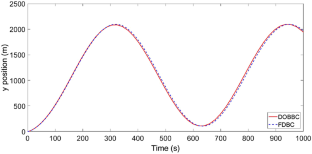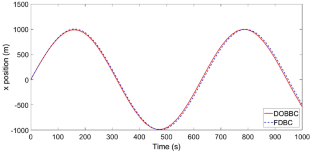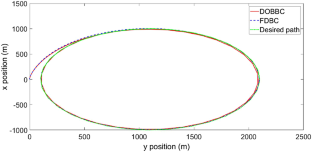 References
1.

Pettersen Kristin Ytterstad, Fossen Thor I (2000) Underactuated dynamic positioning of a ship-experimental results. IEEE Trans Control Syst Technol 8(5):856–863

2.

Do Khac D, Jiang Zhong Ping, Pan Jie (2002) Underactuated ship global tracking under relaxed conditions. IEEE Trans Autom Control 47(9):1529–1536

3.

Krstic Miroslav, Kanellakopoulos Ioannis, Kokotovic Petar (1995) Nonlinear and adaptive control design. Wiley, Hoboken

4.

Zhou Jing, Wen Changyun (2008) Adaptive backstepping control of uncertain systems. Springer, Berlin

5.

Wang Wei, Wen Changyun, Zhou Jing (2017) Adaptive backstepping control of uncertain systems with actuator failures, subsystem interactions, and nonsmooth nonlinearities. CRC Press, Boca Raton

6.

Skjetne R, Fossen TI (2001) Nonlinear maneuvering and control of ships. In: Proceedings of OCEANS 2001 MTS/IEEE conference, Honolulu, HI, USA, pp 1808–1815

7.

Fossen TI, Skjetne R, Breivik M (2003) Line-of-sight path following of underactuated marine craft. In: Proceedings of the 6th IFAC MCMC, Girona, Spain, pp 244–249

8.

Do KD, Pan J (2006) Underactuated ships follow smooth paths with integral actions and without velocity measurements for feedback: theory and experiments. IEEE Trans Control Syst Technol 14(2):308–322

9.

Li Zhen, Sun Jing, Soryeok Oh (2009) Design, analysis and experimental validation of a robust nonlinear path following controller for marine surface vessels. Automatica 45(7):1649–1658

10.

Do KD, Jiang JP, Pan J (2004) Robust adaptive path following of underactuated ships. Automatica 31:929–944

11.

Li T, Yang Y, Hong B, Ren J, Jiali D (2005) A robust adaptive nonlinear control approach to ship straight-path tracking design. In: Proceedings of American Control Conference, OR, USA, Portland, pp 4016–4021

12.

Do KD, Pan J (2006) Global robust adaptive path following of underactuated ships. Automatica 42(10):1713–1722

13.

Wang Xiaofei, Zou Zaojian, Li Tieshan, Luo Weilin (2010) Adaptive path following controller of underactuated ships using Serret–Ferenet frame. J Shanghai Jiaotong Univ (Sci) 15(3):334–339

14.

Dovgobrod GM (2012) Development of an adaptive algorithm for ship motion control on a nonlinear path. Gyrosc Navig 3(1):41–46

15.

Zhang Guoqing, Zhang Xianku (2014) Concise robust adaptive path-following control of underactuated ships using DSC and MLP. IEEE J Ocean Eng 39(4):685–694

16.

Ren R, Zou Z (2015) \(L_1\) adaptive control used in ship control system when encountering slow varying disturbances. In: Proceedings of the Twenty-fifth international ocean and polar engineering conference, Kona, Hawaii, USA, pp 283–289

17.

Yi Bowen, Zhang Weidong (2016) A nonlinear updated gain observer for MIMO systems: design, analysis and application to marine surface vessels. ISA Trans 64:129–140

18.

Breivik M, Fossen TI (2004) Path following for marine surface vessels. In: Proceedings of IEEE techno-ocean'04 MTS, Kobe, Japan

19.

Zhang Xiaoguang, Li Zhengxi (2016) Sliding-mode observer-based mechanical parameter estimation for permanent magnet synchronous motor. IEEE Trans Power Electronics 31(8):5732–5745

20.

Slotine Jean, Li Weiping (1991) Appl Nonlinear Control. Prentice Hall, Upper Saddle River

21.

Khalil HK (2002) Nonlinear systems, 3rd edn. Prentice Hall, Upper Saddle River

22.

Perez T, Blanke M (1998) Mathematical ship modelling for control applications. Tech. Rep. The University of Newcastle, Callaghan, Australia

23.

Alarcin Faut (2007) Internal model control using neural network for ship roll stabilization. J Mar Sci Technol 15(2):141–147

24.

Do Khac Duc (2010) Practical control of underactuated ships. Ocean Eng 37(13):1111–1119

25.

Bialystocki N, Konovessis D (2016) On the estimation of ship's fuel consumption and speed curve: a statistical approach. J Ocean Eng Sci 1(3):157–166
Acknowledgements
The authors would like to thank Dr. Sally Shao, the mathematical professor at Cleveland State University, for her valuable inputs in proving the convergences of estimation errors of the disturbance observer.
Additional information
Publisher's Note
Springer Nature remains neutral with regard to jurisdictional claims in published maps and institutional affiliations.
About this article
Cite this article
Zhao, Y., Dong, L. Robust path-following control of a container ship based on Serret–Frenet frame transformation. J Mar Sci Technol 25, 69–80 (2020). https://doi.org/10.1007/s00773-019-00631-6
Received:

Accepted:

Published:

Issue Date:
Keywords
Container ship

Underactuation

Nonlinearity

Environmental disturbance

Feedback-dominance technique