Abstract
We develop a simplified model of choked flow in pipes for CO2-water solutions as an important step in the modelling of a whole hydraulic system with the intention of eliminating the carbon dioxide generated in air-independent submarine propulsion. The model is based on an approximate fitting of the homogeneous isentropic solution upstream of a valve (or any other area restriction), for given fluid conditions at the entrance. The relative maximum choking back-pressure is computed as a function of area restriction ratio. Although the procedure is generic for gas solutions, numeric values for the non-dimensional parameters in the analysis are developed only for choking in the case of carbon dioxide solutions up to the pure-water limit.
Access options
Buy single article
Instant access to the full article PDF.
US$ 39.95
Tax calculation will be finalised during checkout.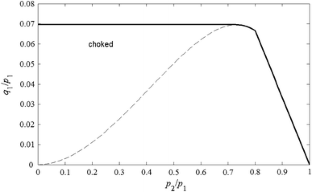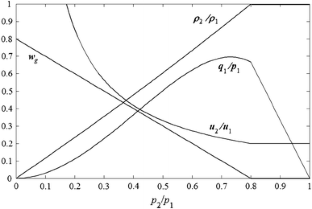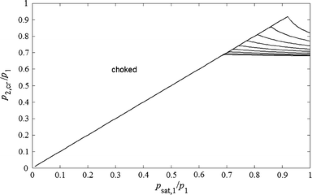 References
1.

Potter IJ, Clavelle E, Reader GT, Kady J, Carl M (2000) Exhaust gas management systems for underwater heat engines. In: Proceedings of the 2000 international symposium on underwater technology, pp 273–278. doi:10.1109/UT.2000.852556

2.

Brennen CE (2005) Fundamentals of multiphase flow. Cambridge University Press, Cambridge

3.

Yoon HJ, Ishii M, Revankar ST (2006) Choking flow modeling with mechanical non-equilibrium for two-phase two-component flow. Nucl Eng Des 236:1886–1901

4.

Valero E, Parra IE (2002) The role of thermal disequilibrium in critical two-phase flow. Int J Multiph Flow 28:21–50

5.

García Cascales JR (2009) Conservative numerical schemes for unsteady 1D two phase flow. Doctoral Thesis, Universidad Politécnica de Cartagena, Spain

6.

Carroll JJ, Slupsky JD, Mather AE (1991) The solubility of carbon dioxide in water at low pressure. J Phys Chem Ref Data 20(6):1201–1209
About this article
Cite this article
Martínez, I., Casas, P.A. Choked flow in water/CO2 solutions on air-independent propulsion systems. J Mar Sci Technol 17, 542–548 (2012). https://doi.org/10.1007/s00773-012-0177-y
Received:

Accepted:

Published:

Issue Date:
Keywords
Choked flow

Flashing

Cavitation

Carbon dioxide water solutions

Two phase flow