Abstract
On the basis of previous studies, a series of hazards involving the typical small inland passenger ferries operating in inland Bangladeshi waters have been identified. In particular, stormy weather conditions, overloading, and the risk of crowding to one side have been determined as the typical events that are likely to lead to capsizing in the intact condition. In this article, possible hazard mitigation measures are discussed, both from the regulatory and from the design point of view, for a small inland ferry that is very similar to one that actually capsized in the past. The addressed design options involve ballasting and hull modification by means of additional buoyancy above the waterline. From a regulatory point of view, it is proposed that the present weather criterion in force in Bangladesh be modified by increasing the wind speed to be accounted for and by considering the concurrent effects of wind, rolling, and the crowding of people to one side.
Access options
Buy single article
Instant access to the full article PDF.
US$ 39.95
Tax calculation will be finalised during checkout.
Subscribe to journal
Immediate online access to all issues from 2019. Subscription will auto renew annually.
US$ 79
Tax calculation will be finalised during checkout.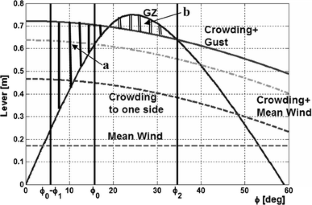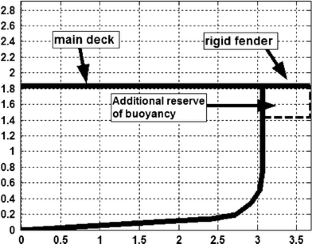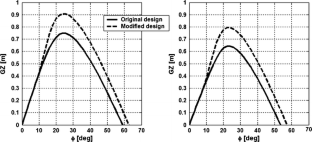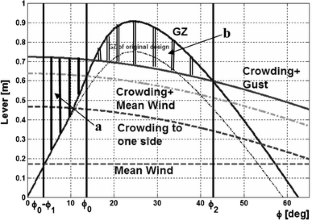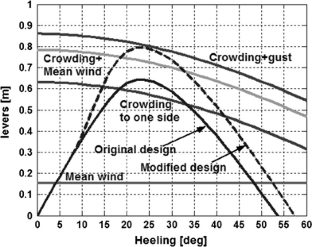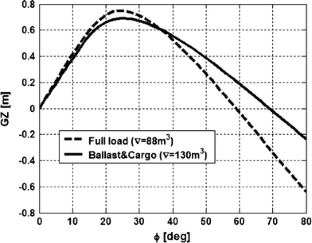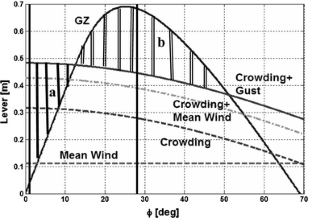 References
1.

Iqbal KS, Bulian G, Hasegawa K, Karim MM, Awal ZI (2008) A rational analysis of intact stability hazards involving small inland passenger ferries in Bangladesh. J Mar Sci Technol. doi:10.1007/s00773-008-0016-3

2.

IMO Document, MSC/Circ. 1023, MEPC/Circ. 392 (2002) Guidelines for formal safety assessment (FSA) for use in the IMO rule making process, London, 5 April

3.

Zulfikar MM (2005) Preventing accidents of inland ships: law and ordinance; inland ship (stability) rules 2001 (in Bengali). H. A. Publishers, Dhaka

4.

IMO (2002) Code on intact stability for all types of ships covered by IMO instruments. IMO, London

5.

Rahola J (1939) Judging the stability of ships and determination of the minimum amount of stability, especially considering the vessels navigating finnish waters. Ph.D. Thesis, Technical University of Finland, Helsinki

6.

Hofman M, Bačlov I (2005) Weather criterion for seagoing and inland vessels—some new proposals. In: Proceedings of the international conference on marine research and transportation (ICMRT'05), Ischia, September

7.

Islam MR (1997) Techno-economic analysis applied to safety of inland passenger vessels. M.Sc. Engineering Thesis, Department of Naval Architecture and Marine Engineering, Bangladesh University of Engineering and Technology

8.

Rahim A (1990) Study of the effects of wind and passenger crowding on the safety of inland passenger vessels. M.Sc. Engineering Thesis, Department of Mechanical Engineering, Bangladesh University of Engineering and Technology

9.

Rahim A, Islam AKMS, Khalil GM (1994) Weather and passenger crowding criteria on the stability of inland passenger vessels. J Inst Eng (India)

10.

IMO Document, SLF48/4/5 (2005) Proposal on draft explanatory notes to the severe wind and rolling criterion (submitted by Japan), London, 10 June

11.

Francescutto A, Umeda N, Serra A, Bulian G, Paroka D (2004) Experiment-supported weather criterion and its design impact on large passenger ships. In: Proceedings of the 2nd international maritime conference on design for safety, Sakai, pp 103–113

12.

IMO Document, MSC.1/Circ.1200 (2006) Interim guidelines for alternative assessment of the weather criterion, London, 24 May

13.

Sverdrup HU, Munk WH (1947) Wind, sea and swell. Theory of relations for forecasting (Pub. No. 601). US Navy Hydrographic Office, Washington, DC
Acknowledgments
The Japan Society for the Promotion of Science (JSPS) is gratefully acknowledged for financial support through the scholarships PE0502 (Gabriele Bulian) and P05370 (Kho Shahriar Iqbal). The authors would also like to acknowledge the co-operation of Professor M. Mazharul Hoque of the Accident Research Centre, Bangladesh University of Engineering and Technology; Dr. Reaz H. Khondoker and Md. Rabiul Islam of the Bangladesh Inland Water Transport Authority; and Mr. M. M. Zulfikar of the Department of Shipping, Bangladesh.
About this article
Cite this article
Iqbal, K.S., Bulian, G., Hasegawa, K. et al. Possible remedies for intact stability hazards involving contemporary small inland passenger ferries in Bangladesh. J Mar Sci Technol 13, 282–290 (2008). https://doi.org/10.1007/s00773-008-0023-4
Received:

Accepted:

Published:

Issue Date:
Keywords
Transport safety

Inland water transport

Passenger ferry

Intact stability

Additional buoyancy

Hazard identification

Weather criterion