Zusammenfassung
Die Ultraschalluntersuchung ist etabliert zur Planung von Hämodialyseshunts und zur Diagnostik von Komplikationen. Auch die Effekte eines Venentrainings vor Shuntanlage können beobachtet werden. Nach Training sind oft auch weiter peripher gelegene Shuntanlagen möglich.
Die präoperative Ultraschalluntersuchung nach Plexus- oder Allgemeinanästhesie führt ebenfalls dazu, dass die Anastomosenhöhe weiter distal gewählt werden kann. So war in Reinbek aufgrund der Voruntersuchung bei 57 von 123 angelegten Tabatière-Fisteln eine weiter proximal gelegene Anastomose geplant gewesen. Bei 118 angelegten distalen radiocephalen AV-Fisteln war in 50 Fällen eine weiter proximal gelegene Anastomose geplant. Wir gehen deshalb über die Empfehlungen der präoperativen Ultraschalldiagnostik hinaus und empfehlen zusätzlich eine direkt präoperative Sonographie der Arterien und Venen vor Shuntanlage im OP in Vasodilatation durch Plexusanästhesie oder Narkose.
Auch bei Shuntrevisionen gehört das Ultraschallgerät in den Operationssaal. Der Ultraschall vereinfacht die Steuerung der Zugangswege und ermöglicht die Visualisierung der Intervention. Die Erfolgs- und Qualitätskontrolle kann direkt nichtinvasiv erfolgen.
Im nephrologischen Bereich ist ein regelmäßiges Shuntmonitoring mit Flussmessung nach Revisionen von AV-Fisteln zu empfehlen. Bei Prothesenshunts erscheint eher eine Messung des intrastenotischen Lumens und der Flussgeschwindigkeit sinnvoll.
Ultraschallgesteuerte Shuntpunktionen erscheinen offensichtlich sinnvoll. Sie haben aber bislang keinen Einzug in die Routineversorgung gehalten. Es muss definiert werden, bei welchen Patienten die ultraschallgesteuerte Shuntpunktion zur Anwendung kommen soll. Es müssen entsprechende Schulungskonzepte und geeignete Point-of-Care-Ultraschallgeräte zur Verfügung stehen.
Abstract
Ultrasonographic examination is well established for planning of arteriovenous fistulas (AVF) and the diagnostics of complications. The effects of vein training by handgrip exercises before AVF placement can also be monitored. After exercise, more peripherally situated AVF placement is possible.
Preoperative ultrasonographic examination after plexus or general anesthesia also leads to a more distal choice of anastomosis location. Thus, in Reinbek based on the preoperative investigation a more proximal anastomosis had been planned in 57 out of 123 created tabatière AVF. In 118 distally placed radiocephalic AVF a more proximally placed anastomosis had been planned in 50 cases. We therefore go beyond the recommendations of preoperative ultrasonographic diagnostics and additionally recommend a directly preoperative sonography of arteries and veins before intraoperative AVF placement during vasodilation by plexus or general anesthesia.
In our opinion, the ultrasound device also belongs in the operating room during shunt revision. The ultrasonography makes it easier to control the access routes and allows visualization of the intervention. The success and quality control can be directly performed noninvasively.
In the dialysis unit a regular monitoring with flow measurement is recommended especially after revision of AVF. In grafts measurement of the intrastenotic lumen and flow velocity might be more appropriate.
Ultrasound-guided cannulation of AVF seems obviously useful; however, this technique has not yet become established in routine care. It must be defined in which patients ultrasound-guided cannulation should be used. Appropriate training concepts and suitable point-of-care ultrasound equipment must be available.
Access options
Buy single article
Instant access to the full article PDF.
USD 39.95
Price includes VAT (USA)
Tax calculation will be finalised during checkout.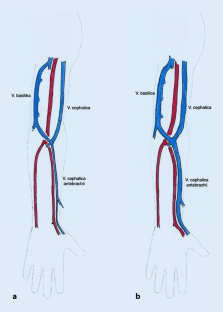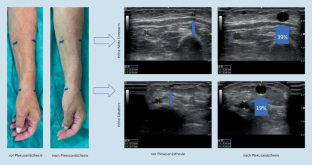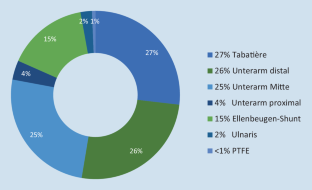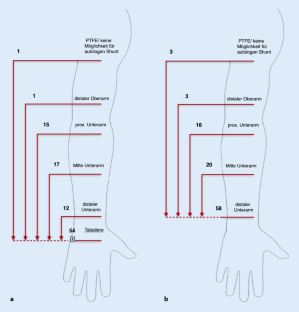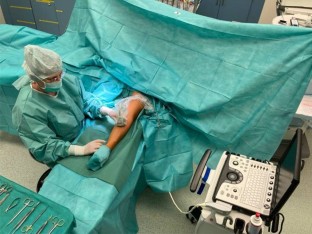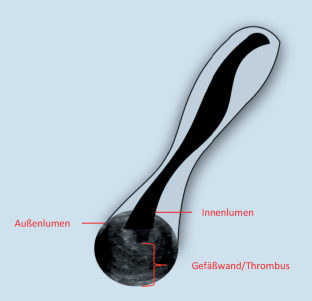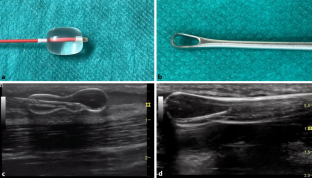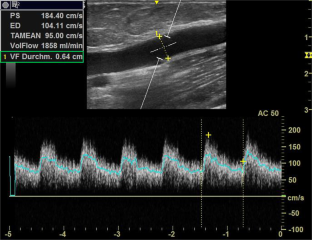 Literatur
1.

Aragoncillo I, Abad S, Caldés S, Amézquita Y, Vega A, Cirugeda A, Moratilla C, Ibeas J, Roca-Tey R, Fernández C, Macías N, Quiroga B, Blanco A, Villaverde M, Ruiz C, Martín B, Ruiz AM, Jara Ampuero de Alvaro F, López-Gómez JM (2017) Adding access blood flow surveillance reduces thrombosis and improves arteriovenous fistula patency: a randomized controlled trial. J Vasc Access 18(4):352–358. https://doi.org/10.5301/jva.5000700

2.

Cerneviciciute R, Sahebally SM, Ahmed K, Murphy M, Mahmood W, Walsh SR (2017) Regional versus local anaesthesia for haemodialysis arteriovenous fistula formation: a systematic review and meta-analysis. Eur J Vasc Endovasc Surg 53:734–742

3.

Desai S, Mitra A, Arkans, Singh: TM (2019) Early application of an intermittent pneumatic compression device is safe and results in proximal arteriovenous fistula enlargement. J Vasc Access 20(1):24–30

4.

Gallieni M, Hollenbeck M, Inston N, Kumwenda M, Powell S, Tordoir J, Al SJ, Berger P, Bolignano D, Cassidy D, Chan TY, Dhondt A, Drechsler C, Ecder T, Finocchiaro P, Haller M, Hanko J, Heye S, Ibeas J, Jemcov T, Kershaw S, Khawaja A, Labriola L, Lomonte C, Malovrh M, Marti IM, Matthew S, McGrogan D, Meyer T, Mikros S, Nistor I, Planken N, Roca-Tey R, Ross R, Troxler M, van d V, Vanholder R, Vermassen F, Welander G, Wilmink T, Koobasi M, Fox J, Van BW, Nagler E (2019) Clinical practice guideline on peri- and postoperative care of arteriovenous fistulas and grafts for haemodialysis in adults. Nephrol Dial Transplant 34:ii1–ii42

5.

Herget-Rosenthal S, Quellmann T, Linden C, Hollenbeck M, Jankowski V, Kribben A (2010) How does late nephrological co-management impact chronic kidney disease?—an observational study. Int J Clin Pract 64(13):1784–1792

6.

Hingorani AP, Ascher E, Gupta P, Alam S, Marks N, Schutzer RW, Multyala M, Shiferson A, Yorkovich W, Jacob T, Salles-Cunha S (2006) Regional anesthesia: preferred technique for venodilatation in the creation of upper extremity arteriovenous fistulae. Vascular 14:23–26

7.

Hollenbeck (2014) Monitoring und Surveillance: Klinische und apparative Untersuchung von Dialyseshunts in der Dialysepraxis und der Shuntsprechstunde. Gefäßchirurg 19:701–708

8.

Hull JE, Elizondo-Riojas G, Bishop W, Voneida-Reyna YL (2017) Thermal resistance anastomosis device for the percutaneous creation of Arteriovenous fistulae for hemodialysis. J Vasc Interv Radiol 2017(28):380–387

9.

Kumar KA, Katheraveloo LS, Suryani Safri L, Guo Hou L, Hafiz Maliki A, Azim Md Idris M, Harunarashid H (2020) Effect of isometric handgrip exercise on the size of cephalic veins in patients with stage 3 and 4 chronic kidney disease: A randomized controlled trial. J Vasc Access 21(3):372–378

10.

Laskowski IA, Muhs B, Rockman CR, Adelman MA, Ranson M, Cayne NS, Leivent JA, Maldonado TS (2007) Regional nerve block allows for optimization of planning in the creation of arterio- venous access for hemodialysis by improving superficial venous dilatation. Ann Vasc Surg 21:730–733

11.

Lok CE, Rajan DK, Clement J et al (2017) Endovascular proximal forearm arteriovenous fistula for hemodialysis access: results of the prospective, multicenter novel endovascular access trial (NEAT). Am J Kidney Dis 70(4):486–497

12.

Lok CE, Huber TS, Lee T, Shenoy S, Yevzlin AS, Abreo K, Allon M, Asif ABCA, Glickman MH, Graham J, Moist LM, Dheeraj KR, Roberts C, Vachharajani TJ, Valentini RP, KDOQI Vascular Access Guideline Work Group (2020) KDOQI clinical practice guideline for vascular access: 2019 update. Am J Kidney Dis 75(Surendra):S1–S164

13.

Lopes JRA, Ligia de Barros Marques A, Correa JA (2021) Randomised clinical study of the impact of routine preoperative Doppler ultrasound for the outcome of autologous arteriovenous fistulas for haemodialysis. J Vasc Access 22(1):107–114

14.

McGlynn PK, Arnaoutakis KD, Deroo EP, Ozaki CK, Forman JP, Hentschel DM (2019) Postanesthesia ultrasound facilitates creation of more preferred accesses without affecting access survival. J Vasc Surg 69(3):898–905

15.

Morgenstern T (2013) Die sonographisch geführte Shuntpunktion – 8‑jährige Erfahrung mit der systematischen Anwendung in einem Einzelzentrum. Dial Aktuell 17:184–190

16.

Rajan DK, Lok CE (2015) Promises for the future: minimally invasive fistula creation. J Vasc Access 16(suppl 9):S40–S41

17.

Reynolds TS, Kim KM, Dukkipati R, Nguyen TH, Julka I, Kakazu C, Tokhner V, Chauvapun JP (2011) Pre-operative regional block anesthesia enhances operative strategy for arteriovenous fistula creation. J Vasc Access 12(4):336–340

18.

Salimi F, Nassiri GM, Moradi M, Keshavarzian A, Farajzadegan Z, Saleki M, Nikpoor A, Ghane M (2013) Assessment of effects of upper extremity exercise with arm tourniquet on maturity of arteriovenous fistula in hemodialysis patients. Vasc Access 14(3):239–244

19.

Schmidli J, Widmer MK, Basile C et al (2018) Editor's choice—vascular access: 2018 clinical practice guidelines of the European Society for Vascular Surgery (ESVS). Eur J Vasc Endovasc Surg 55:757–818

20.

Schoch M, Bennett PN, Currey J, Hutchinson AM (2020) Point-of-care ultrasound use for vascular access assessment and cannulation in hemodialysis: a scoping review. Semin Dial 33:355–368

21.

Spindler B (2019) Ist die ultraschallgesteuerte Dialyseshuntpunktion für Pflegekräfte unverzichtbar? Dial Aktuell 23:130–134

22.

Tessitore N, Bedogna V, Melilli E, Millardi D, Mansueto G, Lipari G, Mantovani W, Baggio E, Poli A, Lupo A (2011) In search of an optimal bedside screening program for arteriovenous fistula stenosis. Clin J Am Soc Nephrol 6:819–826. https://doi.org/10.2215/CJN.06220710

23.

Uy AL, Jindal RM, Herndon TW, Yuan CM, Abbott KC, Hurst FP (2013) Impact of isometric handgrip exercises on cephalic vein diameter in non-AVF candidates, a pilot study. J Vasc Access 14(2):157–163
Ethics declarations
Interessenkonflikt
I. Jester und M. Hollenbeck geben an, dass kein Interessenkonflikt besteht.
Für diesen Beitrag wurden von den Autoren keine Studien an Menschen oder Tieren durchgeführt. Für die aufgeführten Studien gelten die jeweils dort angegebenen ethischen Richtlinien.
Additional information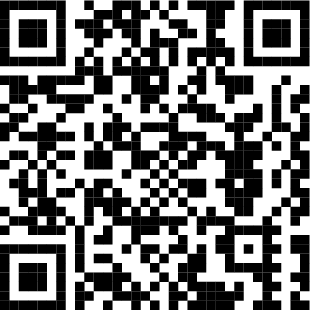 QR-Code scannen & Beitrag online lesen
Supplementary Information
Video 1: Wandverdickte Vene bei Spastik, Video 2: In-Plane-Lokalanästhesie, N. radialis in Höhe der Ellenbeuge. Cave: versehentliche Verletzung der V. cephalica, Video 3: Out-of-Plane-Lokalanästhesie, N. radialis in Höhe der Ellenbeuge, Video 4: Out-of-Plane-Lokalanästhesie, N. cutaneus antebrachii medialis auf der V. basilika, Video 5: Longitudinales Abfahren des Venenverlaufs mit transversal positioniertem Schallkopf, Video 6: Fogarty-Manöver ohne Stenosenachweis, Video 7: Detektion von Stenosen mit Fogarty-Manöver, Video 8: Darstellung einer In-Stent-Stenose mit Fogarty-Manöver, Video 9: Darstellung eines Angioplastieballons mit Markierungen, Video 10: Ballonangioplastie der V.-cephalica-Mündung, pulsierende A. subclavia, Video 11: Kürette Beispiel 1, Video 12: Kürette Beispiel 2, Video 13: Ringstripper in prothetovenöser Anastomose: Mobilisation von anastomosennaher Intimahyperplasie, Video 14: Mobilisation von wandadhärenten Thromben vor Thrombektomie mit dem Ringstripper
About this article
Cite this article
Jester, I., Hollenbeck, M. Neue Aspekte zum Ultraschall am Hämodialyseshunt. Gefässchirurgie 26, 510–521 (2021). https://doi.org/10.1007/s00772-021-00824-7
Accepted:

Published:

Issue Date:
Schlüsselwörter
Venentraining

Ultraschall-gesteuerte Shuntpunktionen

Präoperative Ultraschalluntersuchung (Point-of-care)

Intraoperative Ultraschalluntersuchung

Shuntmonitoring
Keywords
Vein training

Ultrasound-guided cannulation

Preoperative ultrasonography (point-of-care)

Intraoperative ultrasonography

Shunt monitoring