Zusammenfassung
Material und Methoden
Von Januar 2017 bis Oktober 2019 wurde bei 104 Patienten wegen einer klinisch und farbduplexsonographisch relevanten Rezidivvarikose der Fossa poplitea ein Reeingriff durchgeführt. Das entspricht einem Anteil von 15 % aller in diesem Zeitraum durchgeführten Revisionsoperationen am Venensystem. Mit der Farbduplexsonographie erfolgte die präoperative Diagnostik, die Markierung der hämodynamisch relevanten Insuffizienzen am stehenden Patienten und die exakte Festlegung der operativen Strategie. Alle Patienten wurden nach 6 Wochen, 6 Monaten und 1 Jahr nachuntersucht.
Ergebnisse
Wir teilten die Patienten mit einer Rezidivvarikose der Fossa poplitea in 4 Gruppen ein. Gruppe I (68,3 %): unzureichend operierte VSP-Mündungsregion, Gruppe II (16,3 %): insuffiziente Kniekehlenperforansvenen, Gruppe III (11,5 %): insuffiziente Gastrocnemiusvenen, Gruppe IV (3,9 %): neovaskuläre subfasziale Varikosen. Bei 92,3 % registrierten wir Defekte der poplitealen Faszie. Bei 52,1 % war die vollständige Faszienrekonstruktion nur mit der Implantation eines resorbierbaren Netzes aus Polyglykolsäure möglich. Intraoperative Komplikationen wurden im Untersuchungszeitraum nicht beobachtet. Die Quote der N.-suralis-Läsionen nach 1 Jahr betrug 3,8 %. Flächenhafte Hämatome traten in 13,5 % der Fälle auf. Konservativ beherrschbare postoperative Wundheilungsstörungen beobachteten wir bei 5,8 % der Patienten. 6,7 % benötigten wegen einer sekundären Lymphabflussstörung eine manuelle Lymphdrainagetherapie bis zu 6 Monaten.
Schlussfolgerung
Ein großer Teil der Rezidivvarikose der Fossa poplitea kann durch eine exakte Diagnostik mittels Farbduplexsonographie und standardisierte Operationstechnik mit niveaugleicher poplitealer Krossektomie beim Ersteingriff vermieden werden. Bei großen Defekten der poplitealen Faszie sehen wir in der Implantation von Polyglykolsäurenetzen eine Möglichkeit, die Fascia poplitea vollständig zu rekonstruieren.
Abstract
Material and methods
During the period from January 2017 until October 2019, 104 patients underwent a reoperation because of a clinically and color duplex ultrasound relevant recurrent varicosis of the popliteal fossa. This corresponds to a proportion of 15% of all revision operations performed on the venous system during this period. Color duplex sonography was used for the preoperative diagnosis, the marking of the hemodynamically relevant insufficiency on the standing patient and the precise definition of the operative strategy. All patients were followed up after 6 weeks, 6 months and 1 year.
Results
Patients with recurrent varicose of the popliteal fossa were divided into 4 groups: group I (68.3%) inadequately surgically treated region of the short saphenous vein (VSP) estuary, group II (16.3%) insufficient popliteal perforating veins, group III (11.5%) insufficient gastrocnemius veins and group IV (3.9%) neovascular subfascial varicosis. In 92.3% defects of the popliteal fascia were registered. In 52.1% the complete reconstruction of the fascia was only possible with the implantation of a resorbable mesh made of polyglycolic acid. Intraoperative complications were not observed during the study period. The rate of sural nerve lesions after 1 year was 3.8%. Extensive hematomas occurred in 13.5% of the cases. Conservatively controllable postoperative wound healing disorders were observed in 5.8%. Of the patients 6.7% required manual lymph drainage treatment for up 6 months due to a secondary lymph drainage disorder.
Conclusion
A large part of the recurrent varicosis of the popliteal fossa can be avoided using a popliteal crossectomy during the initial operation through an accurate diagnosis using color duplex sonography and standardized surgical techniques. In the case of large defects of the popliteal fascia, we see the implantation of polyglycolic acid meshes as a possibility to completely reconstruct the popliteal fascia.
Access options
Buy single article
Instant access to the full article PDF.
US$ 39.95
Tax calculation will be finalised during checkout.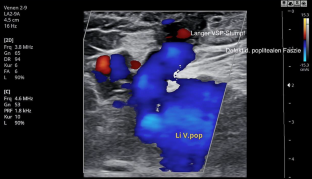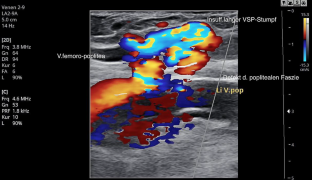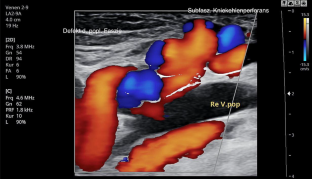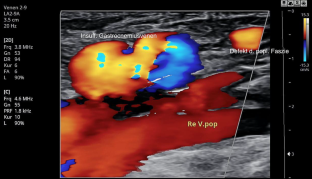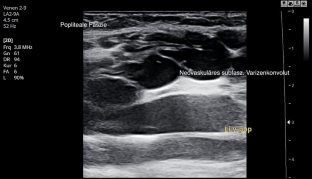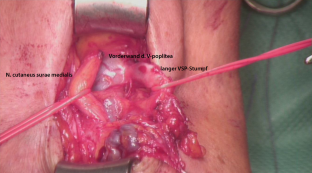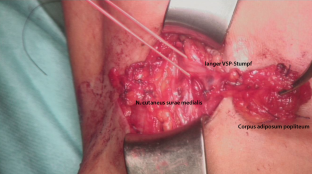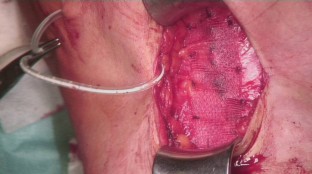 Literatur
1.

Askar O (1963) The short saphenous vein. J Cardiovasc Surg 4:126–137

2.

Baier PM (2006) Zur Chirurgie der poplitealen Rezidivvarikosen. Gefässchirurgie 11:195–202

3.

Baier PM, Miszczak ZT (2019) Zur Inzidenz lymphatischer Komplikationen nach varizenchirurgischen Eingriffe. Gefässchirurgie 24:186–194

4.

Balzer K (2001) Komplikationen bei Varizenoperationen. Zentralbl Chir 126:537–542

5.

Bergan JJ, De Palma RG, Rose SS (1999) Treatment of varicosities of saphenous origin: a dialogue. In: Bergan JJ, Weiss RA, Goldman MP (Hrsg) Varicose veins and teleangiectasis. diagnosis and treatment. Quality Medical Publishing, St. Louis, S 193–216

6.

Eklöf B, Rutherford RB, Bergan JJ et al (2004) Revision of the CEAP classification for chronic venous disorders. Consensus statement. J Vasc Surg 40:1248–1252

7.

Feuerstein W (1993) Zur Behandlung der Vena-saphena-parva-Varizen. Phlebologie 22:35–39

8.

Fischer R (1985) Wo in der Fossa poplitea soll man die V.saphena parva bei Stripping ligiieren? Phlebol Proktologie 14:129–132

9.

Fischer R (1987) Chirurgie der Varizen. Helv Chir Acta 54:541–553

10.

Frings N, van Thann TP, Glowacki P et al (2002) Komplikationen in der Varizenchirurgie und Strategien zu ihrer Vermeidung. Phlebologie 31:26–37

11.

Frings N, Brümmer L, Prinz N, Glowacki P, Rass K (2019) Möglichkeiten zur Prophylaxe in der Varizenchirurgie. Phlebologie 48:32–38

12.

Gillot C (1975) Die intraoperative Phlebographie der V.saphena parva. In: Brunner U (Hrsg) Die Kniekehle. Huber, Bern, S 92–105

13.

Hach W, Hach-Wunderle V (1998) Das theoretische Verständnis der "Rezidivvarikosis nach Operationen". Gefässchirurgie 3:42–46

14.

Hach W, Hach-Wunderle V (2002) Nervenläsionen in der Chirurgie der primären Varikosis. Gefässchirurgie 7:97–102

15.

Hach W, Mumme A (2012) Venenchirurgie. Schattauer, Stuttgart, New York, S 136–137

16.

Heidrich M, Balzer K (2004) Standardisierte Varizenchirurgie-Operationstechnik, Komplikationen, Ergebnisse. Gefässchirurgie 9:186–194

17.

Helmig L (1983) Häufigkeit und Frühkomplikationen bei 13.024 Krampfaderoperationen. Phlebol Proktologie 12:184–195

18.

Lang J, Wachsmuth W (2004) Praktische Anatomie, Bein und Statik. Springer, Berlin, Heidelberg, New York, Tokio, S 49–51

19.

Mildner A, Hilbe G (1997) Parvarezidive nach subfaszialer Ligatur. Phlebologie 22:35–39

20.

Miller GV, Lewis WG, Sainsbury JR, Macdonald RC (1996) Morbidity of varicose vein surgery:auditing the benefit of changing clinical practice. Ann R Coll Surg Engl 78:345–349

21.

Mumme A, Mühlberger D, Hummel T (2020) Das Krossenrezidiv aus der Sicht des Operateurs. Phlebologie 49:139–143

22.

Negus D (1993) Complications de la chirurgie veineuse superficielle-lésions nerveuses dans la jambe et dans la fossa poplitée. Phlebologie 46:601–602

23.

Noppeney T, Nüllen H (2001) Ambulante Operation bei Stammvarikose. Zentralbl Chir 7:508–512

24.

Noppeney T, Nüllen H (2010) Varikose. Diagnostik, Therapie, Begutachtung. Springer, Heidelberg, S 400–402

25.

Perrin MR, Guex JJ, Ruckley CV, de Palma RG et al (2000) Recurrent varices after surgery (REVAS): a consensus document. Cardiovasc Surg 8:233–245

26.

Sagoo KS, Vari R, Helmdach M, Salfeld K (2004) Chirurgie der Vena Giacomini. Phlebologie 33:1–7

27.

Samuel N, Caradice D, Wallace T et al (2012) Saphenofemoral ligation and stripping of small saphenous vein: does extended stripping provide better results? Phlebology 27:390–397

28.

San Nicolo M, Schullian W (1998) Die Rezidivvarikosis der Kniekehle. Gefässchirurgie 3:34–36

29.

AWMF (2019) S2k – Leitlinie Diagnostik und Therapie der Varikose (037/018)

30.

Stenger D, Hartmann M (2019) Die Chirurgie der V.saphena parva – endoluminal oder operativ. Phlebologie 48:23–51

31.

Stenger D, Hartmann M (2020) Die Krossektomie der V.saphena parva. Phlebologie 49:152–162

32.

Staubesand J (1975) Angiologische Aspekte zur Anatomie der Kniekehle. In: Brunner U (Hrsg) Die Kniekehle. Huber, Bern, S 11–36

33.

Tong Y, Royle J (1996) Recurrent varicose veins after short saphenous vein surgery: a duplex ultrasound study. Cardiovasc Surg 3:364–367

34.

Trempe J (1991) Long term results of sclerotherapy and surgical treatment of the short saphenous vein. J Dermatol Surg Oncol 17:597–600

35.

Waibel P (1974) Fehler, Gefahren und Komplikationen bei der Varizenoperation. Phlebol Proktologie 3:134–139

36.

Wallois P (1975) Einige Schlussfolgerungen aus der Umfrage von Henri Reboul über die Varikosis der V.saphena parva. In: Brunner U (Hrsg) Die Kniekehle. Huber, Bern, S 111–115

37.

Weber J, May R (1990) Funktionelle Phlebologie. Thieme, Stuttgart, New York, S 351
Ethics declarations
Interessenkonflikt
P.-M. Baier und D. Vanovac geben an, dass kein Interessenkonflikt besteht.
Für diesen Beitrag wurden von den Autoren keine Studien an Menschen oder Tieren durchgeführt. Für die aufgeführten Studien gelten die jeweils dort angegebenen ethischen Richtlinien.
Additional information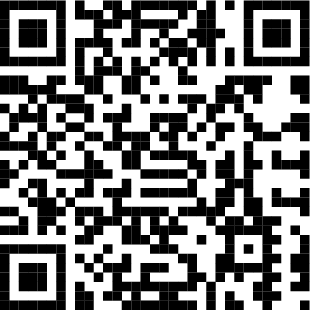 QR-Code scannen & Beitrag online lesen
About this article
Cite this article
Baier, PM., Vanovac, D. Die chirurgische Therapie der Rezidivvarikose der Fossa poplitea. Gefässchirurgie (2021). https://doi.org/10.1007/s00772-021-00815-8
Schlüsselwörter
Vena saphena parva

Klassifikation der poplitealen Rezidivvarikosen

Defekte der poplitealen Faszie

Netzimplantation
Keywords
Saphenous vein

Classification of popliteal recurrent varicosis

Defects of the popliteal fascia

Mesh implantation