Zusammenfassung
Hintergrund
Kliniken und wissenschaftliche Fachgesellschaften verfolgen die Strategie, Studierende im Rahmen der Nachwuchsgewinnung bereits sehr früh zur Berufswahl zu beraten. Deshalb beteiligte sich die Deutsche Gesellschaft für Gefäßchirurgie und Gefäßmedizin (DGG) mit einem Workshop am Bundeskongress (BUKO) der Bundesvertretung der Medizinstudierenden in Deutschland (BVMD).
Ziel der Arbeit
Die vorliegende Erhebung wurde initiiert, um festzustellen, welche Vorstellungen Studierende im Allgemeinen über das Fach Gefäßchirurgie und das Tätigkeitsspektrum von Gefäßchirurginnen und Gefäßchirurgen haben.
Material und Methoden
Während des BUKO 2019 der BVMD wurde ein Workshop veranstaltet, der einen Impulsvortrag und praktische Nahtübungen beinhaltete. Vor Kursbeginn wurden die Teilnehmenden gebeten, einen Fragebogen zur Gefäßchirurgie zu beantworten. Die Antworten wurden anonymisiert erfasst und qualitativ ausgewertet.
Ergebnisse
Zwölf Studierende aus unterschiedlichen universitären Standorten nahmen an dem Kurs teil. Sie befanden sich in den Fachsemestern 3–11 und verfügten häufig bereits über chirurgische Vorerfahrungen (n = 8). Als herausragende Eigenschaften eines Gefäßchirurgen wurden vor allem Feinmotorik (n = 6) und Geduld (n = 4) angesehen. Die Gefäßchirurgie wurde aufgrund der Vielseitigkeit des Faches (n = 4) sowie der zur Ausübung notwendigen "mikrochirurgischen" Fertigkeiten (n = 5) als attraktiv angesehen.
Diskussion
Trotz der eingeschränkten Übertragbarkeit der Ergebnisse dieser relativ kleinen Stichprobe lassen die Ergebnisse darauf schließen, dass die Sichtbarkeit des Faches Gefäßchirurgie eher gering ist. Im Hinblick auf die Berufswahl sollten neue Lehr- und Informationsangebote darauf abzielen, das Fach Gefäßchirurgie frühzeitig bekannt zu machen, um Vorurteile und Berührungsängste abzubauen.
Abstract
Background
In an effort to recruit young professionals, hospitals and scientific societies have recently started pursuing the strategy of advising students on their career choices at a very early stage. Therefore, the German Society for Vascular Surgery and Vascular Medicine (DGG) participated in the German Medical Students' Association's (BVMD) Annual National Conference (BUKO)
Objective
The present survey was initiated to determine what students generally think about the specialty of vascular surgery and the range of activities of a vascular surgeon.
Material and methods
During the BUKO 2019, a workshop was held that included a keynote lecture and hands-on suturing exercises. Prior to the course participants were asked to complete a questionnaire on vascular surgery. Responses were collected anonymously and analyzed qualitatively.
Results
A total of 12 students from different universities participated in the course. They were in years 2–5 of their medical education and often had previous surgical experience (n = 8). Advanced fine motor skills (n = 6) and patience (n = 4) were considered to be the most prominent characteristics of a vascular surgeon. Vascular surgery was considered an attractive field because of the specialty's versatility (n = 4) and the microsurgical skills required (n = 5).
Discussion
Despite the limited transferability of the results from this relatively small sample, the findings suggest that the visibility of vascular surgery among medical students is relatively low. With respect to career choice, new teaching and information offers should aim to make the subject of vascular surgery known at an early stage in order to reduce prejudices and fear of interaction.
Access options
Buy single article
Instant access to the full article PDF.
USD 39.95
Price includes VAT (USA)
Tax calculation will be finalised during checkout.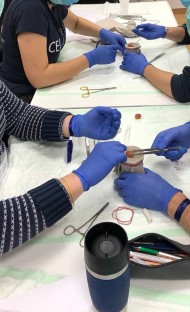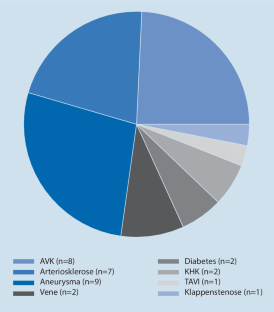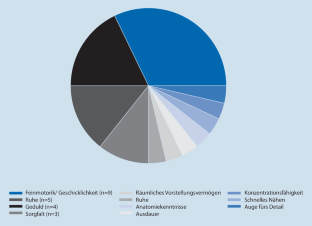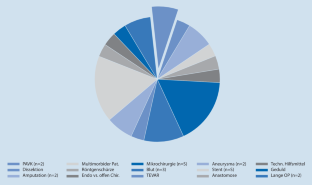 Literatur
1.

Adili F, Kadmon M, Konig S et al (2013) Professionalization of surgical education in the daily clinical routine. Training concept of the Surgical Working Group for Teaching of the German Society of Surgery. Chirurg 84:869–874

2.

Bell RM, Fann SA, Morrison JE et al (2011) Determining personal talents and behavioral styles of applicants to surgical training: a new look at an old problem, part I. J Surg Educ 68:534–541

3.

Braun BJ (2019) Gemeinsame Assistentumfrage des BDC und des Perspektivforums Junge Chirurgie der DGCH 2018/2019. Passion Chirurgie 9

4.

Bühren A (2020) Chefärztinnen in der Chirurgie – Rollenvorbilder für Medizinstudentinnen und junge Chirurginnen. Passion Chir 07/08:20–28

5.

Donohoe CL, Mohan HM (2021) Pregnancy, parenthood and second-generation bias: women in surgery. Br J Surg 108:1–2

6.

Hibbeler B, Korzilius H (2008) Die Medizin wird weiblich. DÄB, Bd. 105, S A609–A612

7.

Jacob R, Kopp J (2020) Traumberuf Chirurg? Wie tickt der Nachwuchs. Passion Chirurgie 10. Artikel 05:1

8.

Louridas M, Szasz P, De Montbrun S et al (2016) Can We Predict Technical Aptitude?: A Systematic Review. Ann Surg 263:673–691

9.

Mcphilemy JJ, Siddiqi A, Piuzzi N et al (2020) Personality Assessment and Emotional Intelligence in Orthopaedic Surgery Residency Selection and Training. J Am Acad Orthop Surg 28:395–409

10.

Schneider KN, Masthoff M, Gosheger G et al (2020) Generation Y in surgery-the competition battle for talent in times of talent shortage. Chirurg 91:955–961

11.

Soziales BFGU (2004) Gutachten zum Ausstieg aus der kurativen ärztlichen Berufstätigkeit in Deutschland. In: Soziales BfGu (ed), Hamburg

12.

Statistisches Bundesamt (2021) Operationen und Prozeduren der vollstationären Patientinnen und Patienten in Krankenhäusern (Wohnort/Behandlungsort). Gliederungsmerkmale: Jahre, Region, Alter, Geschlecht. In: Gesundheitsberichterstattung des Bundes.

13.

Sutton PA, Mason J, Vimalachandran D et al (2014) Attitudes, motivators, and barriers to a career in surgery: a national study of U.K. undergraduate medical students. J Surg Educ 71:662–667
Ethics declarations
Interessenkonflikt
F. Adili, F. N. Schydlo, J. Härtl, M. Steinbauer und E. Kaiser geben an, dass kein Interessenkonflikt besteht.
Für diesen Beitrag wurden von den Autoren keine Studien an Menschen oder Tieren durchgeführt. Für die aufgeführten Studien gelten die jeweils dort angegebenen ethischen Richtlinien.
Additional information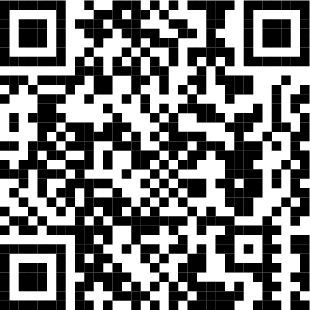 QR-Code scannen & Beitrag online lesen
About this article
Cite this article
Adili, F., Schydlo, F.N., Härtl, J. et al. Wie wird das Fach Gefäßchirurgie bei Studierenden der Humanmedizin wahrgenommen?. Gefässchirurgie 26, 449–454 (2021). https://doi.org/10.1007/s00772-021-00799-5
Accepted:

Published:

Issue Date:
Schlüsselwörter
Nachwuchsgewinnung

Gefäßchirurgische Ausbildung

Medizinstudium

Chirurgisches Praktikum

Nahtkurs
Keywords
Recruitment of human resources

Vascular surgery

Medical school

Surgical internship

Training courses