Zusammenfassung
Hintergrund
Die Varikophlebitis geht mit der Gefahr thromboembolischer Komplikationen einher. Bisherige Therapiekonzepte und Klassifikationen ermöglichen zwar in vielen Fällen ein standardisiertes Vorgehen, schließen aber eine Anzahl von Patienten aus. Das Ziel unserer Arbeit ist es, eine Klassifikation und einen Therapiealgorithmus zu erarbeiten, der alle Formen und Lokalisationen berücksichtigt.
Material und Methoden
Die Daten wurden retrospektiv ausgewertet. 238 konsekutive Patienten wurden von 01/2016 bis 12/2018 aufgrund einer Varikophlebitis operiert. Die apparative Diagnostik bestand in allen Fällen aus einer farbkodierten Duplexsonographie. Patienten mit Rezidiv und/oder familiärer Anamnese erhielten ein Thrombophilie-Screening.
Ergebnisse
Hinsichtlich der Klassifikation von Verrel u. Steckmeier lag der Thrombus in 23,5 % der Fälle in einer Stammvene ohne Beteiligung der Mündungsregion. In 43,3 % der Fälle reicht der Thrombus in die Nähe der Einmündung, in 16,4 % ragte das Gerinnsel über die Einmündung in die tiefe Vene und in 4,6 % wuchs der Thrombus über eine insuffiziente Perforansvene in das tiefe System. Bei 12,2 % der Patienten wurde die Indikation aufgrund eines Thrombus größer als 5 cm in einem varikösen Seitenast ohne Phlebitis der Stammvene gestellt.
Intraoperative Komplikationen wurden nicht beobachtet. Die Quote der Irritationen im Bereich des N. saphenus und N. suralis betrug 7,6 %. In 32,8 % traten Flächenhämatome auf und in 6,3 % kam es zu konservativ beherrschbaren Wundheilungsstörungen. Von 104 getesteten Patienten wiesen 49 eine Thrombophilie auf, wobei die APC-Resistenz und die Prothrombinmutation die häufigsten Gendefekte darstellten.
Schlussfolgerung
Wir schlagen eine Aktualisierung und Ergänzung der Klassifikation der Varikophlebitis vor, um auch Patienten ohne Beteiligung der Stammvenen zu inkludieren. Nach Durchsicht der aktuellen Literatur und der Analyse unserer Ergebnisse sehen wir bei einer Varikophlebitis im Bereich der Stammvenen und bei größeren Seitenastvarikosen die Indikation zur dringlichen Operation.
Abstract
Background
Varicophlebitis is associated with the risk of thromboembolic complications. Previous treatment concepts and classifications enabled a standardized approach in many cases but excluded a number of patients. The aim of this work was to develop a classification and a treatment algorithm that takes all forms and localizations into account.
Material and methods
The data were retrospectively evaluated and 238 consecutive patients were surgically treated due to varicophlebitis during the period from January 2016 to December 2018. The diagnostic equipment in all cases consisted of color-coded duplex sonography. Patients with a relapse and/or a family history were screened for thrombophilia.
Results
Regarding the Verrel and Steckmeier classification, in 23.5% of the cases the thrombus was in a saphenous vein without involvement of the junction region and in 43.3% the thrombus reached the vicinity of the junction. In 16.4% the clot protruded through the junction into the deep vein and in 4.6% of the cases the thrombus grew into the deep system via insufficient perforating veins. In 12.2% of the patients the indications were given because a thrombus larger than 5 cm was in a varicose lateral branch without phlebitis of the saphenous vein.
Intraoperative complications were not observed. The rate of irritation in the area of the saphenous and sural nerves was 7.6%. Surface hematomas occurred in 32.8% and in 6.3% there was a conservatively controllable wound healing disorder. Out of 104 tested patients 49 had thrombophilia, whereby APC resistance and prothrombin mutations represented the most common gene defects.
Conclusion
We propose an update and addition to the classification of varicophlebitis in order to also include patients without involvement of the saphenous veins. After reviewing the current literature and analyzing our results, we see the indications for urgent surgery in cases of varicophlebitis in the area of the saphenous veins and larger lateral branch varicoses.
Access options
Buy single article
Instant access to the full article PDF.
US$ 39.95
Tax calculation will be finalised during checkout.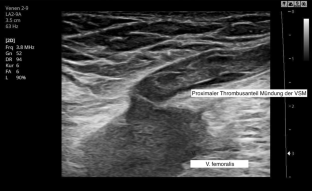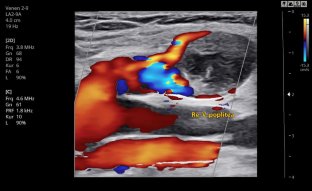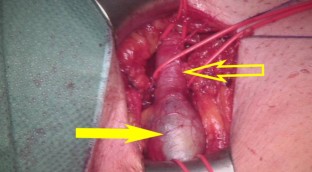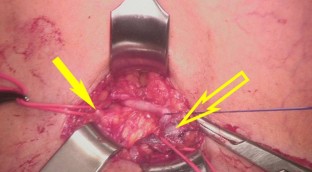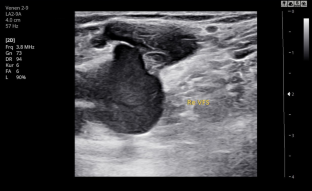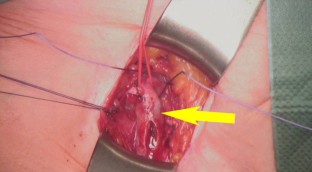 Literatur
1.

Ascer E, Lorensen E, Pollina RM, Gennaro M (1995) Prelimary results of a nonoperative approach to saphenofemoral junction thrombophlebitis. Vasc Surg 22:616–621

2.

Ascher E, Hanson JN, Salles-Cunha S, Hingorani A (2003) Lesser saphenous vein thrombophlebitis: its natural history and implications for management. Vasc Endovascular Surg 37:421–427

3.

Baier PM, Miszczak ZT, König N (2007) Zur Chirurgie der aszendierenden Varikophlebitis. Gefässchirurgie 12:348–357

4.

Beatty J, Fitridge R, Benveniste G, Greenstein D (2002) Acute superficial venous thrombophlebitis: does emergency surgery have a role? Int. Angiology 21(93):95

5.

Bergqvist D, Jaroszewski H (1986) Deep vein thrombosis in patients with superficial thrombophlebitis of the leg. BMJ 292:658

6.

Berry RE, George JE, Shaver WA (1990) Free-floating deep venous thrombosis. A retrospective analysis. Ann Surg 211:719–722

7.

Blättler W, Frick E (1995) Komplikationen der Thrombophlebitis superficialis. Schweiz Med Wochenschr 123:223–228

8.

Blumenberg RM, Barton E, Gelfand ML et al (1998) Occult deep venous thrombosis complicating superficial thrombophlebitis. J Vasc Surg 27:338–343

9.

Bounameaux H, Reber-Wasem MA (1997) Superficial thrombophlebitis and deep vein thrombosis. Arch Intern Med 157:1822–1824

10.

Büller H, Agnelli A, Hul R et al (2004) Antithrombotic therapy for venous thromboembolic disease. The seventh ACCP conference on antithrombotic and thrombolytic therapy. Chest 126:5401–5428

11.

Chengelis DL, Bendick PJ, Glover JL et al (1996) Progression of superficial venous thrombosis to deep vein thrombosis. J Vasc Surg 24:745–749

12.

Décousus H, Leizorovicz A, Bauersachs RM et al (2010) Fondaparinux for the treatment of superficial-vein thrombosis in the legs. N Engl J Med 363(13):1222–1232

13.

de Moerloose P, Wutschert R, Heinzmann M et al (1998) Superficial vein thrombosis of lower limbs: influence of factor V Leiden, factor II G20210A and overweight. Thromb Haemost 80:239–241

14.

Denzel C, Lang W (2000) Die Diagnostik und Therapie der progressiven Thrombophlebitis epifaszialer Beinvenen. Zentralbl Chir 126:374–378

15.

Encke A, Breddin HK (Hrsg) (2000) Die venöse Thrombose. Schattauer, Stuttgart, S 45–51

16.

Eklöf B, Rutherford RB, Bergan JJ et al (2004) Revision of the CEAP classification for chronic venous disorders: consensus statement. J Vasc Surg 40:1248–1252

17.

Fischer T, Dresler Ch, Bauer V et al (2002) Ambulante Kryovariektomie der Stammvenen. Phlebologie 31:112–115

18.

Gillet JL, Perrin M, Cayman R (2001) Superficial venous thrombosis of the lower limbs: prospective analysis in 100 patients. J Mal Vasc 26:16–22

19.

Gjoeres JE (1962) Surgical therapy of ascending hrombophlebitis in the saphenous system. Angiology 13:241–243

20.

Guexx JJ (1996) Thrombotic complications of varicose veins. A literature review of the role superficial venous thrombosis. Phlebology 21:378–382

21.

Gradman WS (2015) Endovenous saphenous vein ablation in patients with acute isolated superficial vein thrombosis. Phlebology 30:204–209

22.

Hach W (Hrsg) (2005) Venenchirurgie. Schattauer, Stuttgart, S 212–215

23.

Hach W, Hach-Wunderle V (1996) Chirurgische und konservative Behandlung einer transfazial progredienten Varikophlebitis der Stammvenen und der Perforansvenen. Gefässchirurgie 1:172–176

24.

Hafner CD, Cranely JJ, Krause RJ et al (2001) A method of managing superficial thrombophlebitis. Surgery 55:201–206

25.

Hanson JN, Ascher E, DePippo P et al (1998) Saphenous vein thrombophlebitis: a deceptively benign disease. J Vasc Surg 27:677–680

26.

Hermann LG (1952) Phlebectomy in treatment of acute thrombosis of saphenous varices or veins. Arch Surg 64:681–685

27.

Jeanneret C, Baldi T, Jenelten R (2006) Die oberflächliche Thrombophlebitis: Ein Überblick. Schweiz Med Forum 6:190–195

28.

Jorgensen JO, Hanel KC, Morgan AM et al (1992) The incidence of deep venous thrombosis in patients with superficial thrombophlebitis of the lower limbs. J Vasc Surg 18:70–73

29.

Kearon C, Akl EA, Comerota AJ et al (2012) Antithrombotic therapy for VTE disease: antithrombotic therapy and prevention of thrombosis, 9th ed: American college of chest physicians evidence-based clinical practice guidelines. Chest 141:e4195–e4945

30.

Kock HJ, Krause U, Albrecht KH et al (1997) Die Crossektomie bei aszendierender oberflächlicher Thrombophlebitis der Beinvenen. Zentralbl Chir 122:795–800

31.

Krause U, Kock HJ, Kröger K et al (1998) Prevention of deep venous thrombosis associated with superficial thrombophlebitis of the leg early saphenous vein ligature. Vasa 27:34–38

32.

Kröger K, Hoffmann J (2018) Therapie der oberflächlichen Venenthrombose. Gefässchirurgie 23:82–86

33.

Krünes U, Lindner F, Lindner R, Gnutzmann J (1999) Genügt die klinische Untersuchung einer Varikophlebitis des Unterschenkels? Phlebologie 28:93–96

34.

Lofgren EP, Lofgren KA (1981) The surgical treatment of superficial thrombophlebitis. Surgery 90:49–54

35.

Lohr JM, McDevitt DT, Lutter KS et al (1992) Operative mangment of greater saphenous thrombophlebitis involving the saphenofemoral junction. Am J Surg 164:269–275

36.

Lutter KS, Kerr TM, Roedersheimer LR et al (1991) Superficial thrombophlebitis diagnosed by duplex scanning. Surgery 110:42–46

37.

Marshall M, Schwahn-Schreiber C (2008) Die oberflächliche Thrombophlebitis, ein Nicht-der-Rede-wert-Krankheitsbild. Phlebologie 37:122–129

38.

Noppeney T, Nüllen H (2001) Ambulante Operationen bei Stammvarikose. Zentralbl Chir 7:508–512

39.

Noppeney T, Noppeney J, Winkler M, Kuth I (2005) Akute Thrombophlebitis-eine unterschätzte Gefahr! Gefässchirurgie 10:51–54

40.

Nüllen H, Noppeney T, Kamphausen U et al (2008) Klassifikation der Varikophlebitis. Gefässchirurgie 13:55–58

41.

Partsch H (2002) Diagnostik und Therapie der Thrombophlebitis unter besonderer Berücksichtigung niedermolekularer Heparine. Hamostaseologie 22:154–160

42.

Pillny M, Kröger K, Pourhassan S (2010) Behandlung der Thrombophlebitis. Gefässchirurgie 15:202–205

43.

Plate G, Eklof B, Jensen D, Ohlin P (1985) Deep venous thrombosis, pulmonary embolism and acute surgery in thrombophlebitis of the long saphenous vein. Acta Chir Scand 151:241–244

44.

Prountjos P, Bastounis E, Hadjinkolaou L et al (1991) Superficial venous thrombosis of the lower extremities co-existing with deep venous thrombosis. A phlebographic study on 57 cases. Int Angiol 10:63–65

45.

Rabe E, Pannier-Fischer F, Bromen K et al (2003) Bonner Venenstudie der Deutschen Gesellschaft für Phlebologie. Phlebologie 32:1

46.

AWMF (2018) S2K Leitlinie: Diagnostik und Therapie der Venenthrombose und Lungenembolie (AWMF Leitlinien-Register Nr. 065/002,2015)

47.

Skillman JJ, Kent KC, Porter DH, Kim D (1990) Simultaneous occurence of superficial and deep thrombophlebitis in the lower extremity. J Vasc Surg 11:818–823

48.

Stratmann H, Decker P, Hirner A (1998) Krossektomie als Embolieprophylaxe. Phlebologie 27:70–73

49.

Stücker M, Reich-Schupke S (2018) Aktuelle Aspekte der Diagnostik und Therapie der Oberflächenthrombose des Beines. Phlebologie 47:329–333

50.

Sullivan V, Denk PM, Sonnand SS et al (2001) Ligation versus anticoagulation: treatment of above knee superficial thrombophlebitis not involving the deep venous system. J Am Coll Surg 193:557–562

51.

Verlato F, Zucchetta P, Prandoni P et al (1999) An unexpectedly high rate of pulmonary embolism in patients with superficial thrombophlebitis of the thigh. J Vasc Surg 30:1113–1115

52.

Verrel F, Steckmeier B, Parzhuber A et al (1999) Die aszendierende Varikophlebitis. Klassifikation und Therapie. Gefässchirurgie 1:172–176

53.

Verrel F, Ruppert V, Spengel FA, Steckmeier B (2001) Stadiengerechtes Therapiekonzept bei aszendierender Varikophlebitis. Zentralbl Chir 126:543–545

54.

Vogel G (1984) Thrombophilie als klinisches Problem. Fol Hämatol Leipzig 4:392–406

55.

Waibel P (1974) Gefahren und Komplett bei der Varizenoperation. Phlebol Proktologie 3:134–139

56.

Werth S, Bauersachs RM, Gerlach H, Rabe E, Schellong S, Beyer-Westendorf J (2016) Superficial vein thrombosis treated for 45 days with rivaroxaban versus fondaparinux: rationale and design of the SURPRISE trial. J Thromb Thrombolysis 42:197–204

57.

Widmer LK, Stähelin HD, Nissen C et al (Hrsg) (1981) Venen- und Arterienkrankheiten, koronare Herzkrankheit bei Berufstätigen. Prospektiv-epidemiologische Untersuchung Basler Studie I‑III. Huber, Bern, S 1959–1978

58.

Willeke A, Gerdsen F, Bauersachs RM (2002) Rationelle Thrombophiliediagnostik. Dtsch Arztebl 99:A2111–A2118

59.

Yucel EK, Egglin TK, Waltman AC (1992) Extension of saphenous thrombophlebitis into the femoral vein: demonstration by color flow compression sonography. J Ultrasound Med 11:285–287

60.

Zollinger RW, Williams RD, Briggs D (1962) Problems in the diagnosis and treatment of thrombophlebitis. Arch Surg 85:18–22
Ethics declarations
Interessenkonflikt
P.-M. Baier und D. Vanovac geben an, dass kein Interessenkonflikt besteht.
Für diesen Beitrag wurden von den Autoren keine Studien an Menschen oder Tieren durchgeführt. Für die aufgeführten Studien gelten die jeweils dort angegebenen ethischen Richtlinien.
About this article
Cite this article
Baier, PM., Vanovac, D. Zur chirurgischen Behandlung der Varikophlebitis. Gefässchirurgie (2021). https://doi.org/10.1007/s00772-021-00777-x
Schlüsselwörter
Varikophlebitis

Klassifikation

Chirurgische Therapie

Thrombophilie

Antikoagulation
Keywords
Varicophlebitis

Classification

Surgical treatment

Thrombophilia

Anticoagulation