Zusammenfassung
Für die Therapie chronischer Wunden ist die wissenschaftliche Evidenzlage mangels randomisierter klinischer Studien nicht sehr hoch. Die S3-Leitlinie "Lokaltherapie chronischer Wunden bei Patienten mit den Risiken periphere arterielle Verschlusskrankheit, Diabetes mellitus, chronisch venöse Insuffizienz" aus 2012 gibt bisher nur die grobe Richtung vor. Sie befindet sich derzeit in Überarbeitung. Bei einer chronischen Wunde handelt es sich um ein Symptom verschiedener zugrunde liegender Erkrankungen. Daher ist initial eine adäquate Diagnostik und Kausaltherapie außerordentlich wichtig. Nach aktueller Datenlage besteht z. B. in den Bereichen "Kompressionstherapie beim Ulcus cruris venosum/mixtum" oder hinsichtlich einer suffizienten "Druckentlastung beim neuropathisch-diabetischen Fußulkus" eine Unterversorgung in Diagnostik und Therapie. Im folgenden Beitrag werden fünf Positiv- und vier Negativempfehlungen formuliert, die auf wissenschaftlicher Grundlage und (inter)nationalem Expertenkonsens beruhen. Die Positivempfehlungen adressieren die ausreichende Diagnostik, eine möglichst digitale Wund- und Befunddokumentation, das effektive Exsudatmanagement sowie die Frage der antimikrobiellen Lokaltherapie. Die Negativempfehlungen setzen sich kritisch mit dem Ausduschen chronischer Wunden mithilfe von Leitungswasser, der Wundspülung mit Wasserstoffperoxid, Octenidindihydrochlorid und Chlorhexidin, den Folgen der unterlassenen Kompressionstherapie bei milder pAVK oder starker Wundexsudation sowie der Verordnung von systemischen Antibiotika bei kritisch-kolonisierten Wunde auseinander. Eine interdisziplinäre und interprofessionelle Zusammenarbeit ist für eine erfolgreiche Therapie chronischer Wunden erforderlich. Für die Lokaltherapie existieren richtungsweisende Expertenempfehlungen, die eine praktische Entscheidungshilfe für Pflege und Ärzte sind.
Abstract
The scientific evidence for treatment of chronic wounds is not very high due to a lack of randomized clinical trials. The German S3 guidelines (2012) for local treatment of chronic wounds in patients with peripheral arterial occlusive disease (PAOD), diabetes mellitus or chronic venous insufficiency provide only a general direction and are currently being updated. Chronic wounds are a symptom of various underlying diseases. Therefore, early diagnosis and adequate treatment are of utmost importance. According to current data there is an undersupply in diagnostics and treatment, e.g. in compression therapy for venous leg ulcers/mixed ulcers or with respect to sufficient pressure relief in neuropathic diabetic foot ulcers. In this article five positive and four negative recommendations are given, which are based on scientific data and (inter)national expert consensus. The positive recommendations address the sufficient diagnostics, a digital wound documentation, effective exudate management and the question of local antibacterial treatment. The negative recommendations address avoiding the irrigation of chronic wounds with tap water, the use of hydrogen peroxide, octenidine hydrochloride and chlorhexidine for wound rinsing, the sequelae of neglecting compression therapy in mild PAOD or severe wound exudation as well as the prescription of systemic antibiotics for critically colonized wounds. An interdisciplinary and interprofessional cooperation is necessary for successful treatment of chronic wounds. For local treatment many expert recommendations exist, which can be a practical aid in decision making for nursing staff and physicians.
Access options
Buy single article
Instant access to the full article PDF.
US$ 39.95
Tax calculation will be finalised during checkout.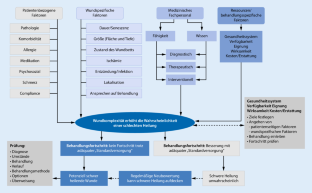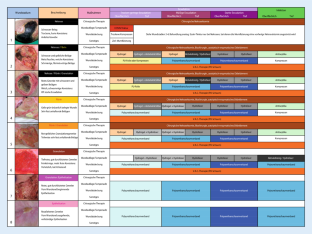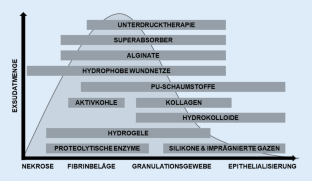 Literatur
1.

Alvarez-Marin R, Aires-de-Sousa M, Nordmann P et al (2017) Antimicrobial activity of octenidine against multidrug-resistant gram-negative pathogens. Eur J Clin Microbiol Infect Dis 36:2379–2383

2.

Angel D, Swanson T, Sussman G, Shultz G, Ousey K, Keast D, Fletcher J, Cooper R, Carville K, Call E, Black J, Haesler E (2016) International Wound Infection Institute (IWII): wound infection in clinical practice. Wounds international 2016. https://www.woundsinternational.com/resources/details/iwii-wound-infection-clinical-practice. Zugegriffen: 02.02.2021

3.

Armstrong DG, Bohn G, Glat P, Kavros SJ, Kirsner R, Snyder R, Tettelbach W (2015) Expert recommendations for the use of hypochlorous solution: science and clinical application. Ostomy Wound Manage 61(5):S2–S19

4.

Assadian O, Kammerlander G, Geyrhofer C, Luch G, Doppler S, Tuchmann F, Eberlein T, Leaper D (2018) Use of wet-to-moist cleansing with different irrigation solutions to reduce bacterial bioburden in chronic wounds. J Wound Care 27(Sup10):S10–S16

5.

Augustin M, Stürmer E, Dissemond J, Gerber V, Gruber G, Morbach S, Tigges W, Storck M (2020) Empfehlungen zur Verbesserung der Versorgungsstruktur für Menschen mit chronischen Wunden in Deutschland. Wundmanagement 14:19–27

6.

Back DA, Scheuermann-Poley C, Willy C (2013) Recommendations on negative pressure wound therapy with instillation and antimicrobial solutions—when, where and how to use: what does the evidence show? Int Wound J 10(Suppl 1):32–42

7.

Balletshofer B, Böckler D, Diener H, Heckenkamp J, Katoh M, Ito W, Lawall H et al (2020) Positionspapier zur Diagnostik und Therapie der peripheren arteriellen Verschlusskrankheit (pAVK) bei Menschen mit Diabetes mellitus. Diabetologe 15(Suppl):196–205

8.

Beam JW (2006) Wound cleansing: water or saline? J Athl Train 41:196–197

9.

Bodmann KF, Grabein B, Kresken M, Derendorf H, Stahlmann R, Ott SR, Olzowy B, Eckmann C, Wagenlehner F, Sunderkötter C, Vossen MG, Dohmen PM, Shah PM, Mutters R, Walger P, Wilke M Kalkulierte parenterale Initialtherapie bakterieller Erkrankungen bei Erwachsenen – Update 2018. https://www.awmf.org/uploads/tx_szleitlinien/082-006l_S2k_Parenterale_Antibiotika_2019-08.pdf (für die Expertenkommission). Zugegriffen: 02.02.2021

10.

Browning P, White RJ, Rowell T (2016) Comparative evaluation of the functional properties of superabsorbent dressings and their effect on exudate management. J Wound Care 25:452–462

11.

Daeschlein G, Krüger WH, Selepko C, Rochow M, Dölken G, Kramer A (2007) Hygienic safety of reusable tap water filters (Germlyser®) with an operating time of 4 or 8 weeks in a haematological oncology transplantation unit. BMC Inf Dis. https://doi.org/10.1186/1471-2334-7-45

12.

Deutsche Gesellschaft für Wundheilung und Wundbehandlung e. V. (DGfW) (2012) S3-Leitlinie 091-001 "Lokaltherapie chronischer Wunden bei den Risiken CVI, PAVK und Diabetes mellitus" ((in Novellierung), online unter: www.awmf.org)

13.

Diener H, Debus ES, Herberger K, Heyer K, Augustin M, Tigges W, Karl T, Storck M (2017) Versorgungssituation gefäßmedizinischer Wunden in Deutschland. Gefäßchirurg 22:548–557

14.

Dissemond J, Assadian O, Gerber V, Kingsley A, Kramer A, Leaper DJ, Mosti G, Piatkowski de Grzymala A, Riepe G, Risse A, Romanelli M, Strohal R, Traber J, Vasel-Biergans A, Wild T, Eberlein T (2011) Classification of wounds at risk and their antimicrobial treatment with polihexanide: a practice-oriented expert recommendation. Skin Pharmacol Physiol 24:245–255

15.

Dissemond J, Assenheimer B, Engels P, Gerber V, Kröger K, Kurz P, Läuchli S, Probst S, Protz K, Traber J, Uttenweiler S, Strohal R (2017) M.O.I.S.T. – ein Konzept für die Lokaltherapie chronischer Wunden. J Dtsch Dermatol Ges 15:443–445

16.

Dissemond J, Augustin M, Eming SA, Goerge T, Horn T, Karrer S, Schumann H, Stücker M (2014) Moderne Wundtherapie – praktische Aspekte der lokalen, nicht-interventionellen Behandlung von Patienten mit chronischen Wunden. J Dtsch Dermatol Ges 12:541–555

17.

Dissemond J, Böttrich JG, Braunwarth H, Hilt J, Wilken P, Münter KC (2017) Evidenz von Silber in der Wundbehandlung – Metaanalyse der klinischen Studien von 2000–2015. J Dtsch Dermatol Ges 15:524–536

18.

Dissemond J, Bültemann A, Gerber V, Jäger B, Kröger K, Münter C (2017) Standards des ICW e. V. für die Diagnostik und Therapie chronischer Wunden. Wundmanagement 11:81–86

19.

Dissemond J, Gerber V, Lobmann R, Kramer A (2019) TILI (Therapeutischer Index für lokale Infektionen) – Score für die Diagnostik lokaler Wundinfektionen. Wundmanagement 6:36–41

20.

Dissemond J, Koerber A, Lehnen M, Grabbe S (2005) Methicillin-resistenter Staphylococcus aureus (MRSA) in chronischen Wunden: Therapeutische Optionen und Perspektiven. J Dtsch Dermatol Ges 3:256–262

21.

Fernandez R, Griffiths R, Ussia C (2002) Water for wound cleansing. Cochrane Database Syst Rev. https://doi.org/10.1002/14651858.CD003861

22.

Fernández LG, Matthews MR, Seal A (2020) Intraabdominal lavage of hypochlorous acid: a new paradigm for the septic and open abdomen. Wounds 32:107–114

23.

Fournel I, Tiv M, Soulias M, Hua C, Astruc K, Aho Glélé LS (2010) Meta-analysis of intraoperative povidone-iodine application to prevent surgical-site infection. Br J Surg 97:1603–1613

24.

Gupta S, Andersen C, Black J et al (2017) Management of chronic wounds: diagnosis, preparation, treatment, and follow-up. Wounds 29:19–36

25.

Harding K, Carville K, Chadwick P, Moore Z, Nicodème M, Percival S, Romanelli M, Schultz G, Tariq G (2019) WUWHS consensus document: wound exudate, effective assessment and management. Wounds UK. https://www.woundsinternational.com/resources/details/wuwhs-consensus-document-wound-exudate-effective-assessment-and-management. Zugegriffen: 02.02.2021

26.

Heyer K, Augustin M (2014) Barmer GEK Heil- und Hilfsmittelreport 2014. http://presse.barmergek.de/barmer/web/Portale/Preseportal/Suportal/Presseinformationen/Archiv/2014/140916-Heil-und-Hilfsmittelreport/PDF-Heil-und-Hilfsmittelreport-2014,property=Data.pdf. Zugegriffen: 02.02.2021

27.

Hübner NO, Assadian O, Müller G, Kramer A (2007) Anforderungen an die Wundreinigung mit Wasser. gms Krankenhaushygiene; Deutsche Gesellschaft für Krankenhaushygiene. http://www.egms.de/de/journals/dgkh/2007-2/dgkh000094.shtml (Doc 61). Zugegriffen: 02.02.2021

28.

Hülsemann W, Habenicht R (2009) Schwere Nebenwirkungen nach Octenisept-Spülung von Perforationswunden im Kindesalter. Handchir Mikrochir Plast Chir 41:277–282

29.

Hülsemann W, Habenicht R (2011) Toxische Schäden nach Wundspülung mit Octenidin-haltigem Antiseptikum. Obere Extrem 6:35–39

30.

Isbary G, Heinlin J, Shimizu Z, Zimmermann JL et al (2012) Successful and safe use of 2 min cold atmospheric argon plasma in chronic wounds: results of a randomized controlled trial. Br J Dermatol 167:404–410

31.

Jones LM (2014) Exudate: friend or foe? Br J Community Nurs 6(Suppl)S18–23. https://doi.org/10.12968/bjcn.2014.19.Sup6.S18

32.

Juenger M, Haase H, Schwenke L, Bichel J, Schuren J, Ladwig A (2013) Macro- and microperfusion during application of a new compression system, designed for patients with leg ulcer and concomitant peripheral arterial occlusive disease. Clin Hemorheol Microcirc 53:281–293

33.

Karl T, Storck M (2007) Ergebnisse der Implementierung eines Wundbehandlungsstandarts im Haus der Maximalversorgung – Wo liegt der Benefit? Gefässchirurgie 12:121–129

34.

Khan MN, Naqvi AH (2006) Antiseptics, iodine, povidone iodine and traumatic wound cleansing. J Tissue Viability 16:6–10

35.

Kramer A, Assadian O (2008) Wallhäußers Praxis der Sterilisation, Desinfektion, Antiseptik und Konservierung, Qualitätssicherung der Hygiene in Idustrie, Pharmazie und Medizin, 6. Aufl. Thieme, Stuttgart

36.

Kramer A, Dissemond J, Kim S et al (2018) Consensus on wound antisepsis: update 2018. Skin Pharmacol Physiol 31:28–25

37.

Kramer A, Adrian V, Rudolph P, Wurster S, Lippert H (1998) Explant test with skin and peritoneum of the neonatal rat as a predictive test of tolerance of local anti-infective agents in wounds and body cavities. Chirurg 69:840–845

38.

Kröger K, Storck M, Kujath P, Rabe E, Dissemond J (2016) Rezidivprophylaxe des Ulcus Cruris Venosum. Zentralbl Chir 141:1–5

39.

Ladwig A, Haase H, Bichel J, Schuren J, Juenger M (2014) Compression therapy of leg ulcers with PAOD. Phlebology 29:7–12

40.

Lu M, Hansen EN (2017) Hydrogen peroxide wound irrigation in orthopaedic surgery. J Bone Jt Infect 2:3–9

41.

Main RC (2008) Should chlorhexidine gluconate be used in wound cleansing? J Wound Care 17:112–114

42.

Malone M, Bjarnsholt T, McBain AJ et al (2017) The prevalence of biofilms in chronic wounds: a systematic review and meta-analysis of published data. J Wound Care 26:20–25

43.

Moffat C, Vowden P, Augustin M (2008) Schwer Heilende Wunden. Ein ganzheitlicher Ansatz. EWMA Positionspapier. https://ewma.org/resources/for-professionals/ewma-documents-and-joint-publications/ewma-position-documents-2002-2008. Zugegriffen: 02.02.2021

44.

Moffatt C, Vowden P (2008) Hard to heal wounds: A holistic approach. Wound complexity and healing. European Wound Management Association (EWMA). Position document. MEP, Wounds International, London

45.

Mosti G, Iabicella ML, Partsch H (2012) Compression therapie in mixed ulcers increase venous output and arterial perfusion. J Vasc Surg 55:122–128

46.

Muenk J (2020) Predictive wound documentation. Masterarbeit, Karlsruhe Institute for Technology (KIT), Institur für Telematik/Persuavie Computing Systems TECO. 2.11.2020, www.kit.edu

47.

Nolan M, Carroll A, Wynne M (2018) SE national wound management guidelines 2018. www.hse.ie/eng/about/who/onmsd/practicedevelopment/WoundManagement/. Zugegriffen: 02.02.2021

48.

Peinemann F, Sauerland S (2011) Vakuumtherapie von Wunden – Systematische Übersicht randomisierter kontrollierter Studien. Dtsch Arztebl 108:381–389

49.

Price P, Gottrup F, Abel M (2014) EWMA study recommendations: for clinical investigations in leg ulcers and wound care. J Wound Care 23(Suppl 5):S1–S36

50.

Rabe E, Földi E, Gerlach H et al (2017) Medizinische Kompressionstherapie der Extremitäten mit Medizinischem Kompressionsstrumpf (MKS), Phlebologischen Kompressionsverband (PKV) und medizinische adaptiven Kompressionssystemen (MAK) (AMWF Register Nr. 37/005. www.awmf.org)

51.

Rayala BZ (2020) Skin ulcers: pharmacotherapy. FP Essent 499:25–28

52.

Rembe JD, Fromm-Dornieden C, Böhm JK, Stuermer EK (2018) The influence of human acute wound fluid (AWF) on the antibacterial efficacy of different antiseptic polyurethane foam dressings: an in-vitro analysis. Wound Repair Regen 26:27–35

53.

Roy S, Khanna S, Nallu K et al (2006) Dermal wound healing is subject to redox control. Mol Ther 13:211–220

54.

Scallan J, Huxley VH, Korthius RJ (2010) Pathophysiology of edema formation. In: Scallan J, Huxley VH, Korthius RJ (Hrsg) Capillary fluid exchange: regulation, functions, and pathology. Morgan & Clayton Life Sciences, San Rafael

55.

Schultz GS, Davidson JM, Kirsner RS et al (2011) Dynamic reciprocity in the wound environment. Wound Repair Regen 19:134–148

56.

Schupp CJ, Holland-Cunz S (2009) Persistent subcutaneous oedema and aseptic fatty tissue necrosis after using octenisept. Eur J Pediatr Surg 19:179–183

57.

Schwarzkopf A, Assenheimer B, Bültemann A, Gerber V, Hoppe C, Kröger K (2012) Hygienefachliche und -rechtliche Bewertung der Anwendung von Wasser als Wundspüllösung. HygMed 37(12):520

58.

Seidel D, Storck M, Lawall H, Wozniak G et al (2020) Negative wound pressure therapy compared with standard moist care for diabetic foot ulcers in real-life clinical practice: results of the German DiaFu-RCT. BMJ 10:e26345. https://doi.org/10.1136/bmjopen-2018-026345

59.

Severing AL, Rembe JD, Koester V, Stuermer EK (2019) Safety and efficacy profiles of different commercial sodium hypochlorite/hypochlorous acid solutions (NaClO/HClO): antimicrobial efficacy, cytotoxic impact and physicochemical parameters in vitro. J Antimicrob Chemother 74:365–372

60.

Slaughter RJ, Watts M, Vale JA, Grieve JR, Schep LJ (2019) The clinical toxicology of sodium hypochlorite. Clin Toxicol (Phila) 57:303–311

61.

Spear M (2011) Wound cleansing: solutions and techniques. Plast Surg Nurs 31:29–31

62.

Storck M, Dissemond J, Gerber V, Augustin M (2019) Kompetenzlevel in der Wundbehandlung. Empfehlungen zur Verbesserung der Versorgugnsstruktur für Menschen mit chronischen Wunden. Gefässchirurgie 24:388–398

63.

Stürmer EK (2021) Evidenz in der Lokaltherapie – Was ist in der hausärztlichen Wundversorgung gesichert? Doctors today. In press

64.

Whaley S (2004) Tap water or normal saline for cleansing traumatic wounds? Br J Community Nurs 9:471–478

65.

Wiegand C, Tittlebach J, Hipler U‑C, Elsner P (2015) Clinical efficacy of dressings for treatment of heavily exuding chronic wounds. Chronic Wound Care Manag Res 2:101–111

66.

Williamson DA, Carter GP, Howden BP (2017) Current and emerging topical antibacterials and antiseptics: agents, action, and resistance patterns. Clin Microbiol Rev 30:827–860

67.

Zhu G, Wang Q, Lu S, Niu Y (2017) Hydrogen peroxide: a potential wound therapeutic target? Med Princ Pract 26:301–308
Ethics declarations
Interessenkonflikt
E.K. Stürmer und M. Storck geben an, dass kein Interessenkonflikt besteht.
Für diesen Beitrag wurden von den Autoren keine Studien an Menschen oder Tieren durchgeführt. Für die aufgeführten Studien gelten die jeweils dort angegebenen ethischen Richtlinien.
About this article
Cite this article
Stürmer, E.K., Storck, M. Gemeinsam klug entscheiden – Empfehlungen zur Therapie chronischer Wunden. Gefässchirurgie 26, 164–174 (2021). https://doi.org/10.1007/s00772-021-00765-1
Accepted:

Published:

Issue Date:
Schlüsselwörter
Leitlinien und Konsensus

Interdisziplinäres Wundmanagement

Antimikrobielle Wundtherapie

Vaskuläre Diagnostik

Kompressionstherapie
Keywords
Guidelines and Consensus

Interdisciplinary wound management

Antimicrobial wound treatment

Vascular diagnostics

Compression therapy