Zusammenfassung
Die periphere arterielle Verschlusskrankheit (PAVK) ist die Manifestation der Atherosklerose als vaskuläre Systemerkrankung. Weltweit zeigt sich eine steigende Prävalenz bis zu 10 %, die bei einer älter werdenden Bevölkerung bis auf 20 % bei den über 70-Jährigen zunimmt. Nur ein Viertel der PAVK-Betroffenen ist symptomatisch. Frauen sind zum Zeitpunkt der Diagnosestellung älter als Männer, dann aber häufiger bereits im Stadium der kritischen Extremitätenischämie (CLI). Neben den funktionellen Beeinträchtigungen stellt die PAVK vor allem eine wichtige Markererkrankung für kardiovaskuläre und zerebrovaskuläre Morbidität und Mortalität dar. So beträgt die 1‑Jahres-Mortalität bei Patienten mit einer kritischen Extremitätenischämie bis zu 23 %. Eine frühzeitige Diagnose und evidenzbasierte Behandlung kann den Verlauf dieser Krankheit verlangsamen, die Lebensqualität verbessern und die Majoramputationsrate reduzieren. Die Kosten für die ambulante und stationäre Behandlung dieser Zielpopulation sind erheblich. In Deutschland wurde zwischen 2007 und 2009 ein Anstieg der Behandlungskosten um 21 % beobachtet. Der Anteil an den stationären Gesamtkosten betrug 4,9 %. Somit stellt die PAVK vor dem Hintergrund der demografischen Entwicklung mit einer Verdopplung des Anteils der über 65-Jährigen in den nächsten 35 Jahren eine medizinische und finanzielle Herausforderung für das Gesundheitssystem dar.
Abstract
Peripheral arterial occlusive disease (PAOD) is the manifestation of atherosclerosis as a systemic vascular disease. Worldwide there is an increasing prevalence of up to 10%, which increases with the aging of the population to 20% in patients over 70 years of age. Only 25% of patients with PAOD are symptomatic. Women tend to be diagnosed at an older age than men and are often already at the stage of critical limb ischemia (CLI). In addition to the functional impairments PAOD serves as an important marker for cardiovascular and cerebrovascular morbidity and mortality. For example, the 1‑year mortality for patients with CLI can be as high as 23%. Early diagnosis and evidence-based treatment can slow the course of this disease, improve the quality of life and reduce the rate of major amputations. The costs for inpatient and outpatient treatment of the target population are significant. In Germany it was observed that treatment costs increased by 21% from 2007 to 2009, with inpatient costs representing 4.9% of the total costs. Furthermore, the overall worldwide population over 65 years old is expected to double in the next 35 years. Thus, given recent demographic developments, PAOD represents a considerable medical and financial challenge for the healthcare system.
Access options
Buy single article
Instant access to the full article PDF.
US$ 39.95
Tax calculation will be finalised during checkout.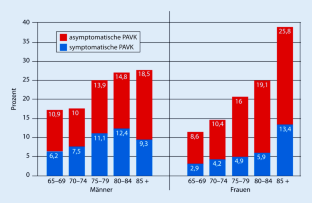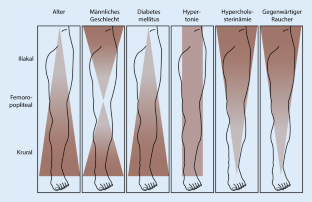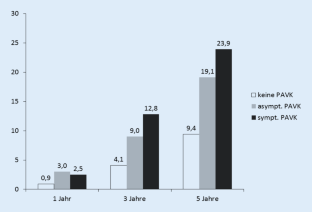 Literatur
1.

Hirsch AT, Haskal Z, Hertzer N et al (2006) ACC/AHA guidelines for the management of patients with peripheral arterial disease (lower extremity, renal, mesenteric, and abdominal aortic). Circulation 113:463–654

2.

Fowkes FG, Rudan D, Rudan I et al (2013) Comparison of global estimates of prevalence and risk factors for peripheral artery disease in 2000 and 2010: a systematic review and analysis. Lancet 382:1329–1340

3.

Norgren L, Hiatt WR, Dormandy JA et al (2007) Inter-society consensus for the management of peripheral arterial disease (TASC II). J Vasc Surg 45:5–67

4.

Criqui MH, Fronek A, Barrett-Connor E et al (1985) The prevalence of peripheral arterial disease in a defined population. Circulation 71:510–551

5.

Hiatt WR, Hoag S, Hamman RF (1995) Effect of diagnostic criteria on the prevalence of peripheral arterial disease. The San Luis Valley Diabetes Study. Circulation 91(5):1472–1479

6.

Selvin E, Erlinger TP (2004) Revalence of and risk factors for peripheral arterial disease in the United States: results form the National Health and Nutrition Examination Survey, 1999–2000. Circulation 110(6):384–392

7.

Conte MS, Bradbury AW, Kolh P et al (2019) Global vascular guidelines on the management of chronic limb-threatening ischemia. J Vasc Surg 69(6S):3S–125S.e40. https://doi.org/10.1016/j.jvs.2019.02.016

8.

Fowkes F, Aboyans V, Fowkes F et al (2017) Peripheral artery disease: epidemiology and global perspectives. Nat Rev Cardiol 14:156–170. https://doi.org/10.1038/nrcardio.2016.179

9.

Janssen F, El Gewily S, Bardoutsos A (2020) Smoking epidemic in Europe in the 21st century. Tob Control. https://doi.org/10.1136/tobaccocontrol-2020-055658

10.

Kreutzburg T, Peters F, Rieß H et al (2020) Comorbidity patterns among patients with peripheral arterial occlusive disease in Germany: a trend analysis of health insurance claims data. Eur J Vasc Endovasc Surg 59:59e66

11.

Maylar N, Furstenberg T, Wellman J et al (2013) Recent trends in morbidity and in-hospital outcomes of in-patients with peripheral arterial disease: a nationwide population-based analysis. Eur Heart J 34:2706–2714

12.

Xu D, Zou L, Xing Y et al (2013) Diagnostic value of ankle-brachial index in peripheral arterial disease: a meta-analysis. Can J Cardiol 29:492–498

13.

Behrendt CA, Bischoff MS, Schwaneberg T et al (2019) Population-based analysis of gender disparities in 23,715 percutaneous endovascular revascularisations in the metropolitan area of Hamburg. Eur J Vasc Endovasc Surg 57:658–665

14.

Potier L, Khalil AC, Mohammedi K et al (2011) Use and utility of ankle brachial index in patients with diabetes. Eur J Vasc Endovasc Surg 41:110–116

15.

Davies JH, Kenkre J, Williams EM (2014) Current utility of the ankle-brachial index (ABI) in general practice: implications for its use in cardiovascular disease screening. BMC Fam Pract 15:69

16.

getABI Study group (2002) German epidemiological trial on ankle brachial index for elderly patients in family practice to dedect peripheral arterial disease, significant marker for high mortality. Vasa 31(4):241–248. https://doi.org/10.1024/0301-1526.31.4.241

17.

Eckstein HH (2012) Epidemiologie und Versorgung von Gefäßpatienten in Deutschland in Operative und Interventionelle Gefäßmedizin. Springer, Berlin Heidelberg, S 163–184

18.

Vouyouka AG, Egorova NN, Salloum A et al (2010) Lessons learned from the analysis of gender effect on risk factors and procedural outcomes of lower extremity arterial disease. J Vasc Surg 52:1196–1202

19.

Gallagher KA, Meltzer AJ, Ravin RA et al (2011) Gender differences in outcomes of endovascular treatment of infrainguinal peripheral artery disease. Vasc Endovasc Surg 45:703–711

20.

Kroger K, Stang A, Kondratieva J et al (2006) Prevalence of peripheral arterial disease—results of the Heinz Nixdorf recall study. Eur J Epidemiol 21:279–285

21.

Reinecke H, Unrath M, Freisinger E et al (2015) Peripheral arterial disease and critical limb ischaemia: still poor outcomes and lack of guideline adherence. Eur Heart J 36:932e8

22.

Conte M (2019) Lower extremity arterial occlusive disease, epidemiology and natural history. In: Rutherford's vascular surgery and endovascular therapy, 9. Aufl. Elsevier, Philadelphia, S 4529–4557

23.

Diehm N, Shang A, Silvestro A et al (2006) Association of cardiovascular risk factors with pattern of lower limb atherosclerosis in 2659 patients undergoing angioplasty. Eur J Vasc Endovasc Surg 31:59–63

24.

Criqui MH, Langer R, Frank A et al (1992) Mortality over a period of 10 years in patients with peripheral arterial disease. N Engl J Med 326:381–386

25.

Amputee Coalition (2016) Limb loss statistics. http://www.amputee-coalition.org/limb-loss-resource-center/resources-by-topic/limb-loss-statistics/limb-loss-statistics/#5. Zugegriffen: 27. Sept. 2020

26.

Cambou JP, Aboyans V, Constans J et al (2010) Characteristics and outcome of patients hospitalised for lower extremity peripheral artery disease in France: the CO-PART Registry. Eur J Vasc Endovasc Surg 39:577–585

27.

Wolfe J (1986) Defining the outcome of critical ischaemia: a one year prospective study. Br J Surg 73:321–328

28.

Adam DJ, Beard JD, Cleveland T et al (2005) Bypass versus angioplasty in severe ischaemia of the leg (BASIL): multicentre, randomised controlled trial. Lancet 366:1925–1934

29.

Diehm C, Allenberg J‑R, Haberl R et al (2007) High all-cause mortality in patients with peripheral arterial disease in primary care: five-year results of the getABI study [abstract 3701. Circulation 116(16_MeetingAbstracts):II_841‑b

30.

Baldereschi M (2006) Il fabbisogno sanitario dell'anziano: i dati dello studio Ilsa (Italian Longitudinal Study on Aging). In: Furlan P (Hrsg) I nuovi luoghi delle cure. Torino

31.

UN (2015) World population prospects—the 2015 revision. Department of economic and social affairs—population division: New York. https://population.un.org/wpp/publications/files/key_findings_wpp_2015.pdf. Zugegriffen: 27. Sept. 2020

32.

Statistisches Bundesamt (2016) https://www.destatis.de/DE/Themen/Gesellschaft-Umwelt/Gesundheit/Krankenhaeuser/Publikationen/Downloads-Krankenhaeuser/fallpauschalen-krankenhaus-2120640167004.pdf?__blob=publicationFile. Accessed: 22.08.2020

33.

Kühnl A, Knipfer E, Lang T et al (2020) Krankenhausinzidenz, stationäre Versorgung und Outcome der peripheren arteriellen Verschlusskrankheit und arteriellen Thrombose/Embolie in Deutschland von 2005 bis 2018. Gefässchirurgie. https://doi.org/10.1007/s00772-020-00677-6
Ethics declarations
Interessenkonflikt
P. Calo, J. Corvalan, C.-A. Behrendt, D. Böckler, G. Rümenapf, U. Rother, C. Uhl und H. Görtz geben an, dass kein Interessenkonflikt besteht.
Für diesen Beitrag wurden von den Autoren keine Studien an Menschen oder Tieren durchgeführt. Für die aufgeführten Studien gelten die jeweils dort angegebenen ethischen Richtlinien.
About this article
Cite this article
Calo, P., Corvalan, J., Behrendt, CA. et al. Die Epidemiologie der peripheren arteriellen Verschlusskrankheit und deren sozioökonomische Bedeutung – Synopse. Gefässchirurgie (2021). https://doi.org/10.1007/s00772-021-00752-6
Schlüsselwörter
Prävalenz

Inzidenz

Mortalität

Gesundheitskosten

Demografie
Keywords
Prevalence

Incidence

Mortality

Health care costs

Demographics