Zusammenfassung
Die interventionelle Rekanalisation postthrombotisch okkludierter und nichtthrombotisch obstruierter Beckenvenen wird seit etwa 20 Jahren durchgeführt. Wurden anfangs Geräte verwendet, die aus der Behandlung der arteriellen Verschlusskrankheit stammten, haben verschiedene Hersteller in den vergangenen Jahren Stents entwickelt, die mit höherer Radialkraft und verbesserter Flexibilität den speziellen Anforderungen der Behandlung im venösen System gerecht werden. Die technologischen Innovationen konnten eine deutliche Erhöhung der Offenheitsraten nach der Dilatation unter Beweis stellen. Zahlreiche Studien liegen vor, die eine klinische Verbesserung in Bezug auf die Schmerz- und Ödemausprägung sowie die Abheilung venöser Ulzera bei geringen Komplikationsraten nach Stenting chronischer Beckenvenenokklusionen belegen. Amerikanische Leitlinien empfehlen die endovenöse Stentimplantation bei der primären und postthrombotischen Beckenvenenobstruktion in den CEAP-Stadien C3–C6 mit einem Empfehlungsgrad IB. Die Offenheitsrate ist von der technischen Ausführung der Prozedur abhängig. Prinzipiell ist es für einen nachhaltigen Behandlungserfolg erforderlich, dass beide Enden des verwendeten Stents in gesunden Venensegmenten platziert werden können. Daraus leitet sich ab, dass die Zielgruppe für eine perkutane transluminale Angioplastie der Venen beschränkt ist auf Patienten, die unter einem postthrombotischen Syndrom (PTS) infolge einer isolierten Thrombose des tiefvenösen Segments von der distalen V. cava inferior bis zum Leistenband leiden sowie auf Patienten mit nichtthrombotischen Kompressionssyndromen. Betrachtet man die zur Verfügung stehenden epidemiologischen Daten zum PTS, so ist zu erwarten, dass es sich um ein relativ kleines Patientenkollektiv handelt, das von einer interventionellen Rekanalisation profitiert. Realworld-Registerdaten bestätigen dies.
Abstract
Interventional recanalization has been conducted on post-thrombotically obstructed and non-thrombotically obstructed iliac veins for around 20 years. The initial devices were designed to treat occlusive arterial diseases. Since then, manufacturers have developed stents with a higher radial force and better flexibility to meet the special requirements of treating the venous system. This technological innovation has significantly increased patency rates after dilatation. Numerous studies have shown that the stenting of chronic iliac vein occlusions results in clinical improvements in pain and edema levels and helps to heal venous ulcers with low complication rates. American guidelines recommend endovenous stent implants for primary and post-thrombotic iliac vein obstruction at CEAP stages C3–C6 (recommendation level IB). The patency rate depends on the technical execution of the procedure. In principal, both ends of the stent need to be placed in healthy vein segments to ensure long-term treatment success. This means that the target group for percutaneous transluminal angioplasty of the veins is limited to patients suffering from post-thrombotic syndrome (PTS) following isolated deep vein thrombosis from the distal inferior vena cava to the inguinal ligament, and patients with non-thrombotic compression syndromes. Current epidemiological data on PTS indicate that the patient cohort profiting from interventional recanalization is relatively small. Real-world register data confirm this.
Access options
Buy single article
Instant access to the full article PDF.
USD 39.95
Price excludes VAT (USA)
Tax calculation will be finalised during checkout.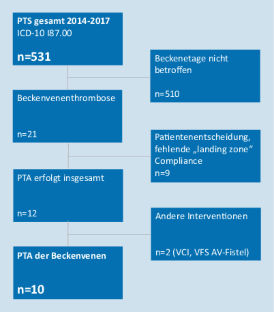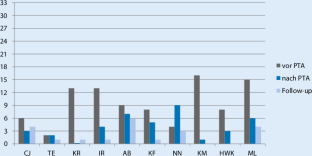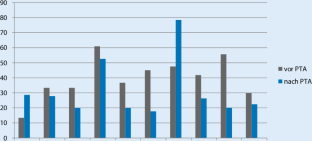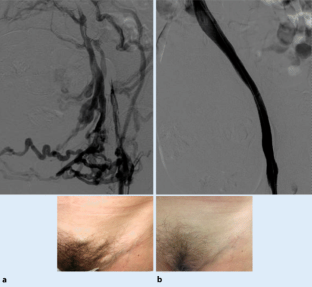 Literatur
Neglén P, Berry MA, Raju SS (2000) Endovascular surgery in the treatment of chronic primary and post-thrombotic iliac vein obstruction. Eur J Vasc Endovasc Surg 20:560–571

Neglén P, Hollis KC, Olivier J, Raju S (2007) Stenting of the venous outflow in chronic venous disease: long-term stent-related outcome, clinical, and hemodynamic result. J Vasc Surg 46:979–990

Seager MJ, Busuttil A, Dharmarajah B, Davies AH (2016) A systematic review of endovenous stenting in chronic venous disease secondary to iliac vein obstruction. Eur J Vasc Endovasc Surg 51:100–120

Vedantham S, Kahn SR, Goldhaber SZ et al (2016) Endovascular therapy for advanced post-thrombotic syndrome: proceedings from a multidisciplinary consensus panel. Vasc Med 21(4):400–407

Rossi FH, Kambara AM, Izukawa NM et al (2018) Randomized double-blinded study comparing medical treatment versus iliac vein stenting in chronic venous disease. J Vasc Surg Venous Lymphat Disord 6:183–191

van Vuuren TMAJ, van Laanen JHH, de Geus M (2017) A randomised controlled trial comparing venous stenting with conservative treatment in patients with deep venous obstruction: research protocol. BMJ Open 7:e17233. https://doi.org/10.1136/bmjopen-2017-0172336

Neglèn P (2017) Endovascular reconstruction for primary iliac vein obstruction. In: Gloviczki P (Hrsg) Handbook of venous and lymphatic disorders, 4. Aufl. CRC, Boca Raton, S 523–532

Murphy EH, Raju S (2017) Endovascular treatment of post-thrombotic iliofemoral venous obstruction. In: Gloviczki P (Hrsg) Handbook of venous and lymphatic disorders, 4. Aufl. CRC, Boca Raton, S 533–540

Schleimer K, Barbati ME, Gombert A, Wienert V, Grommes J, Jalaie H (2016) The treatment of post-thrombotic syndrome – the role of endovascular recanalization in chronic iliac vein obstruction. Dtsch Arztebl Int 113:863–870

Jalaie H, Arnoldussen CWKP, Barbati ME (2014) What predicts outcome after recanalization of chronic venous obstruction: hemodynamic factors, stent geometry, patient selection, anticoagulation or other factors? Phlebology 29(1S):97–103

Hurst DR, Forauer AR, Bloom JR et al (2001) Diagnosis and endovascular treatment of iliocaval compression syndrome. J Vasc Surg 34:106–113

Murphy E, Nguyen D, Varney E, Stears C, Raju S (2015) Increasing the diagnostic sensitivity of noninvasive imaging techniques before and after iliac vein stenting. J Vasc Surg Venous Lymphat Disord 3(1):128

Kahn SR, Ginsberg JS (2004) Relationship between deep venous thrombosis and the postthrombotic syndrome. Arch Intern Med 164:17–26

Kahn SR, Comerota AJ, Cushman M et al (2014) The postthrombotic syndrome: evidence-based-prevention, diagnosis, and treatment strategies – a scientific statement from the American Heart Association. Circulation 130:1636–1661

Rabe E, Pannier-Fischer F, Bromen K et al (2003) Bonner Venenstudie der Deutschen Gesellschaft für Phlebologie – Epidemiologische Untersuchung zur Frage der Häufigkeit und Ausprägung von chronischen Venenkrankheiten in der städtischen und ländlichen Wohnbevölkerung. Phlebologie 32:1–14

Prandoni P, Kahn S (2009) Post-thrombotic syndrome: prevalence, prognostication and need for progress. Br J Haematol 145:286–295

Kahn SR, Partsch H, Vedantham S, Prandoni P, Kearon C (2009) Definition of post-thrombotic syndrome of the leg for use in clinical investigations: a recommendation for standardization. J Thromb Haemost 7:879–883

Cogo A, Lensing AW, Prandoni P, Hirsh J (1993) Distribution of thrombosis in patients with symptomatic deep vein thrombosis. Implications for simplifying the diagnostic process with compression ultrasound. Arch Intern Med 153(24):2777–2780

Johnson BF, Manzo RA, Bergelin RO et al (1995) Relationship between changes in the deep venous system and the development of the postthrombotic syndrome after an acute episode of lower limb deep vein thrombosis: a one- to six-year follow-up. J Vasc Surg 21:307–313

Klitfod L, Just S, Foegh P, Baekgaard N (2015) Excellent long-term results with iliac stenting in local anesthesia for post-thrombotic syndrome. Acta Radiol Open 4(9):1–5

May R, Thurner J (1956) Ein Gefässsporn in der Vena iliaca comm. sinistra als wahrscheinliche Ursache der überwiegend linksseitigen Beckenvenenthrombose. Z Kreislaufforsch 45:912

May R, Thurner J (1957) The cause of the predominantly sinistral occurrence of thrombosis of the pelvic veins. Angiology 8(5):419–427

Cockett FB, Thomas ML (1965) The iliac compression syndrome. Br J Surg 52(10):816–821

Johnsson KA, Göthman B, Nordström S (1974) The iliac compression syndrome. Acta Radiol Diagn (Stockh) 15(5):539–545

Béliard S, Feuvrier D, Ducroux E, du Mont SL (2018) May Thurner syndrome revealed by left calf venous claudication during running, a case report. BMC Sports Sci Med Rehabil. https://doi.org/10.1186/s13102-018-0092-6

Raju S (1983) Venous insufficiency of the lower limb and stasis ulceration. Changing concepts and management. Ann Surg 197(6):688–697

Kibbe MR, Ujiki M, Goodwin AL et al (2004) Iliac vein compression in an asymptomatic patient population. J Vasc Surg 39(5):937–943

Cheng L, Zhao H, Zhang FX (2017) Iliac vein compression syndrome in an asymptomatic patient population: a prospective study. Chin Med J 130(11):1269–1275

Raju S, Neglen P (2006) High prevalence of nonthrombotic iliac vein lesions in chronic venous disease: a permissive role in pathogenicity. J Vasc Surg 44:136–144

Killewich LA, Martin R, Cramer M et al (1984) Pathophysiology of venous claudication. J Vasc Surg 1:507–511

Delis KT, Bountouroglou D, Mansfield AO (2004) Venous claudication in iliofemoral thrombosis: long-term effects on venous hemodynamics, clinical status, and quality of life. Ann Surg 239(1):118–126

PubMed (2018) PubMed search results for "venous claudication". https://www.ncbi.nlm.nih.gov/pubmed/?term=%22venous+claudication%22. Zugegriffen: 18. März 2018

Deutsche Gesellschaft für Angiologie - Gesellschaft für Gefäßmedizin (2015) S3-Leitlinie zur Diagnostik, Therapie und Nachsorge der peripheren arteriellen Verschlusskrankheit. http://www.awmf.org/uploads/tx_szleitlinien/065-003l_S3_PAVK_periphere_arterielle_Verschlusskrankheitfinal-2016-04.pdf. Zugegriffen: 20. März 2018

Kurstjens RLM, de Wolf MAF, Kleijnen J, de Graaf R, Wittens CHA (2017) The predictive value of haemodynamic parameters for outcome of deep venous reconstructions in patients with chronic deep vein obstruction – a systematic review. Phlebology 32(8):532–554

Rosfors S, Blomgren L (2013) Venous occlusion plethysmography in patients with post-thrombotic venous claudication. J Vasc Surg 58:722–726

Lattimer CR, Doucet S, Geroulakos G, Kalodiki E (2017) Validation of the novel venous drainage index with stepwise increases in thigh compression pressure in the quantification of venous obstruction. J Vasc Surg Venous Lymphat Disord 5(1):88–95
Ethics declarations
Interessenkonflikt
T. Hirsch gibt an, dass kein Interessenkonflikt besteht.
Dieser Beitrag beinhaltet keine von den Autoren durchgeführten Studien an Menschen oder Tieren.
About this article
Cite this article
Hirsch, T. Stenting bei chronischer Beckenvenenobstruktion. Gefässchirurgie 23, 231–238 (2018). https://doi.org/10.1007/s00772-018-0392-x
Published:

Issue Date:

DOI: https://doi.org/10.1007/s00772-018-0392-x
Schlüsselwörter
Beckenvenenstent

May-Thurner-Syndrom

Postthrombotisches Syndrom

Venenthrombose

Claudicatio venosa
Keywords
Iliac vein stenting

May-Thurner syndrome

Postthrombotic syndrome

Venous thrombosis

Venous claudication