Zusammenfassung
Hintergrund
Die kleinräumige Häufigkeit der in Deutschland durchgeführten Karotisendarteriektomien (CEA) und Karotisstentangioplastien (CAS) wurde bisher nicht auf nationalem Niveau analysiert. Ziel dieser Studie war es, die regionale Häufigkeit von CEA- und CAS-Prozeduren bei Karotisstenose (I65.2) zu beschreiben und statistisch zu analysieren sowie regionale Charakteristika zu identifizieren, die mit der regionalen Prozedurenhäufigkeit assoziiert waren.
Methode
Mittels kontrollierter Datenfernverarbeitung wurde die DRG-Statistik des Statistischen Bundesamtes (StBA) von 2012 bis 2014 ausgewertet. Die Ein- und Ausschlusskriterien entsprachen den OPS-Codes der externen Qualitätssicherung (QS-Filter). Die regionale Häufigkeit von CEA- und CAS-Prozeduren wurde indirekt alters- und geschlechtsstandardisiert.
Ergebnisse
Zwischen 2012 und 2014 wurden insgesamt 88.182 Prozeduren, davon 73.042 CEA und 15.367 CAS eingeschlossen. Die alters- und geschlechtsstandardisierte Häufigkeit aller Prozeduren (CEA + CAS) schwankte zwischen 13,2 pro 100.000 Einwohnern (kreisfreie Stadt Augsburg) und 89,2 Prozeduren (kreisfreie Stadt Wilhelmshaven). Die räumlich statistische Analyse ergab für die Häufigkeit von CEA und CAS ein geclustertes Verteilungsmuster.
Schlussfolgerung
Die Prozedurenhäufigkeiten von CEA und vor allem von CAS wiesen eine hohe Variation und ein geclustertes räumliches Verteilungsmuster auf. Neben der regionalen Prävalenz von Diabetes mellitus, Rauchen und Adipositas waren sozioökonomische Faktoren wie Einkommensverhältnisse und Schulden mit der Gesamtprozedurenhäufigkeit assoziiert, nicht jedoch Indikatoren der Gesundheitsinfrastruktur (u. a. Dichte von Krankenhausbetten, Gefäßchirurgen, Angiologen).
Abstract
Background
For Germany, regional variation of procedure rates of carotid endarterectomy (CEA) and carotid artery stenting (CAS) performed for carotid stenosis have so far not been analyzed at a national level. The aim of this study was to assess small area estimates of procedure rates among German regions, and to identify regional characteristics, which are associated with the regional frequency of procedures.
Methods
German diagnosis-related groups (DRG) statistics (2012–2014) were analyzed. Inclusion and exclusion criteria for procedural codes were set according to German quality assurance measures in combination with the diagnosis of carotid stenosis (I65.2). Rates of CEA and CAS were indirectly standardized for sex an age.
Results
In total, 88,182 procedures were performed (73,042 CEA; 15,367 CAS). The overall procedure rate varied between 13.2 per 100,000 (Augsburg) and 89.2 per 100,000 (Wilhelmshaven). Spatial analysis revealed that regional distribution was significantly clustered.
Conclusion
The rates of CEA, and especially of CAS showed high regional variation. The spatial distribution was significantly clustered. In addition to the regional prevalence of diabetes mellitus, smoking and obesity, socioeconomic factors, such as income and debts were correlated with the overall frequency of CEA and CAS. No significant association was found between indicators of health infrastructure (e. g. density of hospital beds, vascular surgeons and angiologists) and the overall procedure rate.
We're sorry, something doesn't seem to be working properly.
Please try refreshing the page. If that doesn't work, please contact support so we can address the problem.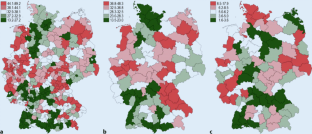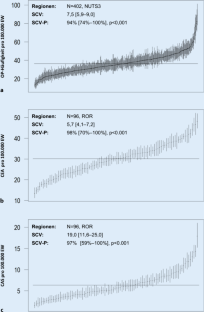 Literatur
1.

Eckstein HH, Kühnl A, Dorfler A, Kopp IB, Lawall H, Ringleb PA (2013) The diagnosis, treatment and follow-up of extracranial carotid stenosis. Multidisciplinary German-Austrian guideline based on evidence and consensus. Dtsch Arztebl Int 110(27–28):468–476

2.

Naylor AR, Ricco JB, de Borst GJ, Debus S, de Haro J, Halliday A et al (2018) Management of Atherosclerotic Carotid and Vertebral Artery Disease: 2017 Clinical Practice Guidelines of the European Society for Vascular Surgery (ESVS). Eur J Vasc Endovasc Surg 55:3–81

3.

Eckstein HH, Tsantilas P, Kuehnl A, Haller B, Breitkreuz T, Zimmermann A et al (2017) Surgical and endovascular treatment of extracranial carotid stenosis – a secondary analysis of statutory quality assurance data from 2009 to 2014. Dtsch Arztebl Int 114(43):729–739

4.

Knappich C, Kuehnl A, Tsantilas P, Schmid S, Breitkreuz T, Kallmayer M et al (2017) Intraoperative completion studies, local anesthesia, and antiplatelet medication are associated with lower risk in carotid endarterectomy. Stroke 48(4):955–962

5.

Knappich C, Kuehnl A, Tsantilas P, Schmid S, Breitkreuz T, Kallmayer M et al (2017) The use of embolic protection devices is associated with a lower stroke and death rate after carotid stenting. JACC Cardiovasc Interv 10(12):1257–1265

6.

Kuehnl A, Tsantilas P, Knappich C, Schmid S, Konig T, Breitkreuz T et al (2016) Significant association of annual hospital volume with the risk of Inhospital stroke or death following carotid endarterectomy but likely not after carotid Stenting: secondary data analysis of the statutory German carotid quality assurance database. Circ Cardiovasc Interv 9(11):e4171

7.

Schmid S, Tsantilas P, Knappich C, Kallmayer M, Konig T, Breitkreuz T et al (2017) Risk of Inhospital stroke or death is associated with age but not sex in patients treated with carotid endarterectomy for asymptomatic or symptomatic Stenosis in routine practice: secondary data analysis of the nationwide German statutory quality assurance database from 2009 to 2014. J Am Heart Assoc 6(3):e4764

8.

Tsantilas P, Kuehnl A, Konig T, Breitkreuz T, Kallmayer M, Knappich C et al (2016) Short time interval between neurologic event and carotid surgery is not associated with an increased procedural risk. Stroke 47(11):2783–2790

9.

Drösler SE (2015) Regionale Unterschiede in der Operationshäufigkeit – Bewertung der Daten und Handlungsbedarf. Bundesärztekammer, Krefeld (http://www.bundesaerztekammer.de/fileadmin/user_upload/downloads/pdf-Ordner/Versorgungsforschung/2015-05-29_GutachtenRegVariationen.pdf [16.05.2017])

10.

Anderson HV (2010) Regional variation: only moderately interesting: a word of caution. Circ Cardiovasc Qual Outcomes 3(1):6–7

11.

Shean KE, McCallum JC, Soden PA, Deery SE, Schneider JR, Nolan BW et al (2017) Regional variation in patient selection and treatment for carotid artery disease in the Vascular Quality Initiative. J Vasc Surg 66(1):112–121

12.

Feasby TE, Quan H, Ghali WA (2001) Geographic variation in the rate of carotid endarterectomy in Canada. Stroke 32(10):2417–2422

13.

Goodney PP, Travis LL, Malenka D, Bronner KK, Lucas FL, Cronenwett JL et al (2010) Regional variation in carotid artery stenting and endarterectomy in the Medicare population. Circ Cardiovasc Qual Outcomes 3(1):15–24

14.

Wallaert JB, Nolan BW, Stone DH, Powell RJ, Brown JR, Cronenwett JL et al (2016) Physician specialty and variation in carotid revascularization technique selected for Medicare patients. J Vasc Surg 63(1):89–97

15.

FDZ der Statistischen Ämter des Bundes und der Länder. Fallpauschalenbezogene Krankenhausstatistik (DRG-Statistik), 2005–2014, eigene Berechnungen.

16.

Nimptsch U, Mansky T (2012) Trends in acute inpatient stroke care in Germany – an observational study using administrative hospital data from 2005–2010. Dtsch Arztebl Int 109(51–52):885–892

17.

Kuehnl A, Erk A, Trenner M, Salvermoser M, Schmid V, Eckstein H‑H (2017) Incidence, treatment and mortality of patients with abdominal aortic aneurysms – an analysis of hospital discharge data from 2005–2014. Dtsch Arztebl Int 114(22/23):391–398

18.

Swart E, Bitzer EM, Gothe H, Harling M, Hoffmann F, Horenkamp-Sonntag D et al (2016) A consensus German reporting standard for secondary data analyses, version 2 (STROSA-STandardisierte BerichtsROutine fur SekundardatenAnalysen). Gesundheitswesen 78:e145–e160

19.

Swart E, Gothe H, Geyer S, Jaunzeme J, Maier B, Grobe TG et al (2015) Good Practice of Secondary Data Analysis (GPS): guidelines and recommendations. Gesundheitswesen 77(2):120–126

20.

Sahai H, Khurshid A (1993) Confidence intervals for the mean of a poisson distribution: a review. Biom J 35(7):857–867

21.

Appleby J, Raleigh V, Frosini F, Bevan G, Gao H, Lyscom T (2011) Variations in health care. The good, the bad and the inexplicable. The King's Fund, London

22.

Birkmeyer JD, Reames BN, McCulloch P, Carr AJ, Campbell WB, Wennberg JE (2013) Understanding of regional variation in the use of surgery. Lancet 382(9898):1121–1129

23.

McPherson K, Wennberg JE, Hovind OB, Clifford P (1982) Small-area variations in the use of common surgical procedures: an international comparison of New England, England, and Norway. N Engl J Med 307(21):1310–1314

24.

Lichtman JH, Jones MR, Leifheit EC, Sheffet AJ, Howard G, Lal BK et al (2014) Carotid endarterectomy and carotid artery stenting in the US medicare population. JAMA 318(11):1035–1046

25.

Magner D, Mirocha J, Gewertz BL (2009) Regional variation in the utilization of carotid endarterectomy. J Vasc Surg 49(4):893–901 (discussion)

26.

Marmot M, Wilkinson R (2011) Social determinants of health, 2. Aufl. Oxford University Press, New York

27.

Nimptsch U, Krautz C, Weber GF, Mansky T, Grutzmann R (2016) Nationwide in-hospital mortality following pancreatic surgery in Germany is higher than anticipated. Ann Surg 264(6):1082
Danksagung
Wir danken Frau Melanie Scheller vom Forschungsdatenzentrum der Statistischen Ämter des Bundes und der Länder in Wiesbaden für die freundliche und sehr kompetente Unterstützung und Beratung bei der Planung und Durchführung der kontrollierten Datenfernverarbeitung. Zudem danken wir Frau Jutta Spindler und Frau Sabine Nemitz für die Unterstützung unserer Auswertungen. Des Weiteren gilt unser Dank Frau Antonia Milbert vom Bundesinstitut für Bau‑, Stadt- und Raumforschung (BBSR) sowie Herr Simon Rass und Herr Hannes Munz von der Kassenärztlichen Bundesvereinigung (KBV) für die Zurverfügungstellung der Daten.
Ethics declarations
Interessenkonflikt
A. Kuehnl, M. Salvermoser, E. Knipfer, A. Zimmermann, V. Schmid und H.-H. Eckstein geben an, dass kein Interessenkonflikt besteht.
Dieser Beitrag beinhaltet keine von den Autoren durchgeführten Studien an Menschen oder Tieren.
Caption Electronic Supplementary Material
About this article
Cite this article
Kuehnl, A., Salvermoser, M., Knipfer, E. et al. Regionale Häufigkeit von revaskularisierenden Prozeduren bei Karotisstenose in Deutschland. Gefässchirurgie 23, 519–528 (2018). https://doi.org/10.1007/s00772-018-0385-9
Schlüsselwörter
Karotisstenose

Operationshäufigkeit

Regionale Analyse

Sekundärdatenanalyse

Versorgungsforschung
Keywords
Carotid stenosis

Surgery incidence

Regional analysis

Secondary data analysis

Health services research