Zusammenfassung
Einleitung
Die Inzidenz von Narbenhernien nach offenem abdominellem Aortenersatz variiert zwischen 10 und 38 %. Neue Optionen zur Reduktion dieses hohen Risikos beinhalten die prophylaktische Mesh-Augmentation. Das vorliegende Manuskript gibt einen allgemeinen Überblick über aktuelle Ergebnisse unter Verwendung unterschiedlicher Techniken der Mesh-Implantation im Vergleich zum direkten Abdominalverschluss nach medianer Laparotomie.
Methodik
Es wurde eine systematische Literaturanalyse unter Verwendung der Datenbanken PubMed und Medline zwischen 2007 und 2017 durchgeführt (Suchdatum: 30. Dezember 2017). Es wurde ausschließlich in der englischsprachigen Literatur nach folgenden Begriffen gesucht: "prophylactic – mesh – abdominal aortic aneurysm repair – incisional hernia". Von insgesamt 304 Studien wurden ausschließlich randomisierte prospektive klinische Studien sowie Kohortenstudien und Metaanalysen in diese Übersicht eingeschlossen.
Ergebnisse
Patienten entwickeln nach offenem Aortenersatz signifikant seltener eine Narbenhernie, wenn eine prophylaktische Netzaugmentation durchgeführt wird. Onlay- und Sublay-Techniken unterscheiden sich in Details, jedoch sind beide Techniken effektiv. Die prophylaktische Netzanlage sollte daher grundsätzlich durchgeführt werden und auch Eingang in die aktuellen Leitlinien finden.
Abstract
Background
The reported incidence of incisional hernia after repair of abdominal aortic aneurysms (AAA) by midline incision varies between 10% and 38%. New options to reduce this high incidence include prophylactic mesh augmentation. This article gives a general overview on current results using different techniques of mesh implantation in comparison to direct abdominal wall closure.
Methods
A systematic literature search using PubMed and Medline between 2007 and 2017 was performed (final search day: 30 December 2017). Search items were "prophylactic, mesh, abdominal aortic aneurysm repair and incisional hernia". Only the english literature was reviewed. Out of 304 studies, only randomized prospective clinical trials, cohort studies and metaanalyses were included in this survey.
Results
Onlay mesh augmentation after median laparotomy for AAA repair prevents postincisional hernia better than suturing alone. Onlay and underlay techniques differ in details but mesh augmentation in general is beneficial. Prophylactic mesh augmentation should therefore generally be performed following open AAA repair and should be included in current guidelines.
This is a preview of subscription content, log in to check access.
Access options
Buy single article
Instant access to the full article PDF.
US$ 39.95
Tax calculation will be finalised during checkout.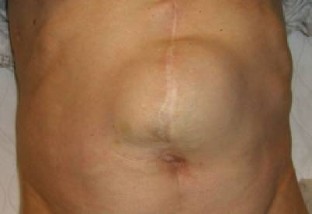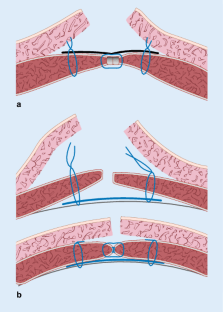 Literatur
1.

Bosanquet DC, Ansell J, Abdelrahman T, Cornish J, Harries R, Stimpson A, Davies L, Glasbey JC, Frewer KA, Frewer NC, Russell D, Russell I, Torkington J (2015) Systematic review and meta-regression of factors affecting midline Incisional hernia rates: analysis of 14,618 patients. PLoS ONE 10(9):e138745. https://doi.org/10.1371/journal.pone.0138745

2.

European Hernia Society, Muysoms FE, Antoniou SA, Bury K et al (2015) European Hernia Society guidelines on the closure of abdominal wall incisions. Hernia 19(1):1–24

3.

Raffetto JD, Cheung Y, Fisher JB, Cantelmo NL, Watkins MT, Lamorte WW, Menzoian JO (2003) Incision and abdominal wall hernias in patients with aneurysm or occlusive aortic disease. J Vasc Surg 37(6):1150–1154

4.

Fink C, Baumann P, Wente MN, Knebel P, Bruckner T, Ulrich A, Werner J, Büchler MW, Diener MK (2014) Incisional hernia rate 3 years after midline laparotomy. Br J Surg 101(2):51–54. https://doi.org/10.1002/bjs.9364

5.

Antoniou George A, Georgiadis George S, Antoniou Stavros A et al (2011) Abdominal aortic aneurysm and abdominal wall hernia as manifestations of a connective tissue disorder. J Vasc Surg 54(4):1175–1181. https://doi.org/10.1016/j.jvs.2011.02.065

6.

Takagi H, Sugimoto M, Kato T et al (2007) Postoperative incision hernia in patients with abdominal aortic aneurysm and aortoiliac occlusive disease: a systematic review. Eur J Vasc Endovasc Surg 33(2):177. https://doi.org/10.1016/j.ejvs.2006.07.009

7.

Muysoms FE, Dietz UA (2017) Prophylactic meshes in the abdominal wall. Chirurg 88(Suppl 1):34–41

8.

Gruppo M, Mazzalai F, Lorenzetti R et al (2012) Midline abdominal wall incisional hernia after aortic reconstructive surgery: a prospective study. Surgery 151:882–888

9.

Muysoms FE, Detry O, Vierendeels T et al (2016) Prevention of incisional hernias by prophylactic mesh-augmented reinforcement of midline laparotomies for abdominal aortic aneurysm treatment: a randomized controlled trial. Ann Surg 263(4):638–645

10.

Timmermans L, de Goede B, Eker HH et al (2013) Meta-analysis of primary mesh augmentation as prophylactic measure to prevent incisional hernia. Dig Surg 30(4–6):401–409

11.

Musella M, Milone F, Chello M, Angelni P, Jovino R (2001) Magnetic resonance imaging and abdominal wall hernias in aortic surgery. J Am Coll Surg 193:392–395

12.

Alnassar S, Bawahab M, Abdoh A, Guzman R, Tuwaijiri TA, Louridas G (2012) Incisional hernia postrepair of abdominal aortic occlusive and aneurysmal disease: five-year incidence. Vascular 20(5):273–277

13.

van Ramshorst GH, Eker HH, Hop WC, Jeekel J, Lange JF (2012) Impact of incisional hernia on health-related quality of life and body image: a prospective cohort study. Am J Surg 204:144–150

14.

Rogmark P, Petersson U, Bringman S, Ezra E, Österberg J, Montgomery A (2016) Quality-of-life and surgical outcome 1 year after open and laparoscopic incisional hernia repair: PROLOVE–a randomized controlled trial. Ann Surg 263:244–250

15.

Gillion JF, Sanders D, Miserez M, Muysoms F (2016) The economic burden of incisional ventral hernia repair: a multicentric cost analysis. Hernia 20(6):819–830

16.

Burger JW, Luijendijk RW, Hop WC, Halm JA, Verdaasdonk EG, Jeekel J (2004) Long-term follow-up of a randomized controlled trial of suture versus mesh repair of incisional hernia. Ann Surg 240:578–583

17.

Al Chalabi H, Larkin J, Mehigan B, McCormick P (2015) A systematic review of laparoscopic versus open abdominal incisional herni arepair, with meta-analysis of randomized controlled trials. Int J Surg 20:65–74

18.

Wang XC, Zhang D, Yang ZX, Gan JX, Yin LN (2017) Mesh reinforcement for the prevention of incisional hernia formation: a systematic review and meta-analysis of randomized controlled trials. J Surg Res 209:17–29. https://doi.org/10.1016/j.jss.2016.09.055

19.

Payne R, Aldwinckle J, Ward S (2017) Meta-analysis of randomised trials comparing the use of prophylactic mesh to standard midline closure in the reduction of incisional herniae. Hernia 21(6):843–853. https://doi.org/10.1007/s10029-017-1653-4

20.

Borab ZM, Shakir S, Lanni MA, Tecce MG, MacDonald J, Hope WW, Fischer JP (2017) Does prophylactic mesh placement in elective, midline laparotomy reduce the incidence of incisional hernia? A systematic review and meta-analysis. Surgery 161(4):1149–1163. https://doi.org/10.1016/j.surg.2016.09.036

21.

Rogers M, Mc Carthy R, Earnshaw JJ (2003) Prevention of incisional hernia after aortic aneurysm repair. Eur J Vasc Endovasc Surg 26(5):519–522

22.

O'Hare JL, Ward J, Earnshaw JJ (2007) Late results of mesh wound closure after elective open aortic aneurysm repair. Eur J Vasc Endovasc Surg 33:412–413

23.

Bevis PM, Windhaber RA, Lear PA, Poskitt KR, Earnshaw JJ, Mitchell DC (2010) Randomized clinical trial of mesh versus sutured wound closure after open abdominal aortic aneurysm surgery. Br J Surg 97(10):1497–1502

24.

Bali C, Papakostas J, Georgiou G, Kouvelos G, Avgos S, Arnaoutoglou E, Papadopoulos G, Matsagkas M (2015) A comparative study of sutured versus bovine pericardium mesh abdominal closure after open abdominal aortic aneurysm repair. Hernia 19(2):267–271

25.

Timmermans L, Eker HH, Steyerberg EW et al (2015) Short-term results of a randomized controlled trial comparing primary suture with primary glued mesh augmentation to prevent incisional hernia. Ann Surg 261(2):276–281

26.

Jairam AP, Timmermans L, Eker HH, Pierik REGJM, van Klaveren D, Steyerberg EW, Timman R, van der Ham AC, Dawson I, Charbon JA, Schuhmacher C, Mihaljevic A, Izbicki JR, Fikatas P, Knebel P, Fortelny RH, Kleinrensink GJ, Lange JF, Jeekel HJ, PRIMA Trialist Group (2017) Prevention of incisional hernia with prophylactic onlay and sublay mesh reinforcement versus primary suture only in midline laparotomies (PRIMA): 2‑year follow-up of a multicentre, double-blind, randomised controlled trial. Lancet 390(10094):567–576. https://doi.org/10.1016/S0140–6736(17)31332–6

27.

Diener H, Eckstein HH, Wenk H, Gahlen J, Kellersmann R, Grommes J, Verhoeven E, Daum H, Hupp T, Debus S (2016) Prevention of incisional hernia after abdominal aortic aneurysm repair (AIDA study). Eur J Vasc Endovasc Surg 52(3):412

28.

Millbourn D, Cengiz Y, Israelsson LA (2009) Effect of stitch length on wound complications after closure of midline incisions:a randomized controlled trial. Arch Surg 144:1056–1059

29.

Deerenberg EB, Harlaar JJ, Steyerberg EW et al (2015) Small bites versus large bites for closure of abdominal midline incisions (STITCH): a double-blind, multicentre, randomised controlled trial. Lancet 386:1254–1260

30.

Herbert GS, Tausch TJ, Carter PL (2009) Prophylactic mesh to prevent incisional hernia: a note of caution. Am J Surg 197:595–598
Ethics declarations
Interessenkonflikt
E. Debus, S. Wipper, C.-A. Behrendt, N. Tsilimparis, A. Larena-Avellaneda, T. Kölbel und H. Diener geben an, dass kein Interessenkonflikt besteht.
Dieser Beitrag beinhaltet keine von den Autoren durchgeführten Studien an Menschen oder Tieren.
About this article
Cite this article
Debus, E.S., Wipper, S.H., Behrendt, CA. et al. Präventive abdominelle Netzplastik nach offenem abdominellem Aortenersatz. Gefässchirurgie 23, 152–156 (2018). https://doi.org/10.1007/s00772-018-0381-0
Schlüsselwörter
Abdominelles Aortenaneurysma

Narbenhernie

Abdominale Wundverschlusstechniken

Onlay-Netzplastik

RCT
Keywords
Abdominal aortic aneurysm

Incisional hernia

Abdominal wound closure techniques

Onlay mesh augmentations

RCT