Zusammenfassung
Hintergrund
Die komplexe endovaskuläre Versorgung von Aneurysmen und Dissektionen der Aorta mithilfe von fenestrierten oder gebranchten Endoprothesen (FB-EVAR) ist noch immer eine Herausforderung für die endovaskuläre Gefäßchirurgie. Bisher besteht die Evidenzbasis zu diesem Thema weitestgehend aus Single-Center-Studien, die mit einer multizentrischen Versorgungsrealität verglichen werden sollte.
Methoden
Die Daten zu stationären Behandlungen der drittgrößten gesetzlichen Krankenversicherung Deutschlands, DAK-Gesundheit, wurden ausgewertet, um komplexe endovaskuläre Behandlungen der thorakalen (TA) und thorakoabdominellen inklusive der Viszeralgefäße einbeziehenden abdominellen (TAA) Aorta zu analysieren.
Ergebnisse
Zwischen Januar 2008 und April 2017 wurden insgesamt 984 Patienten (18,1 % davon weiblich) endovaskulär mithilfe von fenestrierten oder gebranchten Endoprothesen an der TA oder TAA behandelt. Patienten mit Versorgung der TA waren etwas jünger (71,7 vs. 73,2 Jahre, p < 0,001) und häufiger weiblichen Geschlechts (38,5 % vs. 17,0 %, p < 0,001) als Patienten mit Versorgung der TAA. Bei TA wurde seltener eine periphere (atherosklerotische) Gefäßerkrankung dokumentiert (67,3 % vs. 80,4 %, p = 0,036). Die Krankenhaus- (17,3 % vs. 4,6 %), 30-Tages- (26,9 % vs. 8,2 %) und 90-Tages-Sterblichkeit (34,6 % vs. 10,1 %) war signifikant höher bei Behandlung der TA im Vergleich zur TAA. Die Rate an Schlaganfällen und transienten ischämischen Attacken war höher bei Versorgung der TA (7,7 % vs. 1,2 %, p = 0,002) im Vergleich zur Versorgung der TAA.
Schlussfolgerung
In dieser großen Routinedatenanalyse zur Darstellung der multizentrischen Versorgungsrealität zeigten sich relevante Unterschiede sowohl hinsichtlich Patientenalter, Geschlecht und Sterblichkeit zwischen den analysierten Gruppen (TA vs. TAA) als auch im Vergleich mit den derzeit verfügbaren Studienergebnissen. Multizentrische validierte Registerstudien zum Abgleich von Primär- und Sekundärdatenquellen sind zu empfehlen.
Abstract
Background
The complex endovascular repair of aortic aneurysms and dissections with fenestrated or branched stent grafts (FB-EVAR) remains challenging for interventional vascular surgery. To date, the evidence regarding treatment patterns and outcome measures consists of single center studies; however, it might be reasonable to validate results with multicenter real-world evidence.
Methods
Health insurance claims data from Germany's third largest insurance provider, DAK-Gesundheit, were used to determine outcomes following FB-EVAR of non-ruptured thoracic aorta (TA) or thoracic-abdominal including pararenal abdominal (TAA) aorta. The study included patients operated between January 2008 and April 2017.
Results
Included were 984 patients (18.1% female) who underwent FB-EVAR. Patients with treatment of the TA were younger (71.7 vs. 73.2 years, p < 0.001) and more often female (38.5% vs. 17.0%, p < 0.001) as compared to patients with treatment of TAA. In the TA group peripheral arterial disease was less frequent compared to the TAA group (67.3% vs. 80.4%, p = 0.036). Mortality was significantly (p < 0.001) higher following repair of the TAA compared to the TA at discharge (17.3% vs. 4.6%), at 30 days (26.9% vs. 8.2%) and at 90 days (34.6% vs. 10.1%). Patients with treatment of the TAA suffered more often from stroke as compared to the TA group (7.7% vs. 1.2%, p = 0.002).
Conclusion
In this large-scale German analysis of claims data, multicenter real-world evidence was different from single center studies regarding patient risk-factors and outcome measures. Validated multicenter registry studies could help to further investigate this topic in times of increasing procedures.
This is a preview of subscription content, log in to check access.
Access options
Buy single article
Instant access to the full article PDF.
US$ 39.95
Tax calculation will be finalised during checkout.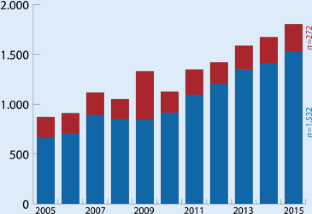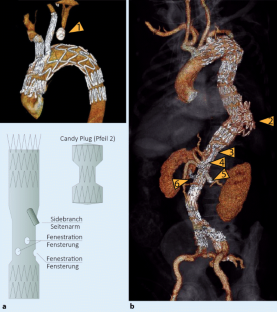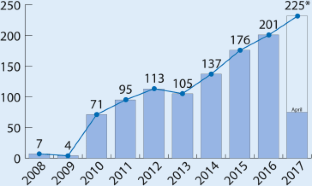 Literatur
1.

Augustin M, Anastasiadou Z, Schaarschmidt ML et al (2016) Versorgung des Hautkrebses in Deutschland. Hautarzt 67:544–548

2.

Behrendt C‑A, Debus ES, Wipper S et al (2017) Das thorakoabdominelle Aortenaneurysma. Hamb Arztebl 71:12–16

3.

Behrendt C‑A, Pridöhl H, Schaar K et al (2017) Klinische Register im 21. Jahrhundert – Ein Spagat zwischen Datenschutz und Machbarkeit? Chirurg 88(11):944–949. https://doi.org/10.1007/s00104-017-0542-9

4.

Behrendt CA, Tsilimparis N, Diener H et al (2014) Einführung des GermanVasc. Gefasschirurgie 19:403–411

5.

Behrendt CA, Härter M, Kriston L et al (2017) IDOMENEO – Ist die Versorgungsrealität in der Gefäßmedizin Leitlinien- und Versorgungsgerecht? Gefasschirurgie 22:41–47

6.

Behrendt CA, Heidemann F, Riess HC et al (2017) Registry and health insurance claims data in vascular research and quality improvement. Vasa 46:11–15

7.

Behrendt CA, Sedrakyan A, Riess HC et al (2017) Short-term and long-term results of endovascular and open repair of abdominal aortic aneurysms in Germany. J Vasc Surg 66(6):1704–1711.e3. https://doi.org/10.1016/j.jvs.2017.04.040

8.

Björck M, Mani K (2017) Publication of vascular surgical registry data: strengths and limitations. Eur J Vasc Endovasc Surg 54(6):788. https://doi.org/10.1016/j.ejvs.2017.09.013

9.

Budtz-Lilly J, Wanhainen A, Eriksson J et al (2017) Adapting to a total endovascular approach for complex aortic aneurysm repair: outcomes after fenestrated and branched endovascular aortic repair. J Vasc Surg 66(5):1349–1356. https://doi.org/10.1016/j.jvs.2017.03.422

10.

Budtz-Lilly J, Björck M, Venermo M, Debus ES, Behrendt CA, Altreuther M, Beiles B, Szeberin Z, Eldrup N, Danielsson G, Thomson I, Wigger P, Khashram M, Loftus I, Mani K (2018) The Impact of Centralisation and Endovascular Aneurysm Repair on Treatment of Ruptured Abdominal Aortic Aneurysms Based on International Registries. Eur J Vasc Endovasc Surg (in press)

11.

Coselli JS, Bozinovski J, Lemaire SA (2007) Open surgical repair of 2286 thoracoabdominal aortic aneurysms. Ann Thorac Surg 83:S862–S864 (discussion S890–862)

12.

Destatis SB (2014) Krankenhausdiagnosestatistik. In: Statistisches Bundesamt DeStatis. https://www.gbe-bund.de/ (Gesundheitsberichterstattung des Bundes)

13.

Eagleton MJ, Follansbee M, Wolski K et al (2016) Fenestrated and branched endovascular aneurysm repair outcomes for type II and III thoracoabdominal aortic aneurysms. J Vasc Surg 63:930–942

14.

Elixhauser A, Halpern M, Schmier J et al (1998) Health care CBA and CEA from 1991 to 1996: an updated bibliography. Med Care 36:MS1–MS9, MS18–147

15.

Elixhauser A, Steiner C, Harris DR et al (1998) Comorbidity measures for use with administrative data. Med Care 36:8–27

16.

Etheredge SN, Yee J, Smith JV et al (1955) Successful resection of a large aneurysm of the upper abdominal aorta and replacement with homograft. Surgery 38:1071–1081

17.

Fischer F, Hoffmann K, Mönter N et al (2013) Kostenevaluation eines Modells der Integrierten Versorgung für schwer psychisch Kranke. Gesundheitswesen 76:86–95

18.

Grimme FA, Zeebregts CJ, Verhoeven EL et al (2014) Visceral stent patency in fenestrated stent grafting for abdominal aortic aneurysm repair. J Vasc Surg 59:298–306

19.

Kristmundsson T, Sonesson B, Dias N et al (2014) Outcomes of fenestrated endovascular repair of juxtarenal aortic aneurysm. J Vasc Surg 59:115–120

20.

Martin-Gonzalez T, Mastracci TM (2017) Learning curve in fenestrated and branched grafting. J Cardiovasc Surg 58:261–263

21.

Martin-Gonzalez T, Pincon C, Hertault A et al (2015) Renal outcomes analysis after endovascular and open aortic aneurysm repair. J Vasc Surg 62:569–577

22.

Mastracci TM, Eagleton MJ, Kuramochi Y et al (2015) Twelve-year results of fenestrated endografts for juxtarenal and group IV thoracoabdominal aneurysms. J Vasc Surg 61:355–364

23.

Müller I, Freitag MH, Poggensee G et al (2012) Evaluating frequency, diagnostic quality, and cost of lyme borreliosis testing in Germany: a retrospective model analysis. Clin Dev Immunol 2012:1–13

24.

Piffaretti G, Fontana F, Franchin M et al (2017) Total endovascular treatment for extent type 1 and 5 thoracoabdominal aortic aneurysms. J Thorac Cardiovasc Surg 154:1487–1496.e1

25.

Quan H, Sundararajan V, Halfon P et al (2005) Coding algorithms for defining comorbidities in ICD-9-CM and ICD-10 administrative data. Med Care 43:1130–1139

26.

Safi HJ, Miller CC 3rd, Carr C et al (1998) Importance of intercostal artery reattachment during thoracoabdominal aortic aneurysm repair. J Vasc Surg 27:58–66 (discussion 66–58)

27.

Scali ST, Goodney PP, Walsh DB et al (2011) National trends and regional variation of open and endovascular repair of thoracic and thoracoabdominal aneurysms in contemporary practice. J Vasc Surg 53:1499–1505

28.

Schanzer A, Simons JP, Flahive J et al (2017) Outcomes of fenestrated and branched endovascular repair of complex abdominal and thoracoabdominal aortic aneurysms. J Vasc Surg 66(3):687–694. https://doi.org/10.1016/j.jvs.2016.12.111

29.

Sidloff D, Stather P, Dattani N et al (2014) Aneurysm global epidemiology study: public health measures can further reduce abdominal aortic aneurysm mortality. Circulation 129:747–753

30.

Stoberock K, Rieß HC, Debus ES, Schwaneberg T, Kölbel T, Behrendt CA (2018) Gender differences in abdominal aortic aneurysms in Germany using health insurance claims data. Vasa 47:36–42

31.

Venermo M, Mani K, Kolh P (2017) The quality of a registry based study depends on the quality of the data – without validation, it is questionable. Eur J Vasc Endovasc Surg 53:611–612

32.

Van Walraven C, Austin PC, Jennings A et al (2009) A modification of the Elixhauser comorbidity measures into a point system for hospital death using administrative data. Med Care 47:626–633
Danksagung
Alle Analysen wurden von GermanVasc durchgeführt. GermanVasc ist eine interdisziplinäre universitäre Arbeitsgruppe, die 2014 in Hamburg gegründet wurde [4] und sich mit der datenschutzkonformen [3] Nutzung von Register- und Routinedaten in der vaskulären Versorgungsforschung und Qualitätsentwicklung beschäftigt [6]. Wir danken dem Stifterverband für die Deutsche Wissenschaft e. V., der diese Studie ermöglicht hat.
Ethics declarations
Interessenkonflikt
C.-A. Behrendt, H.C. Rieß, T. Schwaneberg, F. Heidemann, N. Tsilimparis, A.-A. Larena-Avellaneda, H. Diener, T. Kölbel und E.S. Debus geben an, dass kein Interessenkonflikt besteht.
Dieser Beitrag beinhaltet keine von den Autoren durchgeführten Studien an Menschen oder Tieren.
Additional information
Die Autoren C.-A. Behrendt und H.C. Rieß teilen sich die Erstautorenschaft.
Die Autoren T. Kölbel und E.S. Debus teilen sich die Letztautorschaft.
About this article
Cite this article
Behrendt, CA., Rieß, H.C., Schwaneberg, T. et al. Komplexe endovaskuläre Behandlung des intakten Aortenaneurysmas. Gefässchirurgie 23, 166–173 (2018). https://doi.org/10.1007/s00772-018-0371-2
Schlüsselwörter
Endovaskuläre Prozeduren

Schlaganfall

Versorgungsforschung

Überleben

Qualitätsentwicklung
Keywords
Endovascular procedures

Stroke

Health services research

Survival

Outcome assessment (health care)