Zusammenfassung
In den letzten Jahren sind als neue orale Antikoagulanzien (NOAKs) Dabigatran, Rivaroxaban, Apixaban und Edoxaban für die Schlaganfall- und Thrombembolieprophylaxe sowie für die Thrombembolietherapie tiefer Venenthrombosen und Lungenembolien, Rivaroxaban auch zur Prophylaxe atherothrombotischer Ereignisse nach akutem Koronarsyndrom zugelassen worden. Der Artikel untersucht die Rolle der NOAKs bei Gefäßerkrankungen. Umfangreiche, v. a. kardiologische Studien belegen, dass die neuen Substanzen im Vergleich zu den bisherigen Medikamenten das Risiko schwerer Blutungsereignisse, insbesondere intrakranieller Blutungen sowie Schlaganfälle und Thrombembolien trotz eines begrenzten Anstiegs leichter Blutungen reduzieren. Zusätzlich weisen sie beträchtliche Vorteile in der Anwendung auf, während die Nachteile beherrschbar erscheinen. Für Gefäßerkrankungen liegen bisher kaum Studien zu NOAKs vor. Doch legt die COMPASS-Studie zur peripheren arteriellen Verschlusskrankheit/koronaren Herzkrankheit vergleichbare Ergebnisse hinreichend nahe, die sich auch von der laufenden VOYAGER-Studie erwarten lassen.
Abstract
In recent years, the new oral anticoagulants (NOACs) dabigatran, rivaroxaban, apixaban and edoxaban have been approved for the prevention of stroke and thromboembolism as well as for thromboembolic treatment, deep vein thrombosis and pulmonary embolism. Rivaroxaban has also been approved for the prevention of atherothrombotic events after acute coronary syndrome. This article examines the role of NOACs in vascular diseases. Extended, mainly cardiological studies have shown that in comparison to conventional medication the new substances reduce the risk of severe bleeding, in particular intracranial hemorrhage as well as stroke and thromboembolism despite a moderate increase of minor bleeding. Their administration provides considerable advantages while the disadvantages appear to be manageable. So far, there have hardly been any studies on NOACs for vascular diseases; however, the COMPASS study on peripheral arterial occlusive disease/coronary artery disease suggests that comparable results can also be expected from the ongoing VOYAGER study.
This is a preview of subscription content, log in to check access.
Access options
Buy single article
Instant access to the full article PDF.
US$ 39.95
Tax calculation will be finalised during checkout.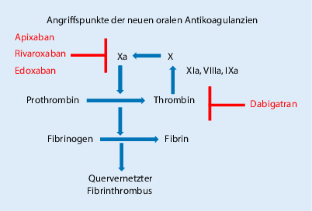 Literatur
1.

Aboyans V, Ricco JB, Bartelink ML et al (2017) (2017) ESC guidelines on the diagnosis and treatment of peripheral arterial diseases, in collaboration with the European Society for Vascular Surgery (ESVS). Eur Heart J 00:1–60

2.

Agnelli G, Buller HR, Cohen A et al (2013) Apixaban for extended treatment of venous thromboembolism. N Engl J Med 369:799–808

3.

Anand SS, Bosch J, Eikelboom JW et al (2017) Rivaroxaban with or without aspirin in patients with stable peripheral or carotid artery disease: an international, randomised, double-blind, placebo-controlled trial. Lancet. https://doi.org/10.1016/S0140-6736(17)32409-1

4.

Anderson JL, Halperin JL, Albert NM et al (2014) AHA/ACC/HRS guideline for the management of patients with atrial fibrillation: executive summary a report of the American College of Cardiology/American Heart Association task force on practice guidelines and the heart rhythm society. J Am Coll Cardiol 64:2246–2280

5.

Arzneimittelkommission der deutschen Ärzteschaft (2016) Orale Antikoagulation bei nicht valvulärem Vorhofflimmern. Empfehlungen zum Einsatz der direkten oralen Antikoagulanzien Dabigatran (Pradaxa), Apixaban (Eliquis), Edoxaban (Lixiana) und Rivaroxaban (Xarelto), S 1–51 (Leitfaden der Arzneimittelkommission der deutschen Ärzteschaft (AkdÄ) Version 2.0)

6.

AWMF (2015) S3-Leitlinie Prophylaxe der venösen Thromboembolie (VTE) Version 2015, S 1–238

7.

Bauersachs R, Berkowitz SD, Brenner B et al (2010) Oral rivaroxaban for symptomatic venous thromboembolism. N Engl J Med 363(26):2499–2510

8.

Büller HR, Prins MH, Lensin AW et al (2012) Oral rivaroxaban for the treatment of symptomatic pulmonary embolism. N Engl J Med 366(14):1287–1297

9.

Capell W and Voyager EC. Rationale and design for the Vascular Outcomes study of ASA along with rivaroxaban in endovascular or surgical limb revascularization for peripheral artery disease (VOYAGER PAD) N Engl J Med: 1–30 (in process)

10.

RE-LY Steering Committee and Investigators, Connolly SJ, Ezekowitz MD, Yusuf S et al (2009) Dabigatran versus warfarin in patients with atrial fibrillation. N Engl J Med 361(12):1139–1151

11.

Daniels W, Dichgans M, Deuschl G et al (2015) AWMF S 3 Leitlinie Sekundärprophylaxe ischämischer Schlaganfall und transitorische ischämische Attacke, S 1–60

12.

Eckstein HH, Kühnl A, Berkefeld J et al (2012) S3-Leitlinie zur Diagnostik, Therapie und Nachsorge der extracraniellen Carotisstenose. AWMF 004/028, S 1–217

13.

Eikelboom JW, Connolly SJ, Bosch J et al (2017) Rivaroxaban with or without aspirin in stable cardiovascular disease. N Eng J Med 377:1319–1330

14.

Eriksson BI, Quinlan DJ, Eikelboom JW (2011) Novel oral factor Xa and thrombin inhibitors in the management of thromboembolism. Annu Rev Med 2:41–57

15.

Granger CB, Alexander JH, McMurray JJ et al (2011) Apixaban versus warfarin in patients with atrial fibrillation. N Engl J Med 365(11):981–992

16.

Kirchhof P, Benussi S, Kotecha D et al (2016) ESC guidelines for the management of atrial fibrillation developed in collaboration with EACTS. Eur Heart J 37(38):2893–2962

17.

Lassen MR, Gallus A, Raskob GE et al (2010) Apixaban versus enoxaparin for thromboprophylaxis after hip replacement. N Engl J Med 363(26):2487–2498

18.

Lawall H, Huppert P, Rümenapf G et al (2015) Deutsche Gesellschaft für Angiologie, Gesellschaft für Gefäßmedizin. S3-Leitlinie zur Diagnostik, Therapie und Nachsorge der peripheren arteriellen Verschlusskrankheit, S 118–120

19.

Mega JL, Braunwald E, Wiviott SD et al (2012) Rivaroxaban in patients with a recent acute coronary syndrome. N Engl J Med 366:9–19

20.

Patel MR, Mahaffey KW, Garg J et al (2011) Rivaroxaban versus warfarin in nonvalvular atrial fibrillation. N Engl J Med 365:883–891

21.

Schulman S, Kearon C, Kakkar AK et al (2013) Extended use of dabigatran, warfarin or placebo in venous thromboembolism. N Eng J Med 368:709–718

22.

Steffel J, Luscher TF (2012) Vitamin K antagonists. Ready to be replaced? Hamostaseologie 32:249–257

23.

Stoberock K, Debus ES, Larena-Avellaneda A et al (2013) Neue orale Antikoagulanzien. Gefasschirurgie 18:665–674

24.

Weitz JI, Bates SM (2005) New anticoagulants. J Thromb Haemost 3:1843–1853
Ethics declarations
Interessenkonflikt
K. Stoberock, A. Larena-Avellaneda, T. Kölbel, G. Atlihan, F. Rohlffs, C. A. Behrendt und E. S. Debus geben an, dass kein Interessenkonflikt besteht.
Dieser Beitrag beinhaltet keine von den Autoren durchgeführten Studien an Menschen oder Tieren.
About this article
Cite this article
Stoberock, K., Larena-Avellaneda, A., Kölbel, T. et al. NOAKs bei arteriellen Rekonstruktionen in der Gefäßmedizin. Gefässchirurgie 23, 76–81 (2018). https://doi.org/10.1007/s00772-018-0362-3
Schlüsselwörter
Dabigatran

Rivaroxaban

Apixaban

Edoxaban

Antikoagulanzien
Keywords
Dabigatran

Rivaroxaban

Apixaban

Edoxaban

Anticoagulants