Zusammenfassung
In Deutschland leiden derzeit zwischen 400.000 und 800.000 Menschen an einer behandlungsbedürftigen chronischen Wunde. Die überwiegende Mehrzahl basiert auf vaskulärer Genese. Dies erfordert vom Gefäßchirurgen zur Behandlung neben Revaskularisationsmaßnahmen auch Kenntnisse zur Wundbehandlung und Pathophysiologie. In einem Übersichtsartikel werden die komplexen physiologischen Wundheilungsmechanismen den vaskulär bedingten Pathomechanismen gegenübergestellt sowie Faktoren eruiert, die zu einer Chronifizierung der Wunde führen.
In der Inflammationsphase nach Verletzung des Hautinteguments wird die Gerinnungskaskade initiiert, die zur Aktivierung von Thrombozyten führt. Thrombozyten sezernieren Wachstumsfaktoren. Makrophagen und Granulozyten sorgen für eine Beseitigung des Zelldetritus und wehren Mikroorganismen ab. Proteasen unterstützen das Débridement. Zytokine und Monozyten stimulieren die Angiogenese und fördern die Fibroblastenproliferation. In dieser Proliferationsphase generiert sich das zur Wundheilung erforderliche Granulationsgewebe. In der letzten Phase der Wundheilung (Reparationsphase) kommt es zur Reepithelialisierung der Wunde, der Keratinozytenregeneration und in der Folge durch Umwandlung des Kollagens III in Kollagen I zur Ausbildung einer Narbe. Störfaktoren der Wundheilung sind neben einer unbehandelten Grunderkrankung Wundinfektionen, bestehende Hypoxie, Nekrosen, unbehandelte metabolische Störungen, aber auch mangelnde Nährstoffe. Topisch angewandte autologe Stammzellen bieten Ansätze, den Regenerationsprozess auf zellulärer Ebene positiv zu beeinflussen.
Abstract
In Germany, between 400,000 and 800,000 people currently suffer from a chronic wound requiring treatment. The majority are based on a vascular genesis. In addition to revascularization, knowledge of the wound treatment as well as the pathophysiology are necessry for a vascular surgeon. In a review article the complex physiological wound healing mechanisms of the vascular-linked pathomechanisms are discussed as well as factors which lead to chronification of wounds. In the inflammation phase after injury to the skin integument, the coagulation cascade is initiated and thrombocytes are activated. Thrombocytes secreting growth factors, macrophages and granulocytes ensure elimination of the cell detritus and repel microorganisms. Proteases support debridement and cytokines and monocytes stimulate angiogenesis and promote fibroblast proliferation. In this proliferative phase, the granulation tissue required for wound healing is generated. The last phase of wound healing (reparation phase) involves re-epithelialization of the wound, keratinocyte regeneration and as a result, the transformation of collagen III into collagen I for formation of scar tissue. In addition to an untreated primary disease, disturbing factors of wound healing are wound infections, the presence of hypoxia, necrosis, untreated metabolic disturbances and also nutrient deficiency. Topically applied autologous stem cells provide approaches to positively influence the regeneration process at the cellular level.
This is a preview of subscription content, log in to check access.
Access options
Buy single article
Instant access to the full article PDF.
US$ 39.95
Tax calculation will be finalised during checkout.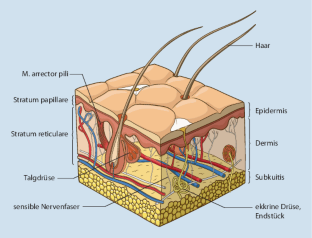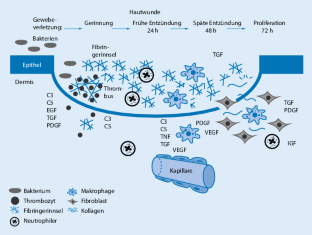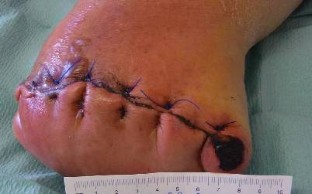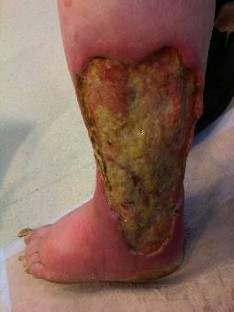 Literatur
1.

Heyer K, Augustin M (2014) Barmer GEK Heil- und Hilfsmittelreport 2014. http://presse.barmer-gek.de/barmer/web/Portale/Presseportal/Subportal/Presseinformationen/Archiv/2014/140916-Heil-und-Hilfsmittelreport/PDF-Heil-und-Hilfsmittelreport-2014,property=Dat. Zugegriffen: 01.07.2017

2.

Sterry W (2011) Kurzlehrbuch Dermatologie, 1. Aufl. Thieme, Stuttgart

3.

Herrmann K, Trinkheller U (2015) Dermatologie und medizinische Kosmetik, 3. Aufl. Springer, Berlin

4.

Sterry W, Burgdorf W, Paus R (2010) Checkliste Dermatologie, 6. Aufl. Thieme, Stuttgart

5.

Candi E, Schmidt R, Melino G (2005) The cornified envelope: a model of cell death in the skin. Nat Rev Mol Cell Biol 6(4):328–340

6.

Tansey EA, Johnson CD (2015) Recent advances in thermoregulation. Adv Physiol Educ 39(3):139–148

7.

Nejati R, Kovacic D, Slominksi A (2013) Neuro-immune-endocrine functions of the skin: an overview. Expert Rev Dermatol 8(6):581–583

8.

Zmijewski MA, Slominiski A (2011) Neuroendocrinology of the skin: an overview and selective analysis. Dermatoendocrinol 3(1):3–10

9.

Martin P (1997) Wound healing—aiming for perfect skin regeneration. Science 276(5309):75–81

10.

Broughton G, Janis JE, Attinger CE (2006) The basic science of wound healing. Plast Reconstr Surg 117(Suppl. 7):12S–34S

11.

Sinno H, Prakash S (2013) Complements and the wound healing cascade: an updated review. Plast Surg Int 2013:1–7. https://doi.org/10.1155/2013/146764 (Article ID: 146764)

12.

Smola H et al (2001) Wundheilung und Wundheilungsstörungen. Dtsch Arztebl 98(43):A2802–A2809

13.

Falanga V (2005) Wound healing and its impairment in the diabetic foot. Lancet 366(9498):1736–1743

14.

Barrientos S, Stojadinovic O, Golinko MS et al (2008) Growth factors and cytokines in wound healing. Wound Repair Regen 16(5):585–601

15.

Martin P, Nunan R (2015) Cellular and molecular mechanisms of repair in acute and chronic wound healing. Br J Dermatol 173(2):370–378

16.

Pastar I, Stojadinovic O, Yin NC et al (2014) Epithelialization in wound healing: a comprehensive review. Adv Wound Care (New Rochelle) 3(7):445–464

17.

Werner S, Krieg T, Smola H (2007) Keratinocyte-fibroblast interactions in wound healing. J Invest Dermatol 127(5):998–1008

18.

Tonnesen MG, Feng X, Clark R (2000) Angiogenesis in wound healing. J Investig Dermatol Symp Proc 5(1):40–46

19.

Newman AC, Nakatsu MN, Chou W et al (2011) The requirement for fibroblasts in angiogenesis: fibroblast-derived matrix proteins are essential for endothelial cell lumen formation. Mol Biol Cell 22(20):3791–3800

20.

Weis SM, Cheresh DA (2011) Tumor angiogenesis: molecular pathways and therapeutic targets. Nat Med 17(11):1359–1370

21.

Gurtner GC, Werner S, Barrandon Y, Longaker M (2008) Wound repair and regeneration. Nature 453(7193):314–321

22.

Perollet C, Han ZC, Savona C et al (1998) Platelet factor 4 modulates fibroblast growth factor 2 (FGF-2) activity and inhibits FGF-2 dimerization. Blood 91(9):3289–3299

23.

Henry G, Garner WL (2003) Inflammatory mediators in wound healing. Surg Clin North Am 83(3):483–507

24.

S3-Leitlinie 091-001 "Lokaltherapie chronischer Wunden bei den Risiken CVI, PAVK und Diabetes mellitus". http://www.awmf.org. Zugegriffen: 11.06.2017

25.

Velnar T, Bailey T, Smrkolj V (2009) The wound healing process: an overview of the cellular and molecular mechanisms. J Int Med Res 37(5):1528–1542

26.

Grice EA, Segre J (2012) Interaction of microbiome and the innate immune response in chronic wounds. Adv Exp Med Biol 946:55–68

27.

Kavalukas SL, Barbul A (2011) Nutrition and wound healing: an update. Plast Reconstr Surg 127(Suppl 1):38S–43S

28.

Tsourdi E, Barthel A, Rietzsch H et al (2013) Current aspects in the pathophysiology and treatment of chronic wounds in diabetes mellitus. Biomed Res Int 2013: 385641. https://doi.org/10.1155/2013/385641

29.

Alavi A, Sibbald RG, Mayer D et al (2014) Diabetic foot ulcers: part I. Pathophysiology and prevention. J Am Acad Dermatol 70(1):1.e1–1.e18

30.

Noor S, Zubair M, Ahmad J (2015) Diabetic foot ulcer—a review on pathophysiology, classification and microbial etiology. Diabetes Metab Syndr 9(3):192–199

31.

Muller MD, Reed AB, Leuenberger UA et al (2013) Physiology in medicine: peripheral arterial disease. J Appl Physiol 115(9):1219–1226

32.

Sakakura K, Nakano M, Otsuka F et al (2013) Pathophysiology of atherosclerosis plaque progression. Heart Lung Circ 22(6):399–411

33.

Eraso LH, Fukaya E, Mohler ER et al (2014) Peripheral arterial disease, prevalence and cumulative risk factor profile analysis. Eur J Prev Cardiol 21(6):704–711

34.

Lu L, Mackay DF, Pell JP (2014) Meta-analysis of the association between cigarette smoking and peripheral arterial disease. Heart 100(5):414–423

35.

Wittens C, Davies AH, Bækgaard N et al (2015) Editor's choice – management of chronic venous disease: clinical practice guidelines of the European Society for Vascular Surgery (ESVS). Eur J Vasc Endovasc Surg 49(6):678–737

36.

Eberhardt RT, Raffetto JD (2014) Chronic venous insufficiency. Circulation 130(4):333–346

37.

Comerota A, Lurie F (2015) Pathogenesis of venous ulcer. Semin Vasc Surg 28(1):6–14

38.

Rafetto JD (2013) Inflammation in chronic venous ulcers. Phlebology 28(Suppl 1):61–67

39.

Botuun R (2013) Effects of immunosuppressive therapy on wound healing. Int Wound J 10(1):98–104

40.

Payne WG, Naidu DK, Wheeler CK et al (2008) Wound healing in patients with cancer. Eplasty 8:e9

41.

Moore ZE, Cowman S (2015) Repositioning for treating pressure ulcers. Cochrane Database Syst Rev 1. https://doi.org/10.1002/14651858.cd006898.pub4 (Article ID: CD006898)

42.

Frykberg RG, Banks J (2015) Challenges in treatment of chronic wounds. Adv Wound Care (New Rochelle) 4(9):560–582

43.

Picard F, Hersant B, Bosc R et al (2015) The growing evidence for the use of platelet-rich plasma on diabetic chronic wounds: a review and a proposal for a new standard care. Wound Repair Regen 23(5):638–643

44.

Li M, Zhao Y, Hao H et al (2015) Mesenchymal stem cell-based therapy for nonhealing wounds: today and tomorrow. Wound Repair Regen 23(4):465–482

45.

Amato B, Compagna R, Amato M et al (2015) The role of adult tissue-derived stem cells in chronic leg ulcers: a systematic review focused on tissue regeneration medicine. Int Wound J 13(6):1289–1298
Ethics declarations
Interessenkonflikt
H. Diener, E. Kleinspehn, A. Larena-Avellaneda, M. Kaschwich, H. Rieß, F. Heidemann, C. Behrendt und E.S. Debus geben an, dass kein Interessenkonflikt besteht.
Dieser Beitrag beinhaltet keine von den Autoren durchgeführten Studien an Menschen oder Tieren.
Additional information
H. Diener und E. Kleinspehn teilen sich die Erstautorenschaft
About this article
Cite this article
Diener, H., Kleinspehn, E., Larena-Avellaneda, A. et al. Wundheilungsstörungen im Kontext – Epidemiologie und Pathophysiologie. Gefässchirurgie 22, 524–532 (2017). https://doi.org/10.1007/s00772-017-0330-3
Schlüsselwörter
Reepithelialisierung

Granulationsgewebe

Vaskuläre Wunden

Regenerative Therapieansätze

Periphere arterielle Verschlusskrankheit
Keywords
Re-Epithelialization

Granulation Tissue

Vascular wounds

Regenerative treatment approaches

Peripheral arterial occlusive disease