Zusammenfassung
In der vaskulären Forschung kommen zahlreiche statistische Kennzahlen und Methoden zum Einsatz. Die Auswahl des richtigen statistischen Verfahrens hängt jeweils von dem Kontext der Studienpopulation, der Häufigkeit eines Ereignisses oder der zugrunde liegenden Verteilung ab. Da es bisher nur wenige randomisierte klinische Studien (RCTs) in der Gefäßmedizin gibt und weil insbesondere Projekte der Qualitätsentwicklung auf sogenannte Real-World-Daten angewiesen sind, werden zunehmend nichtrandomisierte Daten aus Registern oder Routinedaten der Kostenträger verwendet, sodass geeignete statistische Verfahren zur Beurteilung der Validität dieser Datenquellen erforderlich werden. Dazu gehören die Standardkennzahlen Mittelwert, Standardabweichung, Varianz und Konfidenzintervalle, aber auch Überlebenszeitanalysen, Propensity Score Matching und Cox-Regression sowie die Darstellung der Ergebnisse in Form von Kaplan-Meier-Kurven und Forest-Plots. Diese werden in diesem Artikel erklärt und anhand von ausgewählten Publikationen aus der vaskulären Versorgungsforschung dargestellt. Die gewissenhafte Auswahl des geeigneten statistischen Verfahrens in der jeweiligen Situation und das Verstehen der Methoden und Ergebnisse in wissenschaftlichen Publikationen sind von großer Wichtigkeit für die Ableitung valider Erkenntnisse.
Abstract
In vascular research many statistical methods are used. The selection of the right statistical method depends on study design, frequencies on events, and the data's underlying distributions. In vascular surgery research, random clinical trials (RCTs) are rare. Likewise, quality improvement depends on real-world data. Therefore, the amount of registered and administered data analyses will increase in the next years as well as the usage of statistical methods to examine the validity of data. Among others, the mean, standard deviation, variance and confidence intervals, as well as survival analyses, propensity score matching, and Cox regression, have widespread use for illustration, e. g. Kaplan–Meier curves and forest plots. In the following, the most important statistical methods will be explained by means of select publications from the vascular surgery literature. The conscientious selection of the right analysis methods in every different situation is most important for valid knowledge gains.
Access options
Buy single article
Instant access to the full article PDF.
USD 39.95
Price excludes VAT (USA)
Tax calculation will be finalised during checkout.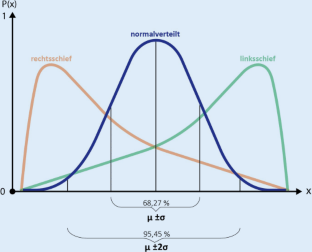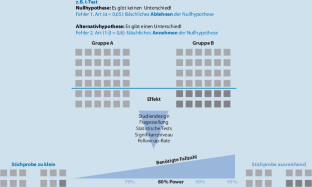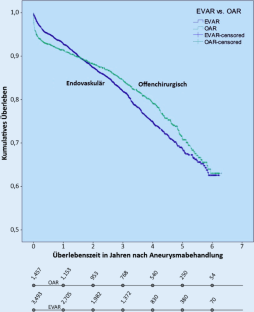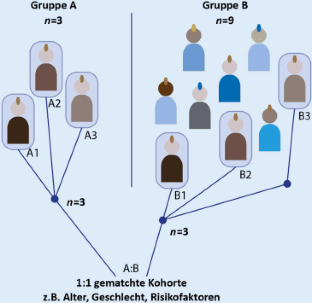 Literatur
Sackett DL, Rosenberg WM, Gray JA, Haynes RB, Richardson WS (1996) Evidence based medicine: what it is and what it isn't. BMJ 312(7023):71–72

Albert DA (1981) Deciding whether the conclusions of studies are justified: a review. Med Decis Making 1(3):265–275

Giles KA, Pomposelli F, Hamdan A, Wyers M, Jhaveri A, Schermerhorn ML (2009) Decrease in total aneurysm-related deaths in the era of endovascular aneurysm repair. J Vasc Surg 49(3):543–550 (discussion 50–1)

Puhr R, Heinze G, Nold M, Lusa L, Geroldinger A (2017) Firth's logistic regression with rare events: accurate effect estimates and predictions? Stat Med 36(14):2302. https://doi.org/10.1002/sim.7273

Franklin JM, Eddings W, Austin PC, Stuart EA, Schneeweiss S (2017) Comparing the performance of propensity score methods in healthcare database studies with rare outcomes. Stat Med 36(12):1946–1963

Lovegrove RE, Javid M, Magee TR, Galland RB (2008) Endovascular and open approaches to non-thrombosed popliteal aneurysm repair: a meta-analysis. Eur J Vasc Endovasc Surg 36(1):96–100

Lewis S, Clarke M (2001) Forest plots: trying to see the wood and the trees. BMJ 322(7300):1479–1480

Deery SE, Soden PA, Zettervall SL, Shean KE, Bodewes TC, Pothof AB et al (2017) Sex differences in mortality and morbidity following repair of intact abdominal aortic aneurysms. J Vasc Surg 65(4):1006–1013

Lederle FA, Freischlag JA, Kyriakides TC, Matsumura JS, Padberg FT Jr., Kohler TR et al (2012) Long-term comparison of endovascular and open repair of abdominal aortic aneurysm. N Engl J Med 367(21):1988–1997

Cox DR (1972) Regression models and life-tables. J R Stat Soc Ser B 34(2):187–220

Kuss O, Blettner M, Börgermann J (2016) Propensity score: an alternative method of analyzing treatment effects effects – part 23 of a series on evaluation of scientific publications. Dtsch Arztebl Int 113:597–603

Austin PC (2011) An introduction to propensity score methods for reducing the effects of confounding in observational studies. Multivariate Behav Res 46(3):399–424

Rosenbaum PR et al (1983) The central role of the propensity score in observational studies for causal effects. Biometrika 70(1):41–55

Cepeda MS, Boston R, Farrar JT, Strom BL (2003) Comparison of logistic regression versus propensity score when the number of events is low and there are multiple confounders. Am J Epidemiol 158(3):280–287

Schermerhorn ML, Buck DB, O'Malley AJ, Curran T, McCallum JC, Darling J et al (2015) Long-term outcomes of abdominal aortic aneurysm in the medicare population. N Engl J Med 373(4):328–338

Vorgrimler D, Wübben D (2003) Die Delphi-Methode und ihre Eignung als Prognoseinstrument. Statistisches Bundesamt – Wirtschaft und Statistik 8/2003, Statistisches Bundesamt, Wiesbaden. S 763–774. https://www.destatis.de/DE/Publikationen/WirtschaftStatistik/Gastbeitraege/DelphiMethode_82003.html

Cohen J (1988) Statistical power analysis for the behavioral sciences, 2. Aufl. Taylor & Francis, London

Hedges V (1981) Distribution theory for Glass's estimator of effect size and related estimators. J Educ Behav Stat 6(2):107–128

Chowdhury MM, McLain AD, Twine CP (2014) Angioplasty versus bare metal stenting for superficial femoral artery lesions. Cochrane Database Syst Rev. https://doi.org/10.1002/14651858.CD006767.pub3

Grimm J, Muller-Hulsbeck S, Jahnke T, Hilbert C, Brossmann J, Heller M (2001) Randomized study to compare PTA alone versus PTA with Palmaz stent placement for femoropopliteal lesions. J Vasc Interv Radiol 12(8):935–942

Behrendt CA, Heidemann F, Riess HC, Stoberock K, Debus SE (2017) Registry and health insurance claims data in vascular research and quality improvement. Vasa 46(1):11–15

Karthikesalingam A, Holt PJ, Vidal-Diez A, Bahia SS, Patterson BO, Hinchliffe RJ et al (2016) The impact of endovascular aneurysm repair on mortality for elective abdominal aortic aneurysm repair in England and the United States. J Vasc Surg 64(2):321–327.e2

Behrendt et al (2017) Short-term and long-term results of endovascular and open repair of abdominal aortic aneurysms in Germany. J Vasc Surg. https://doi.org/10.1016/j.jvs.2017.04.040
Ethics declarations
Interessenkonflikt
T. Schwaneberg, E. S. Debus und C.-A. Behrendt geben an, dass kein Interessenkonflikt besteht.
Dieser Beitrag beinhaltet keine von den Autoren durchgeführten Studien an Menschen oder Tieren.
About this article
Cite this article
Schwaneberg, T., Debus, E.S. & Behrendt, CA. Grundlagen der Statistik und Anwendung in der Gefäßchirurgie. Gefässchirurgie 22, 420–427 (2017). https://doi.org/10.1007/s00772-017-0305-4
Published:

Issue Date:

DOI: https://doi.org/10.1007/s00772-017-0305-4
Schlüsselwörter
Qualitätsverbesserung

Studiendesign

Konfidenzintervalle

Überlebenszeitanalyse

Propensity-Score
Keywords
Quality improvement

Research design

Confidence intervals

Survival analysis

Propensity score