Zusammenfassung
Hintergrund
Für Pathologien des Aortenbogens gilt bisher die offene Chirurgie als "Goldstandard". Trotz technischer, anästhesiologischer und chirurgischer Entwicklungen, wird für die offenen Verfahren ein hypothermer Kreislaufstillstand mit hohem perioperativem Risiko notwendig und ist damit für multimorbide Patienten nicht anwendbar. Die endovaskulären Techniken haben in den letzten 20 Jahren Einzug in die Versorgung von Aortenpathologien, auch der thorakalen Aorta, gehalten. Während für Pathologien der deszendierenden Aorta die thorakale endovaskuläre Stentversorgung mittlerweile zum Standard geworden ist, gewinnt diese Technik insbesondere für Notfälle wie bei symptomatischen und rupturierten Aneurysmen und bei multimorbiden Patienten immer mehr Anwendung im Bereich des gesamten Aortenbogens. Aufgrund der abgehenden supraaortalen Gefäße mit nur minimaler Ischämietoleranz, Krümmung der Aorta sowie Nähe zum kardialen Auswurftrakt unterliegt die endovaskuläre Versorgung des Aortenbogens großen technischen Herausforderungen.
Fragestellung
Welche Therapieoptionen bieten die endovaskulären Techniken für den individuellen Patienten?
Ergebnisse
Zu den endovaskulären Therapieoptionen des Aortenbogens zählen kombiniert offen und endovaskuläre Hybridverfahren und endovaskuläre Techniken wie die fenestrierten und gebranchten Stentprothesen, die Chimney-Graft-Technik und die In-situ-Fenestrierung. Die individuell angefertigten fenestrierten und gebranchten Stentprothesen gelten als gute Therapiealternative für Patienten mit hohem perioperativen Risiko für eine offen-chirurgische Versorgung und könnten sich in Zukunft zur Therapie der Wahl entwickeln. Die Chimney-Graft-Technik und In-situ-Fenestrierung sind als "Bail-out"-Strategien für die endovaskuläre Versorgung von Aortenpathologien geeignet.
Schlussfolgerung
Die endovaskulären Techniken unterliegen schnellen Entwicklungen und Verbesserungen und werden in spezialisierten Zentren bereits regelhaft als alternative Therapieoption für Hochrisikopatienten mit geeigneter Anatomie angewandt.
Abstract
Background
Open surgical treatment represents the gold standard for pathologies of the aortic arch. Despite surgical, anesthesiological and technical developments of open surgery, hypothermic circulatory arrest with a high perioperative risk is still necessary and cannot therefore be used for multimorbid patients. Endovascular techniques have made impressive developments over the last 20 years and are the treatment of choice for pathologies of the descending aorta. In emergency situations, such as ruptured or symptomatic aneurysms and in multimorbid patients, endovascular techniques are currently becoming a treatment alternative for lesions of the aortic arch. Due to the complexity of the aortic arch with its supra-aortic vessels, angulation and proximity to the heart, endovascular treatment is a challenging task.
Objective
Which therapy options are offered by endovascular techniques for individual patients?
Results
Endovascular treatment options for the aortic arch include hybrid debranching procedures and endovascular techniques, such as fenestrated and branched stent grafts, chimney graft procedures and in situ fenestration. Customized fenestrated and branched stent grafts are considered to be a good alternative treatment for patients unfit for open surgery and could become the treatment of choice in the future. Chimney grafts and in situ fenestration are suitable as valuable bail-out strategies for aortic arch pathologies.
Conclusion
Endovascular techniques are rapidly developing and improving and have currently become a valid alternative treatment in specialized centers for high risk patients with aortic arch pathologies.
This is a preview of subscription content, log in to check access.
Access options
Buy single article
Instant access to the full article PDF.
US$ 39.95
Tax calculation will be finalised during checkout.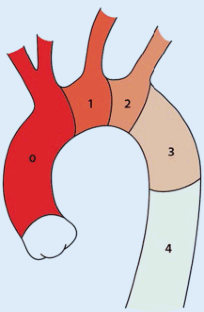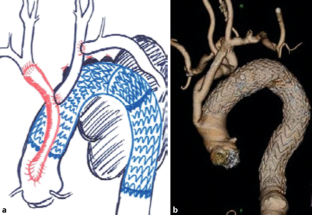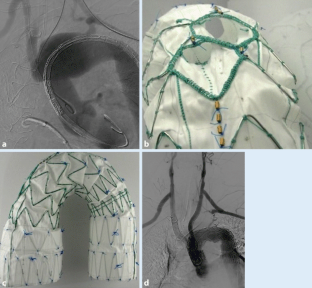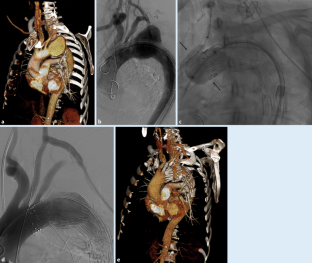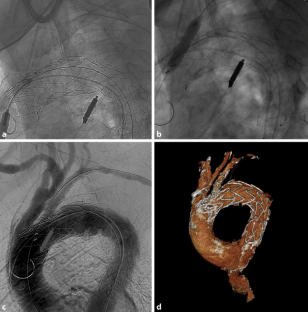 Literatur
1.

Ahanchi SS, Almaroof B, Stout CL et al (2012) In situ laser fenestration for revascularization of the left subclavian artery during emergent thoracic endovascular aortic repair. J Endovasc Ther 19:226–230

2.

Antoniou GA, El Sakka K, Hamady M et al (2010) Hybrid treatment of complex aortic arch disease with supra-aortic debranching and endovascular stent graft repair. Eur J Vasc Endovasc Surg 39:683–690

3.

Antoniou GA, Mireskandari M, Bicknell CD et al (2010) Hybrid repair of the aortic arch in patients with extensive aortic disease. Eur J Vasc Endovasc Surg 40:715–721

4.

Appoo JJ, Herget EJ, Pozeg ZI et al (2015) Midterm results of endovascular stent grafts in the proximal aortic arch (zone 0): an imaging perspective. Can J Cardiol 31:731–737

5.

Cheng D, Martin J, Shennib H et al (2010) Endovascular aortic repair versus open surgical repair for descending thoracic aortic disease a systematic review and meta-analysis of comparative studies. J Am Coll Cardiol 55:986–1001

6.

Chiesa R, Melissano G, Tshomba Y et al (2010) Ten years of endovascular aortic arch repair. J Endovasc Ther 17:1–11

7.

Chuter TA, Schneider DB (2007) Endovascular repair of the aortic arch. Perspect Vasc Surg Endovasc Ther 19:188–192

8.

Chuter TA, Schneider DB, Reilly LM et al (2003) Modular branched stent graft for endovascular repair of aortic arch aneurysm and dissection. J Vasc Surg 38:859–863

9.

Czerny M, Weigang E, Sodeck G et al (2012) Targeting landing zone 0 by total arch rerouting and TEVAR: midterm results of a transcontinental registry. Ann Thorac Surg 94:84–89

10.

De Rango P, Ferrer C, Coscarella C et al (2015) Contemporary comparison of aortic arch repair by endovascular and open surgical reconstructions. J Vasc Surg 61:339–346

11.

Erbel R, Aboyans V, Boileau C et al (2014) 2014 ESC Guidelines on the diagnosis and treatment of aortic diseases: Document covering acute and chronic aortic diseases of the thoracic and abdominal aorta of the adult. The Task Force for the Diagnosis and Treatment of Aortic Diseases of the European Society of Cardiology (ESC). Eur Heart J 35:2873–2926

12.

Gelpi G, Vanelli P, Mangini A et al (2010) Hybrid aortic arch repair procedure: reinforcement of the aorta for a safe and durable landing zone. Eur J Vasc Endovasc Surg 40:709–714

13.

Grabenwoger M, Alfonso F, Bachet J et al (2012) Thoracic Endovascular Aortic Repair (TEVAR) for the treatment of aortic diseases: a position statement from the European Association for Cardio-Thoracic Surgery (EACTS) and the European Society of Cardiology (ESC), in collaboration with the European Association of Percutaneous Cardiovascular Interventions (EAPCI). Eur J Cardiothorac Surg 42:17–24

14.

Haulon S, Greenberg RK, Spear R et al (2014) Global experience with an inner branched arch endograft. J Thorac Cardiovasc Surg 148:1709–1716

15.

Hiratzka LF, Bakris GL, Beckman JA et al (2010) 2010 ACCF/AHA/AATS/ACR/ASA/SCA/SCAI/SIR/STS/SVM guidelines for the diagnosis and management of patients with Thoracic Aortic Disease: a report of the American College of Cardiology Foundation/American Heart Association Task Force on Practice Guidelines, American Association for Thoracic Surgery, American College of Radiology, American Stroke Association, Society of Cardiovascular Anesthesiologists, Society for Cardiovascular Angiography and Interventions, Society of Interventional Radiology, Society of Thoracic Surgeons, and Society for Vascular Medicine. Circulation 121:e266–e369

16.

Hogendoorn W, Schlosser FJ, Moll FL et al (2013) Thoracic endovascular aortic repair with the chimney graft technique. J Vasc Surg 58:502–511

17.

Inoue K, Hosokawa H, Iwase T et al (1999) Aortic arch reconstruction by transluminally placed endovascular branched stent graft. Circulation 100:II316–II321

18.

Ishimaru S (2004) Endografting of the aortic arch. J Endovasc Ther 11(Suppl 2):I62–71

19.

Iwakoshi S, Ichihashi S, Itoh H et al (2015) Clinical outcomes of thoracic endovascular aneurysm repair using commercially available fenestrated stent graft (Najuta endograft). J Vasc Surg 62:1473–1478

20.

Joseph G, Premkumar P, Thomson V et al (2016) Externalized guidewires to facilitate fenestrated endograft deployment in the aortic arch. J Endovasc Ther 23:160–171

21.

Katada Y, Kondo S, Tsuboi E et al (2016) Endovascular total arch repair using in situ fenestration for arch aneurysm and chronic type A dissection. Ann Thorac Surg 101:625–630

22.

Kölbel T, Ohrlander T, Dias N, Resch T, Sonesson B, Malina M (2009) Der Chimney-Graft. Endovaskuläre Technik zur Erhaltung der supraaortalen Äste. Gefässchirurgie. doi:10.1007/s00772-008-0661-1

23.

Lindblad B, Bin Jabr A, Holst J et al (2015) Chimney grafts in aortic stent grafting: hazardous or useful technique? systematic review of current data. Eur J Vasc Endovasc Surg 50:722–731

24.

Lotfi S, Clough RE, Ali T et al (2013) Hybrid repair of complex thoracic aortic arch pathology: long-term outcomes of extra-anatomic bypass grafting of the supra-aortic trunk. Cardiovasc Intervent Radiol 36:46–55

25.

Lu Q, Feng J, Zhou J et al (2015) Endovascular repair by customized branched stent-graft: A promising treatment for chronic aortic dissection involving the arch branches. J Thorac Cardiovasc Surg 150:1631–1638

26.

Mangialardi N, Serrao E, Kasemi H et al (2014) Chimney technique for aortic arch pathologies: an 11-year single-center experience. J Endovasc Ther 21:312–323

27.

Moulakakis KG, Mylonas SN, Dalainas I et al (2013) The chimney-graft technique for preserving supra-aortic branches: a review. Ann Cardiothorac Surg 2:339–346

28.

Murphy EH, Dimaio JM, Dean W et al (2009) Endovascular repair of acute traumatic thoracic aortic transection with laser-assisted in-situ fenestration of a stent-graft covering the left subclavian artery. J Endovasc Ther 16:457–463

29.

Redlinger RE Jr., Ahanchi SS, Panneton JM (2013) In situ laser fenestration during emergent thoracic endovascular aortic repair is an effective method for left subclavian artery revascularization. J Vasc Surg 58:1171–1177

30.

Riambau V (2015) Application of the Bolton Relay Device for thoracic endografting in or near the aortic arch. Aorta 3:16–24

31.

Schumacher H (2009) Endovaskuläre Hybridoperationen im Aortenbogen – quo vadis? Gefässchirurgie. doi:10.1007/s00772-008-0660-2

32.

Spear R, Haulon S, Ohki T et al (2016) Editor's choice – subsequent results for arch aneurysm repair with inner branched endografts. Eur J Vasc Endovasc Surg 51:380–385

33.

Tse LW, Lindsay TF, Roche-Nagle G et al (2015) Radiofrequency in situ fenestration for aortic arch vessels during thoracic endovascular repair. J Endovasc Ther 22:116–121

34.

Tsilimparis N, Debus ES, Oderich GS et al (2016) International experience with endovascular therapy of the ascending aorta with a dedicated endograft. J Vasc Surg. doi:10.1016/j.jvs.2015.12.027

35.

Tsilimparis N, Debus ES, Wipper S et al (2016) Proximal thoracic endograft displacement rescued by balloon-assisted pull-back, external shunting, and in situ fenestration of the left carotid artery. J Vasc Surg 63:815–818

36.

Vallejo N, Rodriguez-Lopez JA, Heidari P et al (2012) Hybrid repair of thoracic aortic lesions for zone 0 and 1 in high-risk patients. J Vasc Surg 55:318–325

37.

Ye C, Chang G, Li S et al (2011) Endovascular stent-graft treatment for Stanford type A aortic dissection. Eur J Vasc Endovasc Surg 42:787–794

38.

Tsilimparis N, Debus ES, Wipper S et al (2014) Endovaskuläre Versorgung von Pathologien der Aorta ascendens und des Aortenbogens. Gefasschirurgie 19(5):436–442. doi:10.1007/s00772-014-1338-6
Ethics declarations
Interessenkonflikt
F. Heidemann, F. Rohlffs und C.-A. Behrendt geben an, dass kein Interessenkonflikt besteht. N. Tsilimparis: Proktor für Cook Medical. E.S. Debus: Forschungsförderung von Cook Medical. T. Kölbel: Proktor und wissenschaftlicher Sprecher für Cook Medical; erhält Forschungsförderung und Royalties von Cook Medical. A. Larena-Avellaneda: Honorare für Vortragstätigkeiten, Firma Cook
Dieser Beitrag beinhaltet keine von den Autoren durchgeführten Studien an Menschen oder Tieren.
About this article
Cite this article
Heidemann, F., Tsilimparis, N., Rohlffs, F. et al. Endovaskuläre Therapie des Aortenbogens. Gefässchirurgie 21, 217–223 (2016). https://doi.org/10.1007/s00772-016-0162-6
Schlüsselwörter
Aorta

endovaskuläre Technik

Stentprothese

Chimney-Graft

In-situ-Fenestrierung
Keywords
Aorta

Endovascular technique

Stent graft

Chimney graft

In situ fenestration