Zusammenfassung
Mit Hilfe der Finite-Elemente-Analyse (FEA) könnte eine patientenspezifische Risikobeurteilung abdomineller Aortenaneurysmen (AAA) möglich sein. Für die klinische Methodenvalidierung sind weitere Studien nötig. Die Software A4clinics™ bietet eine einfache umfangreiche und benutzerfreundliche FEA-Simulation. Mit Hilfe der Implementierung der FEA-Workstation an einem universitären Gefäßzentrum der Maximalversorgung sollen wichtige Studien zur weiteren Methodenvalidierung folgen.
Abstract
Finite element analysis (FEA) of abdominal aortic aneurysms (AAA) could enable a more precise patient-specific risk assessment of AAA rupture. Further clinical studies are needed to validate this model as a clinical decision-making tool. The A4clinics™ software provides a simple and detailed FEA simulation. After implementation of a FEA workstation in a high volume university vascular center, relevant studies for further model validation are expected to be carried out.
Access options
Buy single article
Instant access to the full article PDF.
US$ 39.95
Tax calculation will be finalised during checkout.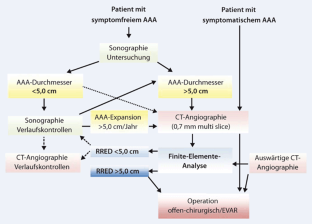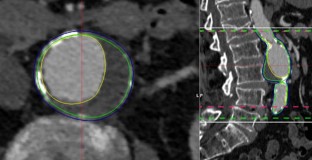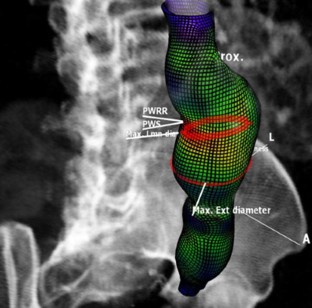 Literatur
1

Auer M, Gasser TC (2010) Automatic reconstruction and finite element generation of abdominal aortic aneurysms. IEEE Trans Med Imaging 29:1022–1028

2

Brown LC, Powell JT (1999) Risk factors for aneurysm rupture in patients kept under ultrasound surveillance. UK Small Aneurysm Trial Participants. Ann Surg 230:289–297

3

Brown PM, Zelt DT, Sobolev B (2003) The risk of rupture in untreated aneurysms: the impact of size, gender, and expansion rate. J Vasc Surg 37:280–284

4

Darling RC, Messina CR, Brewster DC et al (1977) Autopsy study of unoperated abdominal aortic aneurysms. Circulation 56:161–164

5

Derubertis BG, Trocciola SM, Ryer EJ et al (2007) Abdominal aortic aneurysm in women: prevalence, risk factors, and implications for screening. J Vasc Surg 46:630–635

6

Erhart P, Grond-Ginsbach C, Hakimi M et al (2014) Finite element analysis of abdominal aortic aneurysms: predicted rupture risk correlates with aortic wall histology in individual patients. J Endovasc Ther 21:556–564

7

Erhart P, Hyhlik-Dürr A, Geisbüsch P et al (2015) Finite element analysis in asymptomatic, symptomatic, and ruptured abdominal aortic aneurysms: in search of new rupture risk predictors. Eur J Vasc Endovasc Surg 49:239–245

8

Fillinger MF, Raghavan ML, Marra SP et al (2002) In vivo analysis of mechanical wall stress and abdominal aortic aneurysm rupture risk. J Vasc Surg 36:589–597

9

Gasser TC, Auer M, Labruto F et al (2010) Biomechanical rupture risk assessement of abdominal aortic aneurysms: model complexity versus predictability of finite element simulations. Eur J Vasc Endovasc Surg 40:176–185

10

Gasser TC, Goerguelue G, Folkesson M et al (2008) Failure properties of intra-luminal thrombus in abdominal aortic aneurysm under static and pulsating mechanical loads. J Vasc Surg 48:179–188

11

Gasser TC, Nchimi A, Swedenborg J et al (2014) A novel strategy to translate the biomechanical rupture risk of abdominal aortic aneurysms to their equivalent diameter risk: method and retrospective validation. Eur J Vasc Endovasc Surg 47:288–295

12

Hans SS, Jareunpoon O, Balasubramaniam M et al (2005) Size and location of thrombus in intact and ruptured abdominal aortic aneurysms. J Vasc Surg 41:584–588

13

Heiland VM, Forsell C, Roy J et al (2013) Identification of carotis plaque tissue properties using an experimental-numerical approach. J Mech Behav Biomed Mater 27:226–238

14

Hyhlik-Dürr A, Krieger T, Geisbüsch P et al (2011) Reproducibility of deriving parameters of AAA rupture risk from patient-specific 3Dfinite element models. J Endovasc Ther 18:289–298

15

Karimi A, Navidbakhsh M, Yamada H et al (2014) A nonlinear finite element simulation of balloon expandable stent for assessment of plaque vulnerability inside astenotic artery. Med Biol Eng Comput 52:589–599

16

Khosla S, Moxon JV, Morris DR et al (2014) Comparison of peak wall stress in ruptured, symptomatic and intact abdominal aortic aneurysms: a systematic review and meta-analysis. Br J Surg 101:1350–1357

17

Larsson E, Granath F, Swedenborg J et al (2009) A population-based case-control study of the familial risk of abdominal aortic aneurysm. J Vasc Surg 49:47–51

18

Maier A, Essler M, Gee MW et al (2012) Correlation of biomechanics to tissue reaction in aortic aneurysms assessed by finite elements and [18F]-fluorodeoxyglucose-PET/CT. Int J Numer Method Biomed Eng 28:456–471

19

Maier A, Gee MW, Reeps C et al (2010) A comparison of diameter, wall stress, and rupture potential index for abdominal aortic aneurysm rupture risk prediction. Ann Biomed Eng 38:3124–3134

20

Matsumoto T, Ohnishi I, Bessho M et al (2009) Prediction of vertebral strength under loading conditions occurring in activities of daily living using a computed tomography-based nonlinear finite element method. Spine 34(14):1464–1469

21

Moll FL, Powell JT, Fraedrich G et al (2011) Management of abdominal aortic aneurysms. Clinical practice guidelines of the European society for vascular surgery. Eur J Vasc Endovasc Surg 41:1–58

22

Mower WR, Quinones WJ, Gambhir SS (1997) Effect of intraluminal thrombus on abdominal aortic aneurysm wall stress. J Vasc Surg 26:602–608

23

Nicholls SC, Gardner JB, Meissner MH et al (1998) Rupture in small abdominal aortic aneurysms. J Vasc Surg 28:884–888

24

Powell JT, Worrell P, MacSweeney ST et al (1996) Smoking as a risk factor for abdominal aortic aneurysm. Ann N Y Acad Sci 800:246–248

25

Raghavan ML, Vorp DA (2000) Toward a biomechanical tool to evaluate rupture potential of abdominal aortic aneurysm: identification of a finite strain constitutive model and evaluation of its applicability. J Biomech 33:475–482

26

Raut SS, Jana A, De Oliveira V (2013) The importance of patient-specific regionally varying wall thickness in abdominal aortic aneurysm biomechanics. J Biomech Eng 135:81010

27

Schurink GW, van Baalen JM, Visser MJ et al (2000) Thrombus within an aortic aneurysm does not reduce pressure on the aneurysmal wall. J Vasc Surg 31:501–506

28

Telfer S, Erdemir A, Woodburn J et al (2014) What has finite element analysis taught us about diabetic foot disease and its management? A systematic review. PLoS One 9:e109994

29

Venkatasubramaniam AK, Fagan MJ, Mehta T et al 2004) A comparative study of aortic wall stress using finite element analysis for ruptured and non-ruptured abdominal aortic aneurysms. Eur J Vasc Endovasc Surg 28:168–176
Ethics declarations
Interessenkonflikt
Finanzielle Fördermittel der B.-Braun-Stiftung. T.C. Gasser und M. Auer sind Mitgründer und Miteigentümer der VASCOPS GmbH.
Dieser Beitrag beinhaltet keine Studien an Menschen oder Tieren.
About this article
Cite this article
Erhart, P., Gasser, T., Auer, M. et al. Finite-Elemente-Analyse abdomineller Aortenaneurysmen. Gefässchirurgie 20, 503–507 (2015). https://doi.org/10.1007/s00772-015-0064-z
Schlüsselwörter
Finite-Elemente-Analyse

Workstation

Abdominelles Aortenaneurysma

Rupturrisiko

Risikoeinschätzung
Keywords
Finite element analysis

Workstation

Abdominal aortic aneurysm

Rupture

Risk assessment