Zusammenfassung
Einleitung
Der Asymptomatic Carotid Surgery Trial 2 (ACST-2) ist eine groß und einfach angelegte Studie mit dem Ziel, sowohl die frühen Risiken als auch die langfristige Beständigkeit der Karotisendarteriektomie (CEA) und des Karotisstentings (CAS) an asymptomatischen Patienten mit hochgradiger Karotisstenose zu vergleichen.
Methoden
Patienten kommen für ACST-2 infrage, wenn sie eine schwerwiegende Karotisstenose aufweisen und eine Intervention klar indiziert ist, wobei sowohl die CEA als auch das CAS durchführbar ist, aber beträchtliche Unsicherheit hinsichtlich der besseren Intervention besteht. Teilnehmende Chirurgen und Stenting-Spezialisten können ihre gewohnten Verfahren anwenden. Jegliche CE-gekennzeichneten Geräte sind erlaubt.
Ergebnisse
In ACST-2 sollen bis 2019 mehrere tausend Patienten eingeschlossen werden. Bislang haben die Studienmitarbeiter an 79 Zentren in 25 Ländern über 1200 Patienten randomisiert. Italien ist das Land mit den meisten Rekrutierungen, gefolgt vom Vereinigten Königreich und Schweden. Verblindete Interimanalysen ergaben eine 1%ige Rate ernster Komplikationen in den ersten 30 Tagen nach Eingriff (schwerer Schlaganfall, Myokardinfarkt oder Tod).
Diskussion
ACST-2 ist die einzige Studie, die für den verlässlichen Vergleich der kurzfristigen Risiken und langfristigen Vorteile der CEA gegenüber dem CAS bei asymptomatischen Patienten konzipiert wurde. Zudem ergänzt sie andere Karotisstudien, welche den interventionellen Ansatz mit dem medikamentösen Management vergleichen, z. B. Stent-Protected Angioplasty versus Carotid Endarterectomy 2 (SPACE-2). Falls diese Studien bei ausgewählten Patienten einen Nutzen der Karotisintervention zusätzlich zur modernen medikamentösen Behandlung aufzeigen, was wahrscheinlich ist, wird die Frage, ob eine CEA oder ein CAS durchgeführt werden sollte, ihre hohe Relevanz behalten – und nur ACST-2 kann darauf eine Antwort geben.
Abstract
Introduction
ACST-2 is a large and simple stream-lined trial which aims to compare both the early hazards and long-term durability of carotid endarterectomy (CEA) versus carotid artery stenting (CAS) in asymptomatic patients with high-grade carotid artery stenosis.
Methods
Patients are eligible for ACST-2 if they have a severe carotid artery stenosis and intervention is clearly indicated, with both CEA and CAS practicable, but where there is substantial uncertainty as to which intervention is best. Collaborating surgeons and stenters may use their usual techniques and any CE-marked devices are permitted.
Results
ACST-2 aims to recruit several thousand patients by 2019. To date, over 1200 patients have been randomised by study collaborators working in 79 centres across 25 countries. Italy is the top recruiting country, followed by the UK and Sweden. Interim blinded analyses reveal a 1 % rate of serious 30-day postprocedure complications (disabling stroke, myocardial infarction or death).
Discussion
ACST-2 is the only trial designed to reliably compare the short-term hazards and long-term benefits of CEA versus CAS in asymptomatic patients, and it complements other carotid trials which compare intervention versus medical management (e.g. SPACE-2). If, as seems likely, these trials show benefit from carotid intervention in addition to contemporary medical management in selected patients, then whether to perform CEA or CAS will remain a highly relevant question, and one only ACST-2 can answer.
The English full-text version of this article is available at SpringerLink (under "Supplemental").
Access options
Buy single article
Instant access to the full article PDF.
US$ 39.95
Tax calculation will be finalised during checkout.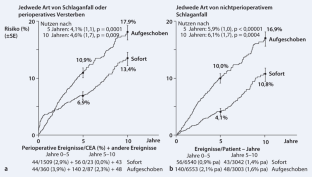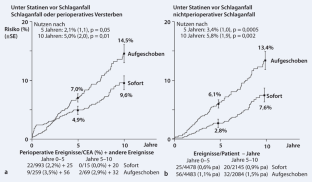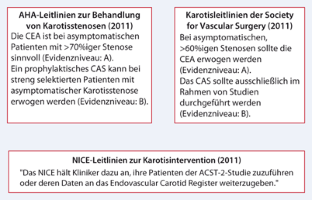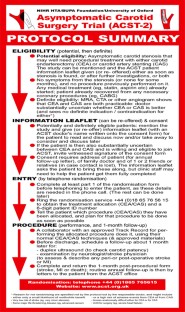 Literatur
1.

Lopez AD, Mathers CD, Ezzati M (eds) et al (2006) Global burden of disease & risk factors. Oxford University Press and The World Bank, Washington

2.

Berry E, Kelly S, Westwood ME et al (2002) The cost-effectiveness of magnetic resonance angiography for carotid artery stenosis and peripheral vascular disease: a systematic review. Health Technol Assess 6

3.

European Carotid Surgery Trialists' Collaborative Group (1991) MRC European Carotid Surgery Trial: interim results for symptomatic patients with severe (70–99 %) or with mild (0–29 %) carotid stenosis. Lancet 337:235–243

4.

North American Symptomatic Carotid Endarterectomy Trial Collaborators (1991) Beneficial effect of carotid endarterectomy in symptomatic patients with high-grade stenosis. N Engl J Med 325:445–453

5.

MRC Asymptomatic Carotid Surgery Trial (ACST) Collaborative Group (2004) Prevention of disabling and fatal strokes by successful carotid endarterectomy in patients without recent neurological symptoms: randomized controlled trial. Lancet 363:1491–1502

6.

Halliday H, Harrison M, Hayter E et al (2010) 10-year stroke prevention after successful carotid endarterectomy for asymptomatic stenosis (ACST-1): a multicentre randomized trial. Lancet 376:1074–1084

7.

Executive Committee for the Asymptomatic Carotid Atherosclerosis Study (1995) Endarterectomy for asymptomatic carotid stenosis. JAMA 273:1421–1428

8.

Silver FL, Mackey A, Clark WM et al (2011) Safety of stenting and endarterectomy by symptomatic status in the Carotid Revascularization Endarterectomy Versus Stenting Trial (CREST). Stroke 42:675–680

9.

Mas J-L, Chatellier G, Beyssen B et al (2006) Endarterectomy versus stenting in patients with symptomatic severe carotid stenosis. N Engl J Med 355:1660–1671

10.

The SPACE Collaborative Group (2006) 30 day results from the SPACE trial of stent-protected angioplasty versus carotid endarterectomy in symptomatic patients: a randomized non-inferiority trial. Lancet 368:1239–1247

11.

International Carotid Stenting Study (ICSS) Investigators (2010) Carotid artery stenting compared with endarterectomy in patients with symptomatic carotid stenosis (International Carotid Stenting Study): an interim analysis of a randomized controlled trial. Lancet 375:985–997

12.

Featherstone RL, Doig D, Kennedy F et al (2013) Equivalent long-term disability after carotid artery stenting and endartectomy in patients randomised in the International Carotid Stenting Study (ICSS). Cerebrovasc Dis 35(Suppl 3)

13.

Smith, SC, Benjamin EJ, Bonow RO et al (2011) AHA/ACCF secondary prevention and risk reduction therapy for patients with coronary and other atherosclerotic vascular disease: 2011 update. Circulation 124:2458–2473

14.

NICE Interventional Procedures Guideline (IPG) 388: carotid artery stent placement for asymptomatic extracranial carotid stenosis (April 2011)

15.

ACST-2 Collaborative Group (2013) Status update and interim results from the Asymptomatic Carotid Surgery Trial-2 (ACST-2). Eur J Vasc Endovasc Surg (im Druck)

16.

http://www.nds.ox.ac.uk/acst/documents/ACST-2_protocol_v4.2_Dec_2007.pdf/view. Zugegriffen: 10. September 2013
Einhaltung ethischer Richtlinien
Interessenkonflikt. R. Bulbulia und A. Halliday geben an, dass kein Interessenkonflikt besteht. Alle im vorliegenden Manuskript beschriebenen Untersuchungen am Menschen wurden mit Zustimmung der zuständigen Ethik-Kommission, im Einklang mit nationalem Recht sowie gemäß der Deklaration von Helsinki von 1975 (in der aktuellen, überarbeiteten Fassung) durchgeführt. Von allen beteiligten Patienten liegt eine Einverständniserklärung vor.
Additional information
Finanzierung. UK National Institute of Health Research (NIHR) Health Technology Assessment Programme und BUPA Foundation, eine britische Wohltätigkeitsorganisation im Bereich der medizinischen Forschung, Darüber hinaus hat die University of Oxford's Clinical Trial Service Unit (CTSU) die Arbeit unentgeltlich unterstützt. Die Forschungsarbeiten von Prof. Halliday werden vom National Institute for Health Research (NIHR) Oxford Biomedical Research Centre Programme finanziert.
About this article
Cite this article
Bulbulia, R., Halliday, A. ACST-2 – ein Update. Gefässchirurgie 18, 626–632 (2013). https://doi.org/10.1007/s00772-013-1237-2
Schlüsselwörter
Karotisstenose

Schlaganfall

Karotisstenting

Karotisendarteriektomie

Randomisierte, kontrollierte Studie
Keywords
Carotid artery stenosis

Stroke

Carotid stenting

Carotid endarterectomy

Randomised controlled trial