Zusammenfassung
Thrombotische Verschlussprozesse der oberen und unteren Hohlvene werden selten beobachtet. Die Klinik richtet sich nach Akutheitsgrad und Ausmaß des thrombotischen Prozesses. Die häufigsten Ursachen sind Raumforderungen und venöse Verweilkatheter. Gefürchtete assoziierte Komplikationen sind Lungenembolie und postthrombotisches Syndrom sowie im Akutfall die obere Einflussstauung. Der diagnostische Pfad besteht vorrangig aus Duplexsonographie und kontrastverstärkter Computertomographie/Magnetresonanztomographie-Venographie. Zum Ausschluss eines malignen Prozesses ist eine Umfelddiagnostik obligat. Therapeutisch stehen neben konservativen Verfahren konventionell-offene und endovaskuläre Optionen zur Verfügung. Insbesondere nach chirurgischer oder interventioneller Versorgung ist eine regelmäßige Nachsorge angezeigt.
Abstract
Thrombotic occlusion of the inferior or superior vena cava is rarely seen. Clinical presentation depends on acuteness and extent of the thrombus. Most frequent causes are tumors and intravenous catheters. Pulmonary embolism, post-thrombotic syndrome and the superior vena cava syndrome represent serious complications. The diagnostic work-up mainly consists of duplex ultrasound and computed tomography/magnetic resonance imaging (CT/MRI) venography. An underlying malignancy has to be excluded. Besides conservative therapy, surgical and endovascular repair are valid treatment options. A continuous follow-up is indicated after conventional/interventional procedures.
Access options
Buy single article
Instant access to the full article PDF.
US$ 39.95
Tax calculation will be finalised during checkout.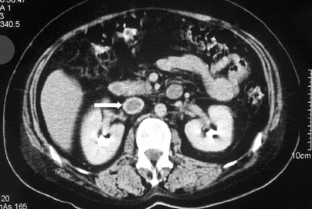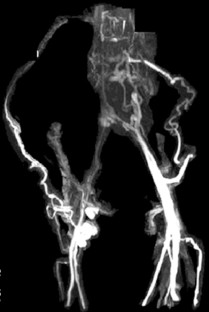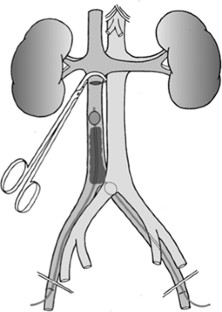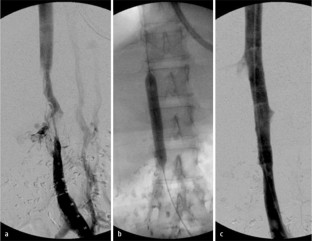 Literatur
1.

Farber SP, O'Donnell TF Jr, Deterling RA et al (1984) The clinical implications of acute thrombosis of the inferior vena cava. Surg Gynecol Obstet 158:141–144

2.

Jackson BT, Thomas Ml (1970) Post-thrombotic inferior vena caval obstruction. A review of 24 patients. Br Med J 1:18–22

3.

Linnemann B, Schmidt H, Schindewolf M et al (2008) Etiology and VTE risk factor distribution in patients with inferior vena cava thrombosis. Thromb Res 123:72–78

4.

Stein PD, Matta F, Yaekoub AY (2008) Incidence of vena cava thrombosis in the United States. Am J Cardiol 102:927–929

5.

Kröger K, Santosa F, Pillny M (2009) Phlebothrombose. ABW Wissenschaftsverlag, Berlin

6.

Nordstrom M, Lindblad B, Bergqvist D et al (1992) A prospective study of the incidence of deep-vein thrombosis within a defined urban population. J Intern Med 232:155–160

7.

Pillny M, Sandmann W (2006) Status and indications for surgical therapy of deep vein thrombosis. Gefässchirurgie 11:33–35

8.

Rice TW, Rodriguez RM, Light RW (2006) The superior vena cava syndrome: clinical characteristics and evolving etiology. Medicine (Baltimore) 85:37–42

9.

Wilson LD, Detterbeck FC, Yahalom J (2007) Clinical practice. Superior vena cava syndrome with malignant causes. N Engl J Med 356:1862–1869

10.

Chikaraishi T, Kobayashi S, Harada H et al (1997) Idiopathic and spontaneously regressing thrombus in right renal vein and inferior vena cava. Int J Urol 4:83–85

11.

Wotkowicz C, Wszolek MF, Libertino JA (2008) Resection of renal tumors invading the vena cava. Urol Clin North Am 35:657–671; viii

12.

Mittal V, Aulakh BS, Daga G (2011) Benign renal angiomyolipoma with inferior vena cava thrombosis. Urology 77:1503–1506

13.

O'Brien WM, Choyke PL, Lynch JH et al (1986) Invasion of the inferior vena cava by testicular seminoma: demonstration by computed tomography and venography. Urol Radiol 8:108–111

14.

Peters AS, Bischoff MS, Weitz J et al (2012) Die intravenöse Leiomyomatose – eine seltene Tumorentität. Gefässchirurgie:374–377

15.

Paolillo V, Sicuro M, Nejrotti A et al (1993) Pulmonary embolism due to compression of the inferior vena cava by a hepatic hemangioma. Tex Heart Inst J 20:66–68

16.

Paetzold S, Gary T, Hafner F, Brodmann M (2010) Thrombosis of the inferior vena cava related to Ormond's disease. Clin Rheumatol [Epub ahead of print]

17.

Schroeter T, Dahnert I, Doll N et al. (2010) Pacemaker-associated thrombotic occlusion of the inferior vena cava causing liver failure. Thorac Cardiovasc Surg 58:431–433

18.

Palmer MA (1990) Inferior vena cava occlusion secondary to aortic aneurysm. J Cardiovasc Surg (Torino) 31:372–374

19.

Antony SJ, Loomis T, Brumble L et al (1994) Inferior vena caval thrombosis associated with acute pancreatitis: an unusual vascular complication – its presentation and management. Angiology 45:1009–1014

20.

Campbell DN, Liechty RD, Rutherford RB (1981) Traumatic thrombosis of the inferior vena cava. J Trauma 21:413–415

21.

Simpson AH, Kilby JO (1988) Inferior vena cava thrombosis following a cycle ride. J R Soc Med 81:738–739

22.

Kaushik S, Federle MP, Schur PH et al (2001) Abdominal thrombotic and ischemic manifestations of the antiphospholipid antibody syndrome: CT findings in 42 patients. Radiology 218:768–771

23.

Permanyer E, Alegret JM, Munoz-Guijosa C et al (2011) Inferior vena cava obstruction by a cardiac mass: unusual presentation of primary antiphospholipid syndrome. Thorac Cardiovasc Surg 59:182–183

24.

Wright JM, Watts RG (2011) Venous thromboembolism in pediatric patients: epidemiologic data from a pediatric tertiary care center in Alabama. J Pediatr Hematol Oncol 33:261–264

25.

Kniemeyer HW, Grabitz K, Buhl R et al (1995) Surgical treatment of septic deep venous thrombosis. Surgery 118:49–53

26.

Guo Y, Zhang YQ, Lin W (2010) Radiological diagnosis of duodenocaval fistula: a case report and literature review. World J Gastroenterol 16:2314–2316

27.

Arcelus JI, Caprini JA (2010) Acute deep venous thrombosis: prevention and medical treatment. In: Cronenwett JL, Johnston KW (Hrsg) Rutherford's Vascular Surgery. Saunders, Philadelphia

28.

Baldari D, Chiu S, Salciccioli L (2006) Aortic pseudoaneurysm as a rare cause of superior vena cava syndrome – a case report. Angiology 57:363–366

29.

Deslauriers J, Mehran R (2005) Handbook of Perioperative Care in General and Thoracic Surgery. Mosby Elsevier, Philadelphia

30.

Schraufnagel DE, Hill R, Leech JA et al (1981) Superior vena caval obstruction. Is it a medical emergency? Am J Med 70:1169–1174

31.

Schummer W, Schummer C, Schelenz C et al (2005) Modified ECG-guidance for optimal central venous catheter tip positioning. A transesophageal echocardiography controlled study. Anaesthesist 54:983–990

32.

Hasskarl J, Koberich S, Frydrychowicz A et al (2008) Complete caval thrombosis secondary to an implanted venous port – a case study. Dtsch Arztebl Int 105:18–21

33.

Lordick F, Hentrich M, Decker T et al (2003) Ultrasound screening for internal jugular vein thrombosis aids the detection of central venous catheter-related infections in patients with haemato-oncological diseases: a prospective observational study. Br J Haematol 120:1073–1078

34.

Madan AK, Allmon JC, Harding M et al (2002) Dialysis access-induced superior vena cava syndrome. Am Surg 68:904–906

35.

Otten TR, Stein PD, Patel KC et al (2003) Thromboembolic disease involving the superior vena cava and brachiocephalic veins. Chest 123:809–812

36.

Stockx L, Raat H, Donck J et al (1999) Repositioning and leaving in situ the central venous catheter during percutaneous treatment of associated superior vena cava syndrome: a report of eight cases. Cardiovasc Intervent Radiol 22:224–226

37.

Gloviczki P, Manju K (2010) Superior vena cava occlusion. In: Cronenwett JL, Johnston KW (Hrsg) Rutherford's Vascular Surgery. Saunders, Philadelphia

38.

Waldeyer A (1972) Anatomie des Menschen. Walter de Gruyter, Berlin

39.

Atici AG, Findik S, Light RW et al (2010) Vena caval thromboses. J Crit Care 25:336–342

40.

Krakamp B, Leidig P, Dickmans HA (1993) Occlusion of the inferior vena cava – a rare, but severe disease picture, easily diagnosed with ultrasound. Ultraschall Med 14:106–111

41.

Hausler M, Hubner D, Delhaas T et al (2001) Long term complications of inferior vena cava thrombosis. Arch Dis Child 85:228–233

42.

Rizvi Az, Kalra M, Bjarnason H et al (2008) Benign superior vena cava syndrome: stenting is now the first line of treatment. J Vasc Surg 47:372–380

43.

Kapur S, Paik E, Rezaei A et al (2010) Where there is blood, there is a way: unusual collateral vessels in superior and inferior vena cava obstruction. Radiographics 30:67–78

44.

Drings P (2002) Tumorbedingte Komplikationen. In: Drings P, Dienemann H, Wannenmacher M (Hrsg) Management des Lungenkarzinoms. Springer, Berlin Heidelberg New York

45.

De Gregorio Ariza MA, Gamboa P, Gimeno MJ et al (2003) Percutaneous treatment of superior vena cava syndrome using metallic stents. Eur Radiol 13:853–862

46.

Bechtold RE, Wolfman NT, Karstaedt N et al (1985) Superior vena caval obstruction: detection using CT. Radiology 157:485–487

47.

Böckler D, Bischoff MS (2013) Cavathrombose. In: Nüllen H, Noppeney T, Diehm C (Hrsg) VTE – Venöse Thromboembolien. Springer, Berlin Heidelberg New York(ISBN 978-3-642-21495-0, voraussichtlicher Erscheinungstermin: August 2013)

48.

Piccioli A, Prandoni P (2011) Approach to venous thromboembolism in the cancer patient. Curr Treat Options Cardiovasc Med 13:159–168

49.

Sorensen HT, Mellemkjaer L, Steffensen FH et al (1998) The risk of a diagnosis of cancer after primary deep venous thrombosis or pulmonary embolism. N Engl J Med 338:1169–1173

50.

Arbeitsgemeinschaft der Wissenschaftlichen Medizinischen Fachgesellschaften (AWMF) (2010) Diagnostik und Therapie der Venenthrombose und der Lungenembolie. AWMF-Leitlinien-Register Nr. 065/002, http://www.dggg.de/fileadmin/public_docs/Leitlinien/1-7-3-diag-ther-bein-beckenvenenthrombose-lungenembolie.pdf

51.

Neglen P, Nazzal MM, Al-Hassan HK et al (1992) Surgical removal of an inferior vena cava thrombus. Eur J Vasc Surg 6:78–82

52.

Hach W (2006) Venenchirurgie: Leitfaden für Gefäßchirurgen, Angiologen, Dermatologen und Phlebologen. Schattauer, Stuttgart

53.

Vedantham S (2012) Interventional approaches to deep vein thrombosis. Am J Hematol 87(Suppl 1):S113–S118

54.

Verhaeghe R, Maleux G (2001) Endovascular local thrombolytic therapy of ileofemoral and inferior caval vein thrombosis. Semin Vasc Med 1:123–128

55.

Hartung O (2011) Results of stenting for postthrombotic venous obstructive lesions. Perspect Vasc Surg Endovasc Ther 23:255–260

56.

Patterson BO, Hinchliffe R, Loftus IM et al (2010) Indications for catheter-directed thrombolysis in the management of acute proximal deep venous thrombosis. Arterioscler Thromb Vasc Biol 30:669–674

57.

Akoglu H, Yilmaz R, Peynircioglu B et al (2007) A rare complication of hemodialysis catheters: superior vena cava syndrome. Hemodial Int 11:385–391

58.

Shaheen K, Alraies MC (2012) Superior vena cava syndrome. Cleve Clin J Med 79:410–412

59.

Stanford W, Doty DB (1986) The role of venography and surgery in the management of patients with superior vena cava obstruction. Ann Thorac Surg 41:158–163

60.

Kalra M, Gloviczki P, Andrews JC et al (2003) Open surgical and endovascular treatment of superior vena cava syndrome caused by nonmalignant disease. J Vasc Surg 38:215–223

61.

Sheikh MA, Fernandez BB Jr, Gray BH et al (2005) Endovascular stenting of nonmalignant superior vena cava syndrome. Catheter Cardiovasc Interv 65:405–411

62.

Uberoi R (2006) Quality assurance guidelines for superior vena cava stenting in malignant disease. Cardiovasc Intervent Radiol 29:319–322
Danksagung
Die Autoren danken Frau Katrin Meisenbacher für die kritische Durchsicht des Manuskripts.
Interessenkonflikt
Der korrespondierende Autor gibt für sich und seine Koautoren an, dass kein Interessenkonflikt besteht.
Additional information
Teile dieses Beitrags stammen aus: Nüllen H, Noppeney T, Diehm C (2013) VTE – Venöse Thromboembolien (ISBN 978-3-642-21495-0, voraussichtlicher Erscheinungstermin: August 2013).
About this article
Cite this article
Bischoff, M., Peters, A. & Böckler, D. Kavathrombose. Gefässchirurgie 18, 67–77 (2013). https://doi.org/10.1007/s00772-012-1112-6
Schlüsselwörter
Vena-cava-Thrombose

Endovaskuläre Therapie

Chirurgische Therapie

Lungenembolie

Postthrombotisches Syndrom
Keywords
Vena cava thrombosis

Endovascular repair

Surgical repair

Pulmonary embolism

Post-thrombotic syndrome