Zusammenfassung
Die endovaskulären Hybridoperationen im Aortenbogen sind heute fester Bestandteil im Spektrum der chirurgischen Maßnahmen zur Behandlung von Aortenbogenpathologien. Sie erweitern deutlich das therapeutische Fenster für die endovaskuläre Behandlung von thorakalen Aortenläsionen (TEVAR) im Bereich des Aortenbogens. Die Erfahrungen internationaler Zentren zeigen, dass akzeptable Ergebnisse mit dieser Methode erzielt werden können. Damit stellt das supraaortische Debranching auch eine attraktive Lösung für Patienten mit eingeschränkten kardiopulmonalen Reserven dar, die für eine offene Bogenrekonstruktion nicht geeignet sind. Des Weiteren erlaubt es eine Ausweitung der Indikationen für TEVAR zur Schaffung einer ausreichenden proximalen Landungszone, da die große Mehrzahl der Pathologien in enger anatomischer Nachbarschaft zu den Kopf-Hals-Gefäßen lokalisiert ist. Die gegenwärtige Technologie der kommerziellen Endoprothesen wurde nicht für den Aortenbogen konzipiert ("off-labet use"). Daher können die speziellen Anforderungen der Morphologie, Physiologie und Hämodynamik des Aortenbogens nur teilweise erfüllt werden. Dennoch werden kontinuierliche Verbesserungen und Innovationen bei der Entwicklung zukünftiger Endoprothesen dazu führen, die Invasivität weiter zu reduzieren. Ein erster Schritt sind die Single-Sidebranch-Endoprothesen, die ein extrathorakales Debranching für den kompletten endovaskulären Bogenersatz erlauben. Die endovaskulären Hybrideingriffe werden auch künftig das individualisierte Therapiekonzept im Bereich des Aortenbogens bereichern.
Abstract
Endovascular hybrid operations of the aortic arch are now an integral part of the spectrum of surgical measures for treatment of pathologies of the aortic arch. They greatly widen the therapeutic window for endovascular treatment of thoracic aorta lesions (TEVAR) in the region of the aortic arch. The experiences of international centers show that acceptable results can be achieved with these methods. Supra-aortic debranching is also an attractive solution for patients with limited cardiopulmonary reserves who are not suitable for open aortic arch reconstruction. Furthermore, it allows an extension of the indications for TEVAR to establish a sufficient proximal landing zone, because the vast majority of pathologies are localized in close anatomical neighborhood to the head and neck vessels. The present technology of commercial endoprostheses was not designed for the aortic arch (off-label use), therefore, the special demands of the morphology, physiology and hemodynamics of the aortic arch can only partly be fulfilled. Nevertheless, continuous improvements and innovations in the development of future endoprostheses will lead to a further reduction in invasiveness. Single sidebranch endoprostheses are the first step and allow an extrathoracic debranching for the complete endovascular arch replacement. Endovascular hybrid interventions will also enrich the individualized therapy concept in the region of the aortic arch in the future.
Access options
Buy single article
Instant access to the full article PDF.
USD 39.95
Price includes VAT (USA)
Tax calculation will be finalised during checkout.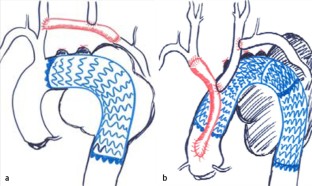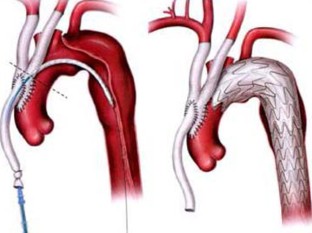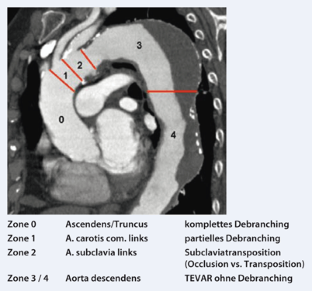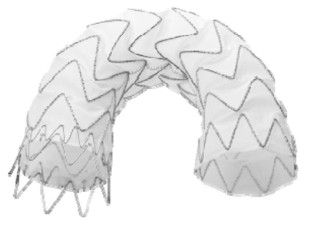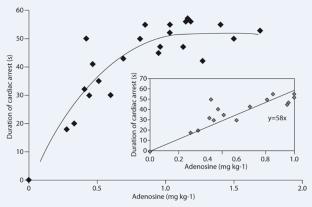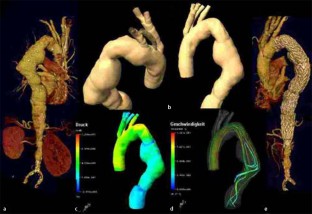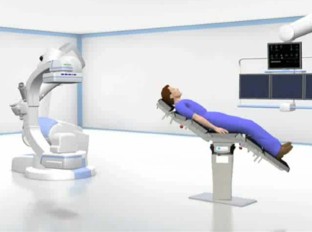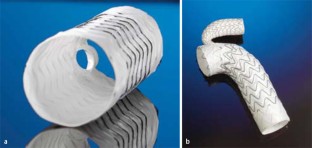 Literatur
1.

Attia C, Abdulrazzaq S, Huet L et al (2008) Feasibility of stent-graft placement with real-time MR fluoroscopy in a nonrigid aortic phantom. J Vasc Interv Radiol 19:1354–1360

2.

Bardenheuer H, Schumacher H, Weigand M, Allenberg JR (2004) High-dose adenosine for induction of cardiac arrest during endovascular reconstruction of thoracic aortic aneurysms. In: Amor M, Bergeron P, Castriota F et al (eds) Thoracic aorta endogarfting: A multidisciplinary approach, Vol. 1. COM&CO, Marseille, pp 125–130

3.

Bergeron P, Coulon P, De Chaumaray T et al (2005) Great vessels transposition and aortic arch exclusion. J Card Surg 46:141–147

4.

Canaud L, Alric P, Laurent M et al (2008) Proximal fixation of thoracic stent-grafts as a function of oversizing and increasing aortic arch angulation in human cadaveric aortas. J Endovasc Ther 15(3):326–334

5.

Chong CK, How TV, Black RA et al (1998) Development of a simulator for endovascular repair of abdominal aortic aneurysms. Ann Biomed Eng 26(5):798–802

6.

Chuter TA, Buck DG, Schneider DB et al (2003) Development of a branched stent-graft for endovascular repair of aortic arch aneurysms. J Endovasc Ther 10:940–945

7.

Czerny M, Gottardi R, Zimpfer D et al (2007) Mid-term results of supraaortic transpositions for extended endovascular repair of aortic arch pathologies. Eur J Cardiothorac Surg 31:623–627

8.

Di Martino ES et al (2001) Fluid-structure interaction within realistic three-dimensional models of the aneurysmatic aorta as a guidance to assess the risk of rupture of the aneurysm. Med Eng Phys 23:647–655

9.

Ferreira M, Chuter T, Hartley D et al (2007) Hybrid repair of aortic arch aneurysms: A totally extrathoracic approach with branched endografts in two patients. Vascular 15:79–83

10.

Finol EA, Keyhani K, Amon CH (2003) The effect of asymmetry in abdominal aortic aneurysms under physiologically realistic pulsatile flow conditions. J Biomech Eng 125:207–217

11.

Frauenfelder T, Boutsianis E, Alkadhi H et al (2007) Die numerische Simulation des Blutflusses in abdominellen Aortenaneurysmen vor und nach Intervention. Radiologe 47(11):1021–1028

12.

Gallinghouse J, Horton R, Zagrodzky J et al (2008) Robotic navigation for ablation of atrial fibrillation: Largest single center experience. Circulation 118:925

13.

Li Z, Kleinstreuer C (2005) Blood flow and structure interactions in a stented abdominal aortic aneurysm model. Med Eng Phys 27:369–382

14.

Li Z, Kleinstreuer C (2005) Fluid-structure interaction effects on sac-blood pressure and wall stress in a stented aneurysm. J Biomech Eng 127:662–671

15.

Liffman K, Lawrence-Brown MM, Semmens JB et al (2001) Analytical modelling and numerical simulation of forces in an endoluminal graft. J Endovasc Ther 8:358–371

16.

Mellissano G, Civilini E, Bertoglio L et al (2007) Results of endografting of the aortic arch in different landing zones. Eur J Vasc Endovasc Surg 33:561–566

17.

Mohan IV, Harris PL, van Marrewijk CJ et al (2002) Factors and forces influencing stent-graft migration after endovascular aortic aneurysm repair. J Endovasc Ther 9:748–755

18.

Moon MC, Morales JP, Greenberg RK (2007) The aortic arch and ascending aorta: are they within the endovascular realm? Semin Vasc Surg 20:97–107

19.

Riesenman PJ, Tamaddon HS, Farber MA (2008) Surgical bypass procedures to facilitate endovascular repair of aortic arch pathology. J Card Surg 49:461–469

20.

Schumacher H, Böckler D, Bardenheuer H et al (2003) Endovascular aortic arch reconstruction with supra-aortic transpositioin for symptomatic contained rupture and dissection: Early experience in 8 high-risk patients. J Endovasc Ther 10:1066–1074

21.

Schumacher H, von Tengg-Kobligk H, Ostovic M et al (2006) Hybrid aortic procedures for endoluminal arch replacement in thoracic aneurysms and type B dissections. J Card Surg 47:509–517

22.

Von Tengg-Kobligk H, Weber TF, Rengier F et al (2007) Image postprocessing of aortic CTA and MRA. Radiologe 47:1003–1011

23.

Weber TF, Geisbüsch PH, Rengier F et al (2009) Semiautomatische Centerline-Analyse zur Planung endovaskulärer Rekonstruktionen des Aortenbogens. Gefäßchirurgie in press

24.

Weigand M, Schumacher H, Allenberg JR, Bardenheuer H (1999) Adenosine-induced transient cardiac arrest for placement of endovascular stent-grafts in the thoracic aorta. Anaestesiol Intensivmed Notfallmed Schmerzther 34:372–375

25.

Weigang E, Parker J, Czerny M et al (2009) Endovascular aortic arch repair after aortic debranching. Ann Thorac Surg 87:603–607
Interessenkonflikt
Der korrespondierende Autor gibt an, dass kein Interessenkonflikt besteht.
About this article
Cite this article
Schumacher, H., Böckler, D., Ockert, S. et al. Endovaskuläre Hybridoperationen im Aortenbogen – quo vadis?. Gefässchirurgie 14, 219–229 (2009). https://doi.org/10.1007/s00772-008-0660-2
Schlüsselwörter
Aorta

Aortenbogen

Hybridoperation

Endograft

Simulation

Navigation
Keywords
Aorta

Aortic arch

Hybrid procedure

Stentgraft

Simulation

Navigation