Zusammenfassung
Die Entwicklung einer tiefen Infektion nach gefäßrekonstruktiven Eingriffen stellt den Supergau in der Gefäßchirurgie dar und erfordert neben einer klinikabhängigen differenzierten Diagnostik ein situations- und stadiengerechtes gezieltes, frühes und aggressives Vorgehen. Neben der maximalen systemischen und lokalen Infektionsbekämpfung hilft in vielen Fällen die lokale Rekonstruktion unter Verwendung autologen Materials in Kombination mit mittelfristig resorbierbarem Nahtmaterial. Dieses Verfahren wird als autologe Rekonstruktion bezeichnet.
Für alle Infektionslokalisationsbereiche steht eine Palette von autologen Rekonstruktionsverfahren zur Verfügung, um adäquat und effektiv therapieren zu können. Damit wird in den meisten Fällen die Durchblutungssituation gesichert, Zeit gewonnen und das Leben und die Extremität der Patienten erhalten. Höchste Priorität haben die Bekämpfung der Infektion sowie der Erhalt des Lebens und der Extremität des Patienten. Im Stadium der tiefen Infektion ist es bereits als Erfolg anzusehen, wenn der Status quo ante nach Infektionsausheilung wieder erreicht werden kann. Nach entsprechendem zeitlichem Intervall kann dann immer noch wieder unter den Maximen der Gefäßchirurgie reinterveniert werden.
Abstract
The development of a deep infection following vascular reconstructive surgery is the most demanding situation encountered in vascular surgery and requires diagnostic investigations that will vary with the hospital concerned and a targeted, early and aggressive attack on the infection both systemically and locally; in addition, local reconstruction carried out with autologous materials in association with sutures that are absorbed over the medium term – also referred to as autologous reconstruction – is helpful in many cases.
A range of autologous reconstruction procedures is available for application at all sites of infection, allowing adequate and effective treatment. In most cases these can ensure a secure blood flow situation, win time, and keep the patient alive and conserve his or her extremity. The main priority is to combat the infection and make it possible to keep the patient alive and the extremity affected intact. When the stage of deep infection has been reached even recovery of the initial status once the infection is cured can be regarded as a success. After an appropriate time it is always possible to reoperate on the basis of the principles of vascular surgery.
Access options
Buy single article
Instant access to the full article PDF.
USD 39.95
Price includes VAT (USA)
Tax calculation will be finalised during checkout.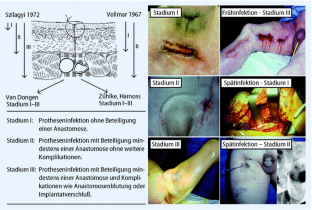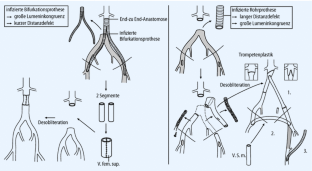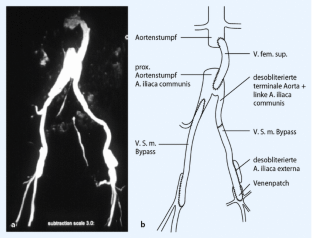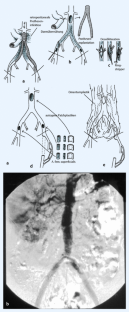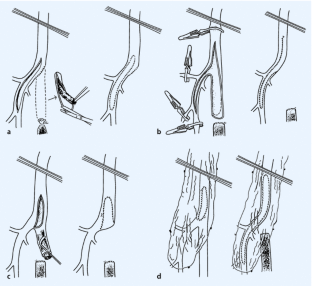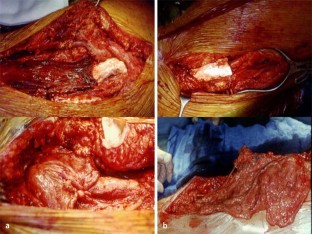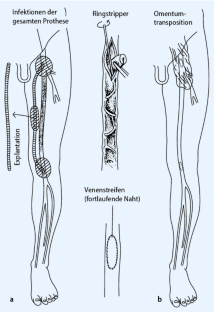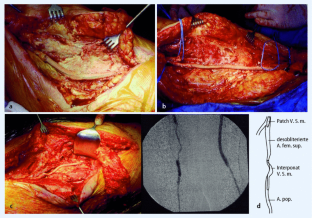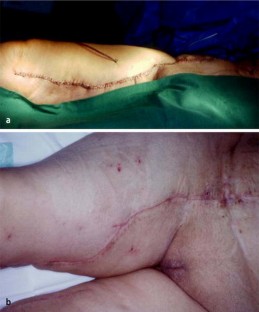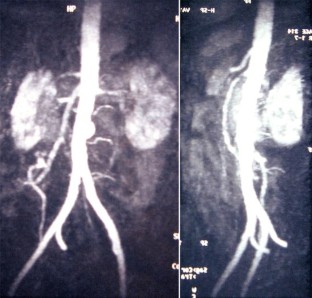 Literatur
1.

Antonions VS, Noel AA, Steckelberg JM et al. (2006) Prosthetic vascular graft infection: a risk factor analysis using a case-control study. J Infect 53(1): 49–55

2.

Armstrong PA, Back MR, Wilson JS et al. (2005) Improved outcomes in the recent management of secondary aortoenteric fistula. J Vasc Surg 42(4): 660–666

3.

Bandyk DF (2000) Infection in prosthetic vascular grafts. In: Rutherford RB (ed) Vascular surgery. Saunders, Philadelphia, pp 733–751

4.

Dosluoglu HH, Curl GR, Doerr RJ, Painton F, Shenoy S (2001) Stent-related iliac artery and iliac vein infections: Two unreported presentations and review of the literature. J Endovasc Ther 8: 202–209

5.

Dosluoglu HH, Schimpf DK, Schultz R, Cherr GS (2005) Preservation of infected and exposed vascular grafts using vacuum assisted closure without muscle flap covergage. J. Vasc Surg 42(5): 989–992

6.

Ehrenfeld WK, Wilbur BG, Olcott CN IV, Stoney RJ (1979) Autogenous tissue reconstruction in management of infected prosthetic grafts. Surgery 85: 82–92

7.

Goldstein KA, Veith FJ, Ohki T, Gargiulo NJ 3rd, Lipsitz EC (2005) Femoral artery to prosthetic graft anastomotic dehiscence owing to infection: successful treatment with arterial reconstruction an limb salvage. Vascular 13(6): 355–357

8.

Harnoss BM, Zühlke H, Häring R, Rodloff A (1991) Spezielle Infektionsprophylaxe in der Gefäßchirurgie. In: Häring R (Hrsg) Infektionsverhütung in der Chirurgie. Blackwell Wissenschaft, Berlin, S 390–397

9.

Holdsworth J (1999) Treatment of infective and potentially infective complications of vascular bypass grafting using gentamicin with collagen sponge. Ann R Coll Surg Engl 81: 166–170

10.

Kieffer E, Bahnini A, Koskas F et al. (1993) In situ allograft replacement of infected infrarenal aortic prosthetic grafts: results in forty-three patients. J Vasc Surg 17: 349–356

11.

Koshiko S, Sasajima T, Muraki S et al. (2002) Limitations in the use of rifampicin-gelantin grafts against virulent organisms. J Vasc Surg 35(4): 823–824

12.

Meyer T, Schweiger H, Lang W (1999) Extraanatomic bypass in the treatment of prosthetric vascular graft infection manifesting in the groin. Vasa 28: 283–288

13.

Nevelsteen A. Lacroix H, Suy R (1995) Autogenous reconstruction with the lower extremity deep veins: an alternative treatment of prosthetic infection after reconstructive surgery for arotoiliac disease. J Vasc Surg 22: 129–134

14.

Oderich GS, Bower TC, Cherry KJ Jr et al. (2006) Evolution from axillofemoral to in situ prosthetic reconstruction for the treatment of aortic graft infections at a single center. J Vasc Surg 43(6): 1166–1174

15.

Olah A, Vogt M, Laske A et al. (1992) Axillo-femoral bypass and simultaneous removal of the aorto-femoral vascular infection site: is the procedure safe? Eur J Vasc Surg 6: 252–254

16.

Perera GB, Fujitani RM, Kubaska SM (2006) Aortic graft infection: update on management and treatment options. Vasc Endovascular Surg 40(1): 1–10

17.

Pounds LL, Montes-Walters M, Mayhall CG et al. (2005) A changing pattern of infection after major vascular reconstructions. Vasc Endovacsular Surg 39(6): 511–517

18.

Quinones-Baldrich WJ, Gelabert HA (1990) Autogenuóus tissue reconstruction in management of aortoiliofemoral graft infection. Ann Vasc Surg 4: 223–228

19.

Reid JD, MacDonald PS (2005) Removing the infected aortofemoral graft using a two-stage procedure with a delay between the stages. Ann Vasc Surg 19(6): 862–867

20.

Reilly LM, Stoney RJ, Goldstone J, Ehrenfeld WK (1987) Improved management of aortic graft infection: the influence of operation sequence and staging. J Vasc Surg 5: 421–431

21.

Schachtrupp A, Chalabi K, Fischer U et al. (1999) Septic endarteritis and fatal iliac wall rupture after endovascular stenting of the common iliac artery. Cardiovasc Surg 7: 183–186

22.

Seeger JM (2000) Management of patients with prosthetic vascular graft infection. Am Surg 66: 166–177

23.

Seify H. Moyer HR, Jones GE et al. (2006) The role of muscle flaps in wound salvage after vascular graft infections: the Emory experience. Plast Reconstr Surg 117(4): 1325–1333

24.

Stewart A, Eyers P, Earnshaw J (2006) Prevention of infection in arterial reconstruction. Cochrane Database Syst Rev 19(3): CD003073

25.

Swedish-Norwegian Consensus Group (1998) Antibiotic prophylaxis in surgery: Summary of a Swedish-Norwegian Consensus Conference. Scand J Infect Dis 30: 547–556

26.

Szilagyi DE, Smith RF, Elliott JP, Vrandecic MP (1972) Infection in arterial reconstruction with synthetic grafts. Ann Surg 176: 321–333

27.

Taurino M, Rizzo L, Liberatore M, Maraglino C, Verrienti T (2005) Salmonella reinfection manifesting as a fistula between the duodenum and an aortic stump pseudoaneurysm. Int Angiol 24(4): 383–386

28.

Taylor MD, Napolitano LM (2004) Methicillin-resistant Staphylococcus aureus infections in vascular surgery: increasing prevalence. Surg Infect 5(2): 180–187

29.

Tiesenhausen K, Amann W, Thalhammer M (1999) Die primär bakteriell infizierte Arterie. Chirurg 70: 1163–1167

30.

Vollmar J (1996) Rekonstruktive Chirurgie der Arterien. 4. Aufl. Thieme, Stuttgart

31.

Wack C, Niedermeier H (2003) Die In-situ-Rekonstruktion nach bakterieller Infektion der infrarenalen Aorta. Gefässchirurgie 8(4): 317–321

32.

Walker SR, Braithwaite B, Tennant WG, MacSweeney ST, Wenham PW, Hopkinson BR (1998) Early complications of femorofemoral crossover bypass grafts after aorta uni-iliac endovascular repair of abdominal aortic aneurysms. J Vasc Surg 28: 647–650

33.

Zühlke H, Harnoss BM, Gallkowski U (1991) Operationstaktik und -technik zur Infektionsverhütung in der Gefäßchirurgie. In: Häring R (Hrsg) Infektionsverhütung in der Chirurgie. Blackwell, Berlin, S 319–329

34.

Zühlke H, Harnoss BM, Lorenz EPM (1994) Septische Gefäßchirurgie. 2. Aufl. Blackwell Wissenschaft, Berlin

35.

Zühlke H, Herrmann G, Lorenz EPM, Harnoss BM (1991) Autogene Rekonstruktion und resorbierbares Nahtmaterial bei tiefer Gefäßinfektion. In: Hepp W (Hrsg) Aktuelle Herausforderung in der Gefäßchirurgie. Steinkopff, Darmstadt
Interessenkonflikt
Keine Angaben
About this article
Cite this article
Zühlke, H. Autologe Verfahren zur Therapie von Gefäßinfektionen. Gefässchirurgie 11, 409–422 (2006). https://doi.org/10.1007/s00772-006-0491-y
Schlüsselwörter
Tiefe Infektion

Infektionsbekämpfung

Débridement

Autologe Rekonstruktionsverfahren
Keywords
Deep infection

Combating infection

Débridement

Autogenic reconstructive procedures