Abstract
The effect of rounding when presenting the uncertainties associated with bespoke gas certified reference materials has been investigated. This has been examined in the context of wanting to provide the customer with as close a match as possible to what was originally contracted whilst needing to comply with the minimum uncertainties allowed by internationally agreed calibration and measurement capabilities under the International Committee for Weights and Measures' Mutual Recognition Arrangement or other scopes of accreditation. The effect of rounding has, in relative terms, been shown to be large in some cases and this has prompted an investigation into improved methods to express more precisely values presented on certificates accompanying bespoke gas certified reference materials. This has included a new proposal to present relative, instead of absolute, uncertainties on certificates thereby matching exactly customer requirements. This Practitioner's Report also demonstrates how considerations of customer and quality system requirements should be properly balanced and how internal review of technical procedures leads to continuous improvement.
Access options
Buy single article
Instant access to the full article PDF.
US$ 39.95
Tax calculation will be finalised during checkout.
Subscribe to journal
Immediate online access to all issues from 2019. Subscription will auto renew annually.
US$ 79
Tax calculation will be finalised during checkout.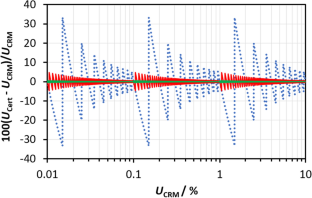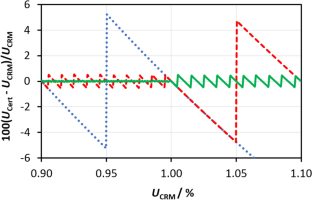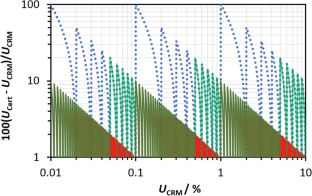 Notes
1.

Because the analysis of gas mixtures is relatively simple compared to liquid and solid mixtures in terms of sampling, homogeneity, extraction, analytical interferences, etc., the concept of a gas CRM is very closely related to a gas calibration standard, with certified stability often being the only difference.

2.

If material is lost or decays during preparation, its certified value may then relate to the value determined by analysis instead, but the following discussion is valid nonetheless.

3.

If they do not, then further communication with the customer would be required to determine whether they would accept a larger uncertainty.

4.

United Kingdom Accreditation Service.
References
1.

ISO/IEC 17025:2017 (2017) General requirements for the competence of testing and calibration laboratories. International Organisation for Standardisation (ISO), Geneva

2.

ISO 17034:2016 (2016) General requirements for the competence of reference material producers. International Organisation for Standardisation (ISO), Geneva

3.

JCGM 100:2008 (2008) Evaluation of measurement data—guide to the expression of uncertainty in measurement, 1st edn. BIPM, Sèvres

4.

National Institute of Standards & Technology (2020) Certificate of analysis standard reference material® 2783. Air Particulate on Filter Media. http://www-s.nist.gov/srmors/certificates/2783.pdf. Accessed Feb 2021

5.

ISO 6142-1:2015 (2015) Gas analysis—preparation of calibration gas mixtures—part 1: gravimetric methods for class 1 mixtures. International Organisation for Standardisation (ISO), Geneva

6.

BIPM Key Comparison Database (2020) Calibration and measurement capabilities. www.bipm.org/kcdb/. Accessed Feb 2021

7.

Carter AR (2013) Evolution of the significant figure rules. Phys Teach 51:340–343

8.

Cole TJ (2015) Too many digits: the presentation of numerical data. Arch Dis Child 100:608–609

9.

Clymo RS (2019) How many of the digits in a mean of 12.3456789012 are worth reporting? BMC Res Notes 12:148

10.

Barnett AG (2018) Missing the point: are journals using the ideal number of decimal places? F1000Research 7:450

11.

Cole TJ (2015) Setting number of decimal places for reporting risk ratios: rule of four. BMJ 350:h1845

12.

Brewer PJ, Brown RJC, Mussell WE, van Aswegen S, Ward MK, Hill-Pearce RE, Worton DR (2019) Breakthrough in negating the impact of adsorption in gas reference materials. Anal Chem 91:5310–5315

13.

NIST (2020) GLP 9 good laboratory practice for rounding expanded uncertainties and calibration values. www.nist.gov/system/files/documents/2019/05/14/glp-9-rounding-20190506.pdf. Accessed Feb 2021
Acknowledgements
The funding of the National Measurement System by the Department for Business, Energy & Industrial Strategy is gratefully acknowledged.
Additional information
Publisher's Note
Springer Nature remains neutral with regard to jurisdictional claims in published maps and institutional affiliations.
Supplementary Information
About this article
Cite this article
Brown, R.J.C., Brewer, P.J. Reporting uncertainty for gas certified reference materials: balancing customer requirements with calibration and measurement capabilities. Accred Qual Assur 26, 41–45 (2021). https://doi.org/10.1007/s00769-021-01456-w
Received:

Accepted:

Published:

Issue Date:
Keywords
Uncertainty

Significant figures

Reference materials

Accreditation

Rounding