Abstract
The CALA proficiency testing programme has been in operation since 1991. As CALA is also an accreditation body, every result reported as part of the CALA PT schemes is identified as being from a CALA accredited laboratory or not from a CALA accredited laboratory. For this examination, a data set is a group of analytical results for a single measurand, from a single test item, from a single PT round. Following the identification of data sets that contain a minimum of ten results from an accredited laboratory, and ten results from a non-accredited laboratory, the remaining data comprised 252 analyte/matrix combinations, 14 844 individual data sets and 1 124 630 participant results. Assigned values and standard deviations of proficiency assessment were calculated using Algorithm A from ISO 13528, and z-scores calculated for all reported results, regardless of accreditation status. Comparisons were made of z-scores between accredited and non-accredited laboratories for the data as a whole, as well as for subsets of the data partitioned into groups such as inorganic tests, organic tests and microbiological tests. In all cases examined, the percentage of both Questionable and Unsatisfactory performance was higher for non-accredited laboratories than for accredited laboratories. A comparison was also made between accredited and non-accredited laboratories of the percentage of consecutive Unsatisfactory performance for the same analyte over a ten year period. Finally, comparisons were made for the first, second and third time participation to assess the impact of PT scheme familiarity. This examination shows that accredited laboratories continually outperform non-accredited laboratories as a group.
This is a preview of subscription content, log in to check access.
Access options
Buy single article
Instant access to the full article PDF.
US$ 39.95
Price includes VAT for USA
Subscribe to journal
Immediate online access to all issues from 2019. Subscription will auto renew annually.
US$ 99
This is the net price. Taxes to be calculated in checkout.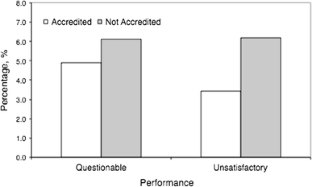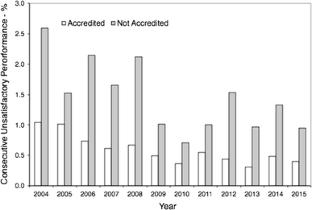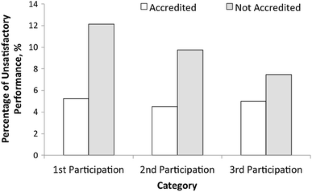 References
1.

ISO/IEC 17025 (2010) General requirements for the competence of testing and calibration laboratories. International Organization for Standardization, Geneva

2.

Morris A, Macey D (2004) Laboratory accreditation: proof of performance for environmental laboratories—2001 study. Accred Qual Assur 9:52–54

3.

Albano F, Faustini L (2016) The influence of a quality system according to ISO/IEC 17025 on the performance of Brazilian laboratories in proficiency testing in the environmental area. Accred Qual Assur 21:19–23

4.

Thompson M, Mathieson K, Owen L, Damant A, Wood R (2009) The relationship between accreditation status and performance in a proficiency test. Accred Qual Assur 14:73–78

5.

King B, Boley N, Kannan G (1999) The correlation of laboratory performance in proficiency testing with other QA characteristics. Accred Qual Assur 4:280–291

6.

Gaunt W, Whetton M (2009) Regular participation in proficiency testing provides long term improvements in laboratory performance: an assessment of data over time. Accred Qual Assur 14:449–454

7.

ISO 13528 (2015) Statistical methods for use in proficiency testing by interlaboratory comparisons. International Organization for Standardization, Geneva
About this article
Cite this article
Middlebrook, K. Do accredited laboratories perform better in proficiency testing than non-accredited laboratories?. Accred Qual Assur 22, 111–117 (2017). https://doi.org/10.1007/s00769-017-1262-z
Received:

Accepted:

Published:

Issue Date:
Keywords
Accreditation

Proficiency testing

Performance