Abstract
The official methods for the quantitative chemical analysis of binary mixtures of textile fibres are an effective tool with which the market surveillance authorities can detect frauds. It is possible to analyse the correlation between the composition determined in the laboratory and that supplied by those responsible for the product. In order to guarantee the technical competence in this field, a proficiency testing scheme was provided by the Galician Laboratory of consumer products. The aim of this study was to compare the results obtained over the years from 2001 to 2012 and to evaluate the changes in the number of participants. The involvement of laboratories since 2001 on this proficiency testing has experienced a positive trend; up to 34 laboratories have had the opportunity to compare their results and to evaluate their performance. Therefore, in parallel with this fact, in 2012 a larger number of laboratories obtained a successful participation in comparison with 2001. The number of participating laboratories is increasing, but in most of the rounds it is still insufficient to consider negligible the standard uncertainty of the assigned value. Furthermore, the number and experience of the laboratories may affect, among other factors, the assigned value that is obtained by consensus and thus may affect the performance evaluation.
Access options
Buy single article
Instant access to the full article PDF.
US$ 39.95
Tax calculation will be finalised during checkout.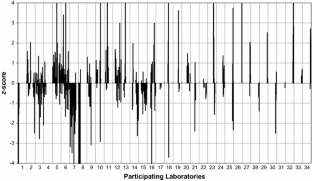 References
1.

Regulation (EU) No 1007/2011 (2011) of the European Parliament and of the Council of 27 September 2011 on textile fibre names and related labelling and marking of the fibre composition of textile products and repealing Council Directive 73/44/EEC and Directives 96/73/EC and 2008/121/EC of the European Parliament and of the Council. Off J Eur Union L272:1–64

2.

ISO/IEC 17025 (2005) General requirements for the competence of testing and calibration laboratories. International Organization for Standardization, Geneva

3.

CGA-ENAC-LEC, Rev. 5 (2009) General criteria for accreditation of testing and calibration laboratories according to UNE-EN ISO/IEC 17025. ENAC

4.

ISO 1833-3 (2006) Textiles. Quantitative chemical analysis—part 3: mixtures of acetate and certain other fibres (method using acetone). International Organization for Standardization, Geneva, Switzerland

5.

ISO 1833-4 (2006) Textiles. Quantitative chemical analysis—part 4: mixtures of certain protein and certain other fibres (method using hypochlorite). Geneva, Switzerland: International Organization for Standardization

6.

ISO 1833-7 (2006) Textiles. Quantitative chemical analysis—part 7: mixtures of polyamide and certain other fibres (method using formic acid). Geneva, Switzerland: International Organization for Standardization

7.

ISO 1833-11 (2006) Textiles. Quantitative chemical analysis—part 11: mixtures of cellulose and polyester fibres (method using sulfuric acid). International Organization for Standardization, Geneva, Switzerland

8.

ISO/IEC Guide 43-1 (1997) Proficiency testing by inter-laboratory comparisons—part 1: development and operation of proficiency testing schemes. International Organization for Standardization, Geneva, Switzerland

9.

ISO/IEC 17043 (2010) Conformity assessment—general requirements for proficiency testing. International Organization for Standardization, Geneva, Switzerland

10.

ISO 13528 (2005) Statistical methods for use in proficiency testing by inter-laboratory comparisons. International Organization for Standardization, Geneva, Switzerland

11.

ISO 5725-1 (1994) Accuracy (trueness and precision) of measurement methods and results—part 1: introduction and basic principles. International Organization for Standardization, Geneva, Switzerland

12.

ASTM D6674-01 (2013) Standard Guide for Proficiency Test Program for Fabrics

13.

ISO 5089 (1977) Textiles. Preparation of laboratory test samples and test specimens for chemical testing. International Organization for Standardization, Geneva, Switzerland

14.

ISO 1833-1 (2006) Textiles. Quantitative chemical analysis—part 1: general principles of testing. International Organization for Standardization, Geneva, Switzerland
About this article
Cite this article
Ferreiro López-Riobóo, J.I. Long-term (2001–2012) study of a proficiency testing scheme for textiles. Accred Qual Assur 20, 239–245 (2015). https://doi.org/10.1007/s00769-015-1128-1
Received:

Accepted:

Published:

Issue Date:
Keywords
Proficiency testing scheme

Textile

Quantitative chemical analysis

Binary mixtures

z-Score