Abstract
Being aware of the importance to consider every step in the evaluation of the combined measurement uncertainty of the result, the purpose of this work was to evaluate the contribution of the radial thermal neutron flux gradient to the uncertainty budget for trace level uranium determination in biological materials by a radiochemical neutron activation analysis (RNAA). Determination of uranium via the short-lived nuclide 239U was based on solvent extraction with TBP and measurement of the chemical yield from the gamma-ray spectrum of the isolated fraction via 235U. It has been shown previously, that radial neutron flux gradient, could have a relevant effect on the final result obtained by RNAA. In the present work, radial neutron flux gradient within the irradiation assembly generally accepted in our lab (standards tapped beside the sample), varied between 93 and 108% around the mean value and contributes approximately 20% to the combined measurement uncertainty of the result.
This is a preview of subscription content, log in to check access.
Access options
Buy single article
Instant access to the full article PDF.
US$ 39.95
Price includes VAT for USA
Subscribe to journal
Immediate online access to all issues from 2019. Subscription will auto renew annually.
US$ 99
This is the net price. Taxes to be calculated in checkout.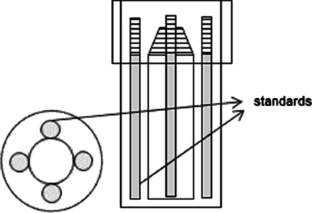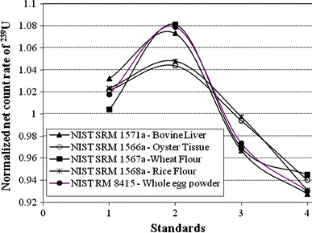 References
1.

Greenberg RR (2008) Pushing the limits of NAA: accuracy, uncertainty and detection limits. J Radioanal Nucl Chem 278:231–240

2.

Kim II, Watson RP, Lindstrom RM (2011) Accurate and precise measurement of selenium by instrumental neutron activation analysis. Anal Chem 83:3493–3498

3.

Moreira EG, Vasconcellos MBA, Saiki M (2006) Uncertainty assessment in instrumental neutron activation analysis of biological materials. J Radioanal Nucl Chem 269:377–383

4.

Zeisler R, Lindstrom RM, Greenberg RR (2005) Instrumental neutron activation analysis: a valuable link in chemical metrology. J Radioanal Nucl Chem 263:315–319

5.

Byrne AR, Benedik L (1988) Determination of uranium at trace levels by radiochemical neutron-activation analysis employing radiochemical yield evaluation. Talanta 35:161–166

6.

IAEA-TECDOC-1592 (2008) reference Asian man: ingestion and organ content of trace elements of importance in radiological protection

7.

Kawamura H, Parr RM, Dang HS, Tian W, Barnes RM, Iyengar GV (2000) Analytical quality assurance procedures developed for the IAEA's reference Asian man project (phase 2). J Radioanal Nucl Chem 245:123–126

8.

Jaćimović R, Stibilj V, Benedik L, Smodiš B (2003) Characterization of the neutron flux gradients in typical irradiation channels of a TRIGA mark II reactor. J Radioanal Nucl Chem 257:545–549

9.

IAEA-TECDOC-1401 (2004) Quantifying uncertainty in nuclear analytical measurements. IAEA

10.

Kučera J, Bode P, Stepanek V (2000) The 1993 ISO guide to the expression of uncertainty in measurement applied to NAA. J Radioanal Nucl Chem 245:115

11.

Benedik L, Byrne AR (1991) Trace uranium determination in foodstuffs and diets by radiochemical neutron activation analysis, 7th international symposium on trace elements in man and animals, TEMA-7. IMI Zagreb

12.

EURACHEM/CITAC Guide CG 4 (2000) Quantifying uncertainty in analytical measurement, QUAM: 2000.1, http://www.eurachem.org
Acknowledgments
This work was supported by Ministry of Higher Education, Science and Technology of the Republic of Slovenia within the research programme P1-0143.
About this article
Cite this article
Benedik, L., Repinc, U. Evaluation of measurement uncertainty components associated with results of radiochemical neutron activation analysis for determination of uranium traces. Accred Qual Assur 16, 637–642 (2011). https://doi.org/10.1007/s00769-011-0847-1
Received:

Accepted:

Published:

Issue Date:
Keywords
Radial neutron flux gradient

Measurement uncertainty

Radiochemical neutron activation analysis

Uranium