Abstract
A Comité Consultatif pour la Quantité de Matière (CCQM) inter-laboratory comparison program, CCQM-P97, for the analysis of cadmium and lead in Herba Demodii Styracifolii was organized by the Hong Kong Government Laboratory. The objective of the program was to establish comparability of trace metals analysis in herbal matrices amongst the participating national metrology institutes. The arithmetic mean values of the 13 participants were 0.3186 mg kg−1 (RSD = 11.3%) and 1.650 mg kg−1 (RSD = 11.0%) for cadmium and lead, respectively. The participants using double-isotope dilution mass spectrometry technique for their quantification were found to provide similar mean values to those of non-isotope dilution mass spectrometry users. The observation indicated that trace metal analysis in herbal matrices was not method-dependent, but the use of the highest metrological IDMS approach gave a better precision than other routine calibration methods.
Access options
Buy single article
Instant access to the full article PDF.
USD 39.95
Price excludes VAT (USA)
Tax calculation will be finalised during checkout.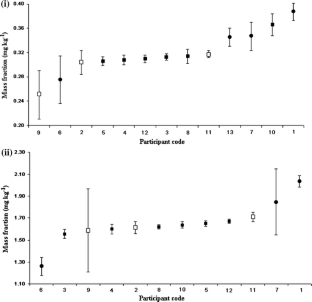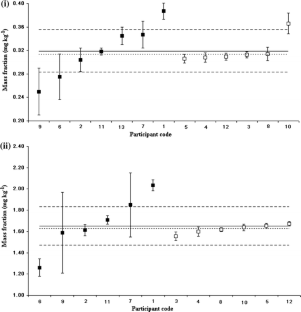 References
Eisenberg DM, Davis RB, Ettner SL, Appel S, Wilkey S, Van Rompay M, Kessler RC (1998) J Am Med Assoc 280:1569–1575. doi:10.1001/jama.280.18.1569

Khan IA, Allgood J, Walker LA, Abourashed EA, Schlenk D, Benson WH (2001) J AOAC Int 84:936–939

Saper RB, Kales SN, Paquin J, Burns MJ, Eisenberg DM, Davis RB, Phillips RS (2004) J Am Med Assoc 292:2868–2873. doi:10.1001/jama.292.23.2868

Caldas ED, Machado LL (2004) Food Chem Toxicol 42:599–603. doi:10.1016/j.fct.2003.11.004

Divrikli U, Horzum N, Soylak M, Elci L (2006) Int J Food Sci Technol 14:712–716. doi:10.1111/j.1365-2621.2005.01140.x

Sturgeon RE, Wahlen R, Brandsch T, Fairman B, Wolf-Briche C, Garcia Alonso JI, Rodriguez González P, Ruiz Encinar J, Sanz-Medel A, Inagaki K, Takatsu A, Lalere B, Monperrus M, Zuloaga O, Krupp E, Amouroux D, Donard OFX, Schimmel H, Sejerøe-Olsen B, Konieczka P, Schultze P, Taylor P, Hearn R, Mackay L, Myors R, Win T, Liebich A, Philipp R, Yang L, Willie S (2003) Anal Bioanal Chem 376:780–787. doi:10.1007/s00216-003-2016-9

Papadakis I (2002) Metrologia 39:599–600. doi:10.1088/0026-1394/39/6/12

Greenberg RR (2008) Metrologia 45:08016. doi:10.1088/0026-1394/45/1A/08016

Aregbe Y, Taylor P (2003) Metrologia 40:08002. doi:10.1088/0026-1394/40/1A/08002

Yip YC, Chan KT, Cheung PY, Poon KW, Sham WC (2009) Food Chem 112:1065–1071. doi:10.1016/j.foodchem.2008.06.067

Feng X, Wu S, Wharmby A, Whittmeier A (1999) J Anal At Spectrom 14:939–946. doi:10.1039/a804683b

Marguí E, Queralt I, Carvalho ML, Hidalgo M (2005) Anal Chim Acta 549:197–204. doi:10.1016/j.aca.2005.06.035

Zhu Y, Inagaki K, Yarita T (2008) Anal Bioanal Chem 391:2055–2060. doi:10.1007/s00216-008-2153-2

Rodushkin I, Engström E, Sörlin D, Baxter D (2008) Sci Total Environ 392:290–304. doi:10.1016/j.scitotenv.2007.11.024

Sargent M, Harrington C, Harte R (2002) Guidelines for Achieving High Accuracy in IDMS. Royal Society of Chemistry, Cambridge

Harte R, Newman G, Sargent M (2004) Accred Qual Assur 9:33–38. doi:10.1007/s00769-003-0719-4

Myors BR, Nolan AL, Askew S, Saxby DL, Hearn R, Mackay LG (2005) J Anal At Spectrom 20:1051–1057. doi:10.1039/b504521e

Inagaki K, Narukawa T, Yarita T, Takatsu A, Okamoto K, Chiba K (2007) Anal Bioanal Chem 389:691–696. doi:10.1007/s00216-007-1396-7
Acknowledgments
The authors wish to express special thanks to A. Richards, President of the Public Analysts, UK, for his technical advice, and T.L. Ting, Government Chemist of the Hong Kong Government Laboratory, for his support and encouragement of the program.
About this article
Cite this article
Wong, Y.C., Sin, D.W.M., Yip, Y.C. et al. International comparison of the determination of cadmium and lead in herb: the Comité Consultatif pour la Quantité de Matière (CCQM) pilot study CCQM-P97. Accred Qual Assur 14, 151–158 (2009). https://doi.org/10.1007/s00769-009-0491-1
Received:

Accepted:

Published:

Issue Date:

DOI: https://doi.org/10.1007/s00769-009-0491-1
Keywords
Cadmium

Lead

Herb sample

CCQM

Inter-laboratory comparison